2014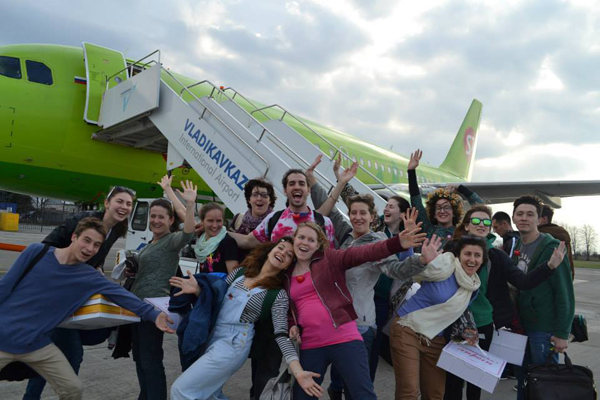 From 5th to 11th of April a group of Maria's Children volunteers visited Beslan. It was our 8th time, 8th year that we are gathering International team of artists, clowns and friends to spend a week together with children of School No.1. Theo and Bregje came from Holland, Guillaume – from Canada. Victoria Kotsoyeva, one of girl who was in the siege in 2004 and now a student of S.-Petersburg University, joined us to return home in new quality as a volunteer.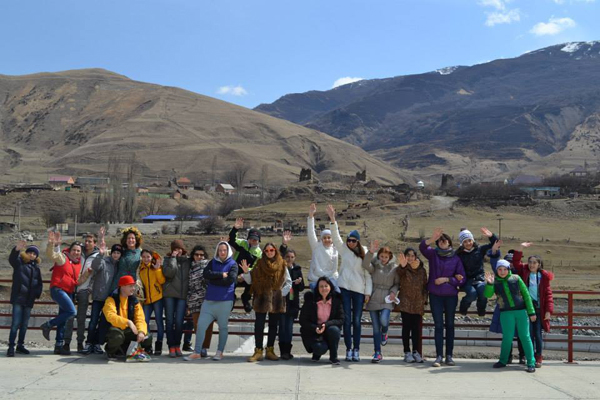 It was very intensive week. We started it with weekend in mountains with 5th-graders, and we worked then the whole week at the School. In mountains we walked a lot, organized training and games, learnt about history and tradition of these beautiful place. At the School we offered children master-classes – 1st-graders created collective mural with Maria, senior students had training for team building, trust and cooperation with Asya and Zhanna, senior girl learnt from Erica professional artistic make-up and painted faces of little kids. Anya and gilrs who graduate the School this year prepared wreathes of flowers for teachers who taught them from 1st to 11th grade. Sona discovered for 3rd-graders magic art of melting crayons. Guillaume initiated juggling club by making clubs by ourselves with boys and girls which utilized plastic bottles and old tennis balls. This theme of "waste utilization" into art objects sounded in gym as well where Olga, Masha and kids constructed a tower from pages of old papers and magazines. Theo, school and circus teacher himself played with kids clowns game and improvisations. Kristina inspired 5th-graders for animated film and theatre training. And the gym was transformed to beautiful place with new mural painting!
It is a tradition to arrange a concert at the end and show to each other what we achieved during a week and a year, and it would lasted and lasted, and we would danced and sang all the day long if we should not have to go to another place – the orphanage in Vladikavkaz. We use to come there with students of Beslan school.
But sooner or later the week came to its end, and we had to come back to Moscow. Our way to and from Beslan always comes through memorial cemetery where buried victims of the siege. This September it will be 10 years since this tragedy. We will never forget about that. We would always share with our Beslan friends both their grief and joy, and they are with us in our joy and grief too (as it happened this year when Beslan volunteers were at Maria's Children summer camp when our Ilya Segalovich passed away). When we started to work in Beslan and met then 4th-graders, they were little kids, and they grown up since then, they finish the School this year, chose a profession and further way to world. And on this way children from Beslan meet children from orphanages, it gives birth to beautiful friendships and stories, victims of the horrible siege become volunteers and help people around them.
We would like to express our deepest gratitude to all those people at GlobalGiving who donated us funds for this trip! Thank you dear friends for bringing joy and colours from all over the world to Beslan! We delivered it and Beslan people send you their gratitude and love!
We are happy that the circle of our friends, volunteers and supporters is widening and at the same time keeping its permanence, and we want to say THANK YOU to all those who helped us fulfill our trip to Beslan:
Director of the school №1 of Beslan Liudmila Petrovna Dzutseva, head teacher Elena Ganieva, all the teaching staff and students - for the joy of meeting each other again, joy of friendship and doing things together
Directorship of the Ministry of Education of North Ossetia and the minister Alan Uruzmagovich Ogoev, deputy minister Vladislav Bechirbekovich Totrov - for cooperation and support
Katerina-City Hotel for hospitality and free accommodation of our foreign volunteers on their way to Beslan and back
Vladikavkaz Hotel for warm reception and discounts
Svetlana Kozyreva, teacher of the 5th form students, for the unforgettable dinner for the whole company in her cozy flat
Siberian Airlines for discounts and flights
Our generous donors from GlobalGiving platform
And all our beloved volunteers: Victoria Kotsoeva, Anna, Olga and Alina Eliseeva, Asya Segalovich, Theo and Bregje Shchilder, Guillaume Vermette, Maria Dermicheva, Sona and Erika Stepanyan, Martin Akhmetov, Alexander Richards, Sergey Shuldikov, Aslan Gaisumov, staff members of our Charitable Foundation PELICAN – Kristina Kozyreva, Kristina Cherenkova, Zhanna Novikova, Anna Drozdova. Thank you, dear friends!