Summer Camp 2011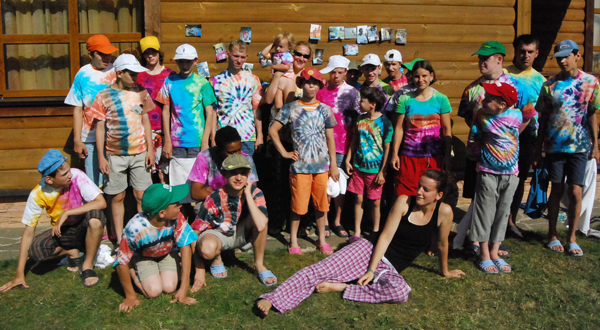 On July 18-28 we had our creative summer camp in our favorite place Sorochany.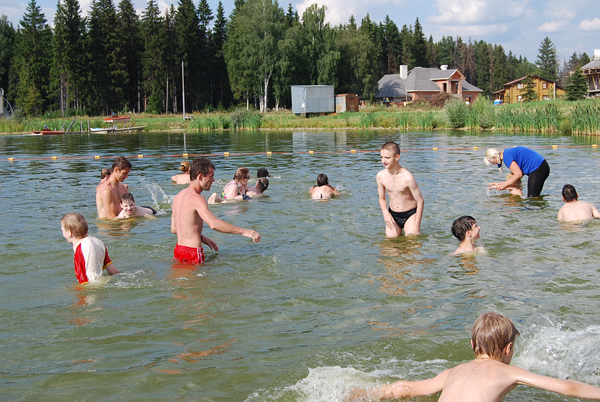 21 children from orphanage-boarding school #28 spent with us these unforgettable days. The weather was fine, warm and sunny and it was possible to enjoy bathing in thelake. Some could swim, some couldn't but everyone was delighted.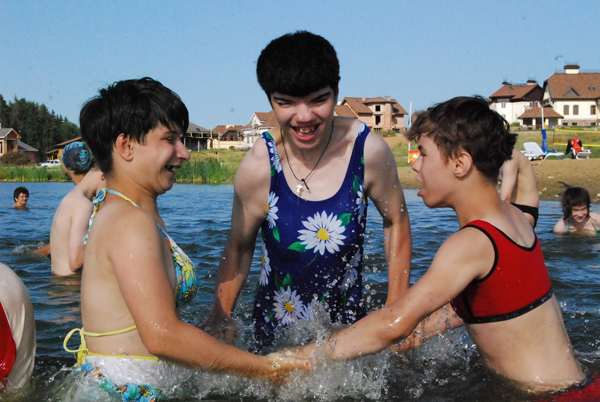 Twice we visited Iksha reservoir, like last year and were riding a banana boat.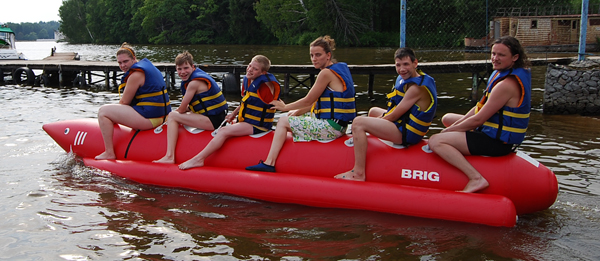 Children were learning windsurfing under Sasha Shishov leadership. Below you can see the first steps of our heroes of sailboards: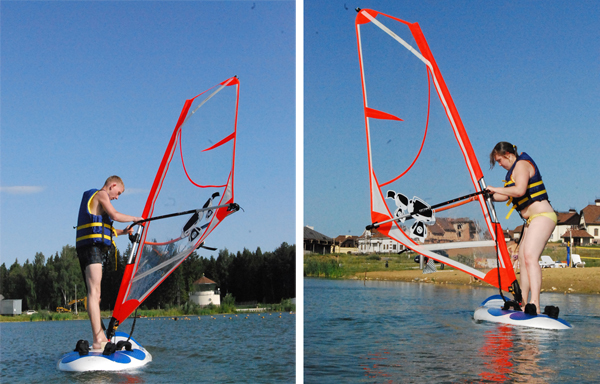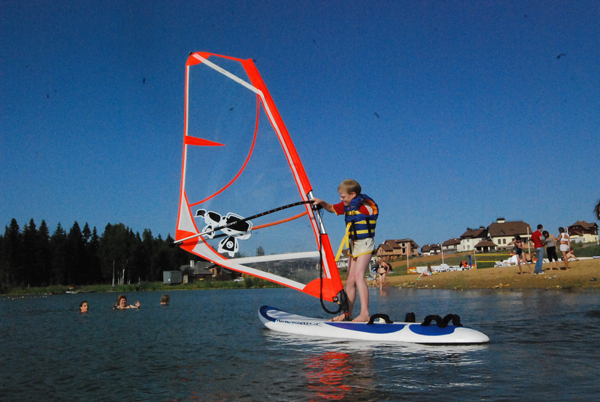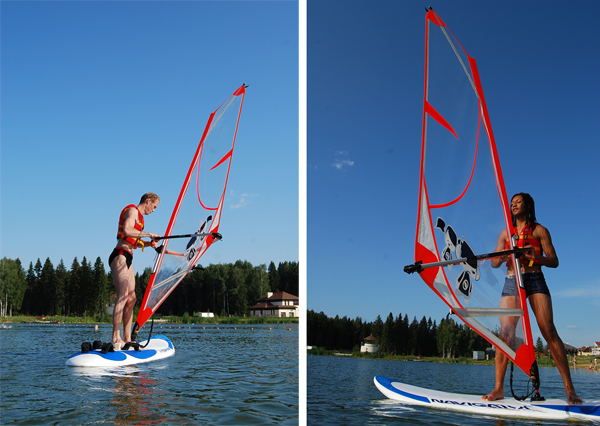 There were enough interesting pastimes overland as well. The very first day Vanya, Pasha, Ruslan and Andrey were leading clowning games for children and it helped us to meet each other and remember each other's names.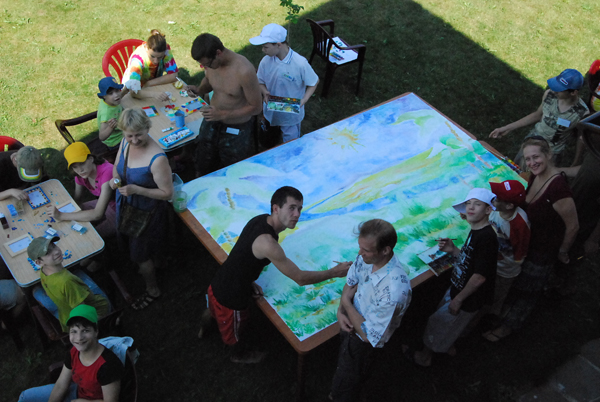 In the morning there were traditional workshops on painting a big picture with Maria and Ruslan, modeling with Tamara, decorating of photo frames with Tatiana, Zhanna and Yulia, making felt flowers with Tatiana and friendship bracelets with Yulia.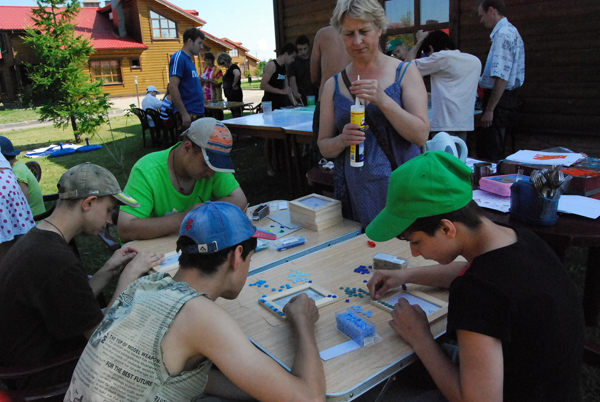 Yulia Klechina and our American volunteer Debbie Sears were leading T-shirt painting workshop.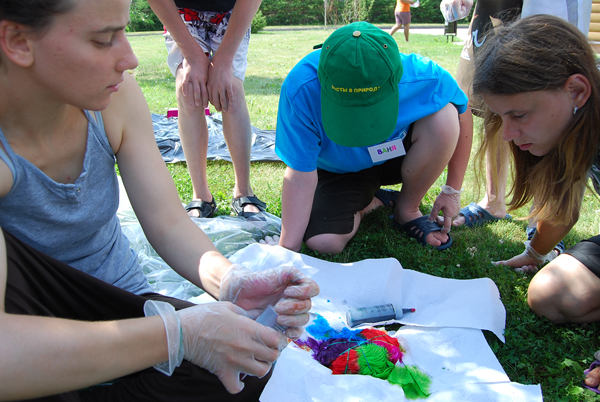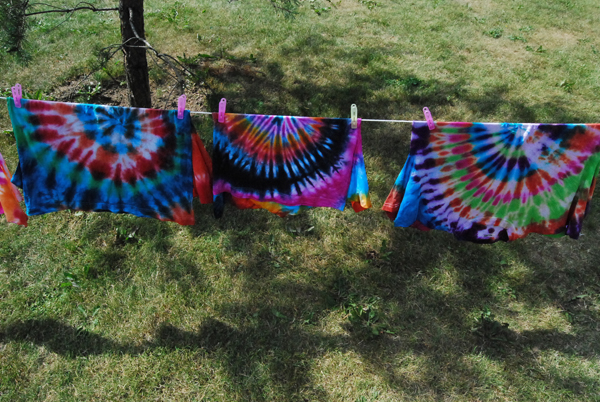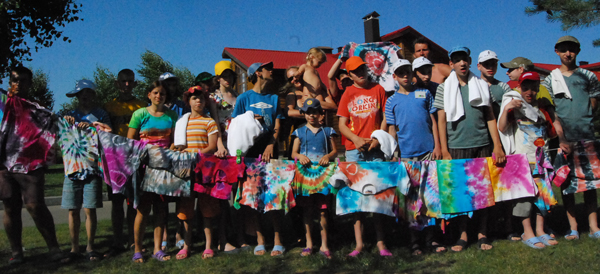 Sasha Shishov and Danya Rochshupkin used to organize a "noise band" after breakfast.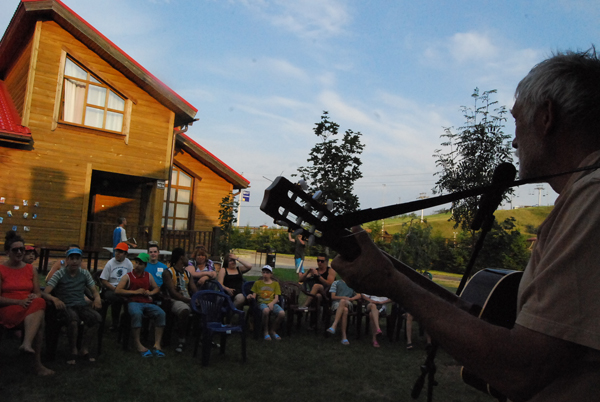 There was an opportunity to help cooking dinner to our wonderful chef Katya Sogomonyan and some children learned many practical skills.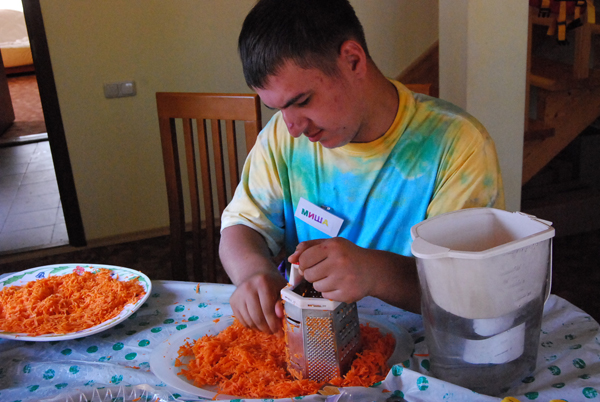 New volunteers arrived on the weekend. Liusya Pevtsova was playing board games with children and Alexey Yuzapolsky taught them to take pictures.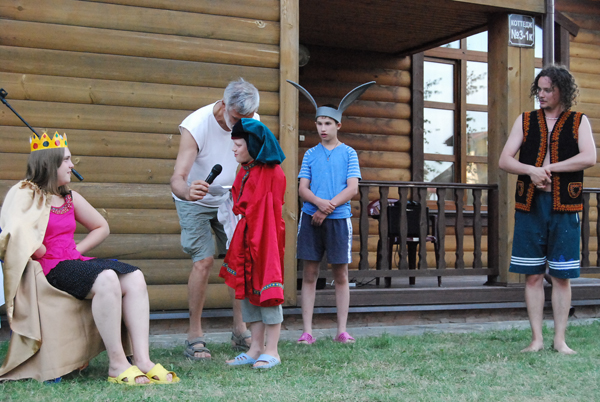 On Sunday there was a show "A Magic Humpbacked Horse" prepared and shown at the Theatre-on-Wheels, with the participation ofall children and almost all adults.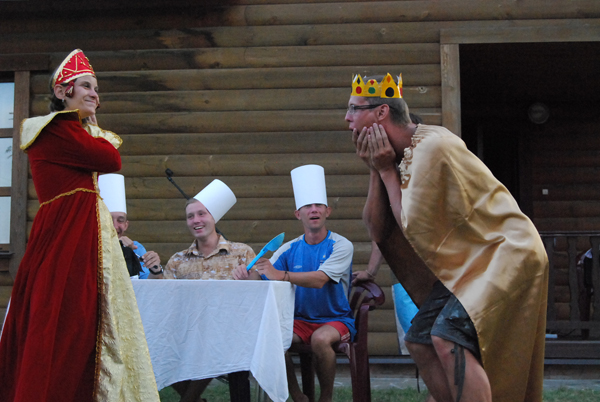 We were divided into groups and each group introduced a scene. Each group had its own director, some senior boy. It was interesting to watch different approaches of "stage directors". Each scene included its own Ivan and each own magic Horse.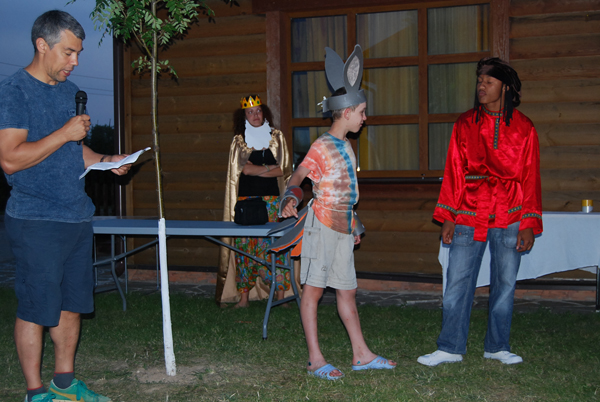 Children enjoyed their participation in the show and watching other scenes. Next evening we were having tea in the same groups to discuss the show and the fairy-tale. Afterwards children had an opportunity to watch "A Magic Humpbacked Horse" animated cartoon and they enjoyed it.
Every night there was time for singing: Sasha Shishov was playing the guitar and singing, Danya was playing violin and Yulia Loseva was singing both children's songs and other songs.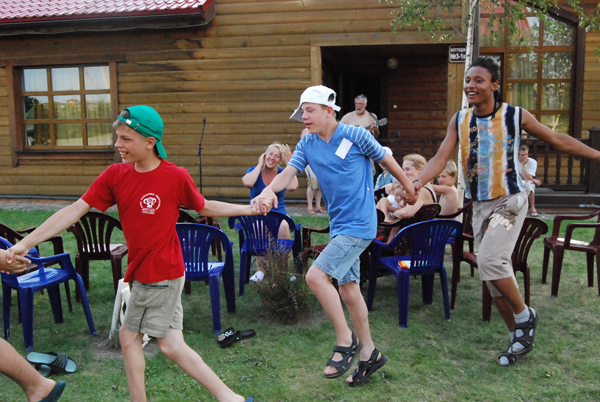 Those children who were brave enough to join, took the microphone and sang too. A very artistic Jessik was dancing at the proscenium.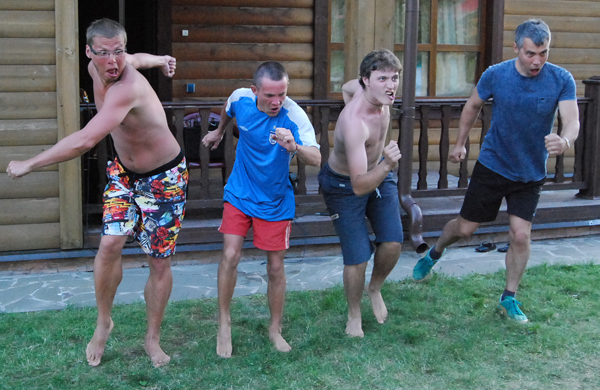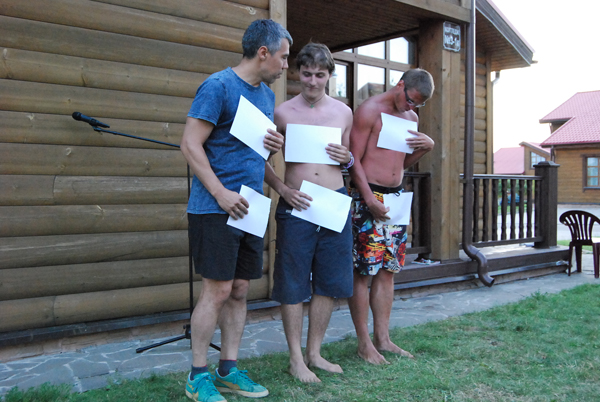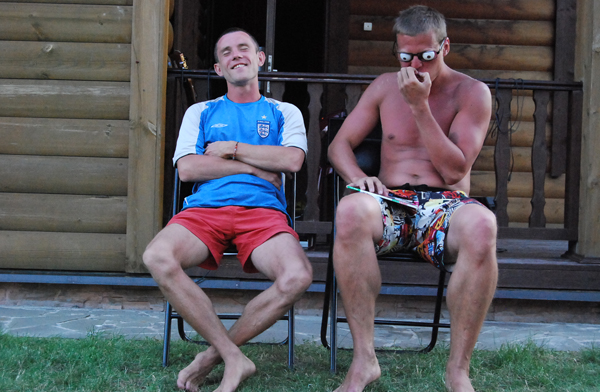 Children liked jumping and somersaulting on the trampoline and sliding and Eduard, Vanya and Ruslan were looking after them.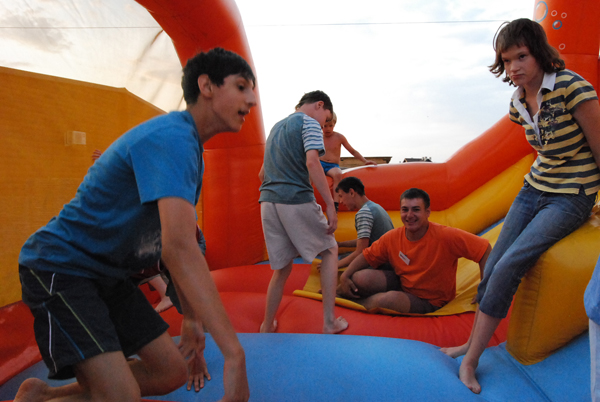 Our new friends visited us, the representatives of Paul Mitchell Company. They conducted a very interesting and useful workshop on hairdressing. Boys didn't mind to get a haircut from the high-quality professional Sergey and some girls also ventured to change their hairdo. When leaving, the visitors left hair care kits for the girls as a present.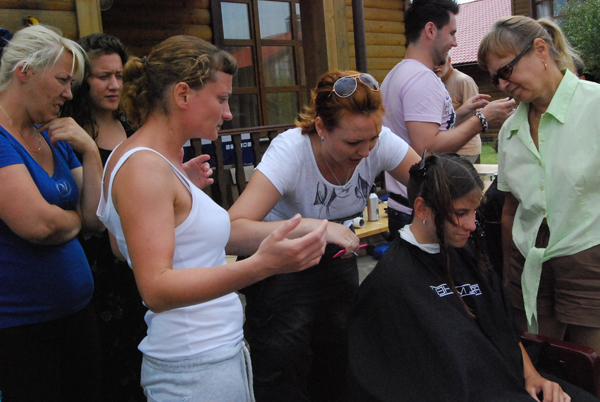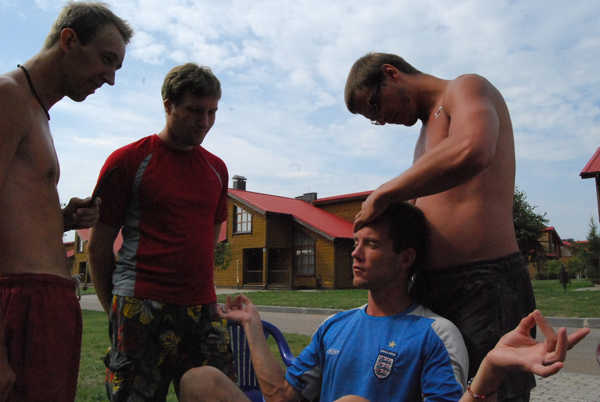 Mum Katya's cuisine was beyond our expectations; we had delicious meals during our camp. Once Katya made pizzas for everyone (50 people!), which was a culinary heroic deed taking into consideration the small field oven.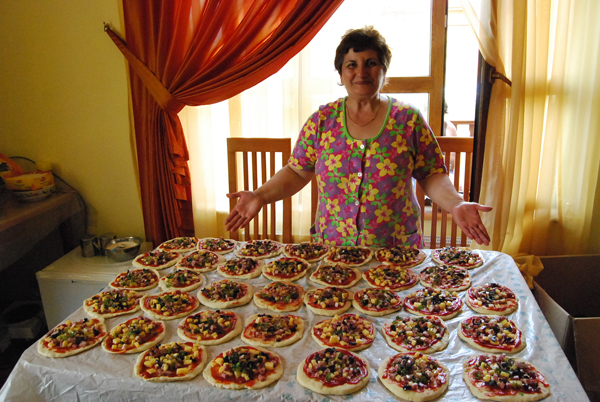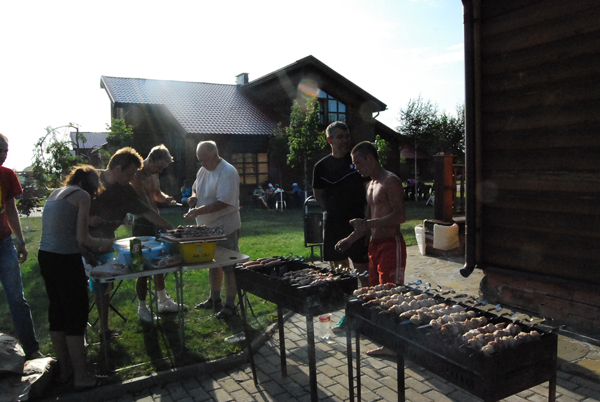 Besides, twice we had barbecue, thanks to Victor, Liosha, Pasha, Ruslan, Andrey, Artiom and Sergey. One night Debbie showed children how to cook marshmallow. Another time we came to a real egg restaurant and children could order any kind of scrambled eggs and omelette with different fillings, and Igor and Jessik acted as waiters and took orders.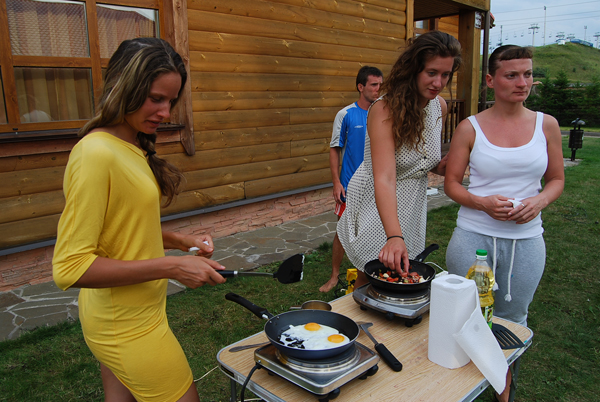 We were reading fairy-tales before going to bed. 10 days have passed by fast. It was a sad parting but we will remember our summer camp and the sweet memories will comfort us even in cold winter and we will be looking forward to the next summer.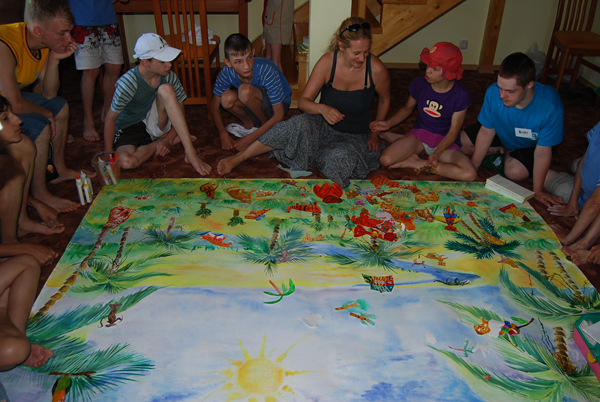 We are very grateful to:
Sorochany Management for 50% discount for accommodation.
United Nations Children's Fund for funding the summer camp in the framework of the project "World Open for Everyone".
MD Tverskoye for financial support.
Paul Mitchell Company for hairdressing workshop.
S.N.Sergeyev, E.A.Ushakov, S.N. Tabuyev for donations through Yandex-money, which were spent for the summer camp.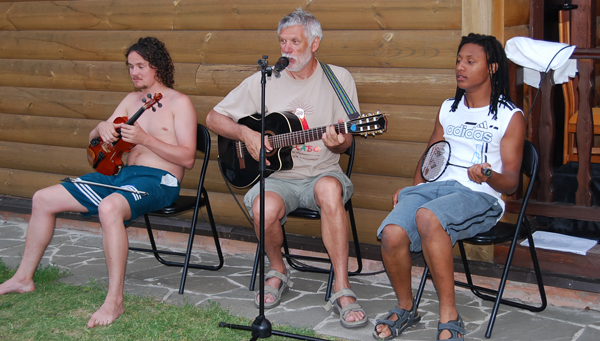 To our wonderful volunteers:
Alexander Shishov, Ruslan Lartsev, Ivan Antonov, Debbie Sears, Tamara Krapivina, Andrey Nickitayev, Zhanna Novikova, Danilla Roshchupkin, Anna Eliseyeva, Kristina Cherenkova, Yulia Klechina, Artiom Sokolovskiy, Ilya Segalovich, Pavel Avdoshin, Alexey Yuzapolskiy, Marina Chistyakova, Ludmilla Pevtsova, Alya Roshchupkina, Nadezhda Varaksina, Alexander Richards.
To an amazing Katya Sogomonyan.
To heroic workers of our studio:
Maria, Tamara, Tatiana, Yulia, Victor, Liosha and Seriozha.
To all dear children and teachers of the orphanage #28.