Our Family 2015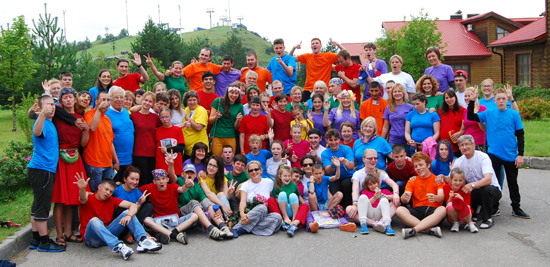 On 15-29 July our traditional, much-loved summer holidays "Our Family" took place in Sorochany resort, Moscow region. This time there were altogether 28 children: from the Moscow orphanage №28 and the Filimonki orphanage. There were also 4 young people from psychoneurological institutions, children of our staff members and volunteers, volunteers from Moscow, Beslan, USA and many of our graduates as well.
The life in the camp was full of events, get-togethers, games and laughter from morning to evening.
In mornings, as usual, we held master-classes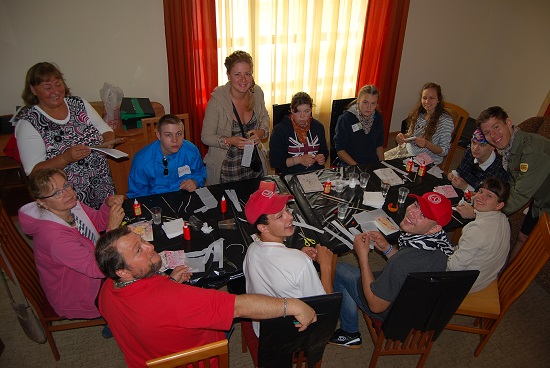 Mozaic and pape-art,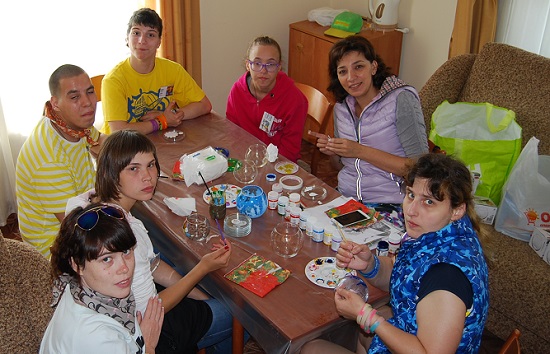 Molding from clay and colouring candle holders,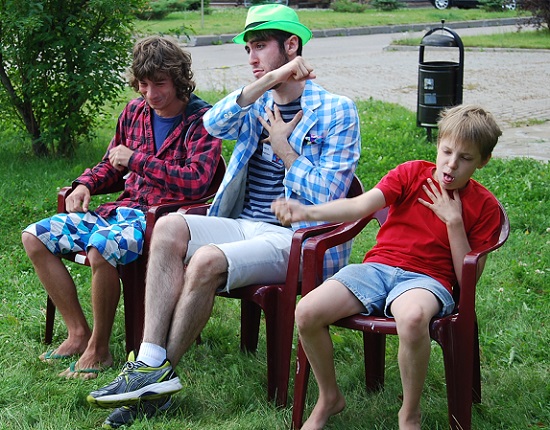 Clown's games and funny pictures from pompons,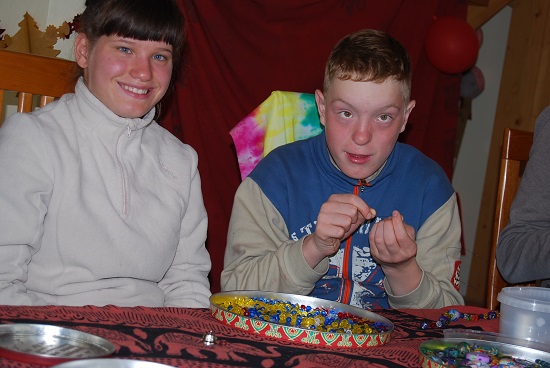 Wind chimes and afro-bunches,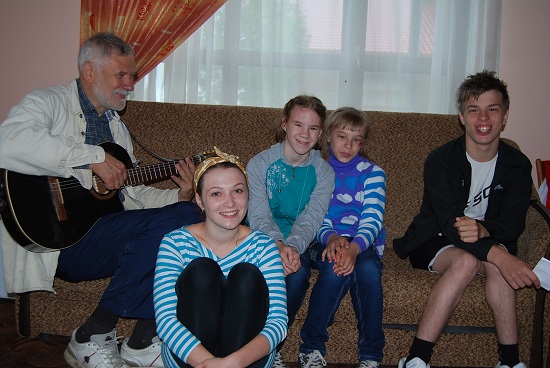 Songs under accompaniment of guitar and noise orchestra,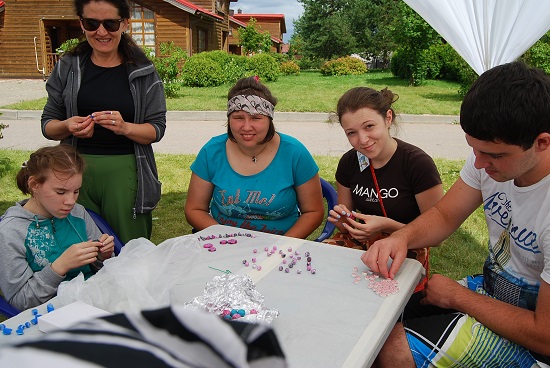 Painting a collective picture and making beads from polymer clay,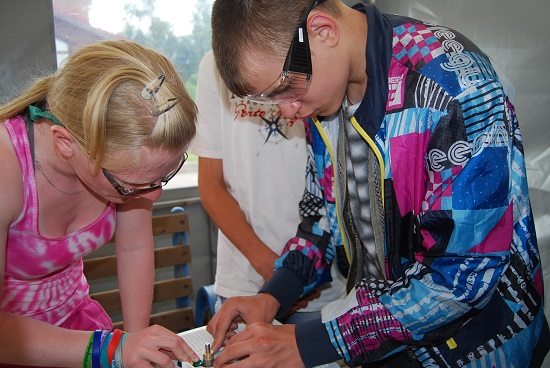 Dances and glass painting,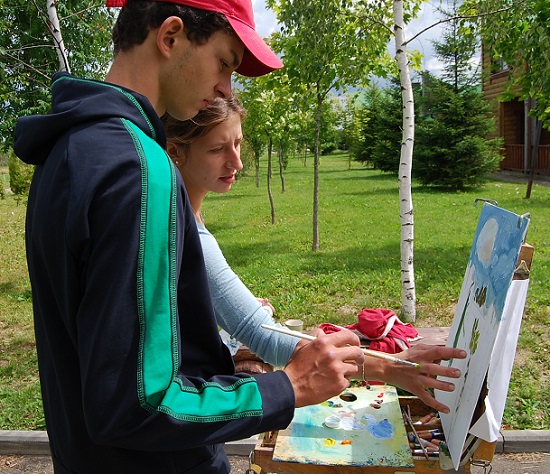 Painting en plein-air,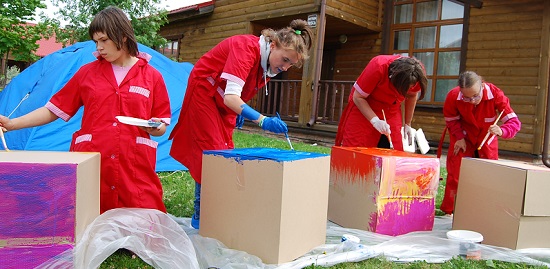 Colouring boxesand shooting films – the choice was so wide that it made you dizzy, but during the camp the children had an opportunity to try themselves in various art areas.
All the children and adults lived in small houses, each of them belonging to one of four families: Elephants, Zebras, Lions and Giraffes. The life in the camp started from family breakfasts in houses and after lunch continued in the specific style and spirit of particular family.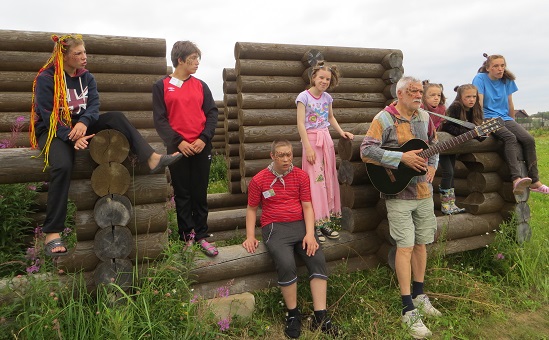 Each family shot films, played games,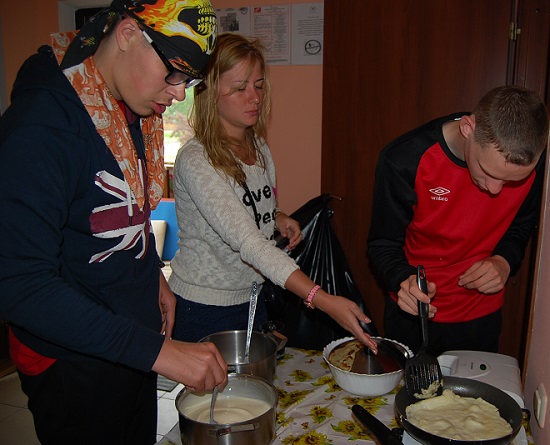 Learnt cooking,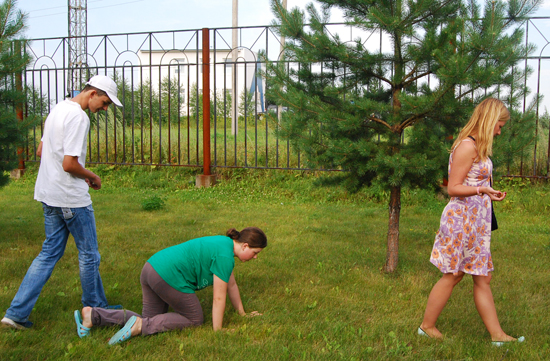 Picked mushrooms, went for a walk and got sun-tan,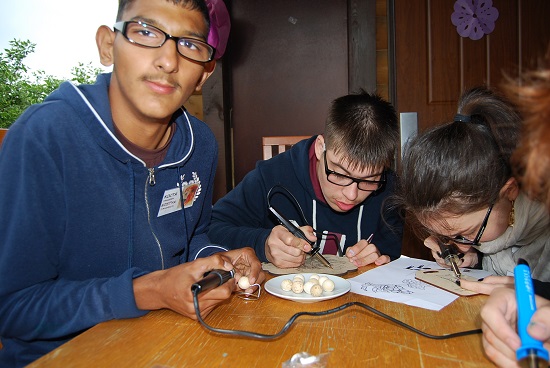 Drew and did poker work,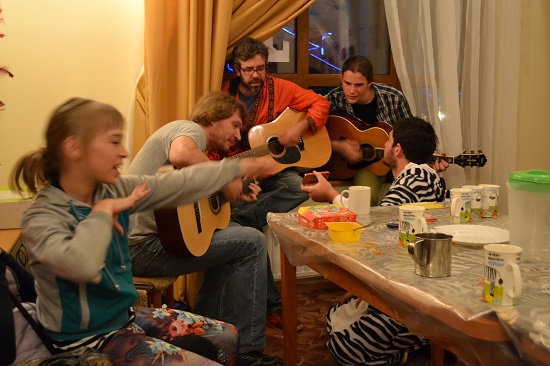 Sang and listened to the music,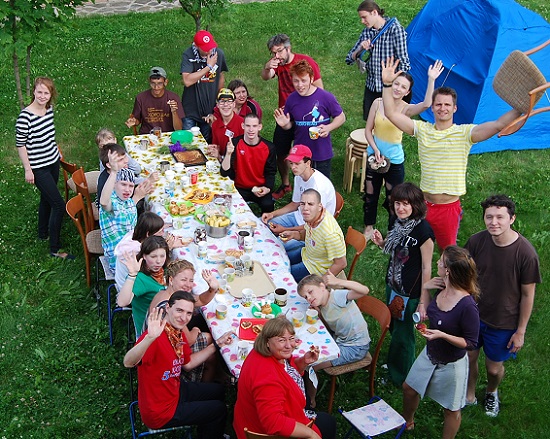 Paid visits to each other, arranged thematic breakfasts and dinners, watched movies.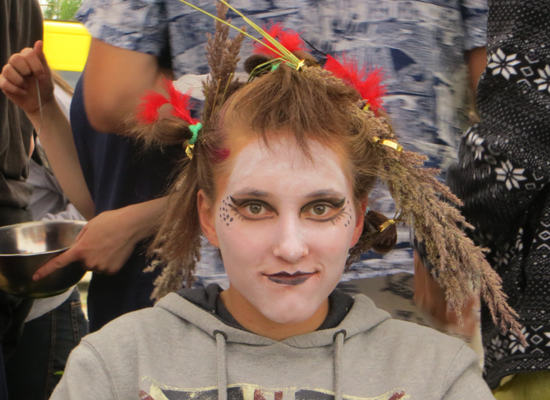 A dinner and a Mad Haircuts Party inspired us very much and gave us some new creative ideas.
In one of evenings we arranged a relaxing massage session for the children and with aroma oil, music and candles this evening became really magic.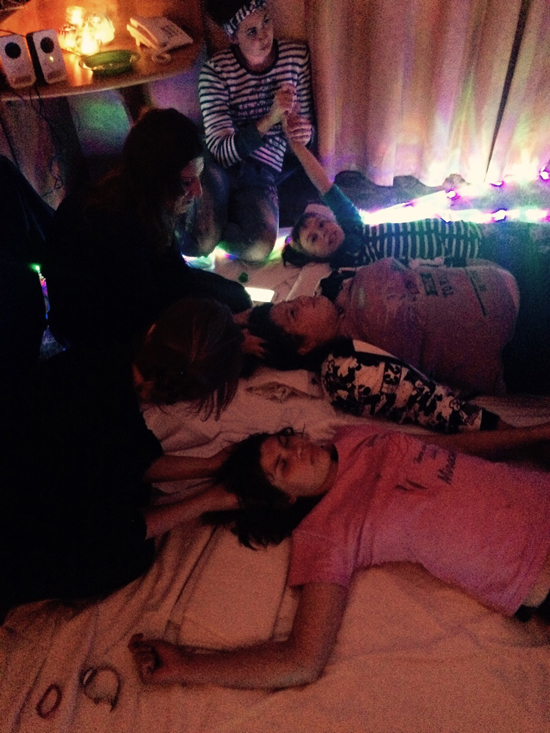 The concert gave an opportunity to all the "stars" of our camp to perform.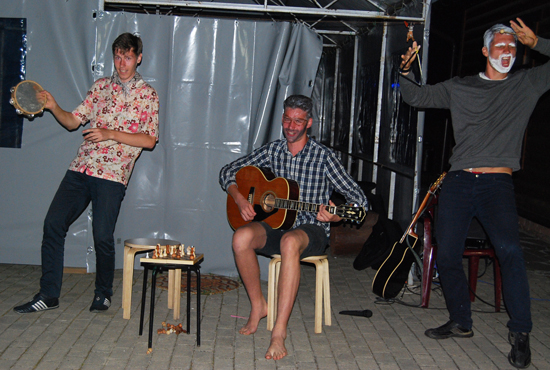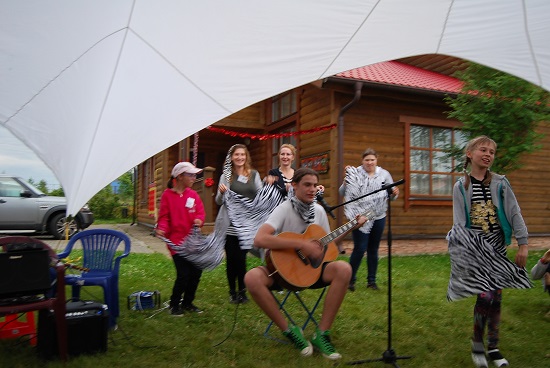 During the Ossetian Evening our Beslan friends acquainted us with Ossetian songs, poems and dances.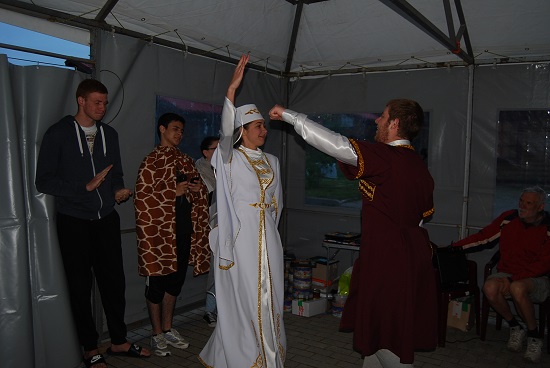 This time our Theatre from Wheels presented the fairy-tale "Magic Ring" in which all the children and adults participated.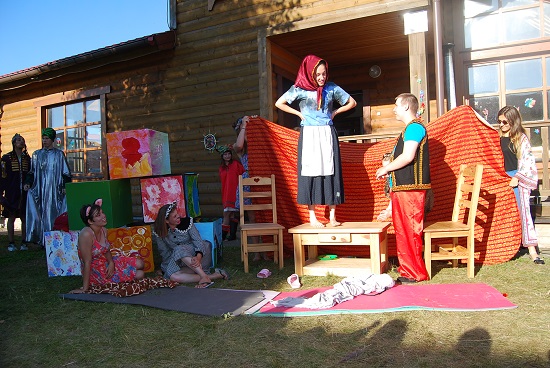 Our volunteer Vanya arranged the game "Parachute" for everyone.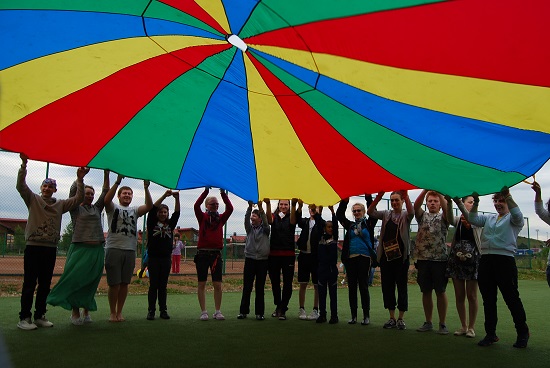 In one of the last days there was also a big game in which all the children were engaged –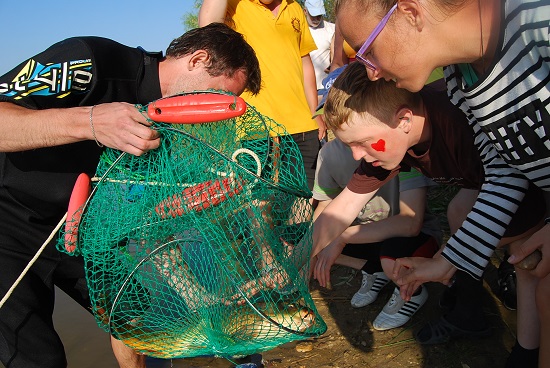 for several hours they ran through various stations,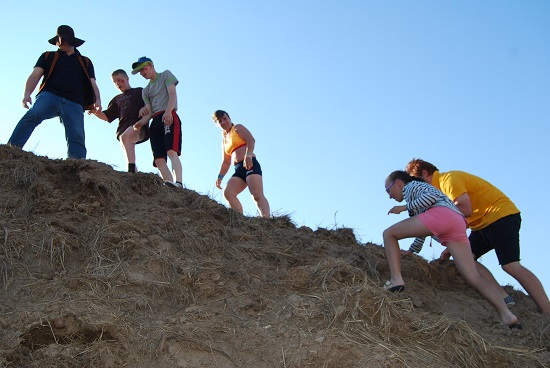 fulfilled tricky tasks in order to save our cooks Vera and Galya hijacked by Dragon Gorynych.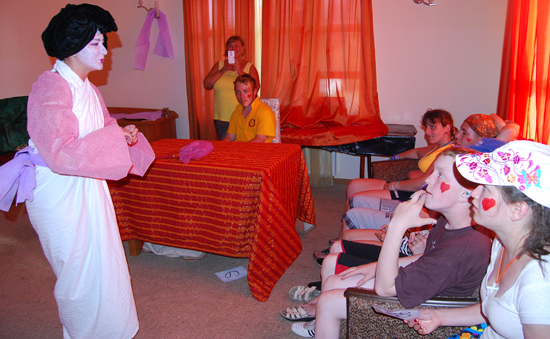 Finally the dragon gave in and released the cooks in exchange for the promise that we feed him with a delicious dinner as well.
For the three times the whole camp enjoyed the delicious barbeque cooked by our volunteers from Beslan.We thank Rostislav Ordovsky-Tanaevsky Blanko, "The Chicken Factory" and personally the director Yuri Alexandrovich Kanishchev for the meat for barbeque! Thank you, friends!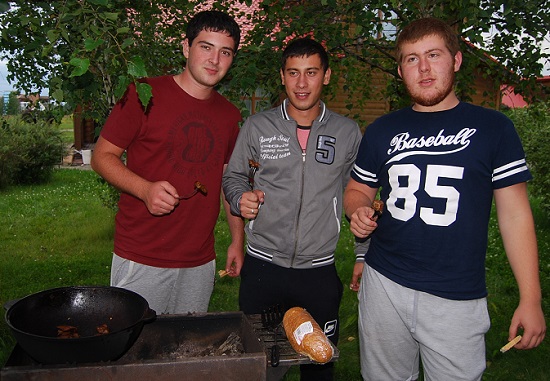 Interestingly, we tried the Ossetian pies even in two versions – the Beslan version (from Albina, Marina and Vika) and the Moscow version (from Natasha Chopra, her relatives and friends).
The camp days rushed too fast, and we were very sad to part. We are looking forward to meet again at our studios and workshops at Maria's country house. We will recall joyful and sad moments, look through pictures and videos and prepare for the next summer.
We thank the Charitable Fund "Dar" and personally Julya Veshnikova, DLA Piper Company and all those who donated to us at the summer charitable fairs.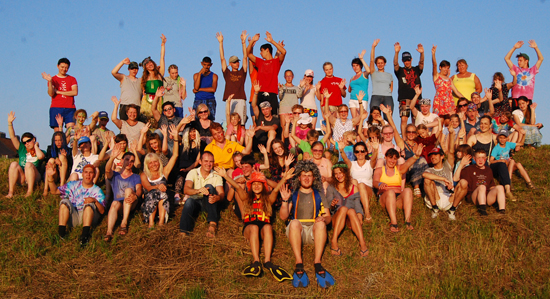 We express our huge THANK YOU to all our wonderful volunteers, responsible and kind, sensitive and creative, attentive and enthusiastic – it is thanks to you that the children felt so happy all this time.
Thank you, Oksana Yushko, Arthur Bondar, Vika Kotsoeva, Andy Emeritz, Andrey Morozov, Anya Eliseeva, Sasha Shishov,Maria Eliseeva, Debbie Sears, Stepan Tarasov, Noah Lapuk, Anna Drozdova, Serezha Shuldikov, Lesha Stroev, Vitya Kotsoev, Timur Ganiev, Masha Tatieva, Alina Eliseeva, Korney Bruskov, Oleg Fogel, Natasha Chopra, Natasha Khassanova, Galya Petrova, Olya Eliseeva, Martin Akhmetov, Anna Smetanina, Misha Gomelev, Kambolat Baev, Vanya Antonov, Ira Rokotnina, Ira Gurieva, Natasha Sidorova, Olga Sidorova, Khetag Khutiev, Liza Loseva, Gayane Oganesyan, Tamara Krapivina, Mila Gomeleva, Tina Deeva, Lesha Zhdamirov, David Arsagov, Arina Tebieva, Batik Kokov, Asya Segalovich, Nadya Varaksina, Vika Ermilova, Nina Maksovna Buylova, Valentin Ilyich Segalovich, Natasha Pushkina, Anna Andreeva, Larisa Shvyndina, Vika Naboka, Sona Stepanyan, Aleksei Markov, Yaroslav Agafonnikov, Yulia Podkolzina, Valeria Duzhnikova, Justin and Alla Lifflander, Andrey Nikitaev, Alyona Loson, Elena and Anya Kharitonovy.
Special THANK YOU to our inimitable cooks Vera and Galya and their assistants Yulia and Kristina, everything was VERYdelicious!!!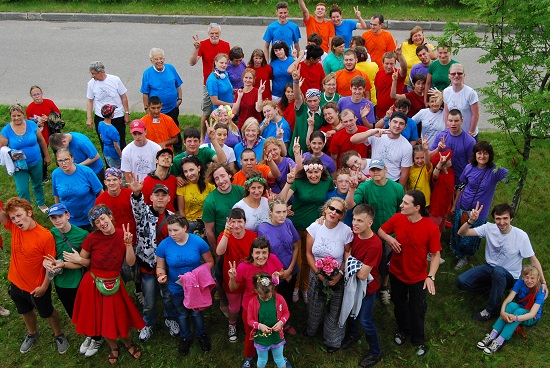 Thank you, our dear staff members of orphanages, we felt like one family with you!
And a warm THANK YOU to all the children, noisy and spontaneous, shy and persistent, helpful and open, so different and so wonderful!