Winter camp 2008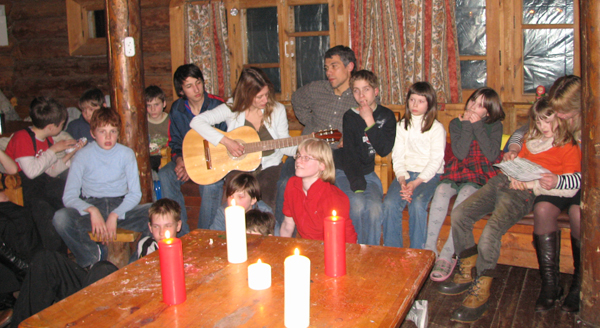 Our traditional spring holiday camp took place on March 5-11 in Svyatogorovo.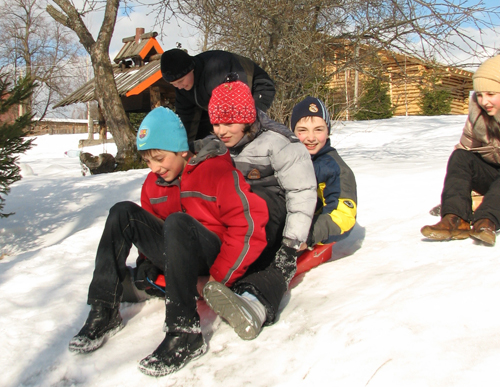 This time we received 11 children from Beslan besides 20 students from Orphanage school # 4 and 80.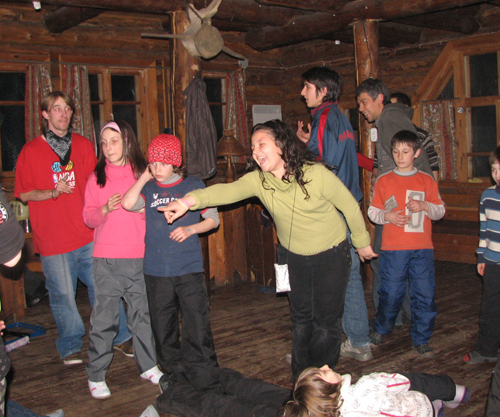 We were tobogganing together, had a walk to magic tents, celebrated the International Women's Day and Pancake Week, had a pretend wedding and two birthday parties.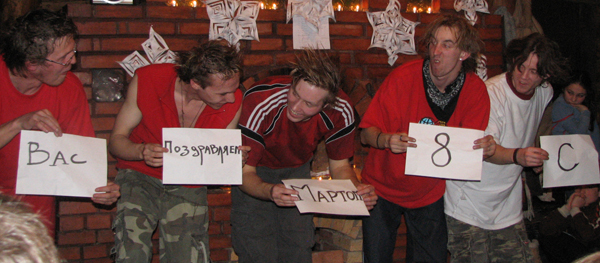 We have painted a large picture and many small ones, made ceramics, decorated matreshkas (sets of nesting dolls)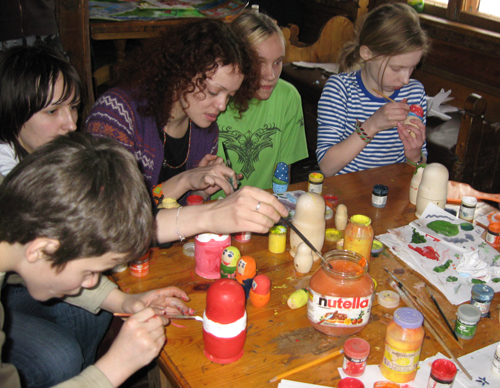 and wooden boards, learned carving, played clowns and intellectual games.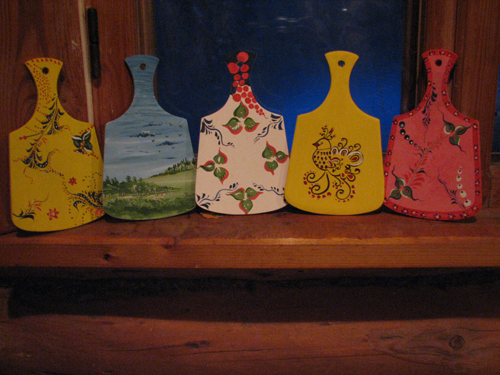 Thank you to everyone who shared this time with us! Thank you to S7 Airlines for free tickets for Beslan people! Thank you to DHL Company for transportation help! Thank you to everyone who supported our holiday camp!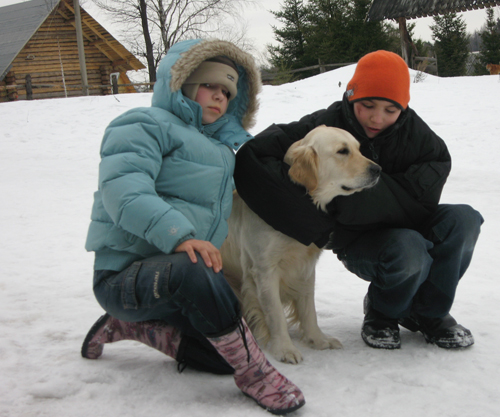 There are several comments of the participants given below: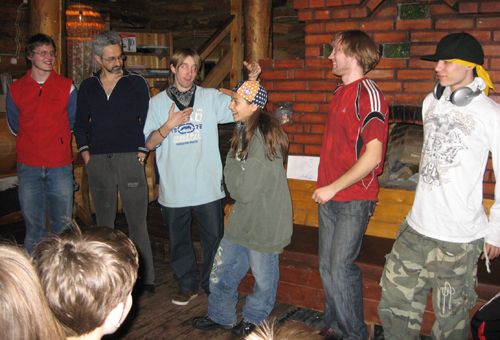 Venera F.,
teacher, Boarding school # 80:
I am here for the first time. I came here expecting something very different. I thought that we were staying in a holiday hotel. So at first when we arrived at this "holiday hotel" I was really shocked. After some time when I had the opportunity to stay here, to meet people, to watch games and shows children played, I realized that for our boarding school pupils who are brought up in the four walls and live at the word of command, this life style is very useful. In spite of living conditions, they receive a precious experience of family life in the different environment.Now I understand why they are longing for the studio. On behalf of them, thank you very much for this week time; in my opinion, it was very valuable for them.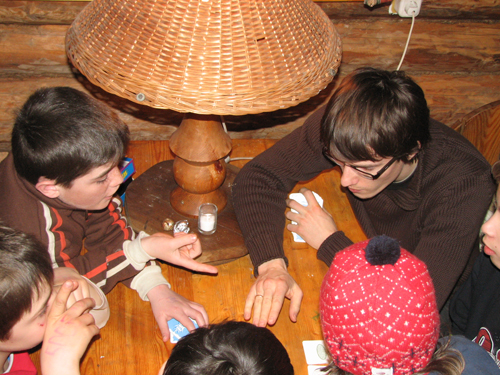 Olga Aleksiuk,
volunteer:
I am very happy to be here for the second time. Every time I discover something new in both children and adults. Every time this experience amazes me and makes me happy, it helps me in my life. I always remember the days like this filled with children's fellowship, their offer of help. It is so important to hear the words "let me help you".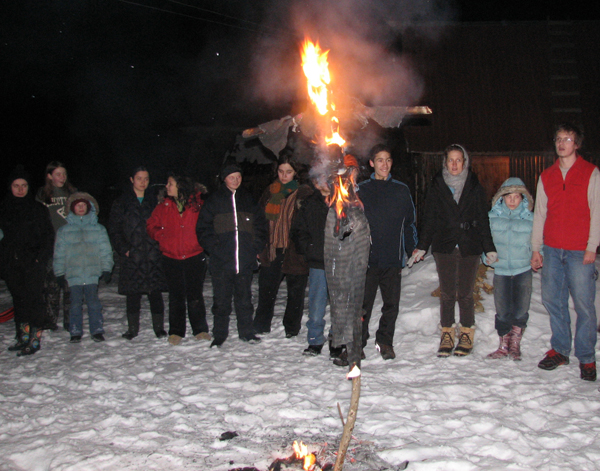 Albina Kazieva,
teacher, Beslan school:
On behalf of all Beslan children, I would like to express the profound gratitude to everyone for such memorable events. We think of you during the long time till the next camp. Children can confirm that we remember every day spent with you as the best time.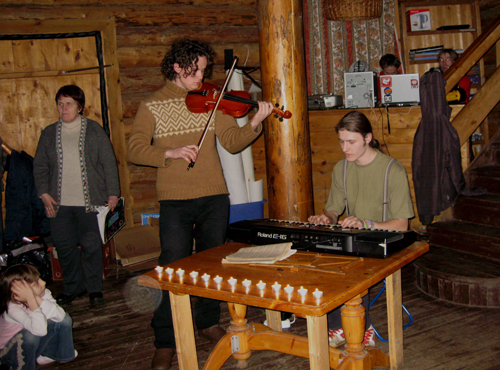 Polina Proskurina-Yanovich:
Thank you to Beslan children. I have met them for the first time. I was struck by their beauty and smiles.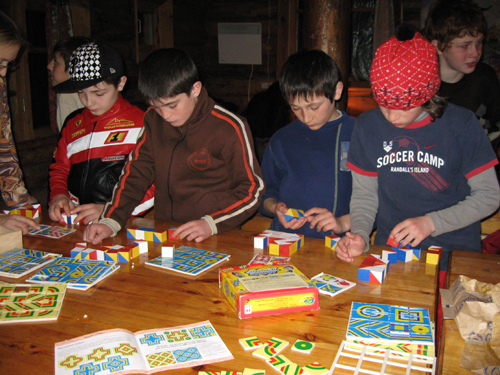 And the most important, thank you to our talented actors, children with whom I produced a play in Italian. They were full of enthusiasm. If I were them, I would run riot on the second day. We have been working for one and a half or two hours, and Arthur would say: "Let's have another run-through". Thank you very much; I think it was a hard work for them, anyway.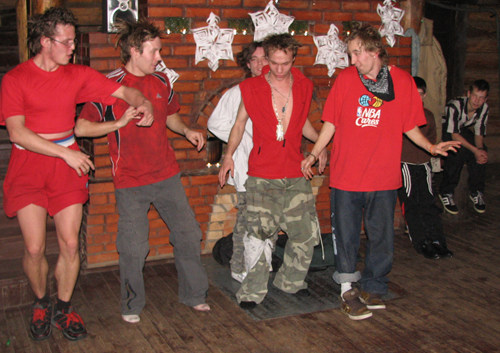 Maria Yeliseyeva:
I love Svyatogorovo even more than our summer camp for its family atmosphere. It gives the opportunity to get to know better both children and adults. We come here and have some new relationship built, and they are getting developed later in the studio. The living conditions are hard here, but it is a well known truth that such circumstances give the opportunity to get to know each other more closely. When the conditions are difficult, more things depend on yourself and your actions, and I learn more about many people. It is very interesting to watch people being changed, especially those who have been here more than once. I am very grateful to all adults who manage to bring children here.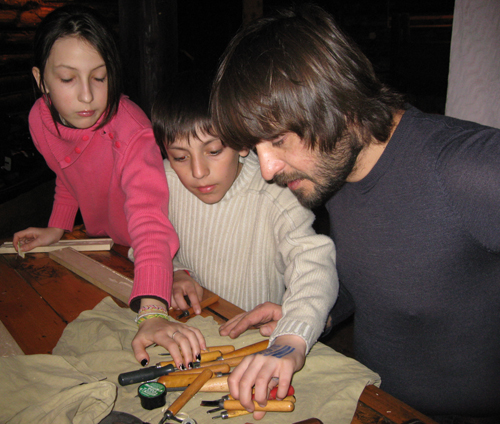 Beslan children were doing very well. I hope they liked it here though the village living conditions were far from comfortable. We have never before taken to the holiday campschildren who don't attend the studio on the regular basis. It worried me that we were to hold a camp for a great number of people this time and now I am very happy with the outcome and the family atmosphere we felt. This is the most important thing. It has worked out thanked to you all. My deep appreciation to all adults involved with children. It is so nice to see them growing up, becoming true adults, actors, clowns, helpers. I feel a great love towards you all. I am so glad that we are together and I hope that we will continue to be together.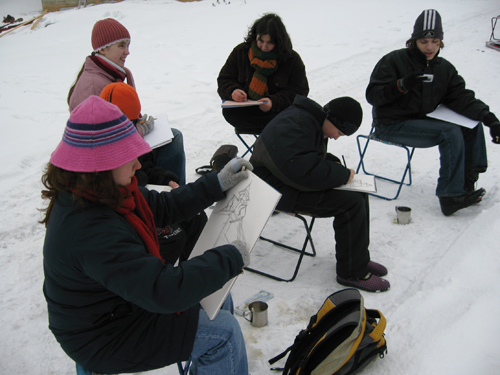 Nell,
volunteer:
I would like to thank Maria and those who work with her for allowing us to become a part of the team. We realize how unpleasant it is when you are being followed by the camera and microphones. We are very thankful to you that you have treated us very friendly. Asya has told me before that the studio was like a second home for her, and now I understand it for myself.This is the place, to where people of different languages and cultures come from different countries and parts of the world to find a new kind of freedom, virtually, to celebrate life.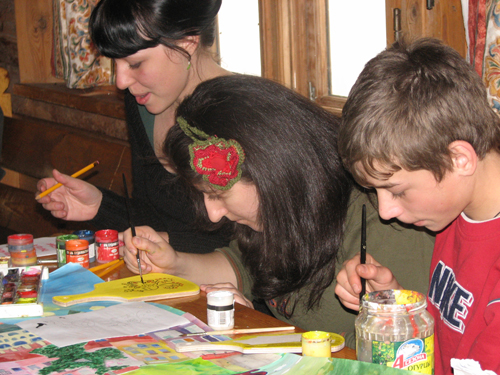 This holiday camp became possible because of Maria's efforts as well as the efforts and energy of the whole team which organized the event. I will always keep a part of it in my heart.