04/2015 Fairy tales in Nazarievo
April 10-12, 2015, our traditional training with students from the Sevenoaks school took place in "Nazarievo" recreation center near Moscow. 27 English students, 14 children from the Family care assistance center SPUTNIK, as well as our staff members and volunteers, took part in this event.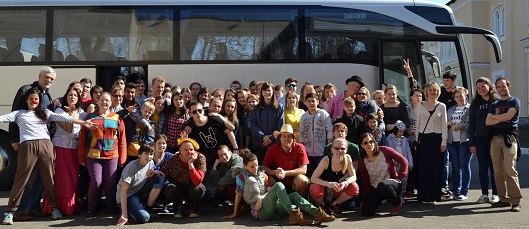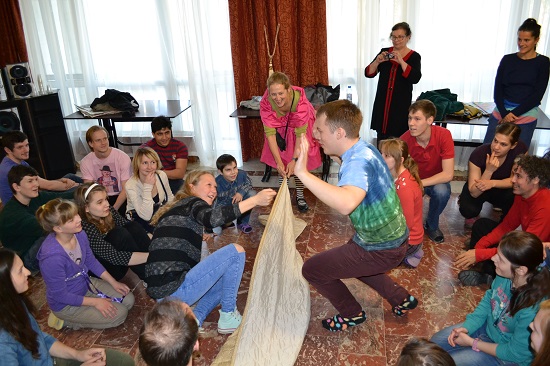 In order to communicate more free-and –easy we played lots of Maria's Children favourite games (thanks to Lesha Golubkin, Anya Eliseeva and Seven Sterns!)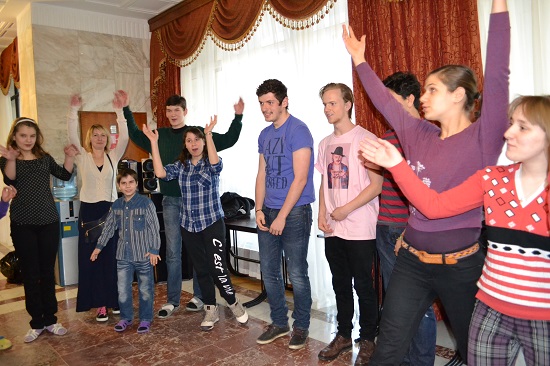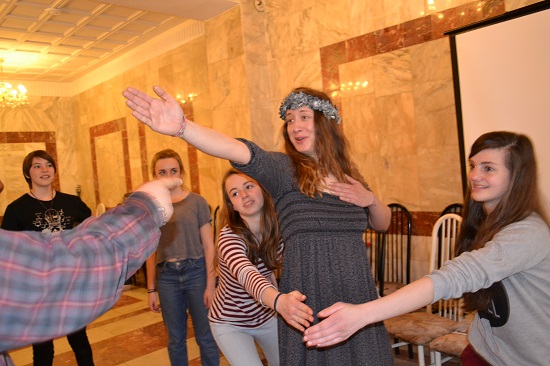 "Bobodi-bop-bop-bop"
The picture below shows one of our favourite games "Samurais" with incredible number of players.

An artist Yulia Ostashkins held a master-class on ebru. It is an ancient art of making a "marble paper" that we discovered not so long ago and now shared it with our English friends.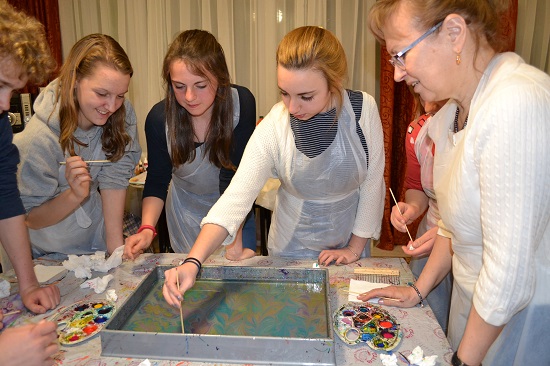 On Saturday, after dinner, we had a grandiose "Theatre from wheels" – so called improvised performances. This time there were six groups, each of them prepared and showed us different fairy tales – Russian and English, folk and authors.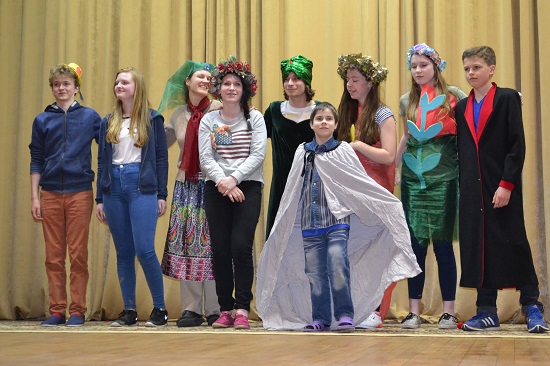 Fairy tale "Little Grey Star"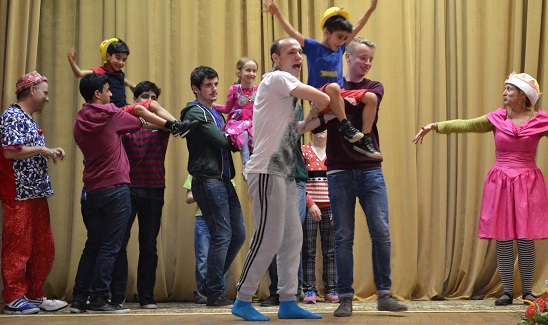 Tale about chicken Fip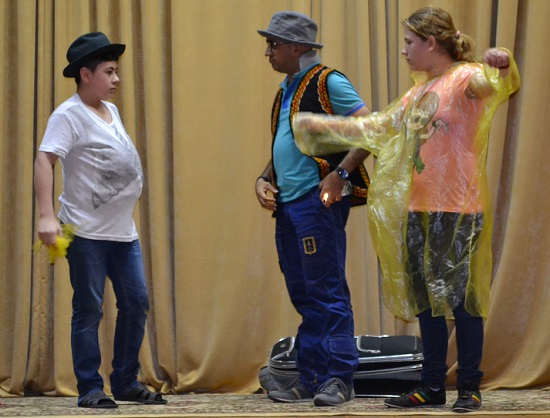 Fairy tale "A Star"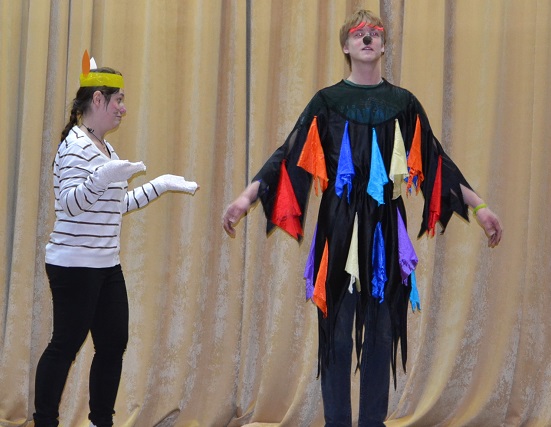 Fairy tale about a brown hare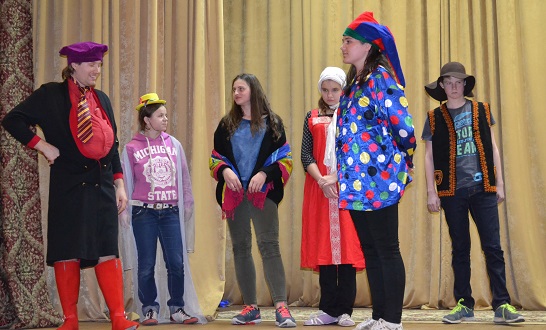 Legend about the Pied Piper of Hamelin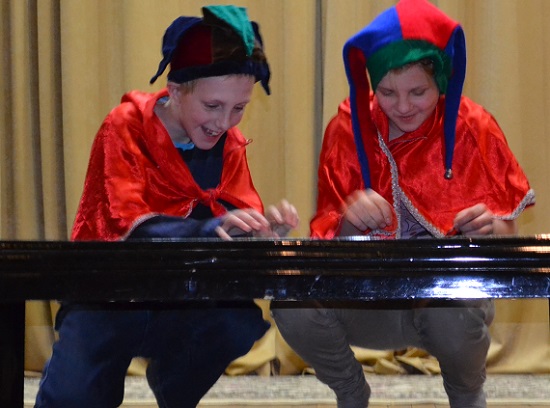 Fairy tale "The Butcher and Elves"
In the evening we had a heart-warming bilingual concert, sang Russian and English songs under accompaniment of wonderful musicians Alexander Shishov (Moscow), Steven Sterns (USA) and Pablo Reboleiro (Spain), meanwhile George from Britain and Lesha Golubkin entertained us with pop hits.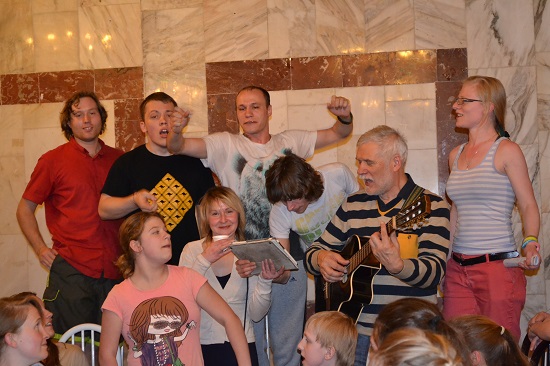 The Sunday morning, that coincided with the Orthodox Easter, brought our kids one more adventure. The English guests hid about seven hundred (!) chocolate eggs and rabbits in the recreation center's park and our children proceeded with a Hunt for Chocolate Eggs. It is a traditional Easter game in England, and most of our kids took part in it for the first time.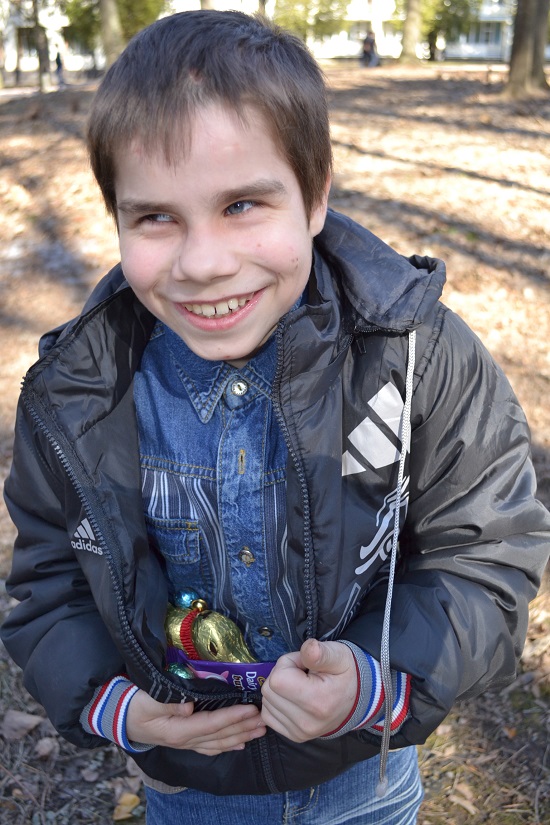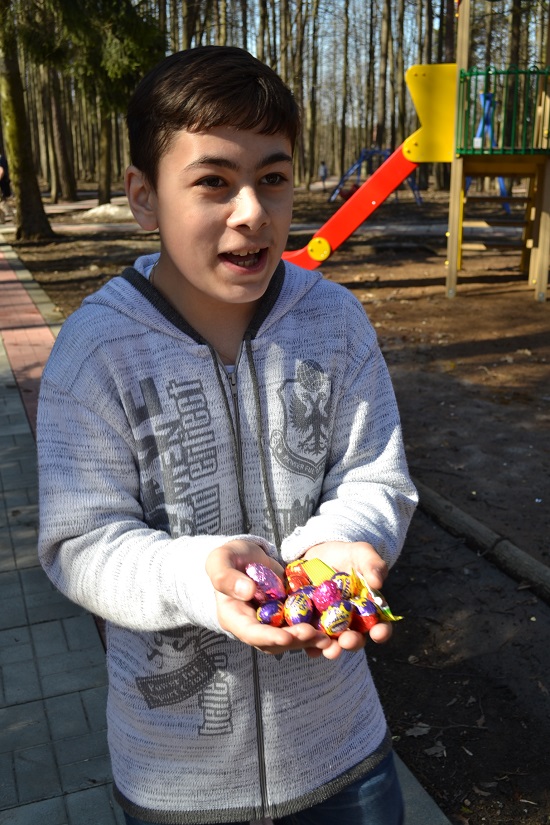 Moreover, we swam in a basin, played a game "Crocodile" and had one more ebru class (this time with psychologist Galina Petrova).
We spent these days great and were really happy to be together with our English peers, learning something new each day.
We are grateful to John Drury, to all our guests from Great Britain and other countries, and to "Nazarievo" recreation center for wonderful service.