12/2006 The Frog Princess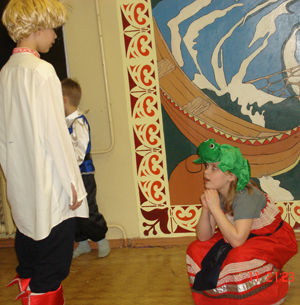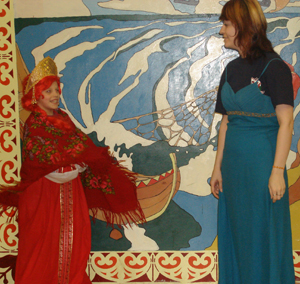 Sona Stepanyan,
event planner:
–Together with us there were guys from orphanage №80 during the workshop at the boarding house "Лесныеполяны" (15 people!).
We did not know everyone very well, some of them had been in the studio only once or twice, that is why for a start the elders prepared some games where we got to know each other, our favourite "Blanket" and some other. In the evening we read aloud the "The Frog Princess" fairy tale.
In the morning a trainer Ira Baranova came, the children sat down in a circle, made the acquaintance of Ira and began telling what character they look like. They chose it themselves. For instance, I said: "I am Sona, I look like Baba-Yaga, that is why I want to play her. Usually I am kind, but sometimes I can be annoying". Igor wanted to play Baba-Yaga too, so there were two of us. There were almost a fight for Koshchei. We did not divide into groups and saw everyone works. Sometimes the children changed the plot. Ira asked them: "What would you like to happen?" While Tsarevich Ivan is at Koshchei's place and he cannot succeed, here comes Baba-Yaga to help him. And she takes him from Koshchei. She seems to have more power than Koshchei. And when we began to play, we made zones: the stage and the audience. While the first scene with the tsar and the princes went on, we were sitting and watching Ira directed the scene. Then she taught the princes to shoot with a bow.
Irina Baranova,
volunteer, workshop specialist:
– In "The Frog Princess" children chose themselves the roles they would like to play. They told what the character is like; put the wanted character into their roles. When we were discussing the message of the fairytale, children said (I have never faces such context before): "It is clear what it is about – that one should not steal! Tsarevich Ivan took the frog skin without asking – and what happened!" I was very surprised. I have never thing of an idea that this fairy tale teaches not to steal. The children also said that when the heroine was much kinder as a frog. And when she turned into Vasilisa theWise she only gave orders, but could not do anything herself.
There was also a thought that it is extremely important to learn shooting in the right direction, because you never know where the arrow will fall, and you will have to live with a frog!
There are three pairs in the fairy tale. The orphanage children take a fairy tale as a life. They don't play, they live the situation. The pair they get, the costume, the wig they are offered are very important to them. They not only get the feel of their roles, they really become a merchant's daughter or the second son. Although the bear had a little role, but it was a real bear ready to help Tsarevich Ivan. The pike had no words at all, but it lies on the lakeside like a real pike. The children memorized every detail. Not all of them could play them, but they all feel this fairytale. And even if this fairytale does not teach not to steal, I believe it was a very good and big lesson for the kids.
On Sunday all children were riding horses and we all were drawing.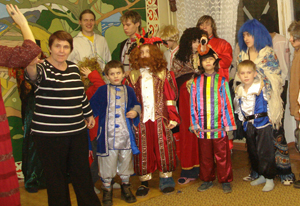 Misha Plitin,
13 years:
This fairytale taught Tsarevich Ivan to be brave, strong, and healthy.
– I was Tsarevich Ivan. He is strong and handsome. It was a big role. I said: "Ah, this bloody skin!" And threw it like into the fire. Then a damsel came and said: "Tsarevich Ivan, why did you threw the skin into the fire? Now things will turn bad for you". And I went to find Vasilisa. I came to Koshchei and started to fight with him. He won and I ran away. Then I found an egg. It was thrown away into a river. A pike swam up and gave it to me. I broke it and took out a needle. Then I came to Koshchei and said: "Here is your death, Koshchei!". I broke the needle and he died.
Olya Rota,
8 years:
– I played a bird, a duck. It flew over the water and dropped an egg in the river, a pike swam up and gave it to Ivan, then he came to Koshchei and said: "Here is your death, Koshchei". He broke the needle and Koshchei fell.
Anton Gerkin,
10 years:
– I was an old forest fellow. I had a shirt and a real moustache. The old fellow gave Ivan a roly-poly so that he could go to that princess, a frog. He was old and kind. The Tsar and the Tsarevich are good people. And Koshchei is bad.
Seryozha Naydyonov,
17 years:
– I played a hare. It is funny and it can run fast. He came out and said: "Don't kill me!" And it saved Tsarevich Ivan and he chopped a chest with an axe. This fairytale is about kindness, that all people should be kind.
Misha Kupryakhin,
9 years:
– I was a pike. I just laid and took the egg from the duck, when it fell into the river. Then Ivan said: "Give me the egg, please". I gave it. The pike helped Ivan because Ivan helped the pike. It said: "Throw me into the water". And he did, pretending.
The seminar expenses were financed by the UNICEF and CAF funds.