Wall painting
Being true artists, our guys do not limit themselves in their creative impulses. They don't just draw remarkable pictures and create huge collective panel paintings, they often and with pleasure paint on walls.
The first experience of wall painting was when we completely renovated the basement space that was to be our studio many years ago.Now our kids are in high request to decorate the boring walls of a surprising range of organizations and companies.
In the spring - summer of 2002, under the patronage of the Uprava Persnenskii region, we painted a huge panel mural on a wall opposite to north entrance of the American Embassy.
We hope that this mural has decorated the city, but, however, our basic idea in murals consists not simply of making art, but in cultivating the creativity of diverse groups of children. Especially because many of these kids, unfortunately, are frequently deprived opportunities to realize themselves in this capacity. We have drawn in the foyer/reception rooms of the Orphanages No. 4 and 28, created a large mural in Sergeiv Posad's Orphanage for the Blind and Deaf, and we have painted the walls and ceilings of the Intensive Therapy Ward of the Children's Hospital No. 9.Everywhere we tried to work with the creativity of the kids of each place.
Besides that, we are painting/decorating the Moscow Children's home № 10, and already waiting in line is another Children's home. The children who there live, unfortunately, cannot yet hold a paintbrush or paint in their hands, but we think that the works created by us, never the less, haven't left them indifferent.While some of us paint, the rest of us play with the kids, go with them on walks, and look after them. With financial support of UNICEF we built and painted a playground in Baby House in Fryazino (Moscow Region).
The Intensive Burn Ward
In the autumn of 2004, our center received the invitation from Children's Hospital Welfare Fund (DGKB № 9 named after Speransky) to paint the walls located in the hospital's burn center.Due to the support of the directors of the Burn Ward, we were allowed this opportunity to draw (on even the ceiling)and spend a very long time with the children who have received very serious burn injuries requiring them to stay in the hospital for a long time.
It would be nice to believe that those colourful compositions created by our kids, however much, will lift the mood of the small patients, especially those of which are compelled to remain in hospital for more than one month. Actually, some of the patients took part in creative process level with our own artists and have shown a remarkable keenness to fantasy and have great art skills.
Boarding school for the Blind and Deaf Children in Sergeiv Posad
In the city of Sergiev Posad, somewhat near to Moscow, there is a boarding school well-known all over the country for the Blind and Deaf children. In this boarding school work remarkable people who care for these special children not worse, if not better than the real parents could.Because they also love the kids, only the best efforts are made to open the world up for these children who, unfortunately, cannot see or hear or interpret it in all its variety.
We are very grateful to the director of the facility,Galina Konstantinovna, who allows/invites us to come for 'Clown Days' and even earlier allowed us to paint together with the older kids of the school.It turned out absolutely beautiful, it is a shame in some ways that not all of the children who live there can see the wall.
The Receiver - Allocation Center for Minors in Altufyevo
In the winter of 2003 we received the invitation to paint the walls of the Moscow Receiver - Allocation Center for minors in Altufyevo. This is a place where children who have been accused of committing any offences are held, or those who became unnecessary to someone, and were left on the street.Many of them do not have documents of their identity/history, and they leave the Center in one of two ways: to a boarding school to grow up with others or to prison.
We have painted there together with children on several walls,trying to make the atmosphere of this official establishment just a little of more joyful. For some of our guys, participation in this project was a surprising opportunity to return to that place, from which they themselves had once been left, in a completely different quality. Their experiences help them work with those currently who have ended up in the same situation.
How We Ended Up at Orphanage No. 4
Within the framework of the program "Artists Come to Children", financed by the "Association of Youth Initiatives", we painted a 75 m wall in the Moscow ('Specialized')Boarding School (orphanage) № 4. The orphaned children there, many of which have been diagnosed "developmentally delayed", "Oligofrenia in the Stage of Debility " and other similar diagnoses. Children from No. 4 come three times a week to our studio, they have drawn many very beautiful big and small pictures. We, employees and volunteers of Maria's Children, absolutely and genuinely love the children from No. 4 and we were glad visit them at home to paint their wall with them.
The building that is now an orphanage used to be an old hospital.The wall we painted was that of a long corridor of the wing that serves as their school.We had not only the studio who come to our studio helping us, but also many who heard by word of mouth about what we do and wanted to help us paint their home.
These guys are relatively newcomers to the school, coming from the Children's Home.When they arrived one day, they came up to us and started asking, 'Is that a horse? Is that a bird?' we decided to invite them to join us, and it was a great twist to our project. Fourth-grader, and previously unknown to the Studio, Seryozha made a comment, "This is the first day of my happy life!" and since that day he comes with the other kids in his class to our studio.
The children knew when we would arrive every Saturday, waited outside for us in the cold, and all wanted to help us. With us painted the children from 4th and 5th grades.Together one group of adults with the children extremely quickly prepared the background of the mural with a sky and seas, desert, green fields and mountains.The second group would spontaneously paint butterflies, their imaginary homes, sea creatures, plants and animals, and anything colorful they could think of.But at some point, when the background and many details were almost ready, came the first class-ers!
It is fascinating to get acquainted with children when you draw side by side, wash your brushes together, clean and carry supplies to and from the van up flights of stairs. This sense of "togetherness" is surprising. We in fact, truthfully, helped each other reciprocally.
We came to finish the long wall, and keep in touch with the children two more times. The children say, that they "saved a wall ", because it it was go be a part of the restoration/construction of that wing, but wasn't touched because of the children's painting.It's a significant and valuable event, that this wall is remains intact, because the children have connected a lot of important memories to it.
About the Truth of Life and Castles in the Air
In 28-th boarding school, we painted a wall within the framework of the same program " Artists Come to Children ", financed by the "Association of Youth Initiatives".
Next to the door of the building, in big letters it is written "School for Mentally Retarded Children".This school is huge.Within the confines are long dark corridors, but in the atmosphere there is something good.
They permitted us to paint a mural on a large wall in the main hall.We decided to draw the theme "Iridescent Empire", a fantastic and celebratory world built on clouds, where it is possible to drive on rainbows in golden carriages.We painted the wall during quiet time, because, when we arrived with paints and inspiration to the building, we met only two girls from the many who come to our studios, who were washing the floors of one of the seemingly endless corridors.They came and drew with us later.
When the rest of the children woke up and were allowed into the halls, we had by that time already drawn much - the sky across the whole of the wall, rainbows across that sky, islands on each of the clouds. We switched into clowning clothes, which we didn't paint in so as to not get them dirty, and looked sensational. Probably, they were a little scared of us. They stood in a their rooms, not entering to the hall and simply peered at us. Maria went up to some of them to get acquainted.
As a result, a part of the kids came over to us.There was not much for them to do, which was okay since many of them were very soft, therefore they needed help to draw on the wall.Their hands were so small, it seemed, that their hands weren't used to drawing steadily. Drawing together with these kids was very interesting and pleasant.Interesting because the children drawing with us wasn't anticipated; pleasant because we were able to take care of them and make them smile.
A week later we arrived to finish painting the wall. Since then we have frequently visited to clown around.Somehow we have settled into a regular routine with these kids.
A Wall in Rostik's
Our friends from "Rostik Groups" Corporation suggested to us (at the " Maria's Children " studio) to paint a mural in the children's game room in a restaurant's courtyard Chasovaya Ulitza [street]. When we arrived on the appointed day to Rostik's, all of our workers, volunteers and children of the Rehabilitation Center ended up at a large number.When we, armed with brushes and palettes, approached the blank wall, I thought it was like a wall to wall collision.
We drew the seasons of the year.Actually, this theme goes along well for wall paintings.In the beginning we split into groups based on our personal favorite season of the year. Almost all of the boys chose summer.The rest of us distributed evenly among fall and winter, but for some reason very few chose spring.Then the beautification process began: we ran for paint, brushes, palettes, and began discussing where roughly the lake and colors of the sky.We also dreamt up a waterfall, mountains, a big house, a swing set, a boat, and a blossoming apple tree in a garden..
We had two small children in our group, not from the Center, and visitors/volunteers from Rostik's.Evening snuck up on us, and we realized all too quickly that the children needed to be taken back home.We still had a lot left to do...and decided to come back another day to finish.We were offered a tasty supper that was quite satisfying after a day of inspiring work.
We with the children from № 80 came in to Rostik's to finish the wall on a second trip, again treated to great food, leaving us with only joyful memories...despite the long trip between the restaurant and the orphanage.
Oprphanage in Armenia. August 2006
During the trip to Armenia in August-September 2006 together with local children we painted a wall in the yard of orphanage in Yerevan. The trip is funded by UNICEF.
St. VladimirChildren Clinic Hospital
In the St. Vladimir Children Clinic Hospital our Nadya Livenkova went through two operations.
The chief of trauma department Anton Shakhin, MD who we have met there was interested in our programs, visited our studio and then invited us to clown and to paint muralsin his hospital. Clowns visited the Hospital in November 2006 and 2007, and in January 2007 we painted a mural at the hall of trauma department. We hope that our mural help children (most of whom have to stay in the hospital for months) to cheer up, not to lose hope and not to forget how to dream.
Wonder-fish in Radiology Center. August 2007
Opening of a new box for X-ray therapy was held in the Radiology Center. Children and adults with oncological diseases are treated there. We were invited to paint the walls in that box. Patients, especially children, are often afraid of being alone in closed room under the irradiator. We hope the wonder-fish, which we painted on the wall, will divert their attention and revive their spirits, and that is absolutely necessary for success of a treatment.
The longest wall in the orphanage #7 yard
The longest wall we have ever painted was in the orphanage #7 yard. We were very glad when they invited us to paint mural, but we could not expect it was so huge. We had to make a call for extra volunteers. Also children from orphanage #7 helped us a lot (Zulya, Vitya, Vasya, Masha, Mila and others). We came there many times in September–October 2007. Administraton of the orphanage requested us to paint mural on the theme was not usual for us: that was traffic rules. Yet we put in our best licks. On sixty or more meters of the wall we placed the whole Moscow and the suburb - at least all the most famous buildings: the Kremlin, Moscow University and of course our studio!
Khury Tyn" orphanage in Vladikavkaz. January 2007 and January 2008
We have painted two murals in the school hall. Thase mural paintings were a part of our trip to Beslan, and we painted these murals together with children from Beslan school #1 and children from that orphanage. Besides everything else we had additional challenge in both visits; we had to finish the painting in one day. In 2007 the Wonder Country appeared with a rainbow, gardens and meadows on the shorter wall. And in 2008 there were mountains, sea, a big turtle with a castle on its back and a yellow submarine named "Maria's children" painted by Asya.
Murals on Walls in Sergeyev Posad 2008
A new joint project of UNICEF, Maria's Children and Sergeyev Posad boarding school for the blind-deaf started in March. The project is called "Only Heart is Sharp-sighted".
In the framework of the project in spring 2008 we went to Sergeyev Posad three times to paint murals on the walls of children's bedrooms. The first time we made boys' bedrooms and then the girls' ones. And at last we painted a laundry at grown-ups boarding house. Thank you to the volunteers who joined the trips.Thanks to our involvement, the life of these children became more joyful and colorful, full of new impressions. The project goes on. A special ground for mobility lessons will be built in Sergeyev Posad for the blind and visually-impaired children.
Psycho neurological institution #16
In September – October we painted a big wall in the hall of the psycho neurological institution #16. This is an institution for adults; Andrey Saveliev and some other young people who used to come to our studio when children, live there. We painted holiday-like view of Moscow. Thank you, all our volunteers for helping us to brighten up the life of people, who are not very fortunate.
Wall Painting in Pereslavl Zalesskiy. December 2009
In spite of early start at 8 am, there were many of us (15 people).
We were welcomed by a wonderful staff and friendly children. There are over 100 pupils at this school and about 30 of them are orphans. At first children were very shy and only watched us painting, but then they joined us.
This trip became possible thanks to the generosity of White and Case company, which provided us with 20000 rubles, also because of volunteers of our studio and Couch Surfers, who managed to get up so early in the morning. Thank you, Boris Baranov for organizing the trip.
Irina Pushkariova,
volunteer:
— I couldn't but cry when a child hugged me pleading not to go away. We hugged each other and cried together. Maria's Children visited special boarding school #7 in Pereslavl Zalesskiy and took me with them. A dull grey wall was turned into a magic landscape.
The Wall in Katerina Park Hotel, 2010
Katerina Udalova is our dear friend and sponsor. She is opening a new Katerina Park Hotel and asked our artists to paint a wall in the lobby by the reception desk. We are very proud that our wall panel is the first thing Katerina's guests will see in the lobby. We tried our best and trust that all the staff members and hotel guests will like it.
Katerina and her father Alexander Udalov have always made very generous donations to our studio. Besides, for the second time our November Auction took place at Katerina City Hotel and our clowning team of Patch Adams stay here when in Moscow (with a substantial discount).
We are very grateful to Katerina for the chance to paint a wall. Thank you, our volunteers, and personally Ruslan Lartsev, the chief artist.
Raduga boarding-school, Beslan, Nothern Ossetia
In January 2010 we visited Beslan and Raduga boarding-school.
We painted on a wall in the game room. A huge panel with flying islands will gladden children and remind them of our cooperative work.
Our studio yard #17, Sushchiovskaya str., 2010
On June we painted the wall of our studio on #17, Sushchiovskaya str. The photo on the left shows the wall before wall painting with our chief artist Ruslan Lartsev lining out the future buildings. On the photo on the right there is the same wall by the end of the day. Thank you, all volunteers who participated! Thank you, Tverskoy Municipal Council for funding!
Wall painting at Children Hospital in Adler (Sochi). Summer-autumn 2011
Bedrooms for princesses. February, 2015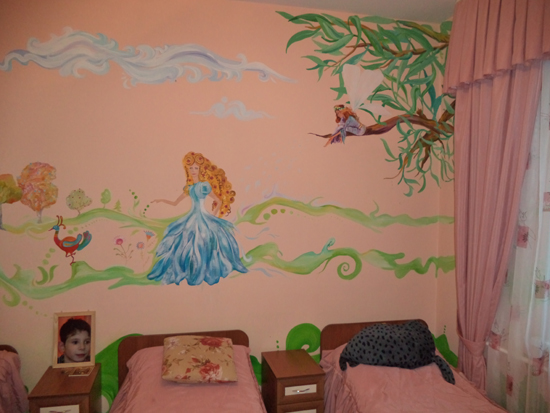 In February 2015 we decorated walls in three bedrooms for girls at the Filimonki childrens' home "Solnyshko" (Moscow region). By the girls' demand, the bedrooms were colored in a tender romantic style, with princesses, princes, castles, rainbows and fluffy clouds.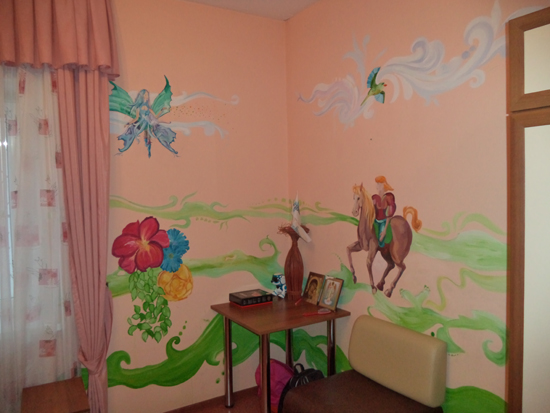 We thank our artists Nyusya Mitina, Natasha Pushkina, Lesha Golubkin and our volunteers Zhenia Soc, Nastya Frieva, Pavel Drozdov and Magomed Gadzhiev for help!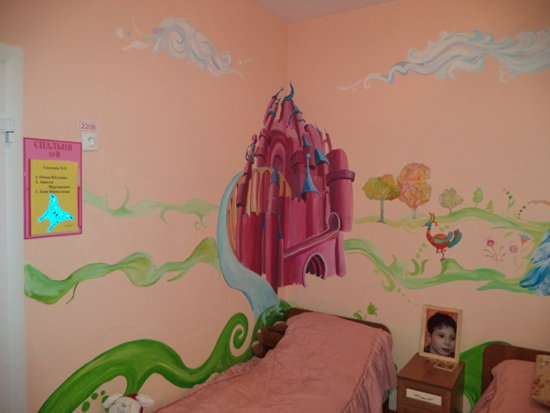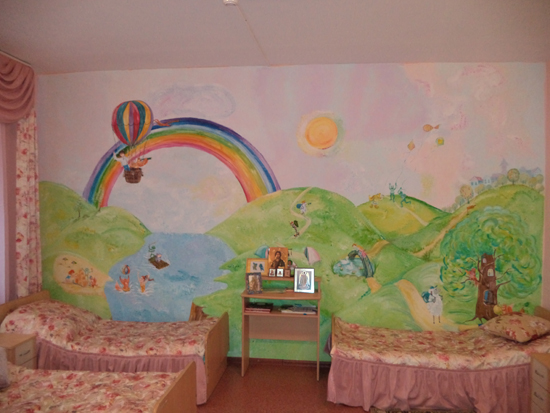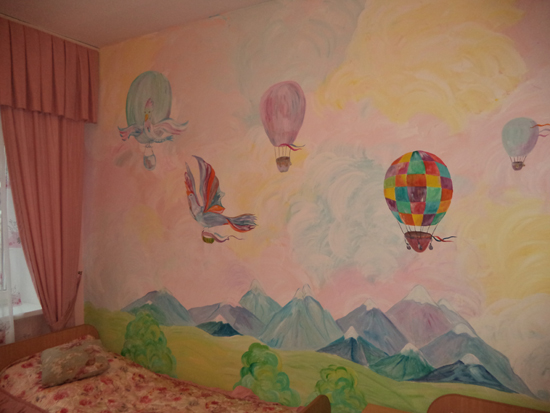 A Fairy land on the walls of children's hospital. December 2015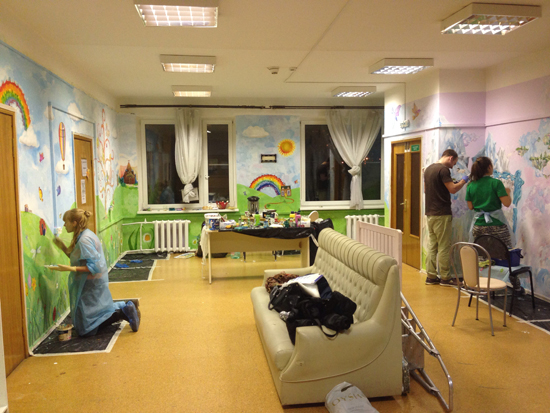 On 21-27 December 2015 "Maria's Children" and "Pelican" art teachers, staff members and volunteers made wonderful paintings on the walls of the children's orthopedic department of the Russia's Ministry of Labour clinic. Series of paintings "A Fairy Land" brightened up the walls of the department's recreation hall.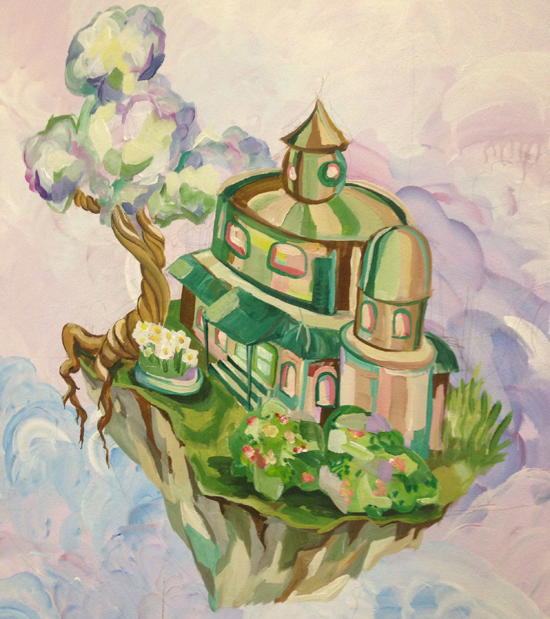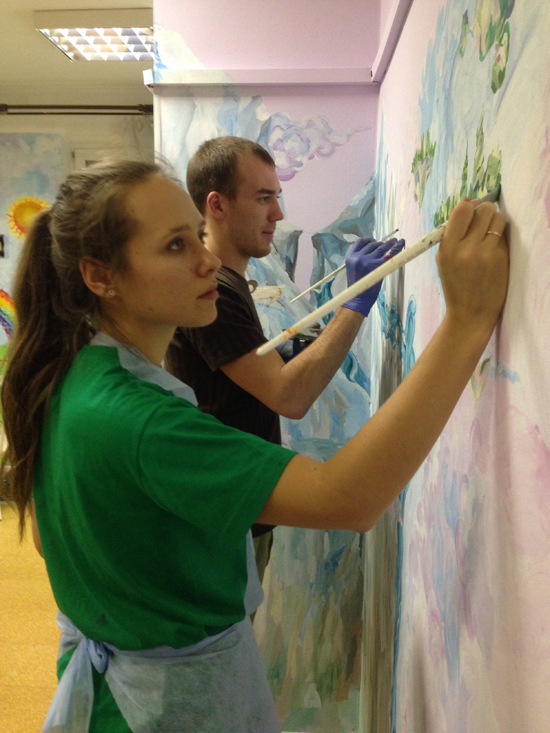 Artists Zhenya Guryanova, Vika Basina, Olga Eliseeva, Natasha Pushkina, Dasha Kamenskaya and her little son Sashenka created a colourful world full of rainbows, clouds, flowers, grass and fantastic creatures.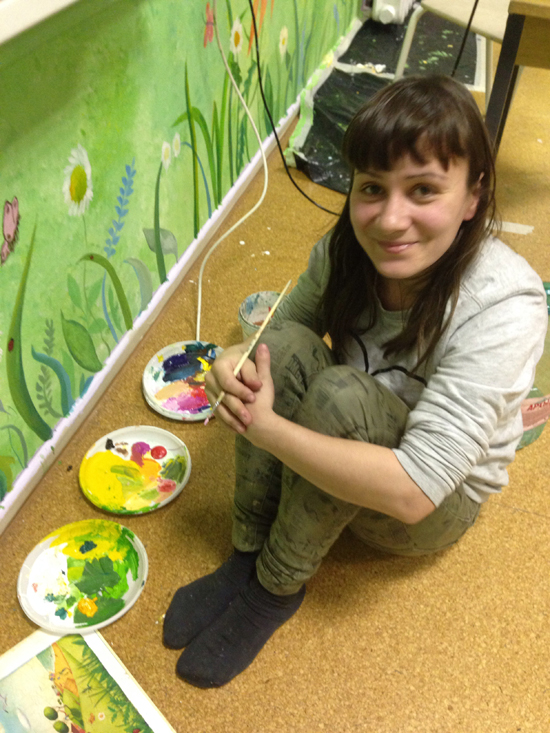 Dmitry Ponomarev, Irina Blinova, Viktoria Ermilova, Mikhail Mamedov, Anna Drozdova and Anna Smetanina assisted them.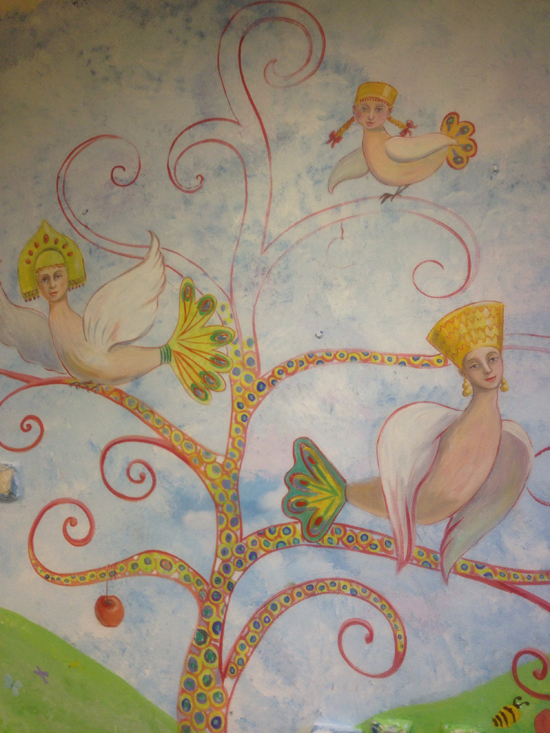 Agrafena, Kristina, Nikita and other little patients also added their details to the "Fairy Land". They were so carried away by the opportunity to draw on the hospital's walls that one could hardly tear them away from colours and brushes.We express our big gratitude to the Georgian family: mother, daughter and father Mamuka.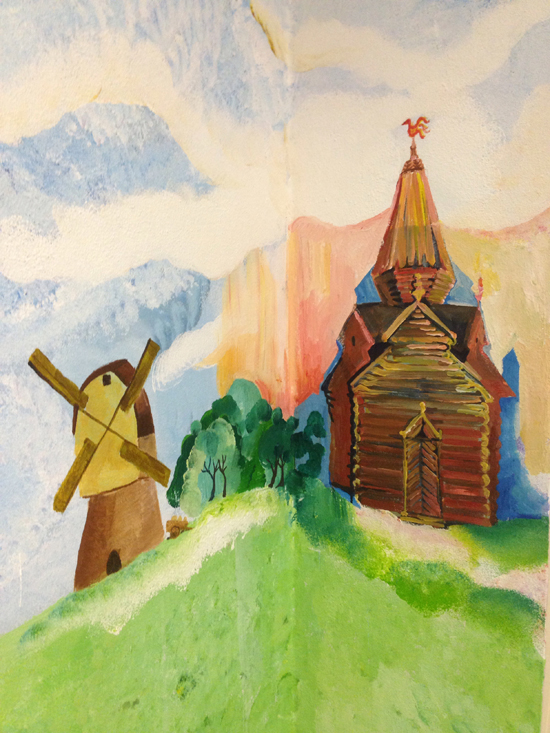 We appreciate Elena Volodina from the Charitable Fund "Dima's Dream" for the organizational help and brushes!
Thank you to everyone! We did it all together!