Summer camp "Our Family"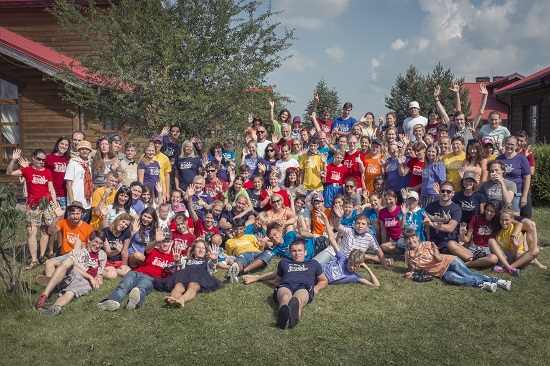 On 16-30 July our deeply loved traditional summer camp at Sorochany resort took place. This time it hosted 9 children from the Family care assistance center "Yunona" (Moscow), 17 – from the children's home "Solnyshko" (Filimonki settlement, Mosow region), 8 pupils from the Beslan school №1 and 5 young adults from psychoneurological institution. An international team of volunteers from Moscow (including our orphanage graduates), Beslan, USA and Canada took care about them.
Mornings were usually devoted to master-classes. There were so many of them that sometimes it was even difficult for our children to make a choice! We did oil-painting en plain-air,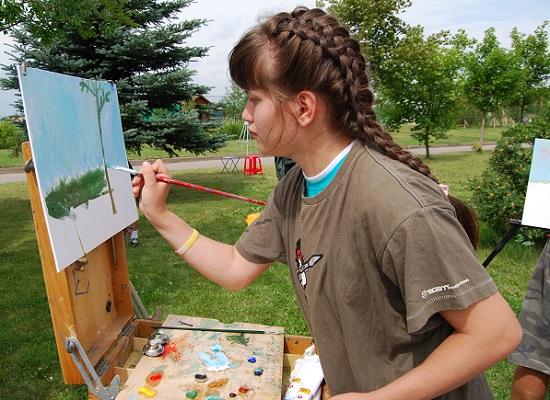 mastered the art of mosaic,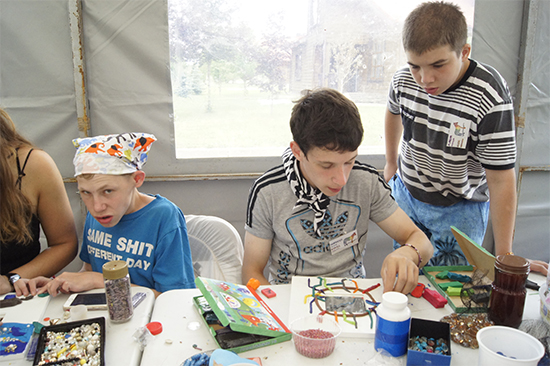 colored candle-holders,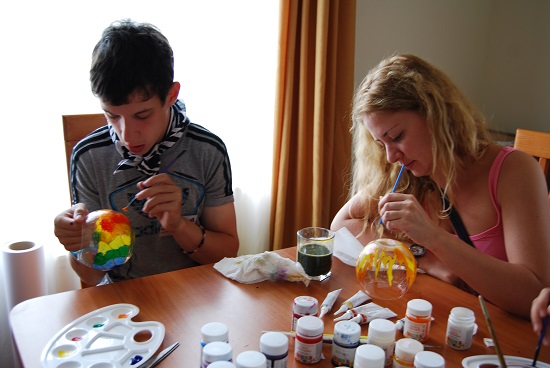 baked wafers, decorated frames in pape-art technique,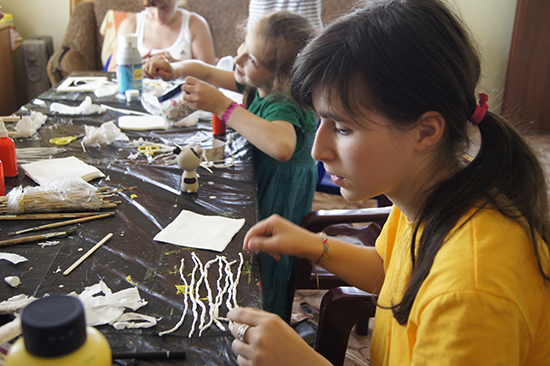 created wind-chimes,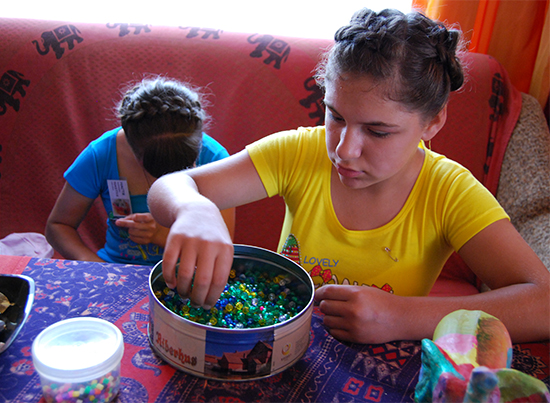 did fret-cutting,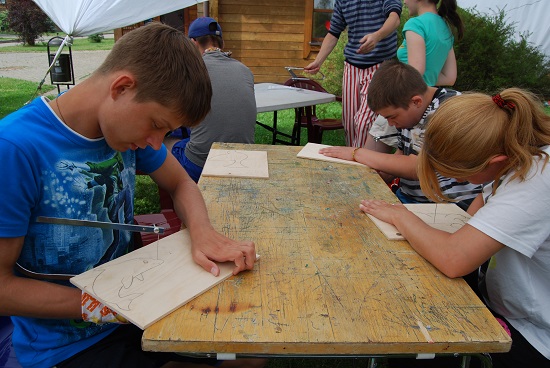 learned to dance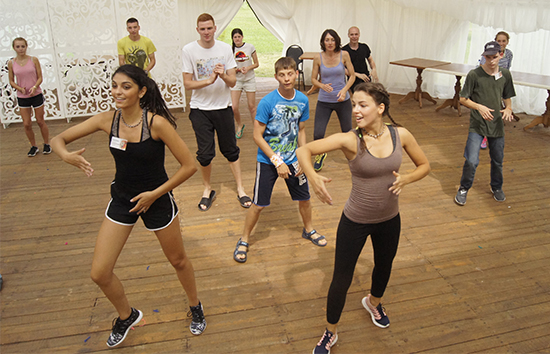 and play guitar,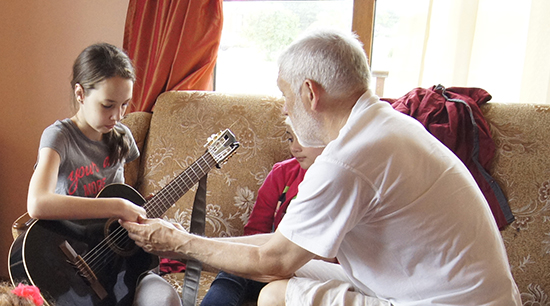 colored panamas,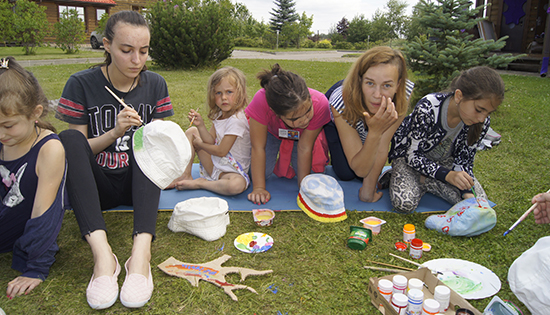 practiced acrobatics,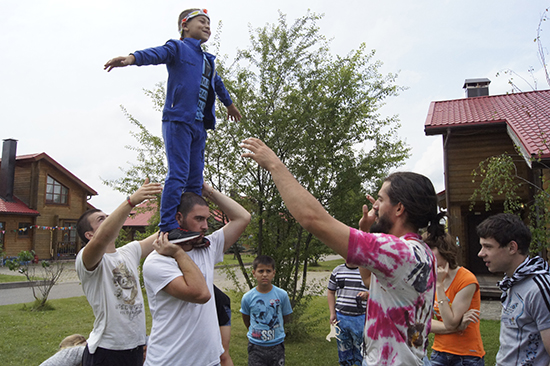 learned to do massage,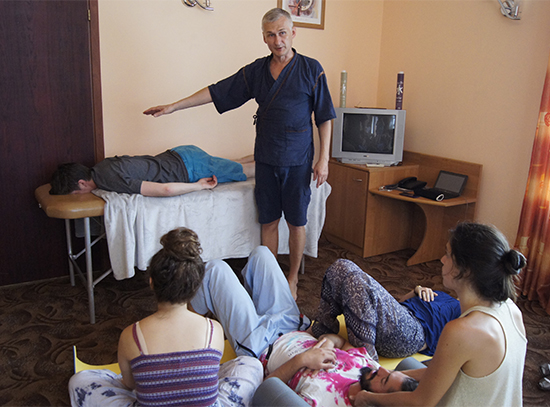 constructed a doll theatre, created magic amulets,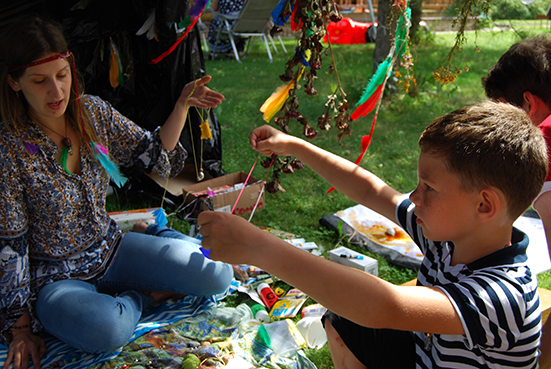 walked on a tightrope,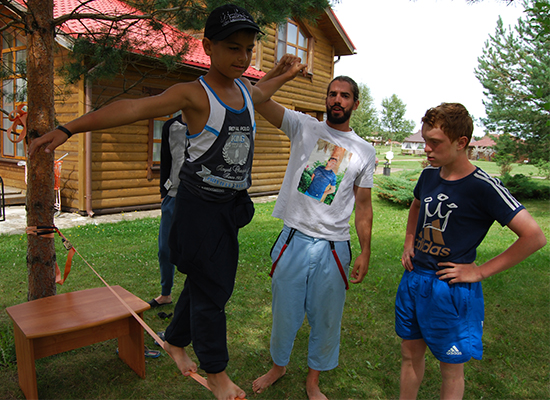 learned to draw comics,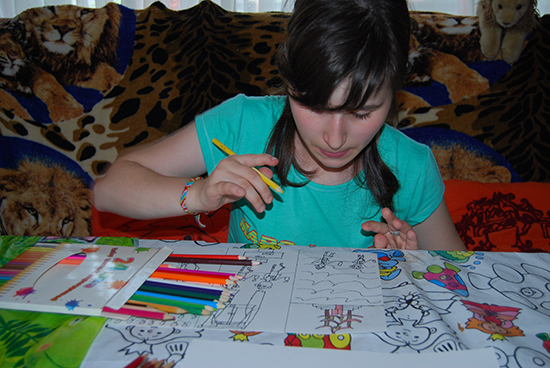 wove friendship bracelets,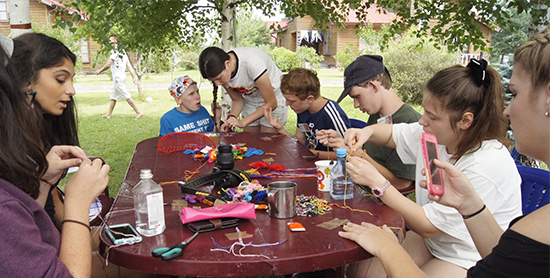 played drums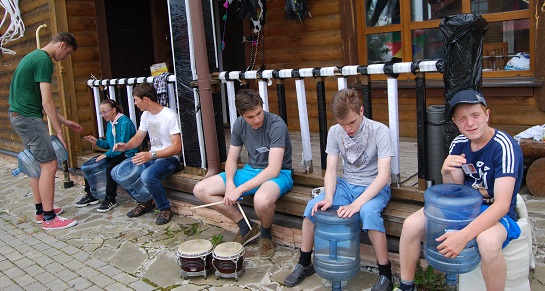 and made drums with our own hands.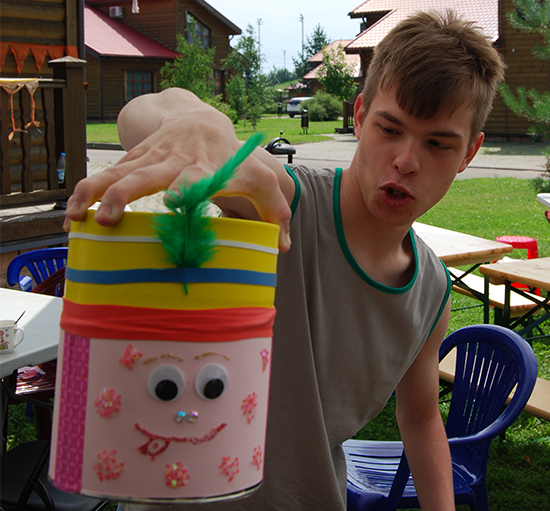 During the day life was at full swing in families of Elephants, Zebras, Lions and Giraffes: we shot films,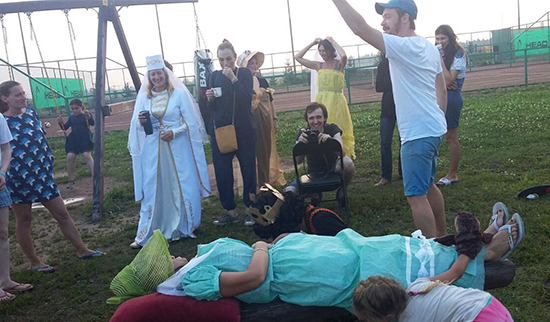 drew, played games,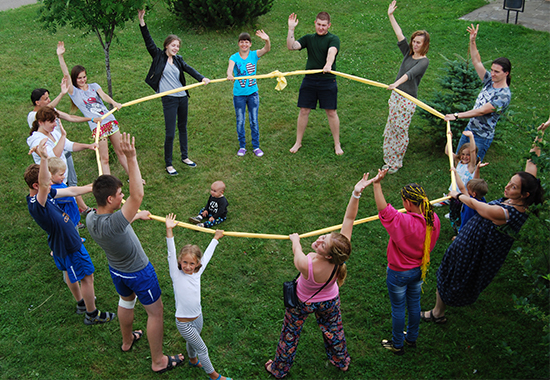 swam,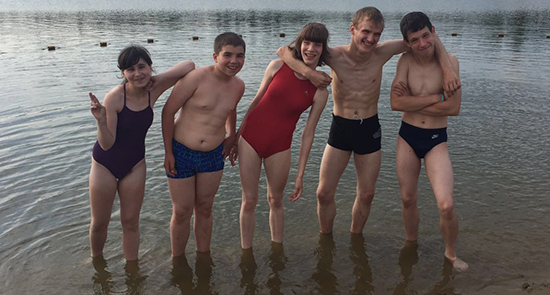 learned to cook,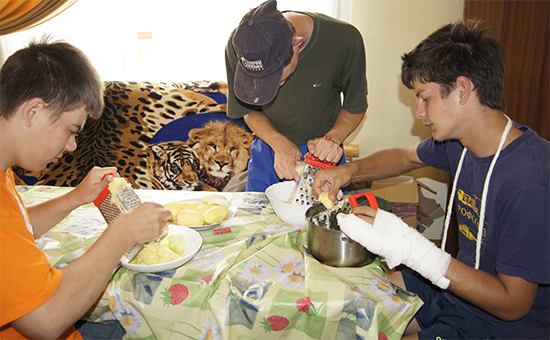 sang songs,

watched movies.. But, what's most important, we chummed and spent together the whole day, rich in events.
On one of the days we arranged a "Theatre from wheels",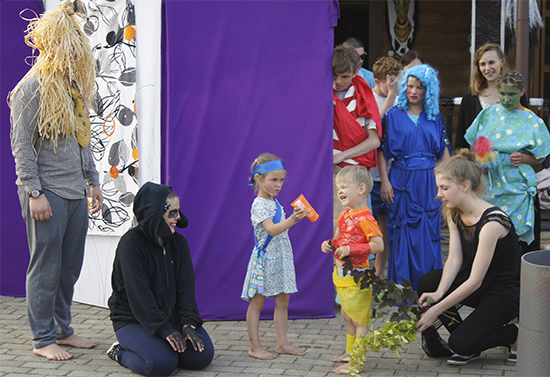 where each family performed its own part of the play "The Wizard of Oz".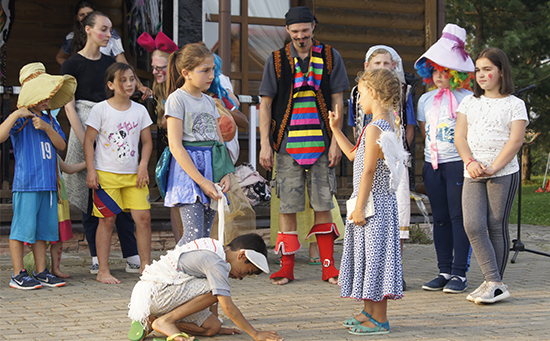 The weather was hot and sunny so we also had a lucky opportunity to ride a banana.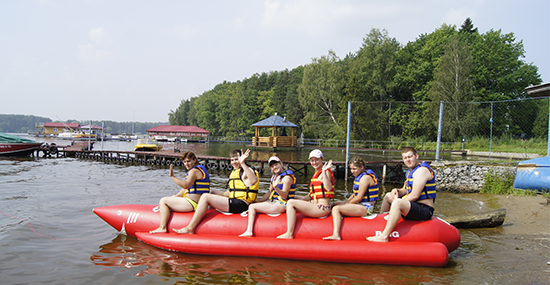 "A Big Game" quest is another tradition of our camp - it involves both children and adults.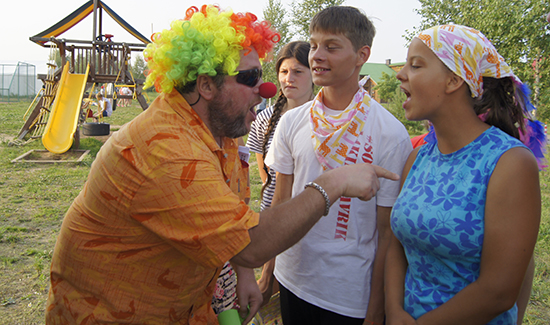 This time we wandered between dwellings of fairy-tale creatures and fulfilled their tasks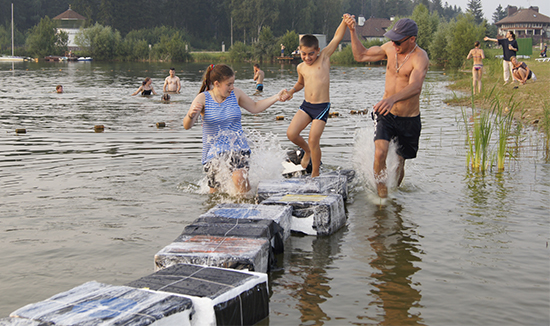 in order to find the lost music sheet, and as soon as we found it - sang the song written in it altogether.
The Mad Hairdressers Party was a success again, the ideas were most unexpected!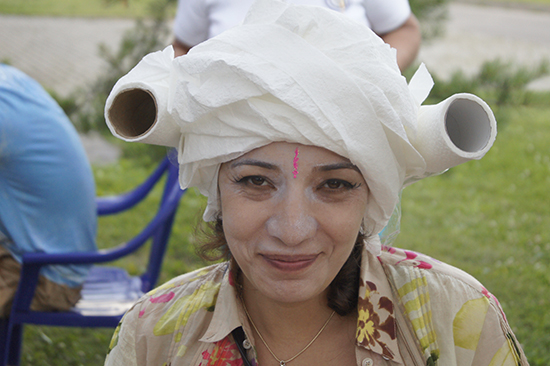 On another day we welcomed children from the orphanage of Dmitrov: they showed us a funny and touching performance based on a Russian nursery rhyme "One-two-three-four-five, a little rabbit went for a walk".

On the last day we admired an exhibition of works created during master-classes,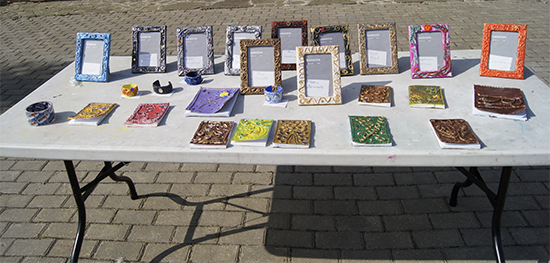 Gala-concert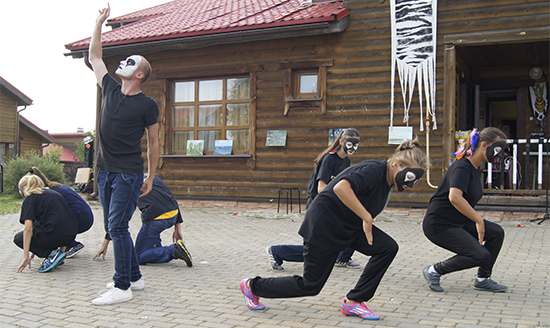 and videos, shot in families.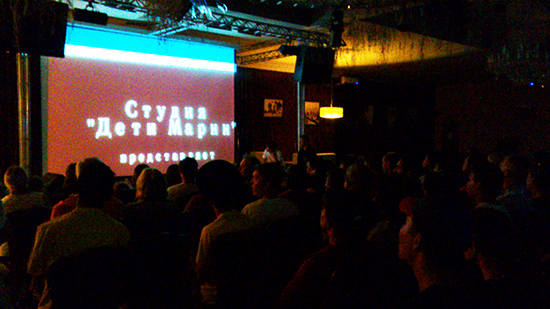 We thank the Charity Foundation "Dar", KPMG Fund, private donors for their financial help. We are grateful to Rosinter Corporation for the delicious barbecue that the whole camp devoured with great pleasure. Thank you to the administration of Sorochany resort for discounts, brilliant service and warm attitude!
Thank you, our dear volunteers from all over the world for your love and warmth you share with the children and adults.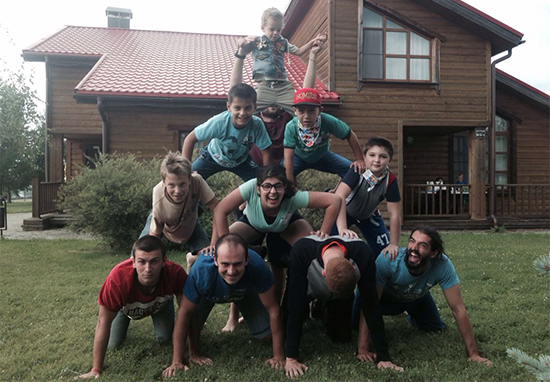 Thank you, our restless and skillful cooks Vera, Galya and Yulia, you heroically fed so many people and it was so delicious!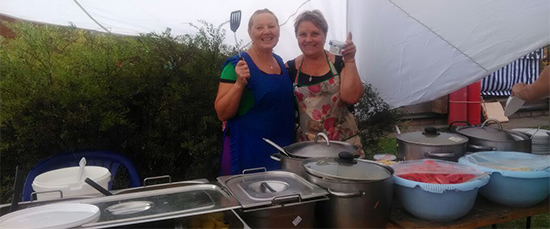 Thank you, dear tutors, for your help and support! And we are so happy to have you all, our dear children!
Here you can more photos from the camp.