Journey to Beslan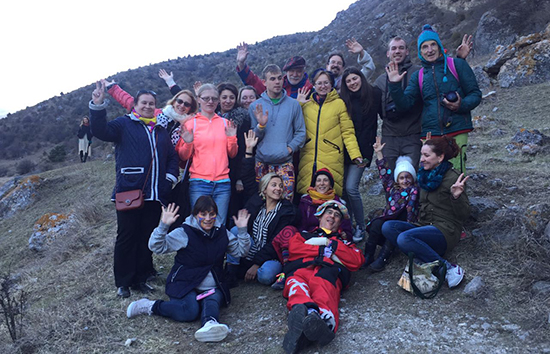 On 2 - 8 April a group of our volunteers went on a regular trip to Beslan and its environs (the North Ossetia). This time our Moscow team was joined by Ginevra and Italo from Italy, Guillaume from Canada, Simon from the Great Britain and Chip from the USA.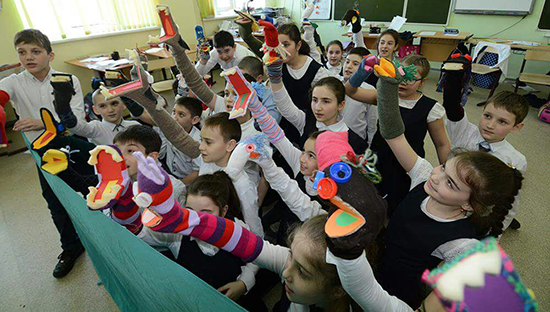 The volunteers spent three days holding various master-classes at the Beslan school N1.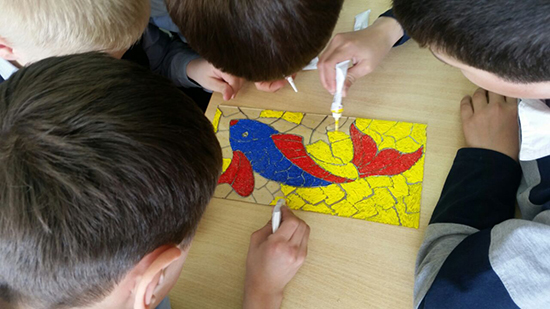 On the last day the schoolchildren put on a gala-concert where they demonstrated all they had learnt during this period.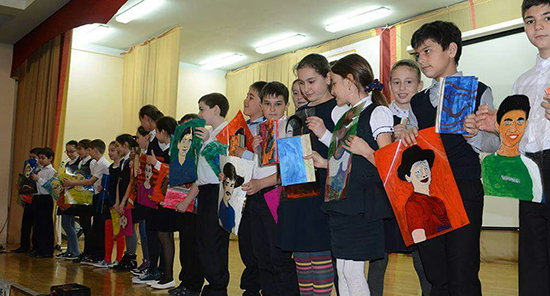 To everyone's joy we finally finished wall-painting in the school gym that we had started several years ago.
This exciting process was open to all those wishing and the result appeared to be really beautiful!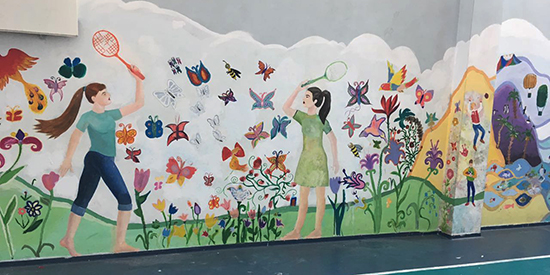 By the way, there are portraits of Chip and Guillaume on the wall – children don't want to part with their favorites!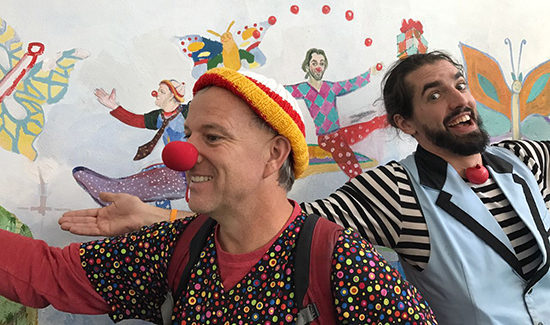 One of the days was spent in an orphanage in the mountain village Dur-Dur. There we played clowns' games and football with the kids and also did wall-painting.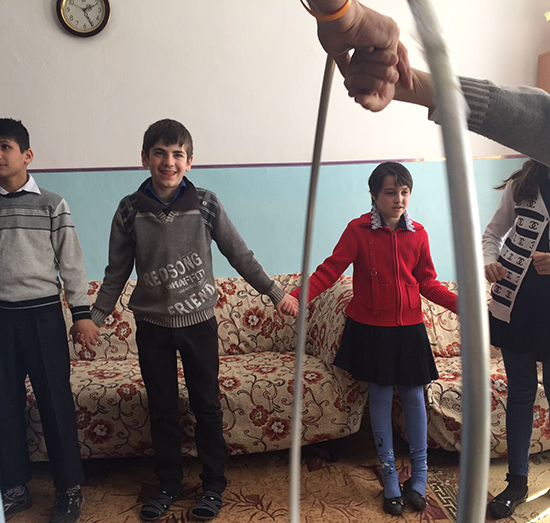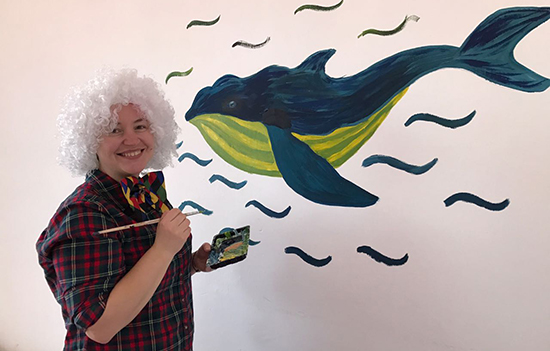 We also paid a traditional visit to the orphanage "Khoory Tyn" in the city of Vladikavkaz, where children and personnel always remember us and wait for us impatiently to play games and just to have fun.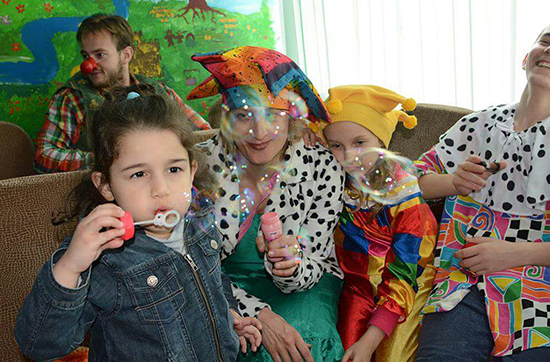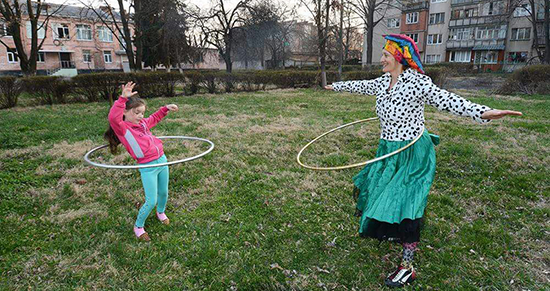 Participants of the trip speak:
Masha Tatieva:
Me and Guillaume, we played clown games with the children – at the school,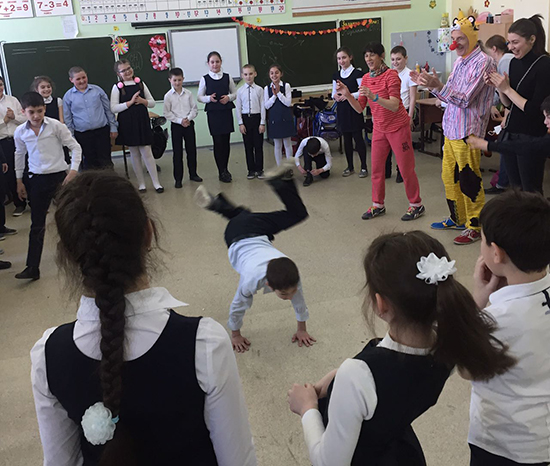 in Dur-Dur village and in another orphanage, "Khoory-Tyn". All the kids were very open, spry, everyone was eager to play, so we had lots of fun, played football.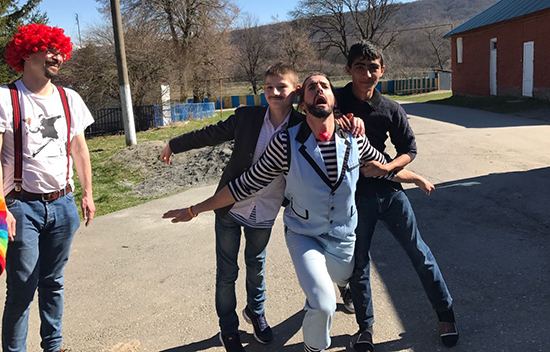 Vika Kosyakova:
At the school we made frames with mosaic and did wall-painting in the gym. In Dur-Dur we also painted on the walls, in each dormitory we left a nice picture - somewhere a ship, somewhere flowers.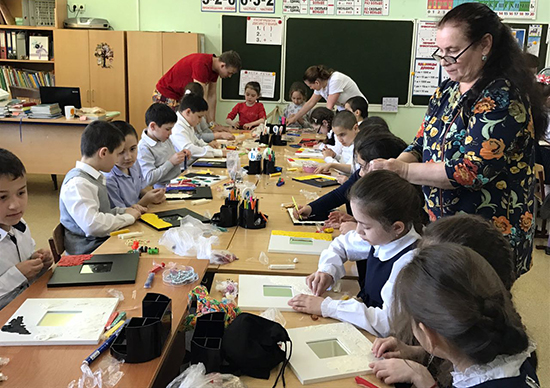 Dmitry Ponomarev:
I was surprised that the children that had been in our summer camp recognized me. Jasin and I held a master-class on bookbinding at which we were making little sketchbooks. At another master-class, that we took over from the American photographer Sasha Sicurella, we created colorful self-portraits on the basis of photographs with the help of transparent film and acrylic paints. The kids were very active, diligent, helpful, never quarreled.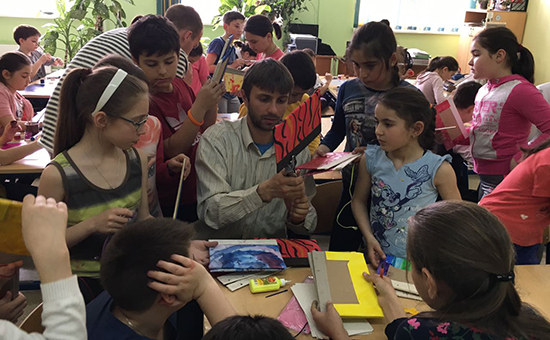 Galya Petrova:
Our visit always seems to be a very special event for the Beslani children: you can see it by the way they welcome us, come and sincerely ask "how are you?".. One boy, Daniel, who stayed at our summer camp a few years ago, found me and started to ask about other volunteers – he remembered everyone and recalled how much he enjoyed it there. Our clowns – Chip and Guillaume – is a real feast of life for these children, they are very sincere, kind and the kids feel it. Our Beslani friends warm our hearts, I feel very safe with them.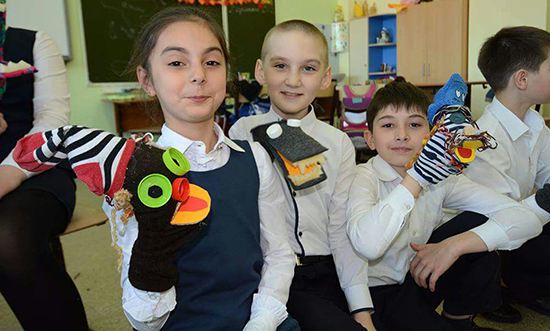 Alexander Shishov:
It was my first visit to Beslan. I considered myself an experienced, weathered man who was hard to surprise with anything. I knew where I was travelling to, I knew this tragic story, the circumstances... But when I found myself in this reality it transformed me in all senses: I experienced the whole range of feelings – from the deepest grief of the tragic memories to the greatest joy of communicating with the people which you had known for so many years – grownup children, teachers… I'm happy to be a part of it in some way! Thank you to Maria's Children team for such an opportunity!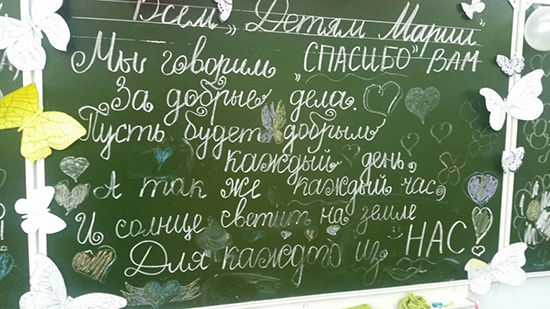 We express gratitude to "Pobeda" airline for discounts, responsiveness and patience, to hotel "Imperial" for concessionary fares. Thank you to Nadezhda Gurieva, Svetlana Dmitrieva and family of Batraz Kokov for hosting our restless team at their homes. Thank you to Irina Makoeva-Gabueva for the pleasure of swimming in hot springs. Thank you to teachers and administration of the School N1 of Beslan, children's home "Khoory Tyn" in Vladikavkaz and children's home in Dur-Dur village for friendship and cooperation!