Holiday in honor of Victory Day in the Tverskoy district of Moscow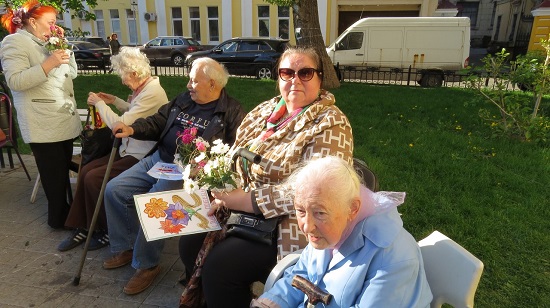 On 10 May, leisure clubs of the Tverskoy district held a holiday for the residents of "Spring of Victory", in the square "At the Stone" located at Small Karetny Lane. The fund "Maria's Children" also took part in the event.
Both old and young people participated in the celebration. Elderly Muscovites were invited (via the Council of Veterans), among whom there were many children of war.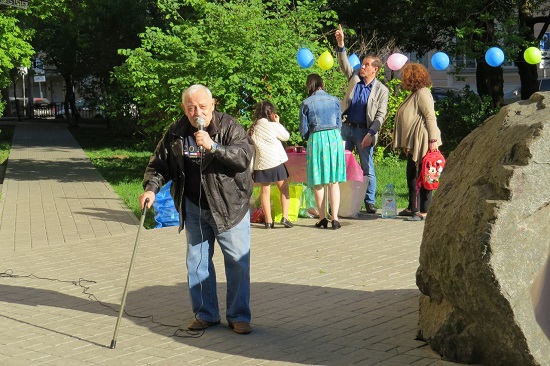 The clubs informed the residents about the event, families with children attended, "Maria's Children" also invited the children from the Family Care Assistance Center "Sputnik". The square was decorated nicely, an improvised auditorium and places for master classes were arranged, a samovar was set up, treats were ready and the event got started!
We were congratulated by the chairman of the Council of Veterans, deputies of the district, and the head of the council.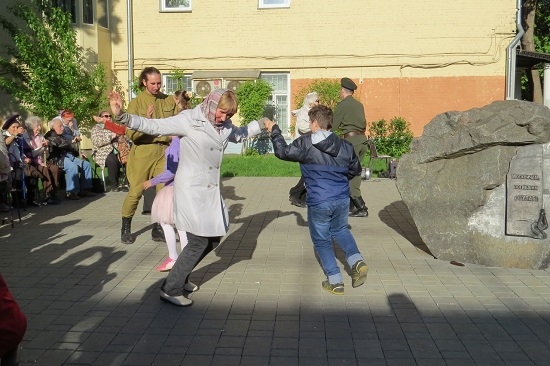 The concert was varied and emotional – they sang songs individually and in a chorus, they read poems, even a resident of the district (a classmate of the poet Yevgeny Yevtushenko) performed. The concert ended with dances.
Everybody who could dance, danced an inspiring quadrille!
And there were a lot of master classes held nearby. Anna Mitina taught everybody who wanted to create postcards, using the monotyping technique.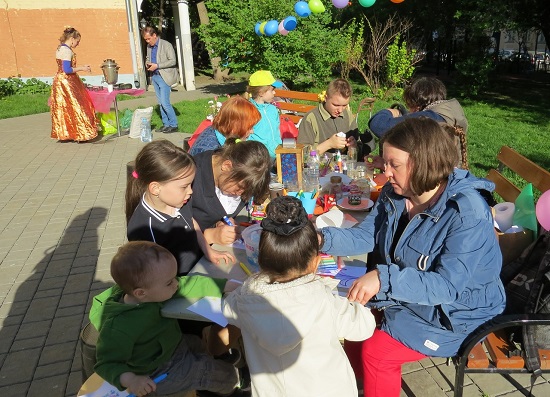 Guests were offered tea and cake.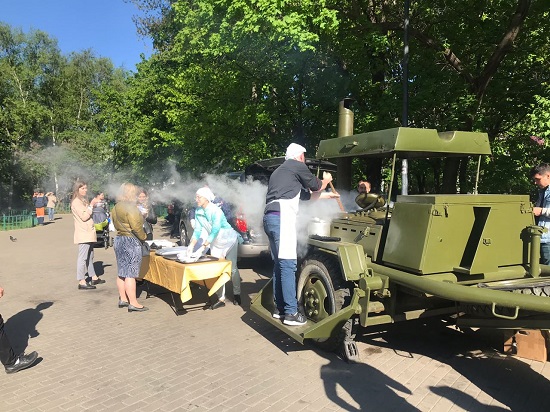 At the end of the holiday, the veterans were presented with floral arrangements from the florist "Children's Studio" and postcards that our children had made in advance at the masterclasses.
On the same day, we participated in the celebration at Miusskaya Square.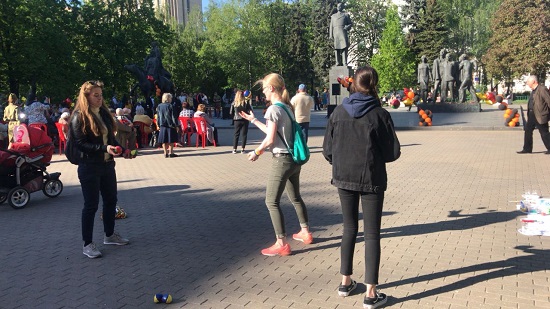 It was an excellent concert: the cadet corps and many musical groups performed, children recited poems, the Ark Club showed a pantomime, and our volunteer Yaroslav (who is also an employee of the Chapeau-Synthesis Creative Center) performed Wu-shu!
The head of the council congratulated everyone there on the holiday. In addition, a war veteran, who is a resident of the district, performed. Everyone had a chance to eat buckwheat with meat from the field kitchen. Our children conducted a juggling workshop with the other children and adults!
Thanks to the Tverskoy district council for a warm-hearted celebration.