Summer camp in Sorochani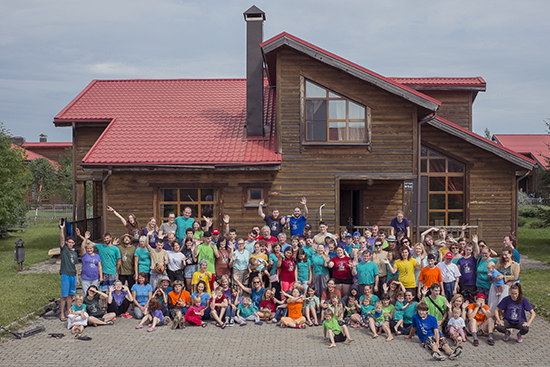 Our favorite traditional summer camp was held from 14 to 28 July. Children from an orphanage in Philimonki village and an orphanage in Mozdok (North Ossetia) visited "our family". We were joined by children from Moscow-based psycho-neurological facilities and from an Armenian charity organization called "Warm fireplace". We also welcomed volunteers from Moscow, Beslan, the USA, Denmark and Mexico!

It was very hot during the first few days, so the traditional family initiation took place at a lake, followed by swimming and boating.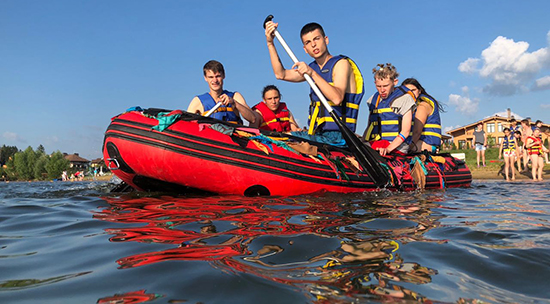 Every day before the masterclasses, everyone who wanted to could do morning exercises lead by Fano and Lesha Zhdanov; it was a great beginning to the day!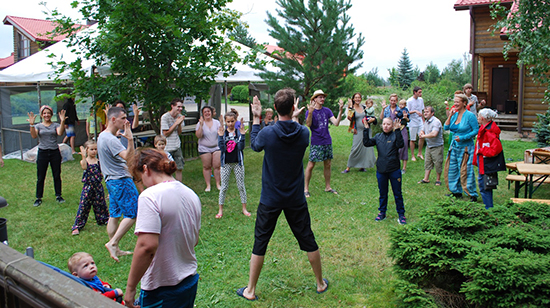 It was hard to choose between so many masterclasses that were offered before and after lunch at the camp!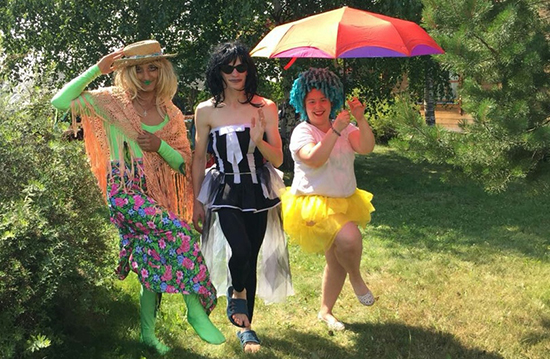 Movie stars of "Our family"
Glass and wood, drawing and chandeliers, rhythm and acrobatics, batik and collective painting, filmmaking and epoxide, mosaics and paintings made of stones…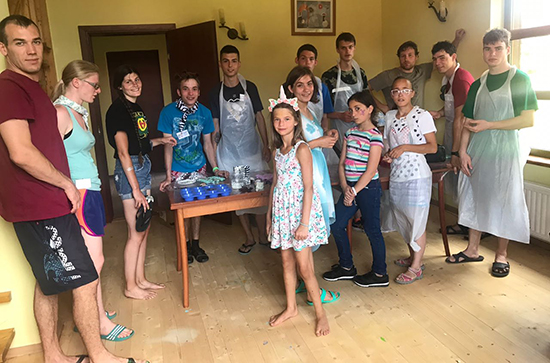 Epoxide can be poured on coins, flowers, and even a dead bee.
Thanks to all the wonderful volunteers, every day we explored something new!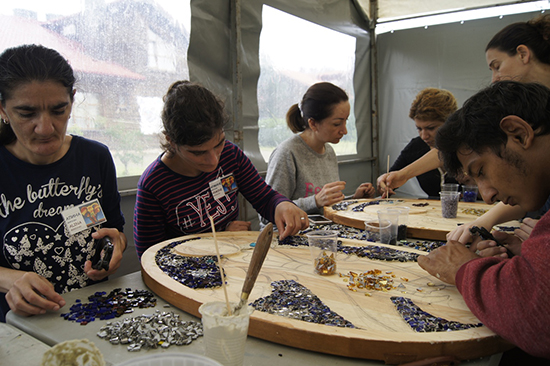 Mosaics art – ancient and eternal
All the best things created at the camp will be displayed at our big exhibition in November.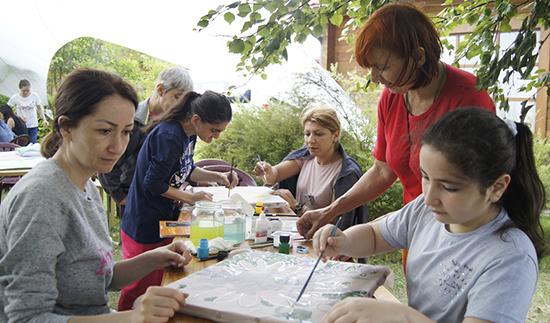 We all lunched together in a big tent. We had the tastiest food – our cooks Vera, Galina and Lyudmila were real magicians!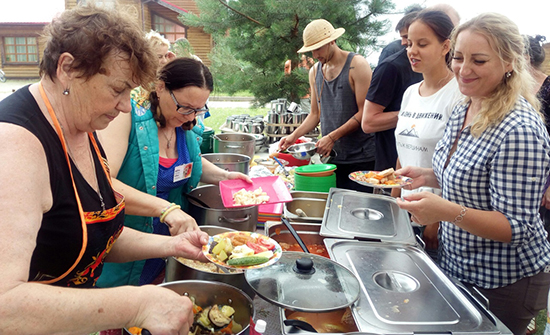 This year, guests from Armenia from the "Warm fireplace" organization visited our camp for the first time – two workers and four persons under their care (adults with mental disabilities). Thus, there were Armenian songs and dances, and our favorite way of getting to know a foreign culture is through their national cuisine! The guests cooked a traditional Armenian soup and shared it with the whole camp! The director of "Warm fireplace" Elena Kerakosyan told us how they created a house where adults with disabilities can live and work, how life in the house works, and how people in Erevan and the Armenian government support them.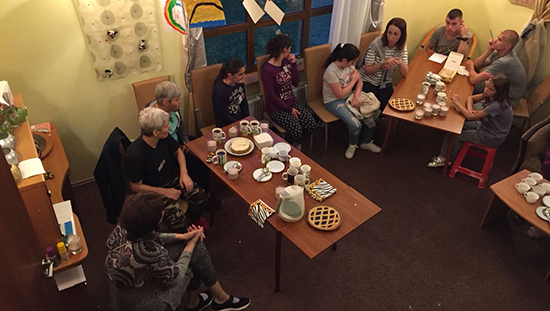 On the following day after the Armenian evening at the summer camp, we had a traditional one – Ossetian. With Ossetian dances (where everybody dances) and Ossetian pies (that everybody likes). Thank you to Albina Kazieva, who cooks this feast every year!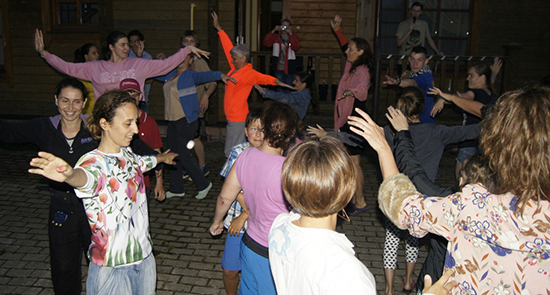 An evening of freaky hairstyles as usual surprised and impressed us with new ideas.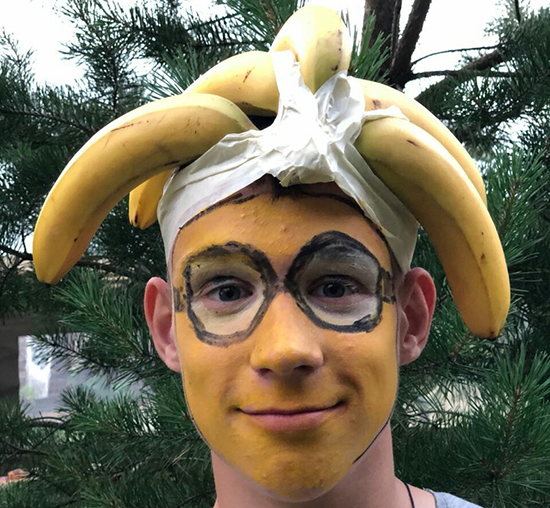 In "Theater on wheels" – a traditional format of an improvised play – we staged the fairytale "Varvara the beauty, hair in a long braid".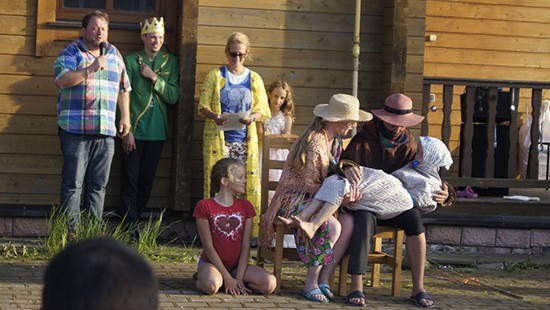 Families got their scenario parts of the fairytale and staged it in two hours.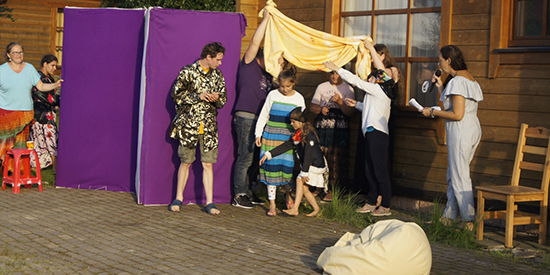 Every group had their own style, directors, details and surprises and altogether made the whole play.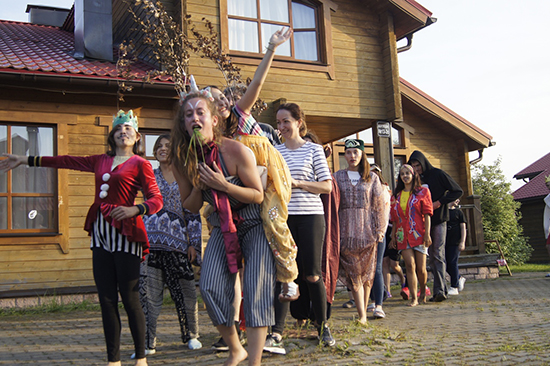 Everyone took turns switching places from viewers to actors.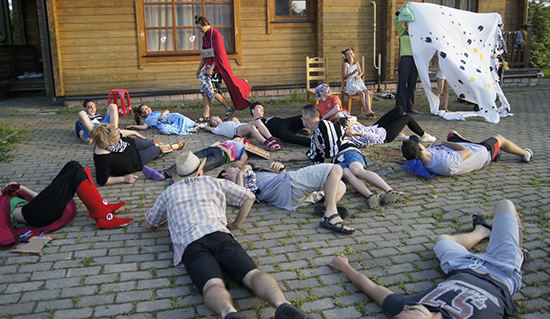 There was lots of emotion, laughter, a bit of nervousness – and everything worked out very well!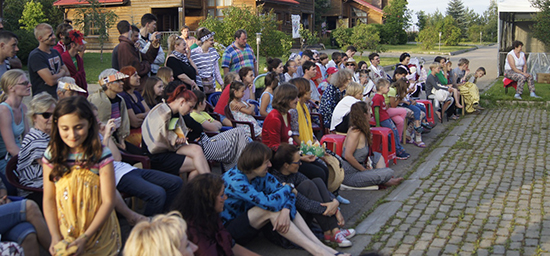 After the theater performance, we continued to enjoy the arts – a Poetry evening was held at the camp. Everyone who wanted to could recite his or her favorite poems to the public. People read poetry in Russian, English, Spanish and Armenian. The Poetry evening is a new tradition in our camp started by Lesha Zhdamirov, our wonderful volunteer, our dedicated teacher and now – a student of Boris Shchukin's Theatre Institute.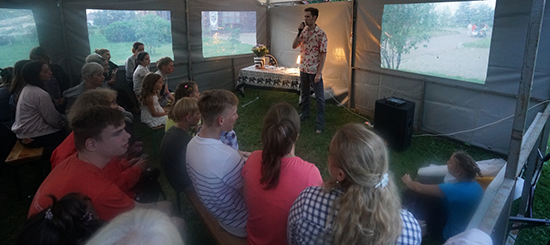 There is a story that if Oleg Forel visits the camp, there will be fireworks in the evening, and we are never wrong!
A small lake in Sorochani that children always call a sea!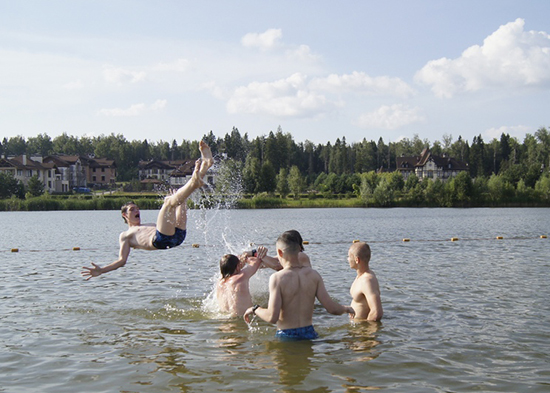 We often visited the "sea", swam and learned how to swim, played volleyball, pioneer ball and played in the sand.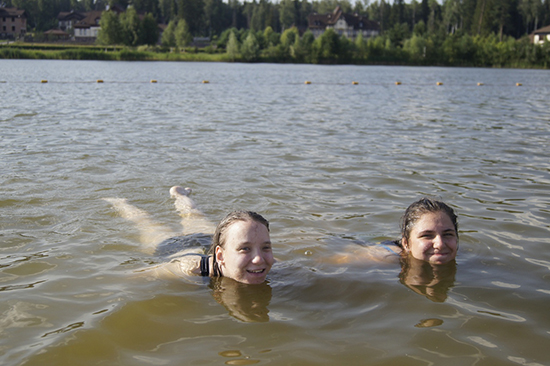 The sea is one of the main summer enjoyments, especially when you are a child!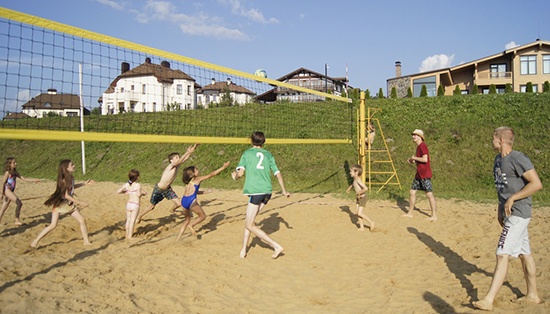 A wonderful volunteer Debbie Sears from the USA carried out a masterclass on tie-dye techniques for t-shirts, so all children left the camp with hand-painted t-shirts.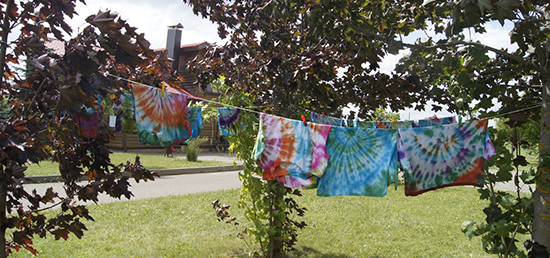 Banana boating and sailing day is the favorite of many children at the camp! Speed, wind, water, sun and the feeling of pure happiness!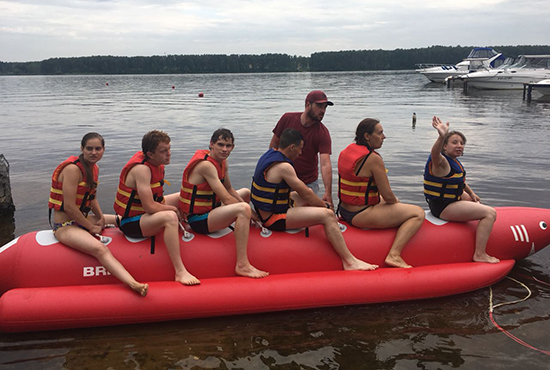 The Big Game at the camp was dedicated to the four elements: earth, water, fire and air. It was necessary to collect them to help these cute aliens.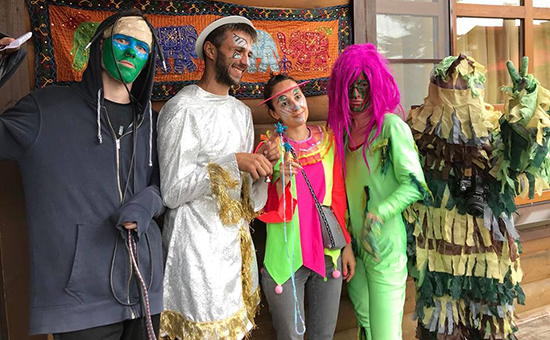 In the house of Fire, we wrote a secret message under the stones, burned Bengal fire, roasted and ate marshmallows.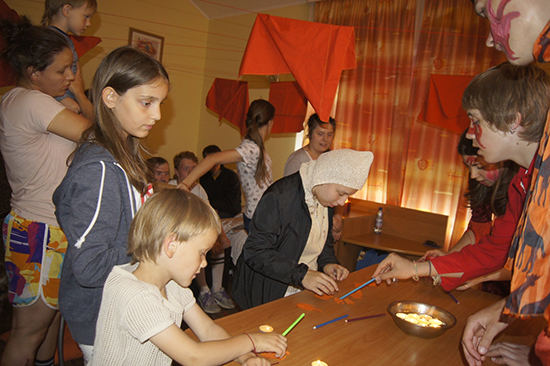 In the house of Earth, we treated ourselves to its generous gifts – fruit. We crawled as earthworms, painted with mud like cavemen, and learned to identify plants that provide us with nutrients.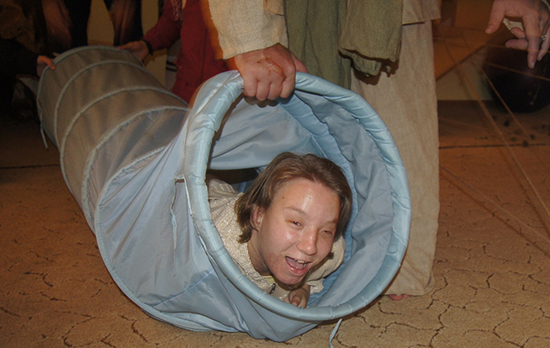 In the house of Air, we played with paper planes, learned how to breathe like yogis, and ate fluffy, "airy" sweets such as cotton candy, popcorn and chocolate with bubbles. Also, we made a drawing by blowing paint over paper.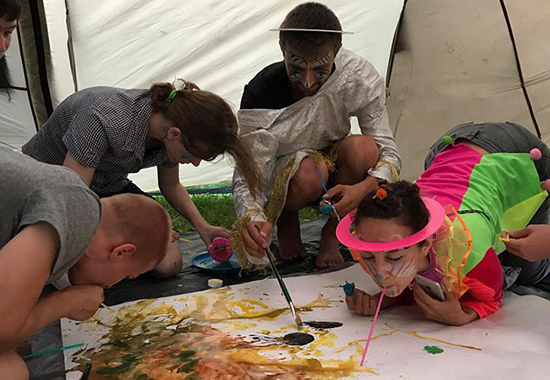 In the house of Water, we carried out physical experiments and studied Archimedes' power, recognized different "water" sounds by hearing them, picked apples without using our hands, and wandered around floating islands while holding hands.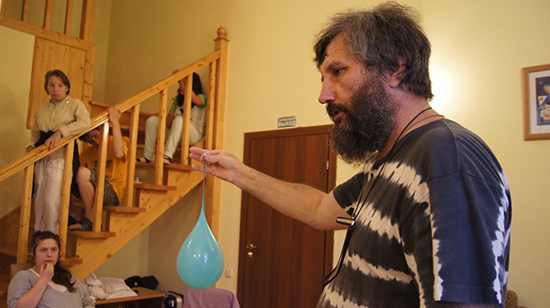 When we gathered all four elements, our whole camp discovered a fifth one – Love! We planted a tree and helped the aliens to understand that they did not need to fly away to their planets, but rather stayed at our camp!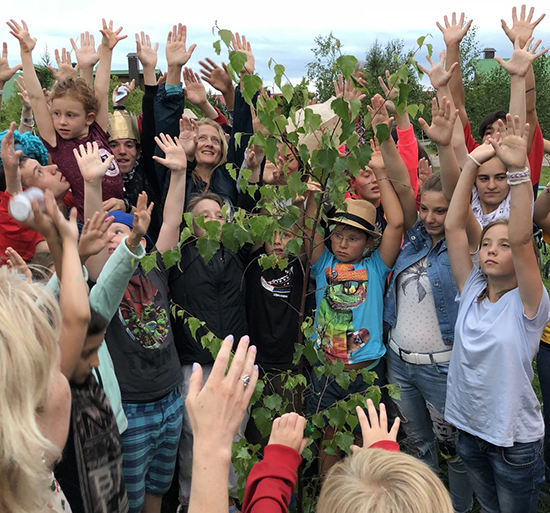 Thank you to all the wonderful volunteers and workers, teachers at the orphanages and to the main people at the camp – the children!