Walking around Moscow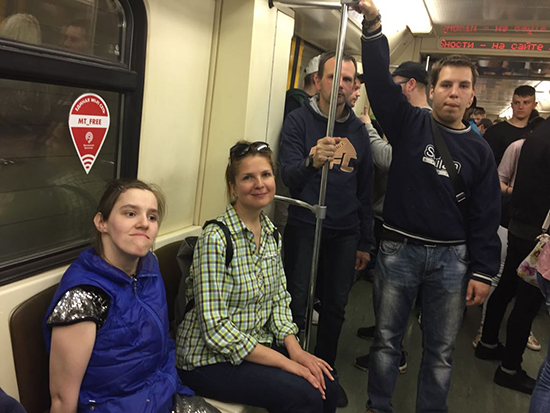 Our great volunteers Irina and Vera invited the mentees of psycho-neurological residential institution (PNI) No.16 to have a walk around the city, for example, to visit Gorky Park or Red Square. The people from the PNI are adults, but for many of them it was their first experience of using public transportation. They became familiar with the places that every citizen of Moscow knows from childhood.
Irina Chyornenjkaya
VOLUNTEER:
"During our official holidays in May we took a walk around Gorky Park. Everything was great despite the fact that the rain poured down on us at least twice. It was a pity that we took no photos with all of us standing under only two umbrellas! The girls took part in our walk for the first time. Dasha is 21 years old, but that was her first trip by subway, and by public transport in general! Usually she travels only by special bus, even if the destinations are not very far. She was thrilled to bits! She was so loudly joyful that people in the carriage and on the platform noticed it. At first, she was scared of the escalator. She had never gone so deeply underground, or so high on the way back!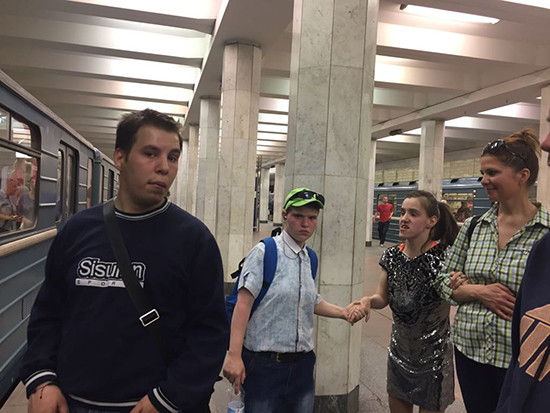 In the park, we took a wheelchair for her that was free of charge, but we did not take any photos with her sitting in this wheelchair, as she didn't want them.
The park was very crowded and they felt like they were true members of society and walked around as ordinary people. They watched families and young people. The walk was long and full of emotion; we will be recalling it during the whole of next week! Everyone was so happy!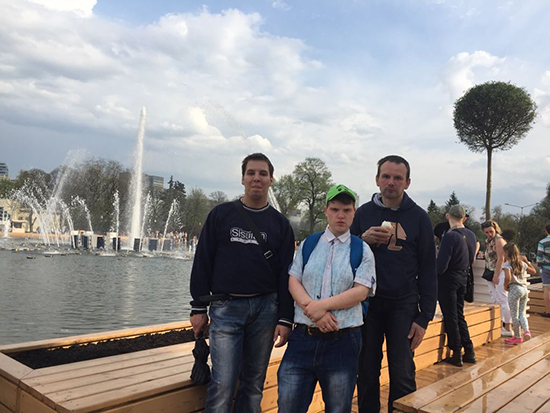 Many thanks to Vera. She ensured Dasha's mobility and helped her to cope with stairs and curbsides especially. As Dasha walked, they moved slowly. The guys in their turn learned to be patient and understood how difficult walking can be for some people. At first, some of them were irritated because we were walking slowly, but then they said: "Let's wait for Dasha! Let's use a bus, it is hard for her to go!" Andrey Koryabkin provided everyone with bottled water. To sum up, we were learning to help each other."
"On 2 July, we walked around Red Square and the nearby vicinity. We saw the Kremlin and foreign football fans. We heard various languages and tried to identify by flags, appearances and sound what countries the guests had arrived from. We also heard the chiming clock of the Kremlin tower.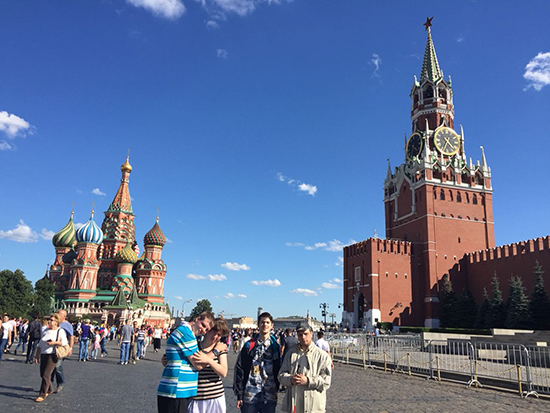 Andrey Saveliev, who is blind, took part in our walk for the first time. And, Borya Ozimkov visited a metro station for the first time.
Some guys took their money and learned how to place an order at McDonald's by themselves.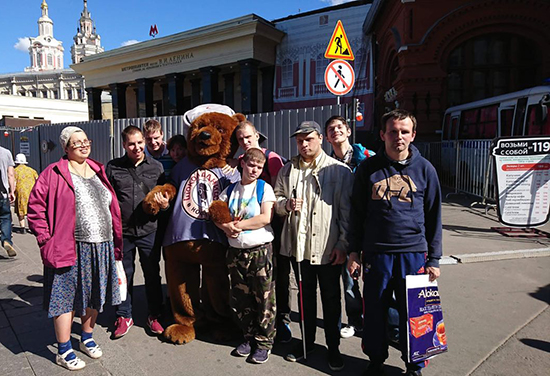 Sasha Matveev had prepared for the walk thoroughly. He took a thermos and treated everyone to coffee. When we entered and exited the metro station, he held the doors open for Andrew and me. It was great that he took the initiative and did everything on his own without my request.
Ira and Vera, thank you for such a valuable experience for our 'adult children'!