Annual Report 2018
Our programmes in 2018
Daily art classes at the studio
Our studio is open for children and graduates. The kids attend painting, ceramics, tapestry, felting, handicrafts and music classes. In June we held art-workshops for children from the neighborhood.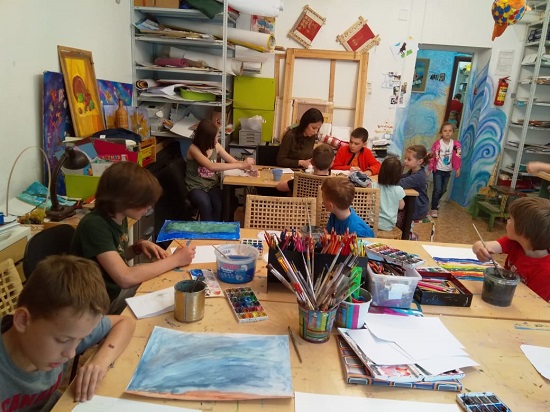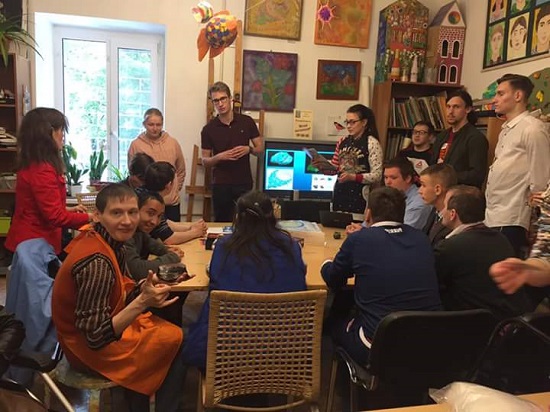 Classes at Maria's cottage art studio
Twice a week children from orphanages of Moscow and Moscow region learn the art of mosaic, ceramics and many other kinds of applied arts.
Education and social assistance
At the request of the young people we attract volunteers - individual tutors who help them complete the secondary school curriculum. Our social teachers assist the high school students and graduates in setting up their homes and finding jobs, arrange visits to museums, theatres, sport activities.
Winter Camp
In February 2018, ten children from orphanage Sputnik spent five days at our camp in Sorochany. They played sports, learned to cook, took part in performances, improved their drawing skills. The orphanage graduates helped as volunteers.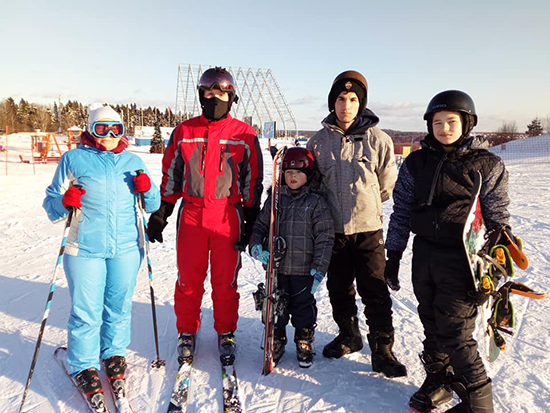 Maria's Children - to the children of Beslan
In April a group of our staff members and volunteers from different countries paid its twelfth visit to Beslan, where they held various master-classes for pupils of the School №1. Our visits to the "Hury Tyn" orphanage, an orphanage in Mozdok and an orphanage in Dur-Dur village were organized by former students of the Beslan School №1 who are currently our volunteers.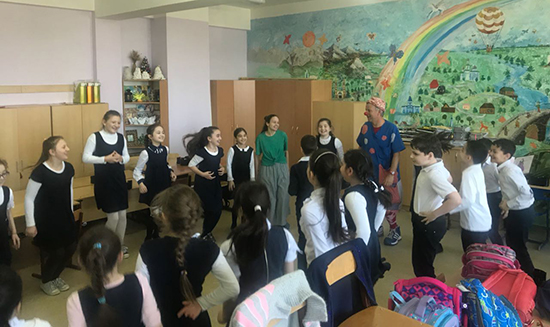 Hello, England!
In April-May 2018 a group of children and volunteers participated in the Shakespeare's Drama Festival in Stratford-upon-Avon for the eighth time. In London they also had a busy cultural programme.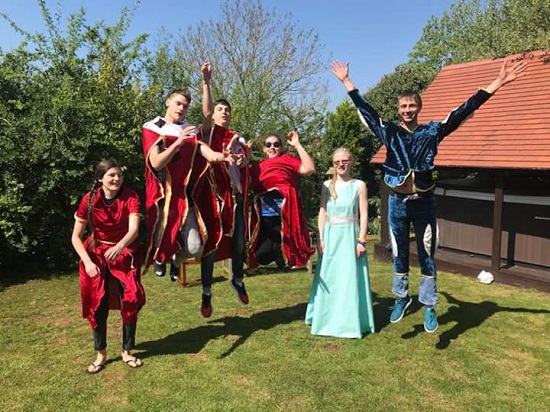 Annual festival "Ship of our Hopes"
In May our children, volunteers and staff sailed to the Bay of Joy where everyone could enjoy a delicious picnic, play outdoor games, paint en plain-air and feel the delight of spending a whole day on the lap of nature, among friends.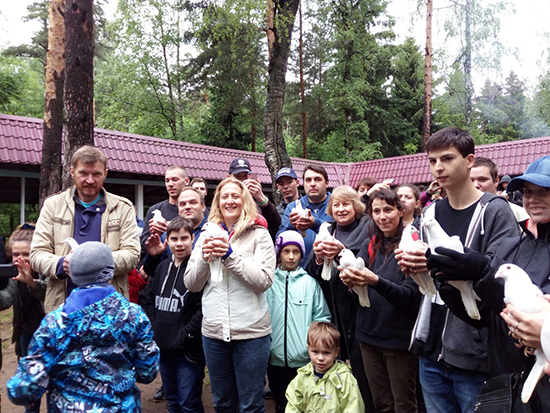 Summer camp "Our Family"
In July 40 children from two orphanages, children's home of Mozdok (North Ossetia) and psychoneurological institutions spent two weeks at the "Sorochany" resort in the Moscow region living in family groups, doing arts, learning to cook and playing sports games. Orphanage graduates and former students of the Beslan school helped us as volunteers.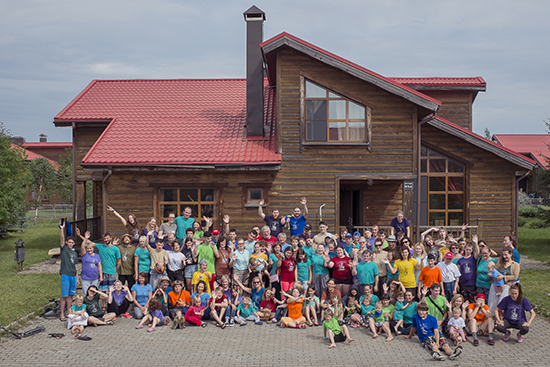 Wall Painting
In 2018 we painted on the walls of the Veltishchev Pediatric Institute, hall of the Beslan School №1, Children's City Hospital №9 named after G.N. Speransky, dermatology departement of the National Medical Research Center for Children's Health, Children's Home "Beryozka" in Sergiev-Posad, children's department of the Sir Anthony Oncology Center on Malta, Psychoneurological Institute №16.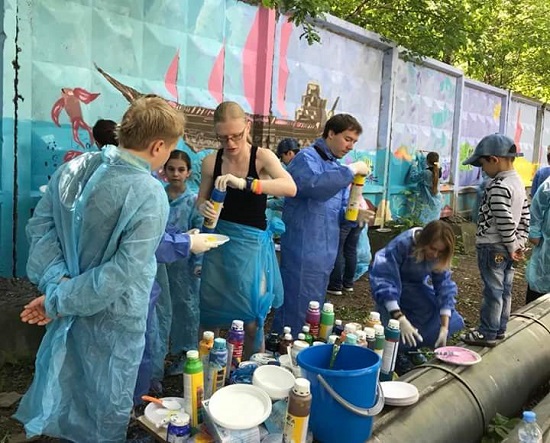 We express gratitude to our corporate donors who supported us in the outgoing year
AbbVie LLC
Baring Vostok Capital Partners
Beeline
Bloomberg LP (USA) Rep. office
Bruk Production
CAF (Charities Aid Foundation)
CCD Ltd
Charitable Foundation "Absolute-Help"
Charitable Foundation "System"
Charitable Fund "Planeta dobra"
Charity Education Support Fund "DAR"
Chay ine chay Ltd
Chicken Factory LLC
Committee for public relations of Moscow
Compulink Group of companies
DLA Piper Rus Limited
DOBRY brand
Dominos Pizza in Russia
Dushevny Bazar
Embassy of the Kingdom of Thailand
Embassy of the Republic of Korea in Moscow
EVRAZ
Ernst & Young
Fenix Film Company
Festival "Charitable Moscow"
Fitch Ratings
FRESH Restaurants
Future Energy NCO
Grishayev Malyarenko & Partners Advocate Bureau
Hotel National
Joint trade union organization of Gazprom podzdremont Urengoy Neftegazstroyprofsoyuz RF Ltd
Jones Day Limited Partnership (USA) Moscow
Hotels "Katerina" and "Katerina-City M"
"Knizhny Gid" reading tutors association
KPMG Foundation
LAVKALAVKA farm restaurants
Marriott Hotel Novy Arbat
Mediascope
Meet For Charity project
Megafon
Mon'delez Rus LLC
Morgan Lewis International LLC
MOSKAPSTROI – TN
NLS Ltd
OFFPRICE
Pagedown Studio
Parexel
PepsiCo
PHILIN
Pobeda Airlines
Prosperity Capital Management RF Ltd
R & M linens
Rosinter Restaurants
Rostelecom
RUSAL
RusHydro
Russian Wine House Abrau Durso
SBERBANK Insurance
SBERBANK Private Banking
SBERBANK Russia
Sorochany Hotel Complex
The Anglo-American School
The Patch Adams Gesundheit! Institute
"The School №2" lycee
The Skopin Printing House
Tverskoy district administration
United Way of Russia charity
Virry Ltd
Wse Wmeste Non-commercial partnership
Yandex
Yandex.Money