"Public Recognition" Award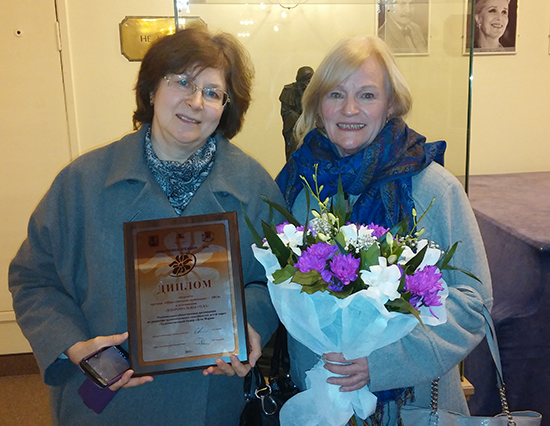 On the 13th of March a "Public recognition-2017" award ceremony took place at the Maly (Minor) Theatre on Bolshaya Ordynka street. Maria's Children Art Center, representing the Tverskoy district of the Moscow Central administrative division, took the II prize in the nomination "Volunteers of the Year". Maria's Children old friend and help-mate from the USA Debbie Sears was awarded the laureate diploma on behalf of volunteers.
At the ceremony Debbie said: "Maria's Children Art Center's mission is to help orphaned children. I'm a very old volunteer of theirs, it's my sixteenth visit to Russia now in this role. A huge part of the Center's work is done thanks to volunteers, there are many of us and we love our work and our children. We are sincerely grateful for such a prestigious award! Thank you so very much!"
Interestingly, prize of the main "Volunteers of the year" was given to volunteers from the Moscow City Educational University – it's students and graduates. By the way, there are some of them in Maria's Children volunteer team!
We are happy that our work, in which volunteers take active part, is marked with such an important award!
We are grateful to Administration of the Tverskoy district for the long-term cooperation and support of our efforts in rehabilitation and social adaptation of children-orphans, children with special needs and orphanage graduates.