We invite you to the Charity Ball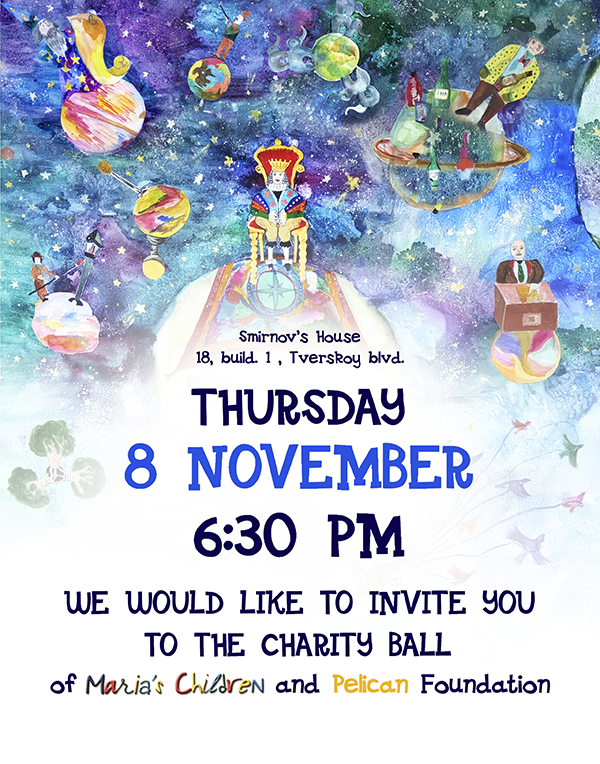 ­­On Thursday, the 8th of November 2018 the 8th annual charity balland the 20th "Art auction" of Maria's Children Art Center and Charity foundation PELICAN will take place at The Smirnov Mansion on Tverskoi Boulevard in central Moscow.
The theme of the Ball will be "The Little Prince" – the classic children's (and adult's!) story by Antoine de Saint-Exupéry.
The program includes: a gala-dinner by Soho Cataring; charity auction run by the world - famous clown-doctor Patch Adams; exhibition-sale of children's art; lottery; dances; live music by «MELAFEFONIM», «Dixie providance band», «Dolce melody»; and much more!
This year we are conducting our first publicinternet-auctionof works by Maria's Children Art Center and PELICAN on 25 October - 8 November 2018. You are welcome to join it! Among the lots you will see individual and collective works of our students – painting, ceramics, pottery, batik, mosaic, stained glass, patchwork, tapestry and felting.
The auction will also feature contemporary artists' works which will be displayed at the Third charitable pre-auction exhibition at the Omelchenko Gallery on the 7th of November 2018, 7 PM.
All proceeds raised by the auction and ball are used by our ongoing programs: daily art classes for children and youth from orphanages, summer and winter art - rehabilitation camps.
Thanks to your support we help orphanage graduates, involve them in various activities such as humanitarian trips to Beslan, wall-painting in children homes and hospitals. Each year we prepare a performance and present it at the Shakespeare Festival in Stratford-upon-Avon.
We are immensely grateful to those who take part in our annual charity events. And for those who will join us for the first time we promise an unforgettable evening in wonderful company. And your support provides a whole year of creativity, care, new knowledge, skills and of joy for our children!
A donation of 20,000 rubles will get you a ticket to the ball.You can make the donation here.For more details and confirmation of participation please contact Maria's Children Art Center at+7915 260 3272, or by e-mail:mariaschildren@yandex.ru.
Dress code: «White tie», but costumes in the style of characters from the Little Prince are very welcome!.
Time: 6.30 PM
Venue: Smirnov's Mansion. Tverskoy Boulevard, 18, build.1
Maria's Children Art Centerwas founded in 1997 to help -orphans and special needs children in their rehabilitation and social adaptation. During art classes at Maria's Children studios the children learn painting, ceramics, handicrafts and music. The atmosphere is so cozy and domestic, to that it helps the kids become more sensitive, attentive to each other, friendly, inquisitive, active and responsible. During the winter and summer camps the children acquire practical and communications skills essential for everyday life.
The PELICAN Foundationwas created in 2008 as a natural extension and development of Maria's Children programs for its grown-up students, with the aim to help them in adaptation and integration into society and raising their educational level.
Patch Adams is a clown-doctor and one of the founders of laughter therapy and humanitarian clowning. Patch unites people and inspires them to help each other. All his life he travels to faraway parts of the world to care for people who face serious difficulties and are in need a dose of faith, hope and joy. For more than 20 years each November Doctor Adams and his international team of volunteer clowns have been visiting Moscow and Saint Petersburg to warm the hearts of children and old people in orphanages and hospitals, homeless shelters and old-folks homes.