Help US to Help!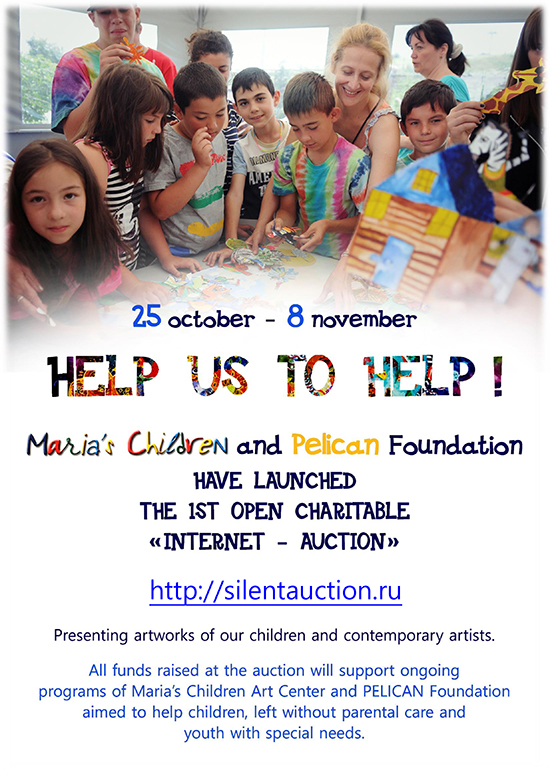 On 25 October – 8 November 2018 we are conducting our first public internet-auction of works by Maria's Children Art Center and PELICAN Foundation.
"Maria's Children" and "Pelican" help children-orphans, children and youth with special needs, orphanage graduates in their social adaptation and development through various art activities and additional tutoring.
Among lots you will see personal and collective works of our students – painting, ceramics, stained glass, felt pictures, patchwork, tapestry.
The auction also features contemporary artists' works which will be displayed at the Third charitable exhibition at the Omelchenko Gallery on the 7th of November 2018, 7 PM.
All proceeds raised by the auction will be used to continue our ongoing programs: daily art classes for children and youth from orphanages, summer and winter art - rehabilitation camps.
Thanks to your support we help orphanage graduates, involve them in various charitable activities such as humanitarian trips to Beslan, wall-painting in children homes and hospitals. Each year we prepare a performance and present it at the Shakespeare Festival in Stratford-upon-Avon.
Everyone is welcome!
Starting time: 25 October 00:01, Closing time: 8 November 23:00
Web-address: http://silentauction.ru
Director and founder Maria Eliseeva – an artist and mother of five daughters – tells a brief story of "Maria's Children Art Center" and Charitable Fund PELICAN.
Maria's Children Art Center was founded in 1997 to help orphans and special needs children in their rehabilitation and social adaptation. During art classes at Maria's Children studio the children learn painting, ceramics, handicrafts and music. The atmosphere is so cozy and domestic, that it helps the kids become more sensitive, attentive to each other, friendly, inquisitive, active and responsible. During the winter and summer camps the children acquire practical and communications skills essential for everyday life.
The PELICAN Foundation was created in 2008 as a natural extension and development of Maria's Children programs for its grown-up students, with the aim to help them in adaptation, integration into society and raising their educational level.