Daily master-classes
The daily activities at Maria's Children Art Center Studio go something like this. While the staff cleans and prepares for the day's classes, a group of children from one of the orphanages comes to the studio at about 10 am or 4 pm on weekdays. The children arrive in the Studio with either a teacher from the orphanage or with one of our studio staff.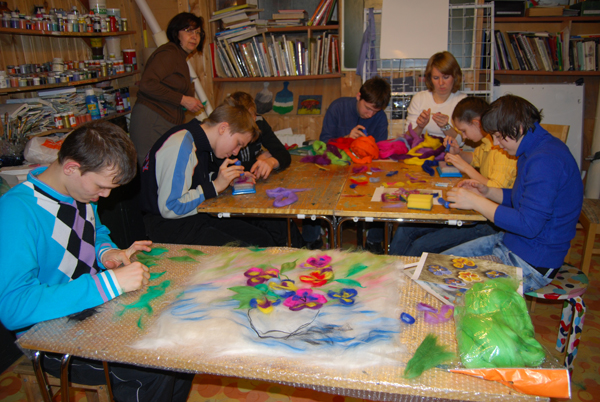 Teachers of painting, drawing, ceramics, sewing, and music lead separate classes on scheduled days. Sometimes the child can individually choose to attend one particular class if two or three occur at the same time. At this time volunteers come to the studio and assist the teachers and children.Some of the volunteers are university students in Moscow and others are foreigners.Some of the volunteers also lead master classes (in a foreign language for example), interact with the children, and participate in the classes.
During weekdays, many young adults we call "elders" come to the studio.These elders have left the orphanage and have also finished school at least one year ago and sometimes more than five years ago. Even though the elders have completed their formal education, they keep coming back to the studio. here are advanced classes for them as well in psychology, foreign languages, and music.The elders come to the studio to bond with their groups of friends, talk about their problems, and get any help and support they need for their lives
We have birthday parties for every person that participates in the work at the studio—the children, elders, volunteers, and staff.Children from the orphanages come to the studio to have tea or dinner, to help cook the dinner, set the table, clean up after dinner, and wash the dishes.
We believe that we are creating a really open-armed, loving, gentle homelike atmosphere for these children, who benefit incredibly from everything that happens in our studio.Our warm atmosphere is the main thing that attracts children and adults to the studio. Within these web links are inspiring stories of the experiences in our classes by both children and teachers.