2007
16/01/2007 Maria's Chilsren helped Vanya
| | |
| --- | --- |
| | The charitable auction we organized in November 2006 helped us to raise substantial funds that were allocated, among other purposes, on medical assistance to severely ill children. |
Vanya Kalnoyfrom Kislovodsk, aged 12, suffers from myeloblast leucosis. 38 789, 04 rubles were spent to purchase the medicine Pentaglobin crucial for the child's medical treatment. The medicine Roakkutan to the sum of 49 354, 74 was purchased for three girls, Russian Children Clinic's patients, undergoing serious medical treatment for neuroblastoma in the oncology and chemotherapy department.
17/01/2007 Wheel-chairs for Ira and Artyom
| | |
| --- | --- |
| | Ira Alexeyeva,aged 4, and Artyom Simkin,aged 5, received special wheel-chairs for children suffering from CP to the sum of 31 600 rubles. Such wheel-chairs improve the quality of life for the kids and their mothers. |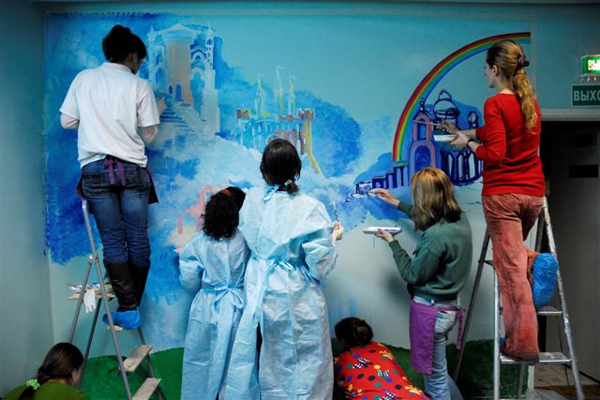 19/01/2007 Castles in the sky
Wallpainting in St.Vladimir Children Hospital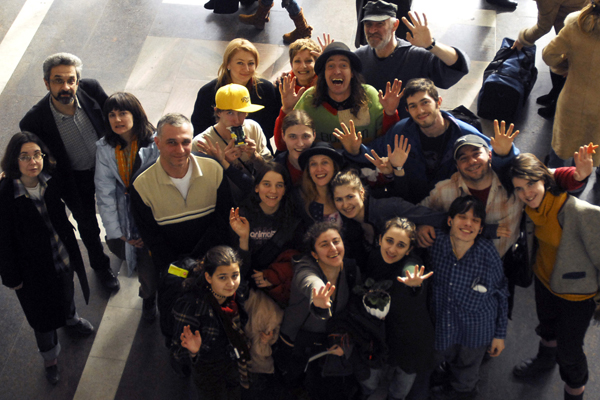 23/01/2007 We are going to visit Beslan children!
Tomorrow the group of 26 our stuff and volunteers is going to Beslan.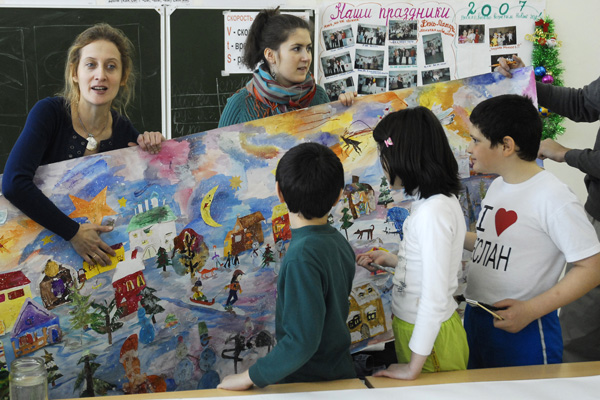 31/01/2007 Our trip to Beslan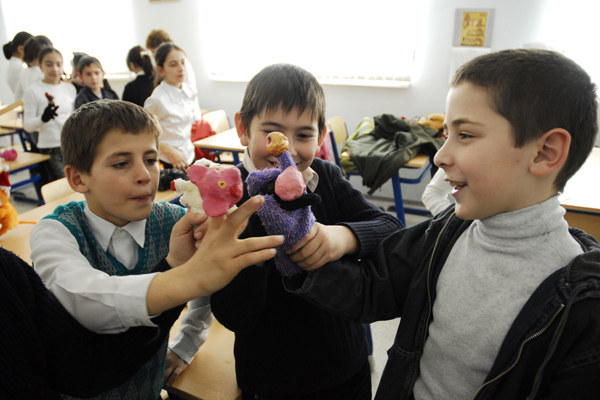 16/02/2007 We helped Tsolak
Tsolak Mnatsakanyan from Armenia, aged 13, suffers from a brain tumor and stays now in the first Moscow hospice. He gives us hope responding positively to the treatment. We have transferred 15 000 rubles for material assistance to his family, quality nutrition and his medical tests.
16/02/2007 We helped Yana
| | |
| --- | --- |
| | Yana Stepanenko from Khabarovsk, aged 8, is recovering after severe burns that nearly cost her life. We have purchased special compression underwear to the sum of 12 090 rubles. |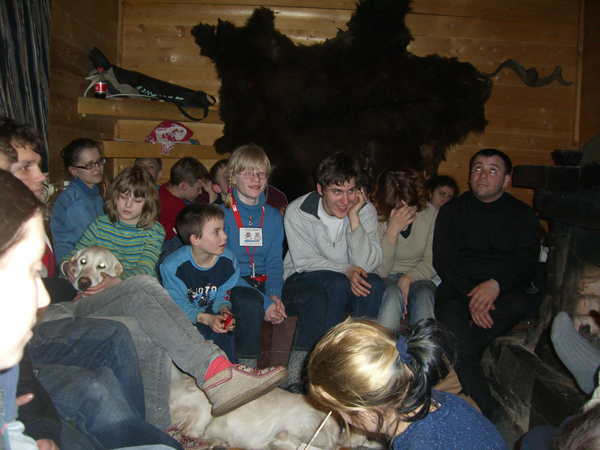 11/03/2007 Our winter camp at Svyatogorovo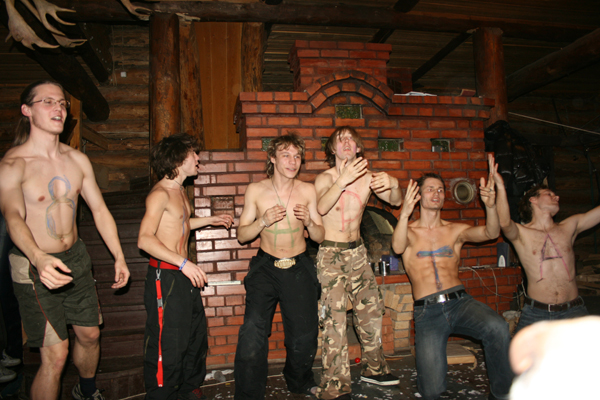 Women's Day Concert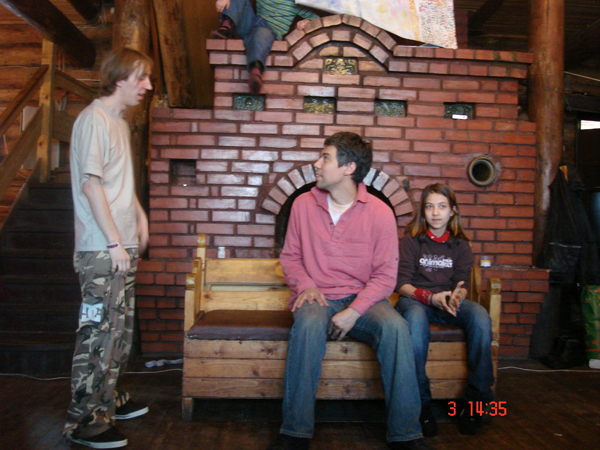 Clowns' Games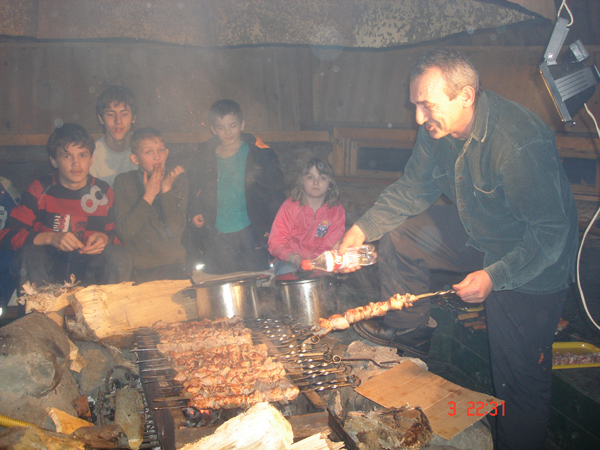 Beno is cooking shashlyk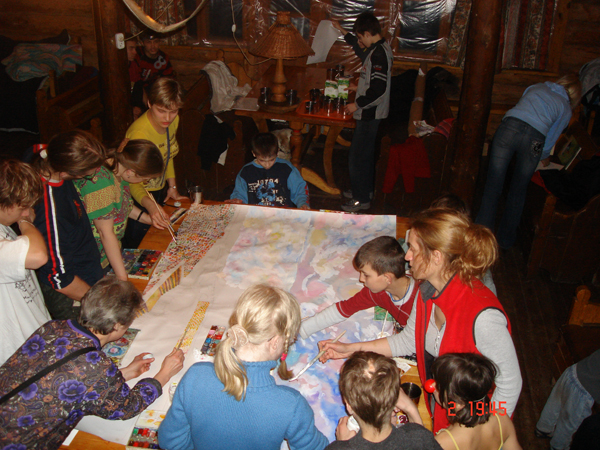 Painting of collaborative mural
10/03/2007 We helped Isa, Anna and Angelina
IsaSandariev, a 5-year old boy from the Urus-Martanovsky region in Chechnya. He was seriously injured during an explosion at his home which killed his mother and sister. Isa has been given compression undergarments for post-burn rehabilitation and to heal the scar tissue –7 844 roubles.
Anna Arutyunyan, 16 years old, is being treated for acute leukaemia in a clinic in Germany – 26 500 roubles.
Angelina Ten, aged 14, from Uzbekistan. After a sudden aneurism rupture of brain aorta and being in the state of coma, the girl needed urgent surgery. We payed 132 100 rubles for her stay in the Burdenko Neurosurgery Hospital where she sucessfully underwent the first of two surgeries she needs.
30/03/2007 We helped Andrey and Artur
Аndrey Nebolsin,a 16-year old orphan, is not able to move after a number of surgeries for spinal cord tumor removal. We have transferred 40 000 for a notebook, so he could continue his studies at home, and for medical dressings.
Artur Galachiev a 15-year old boy from Beslan dependant on a wheelchair for mobility is now using the new electronic wheelchair we bought for him – 154 755 roubles;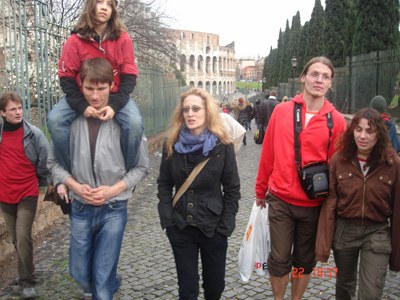 09/04/2007 Aroud Italy in 14 days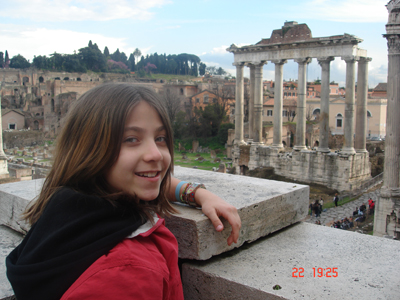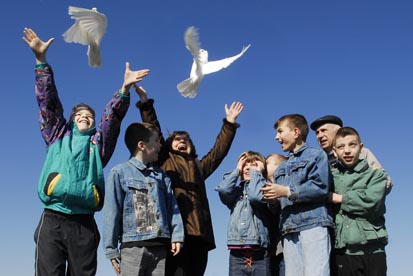 14/04/2007 Fly, pigeons!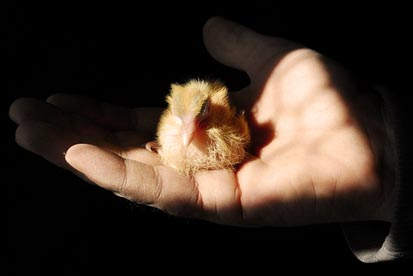 01/05/2007 We visited babies in Fryazino
We visiten Baby house in Fryazino on May 1st. Our volunteers played with children, took lots of diapers for them and giant toy cat and also helped to clean the yard and playgrounds.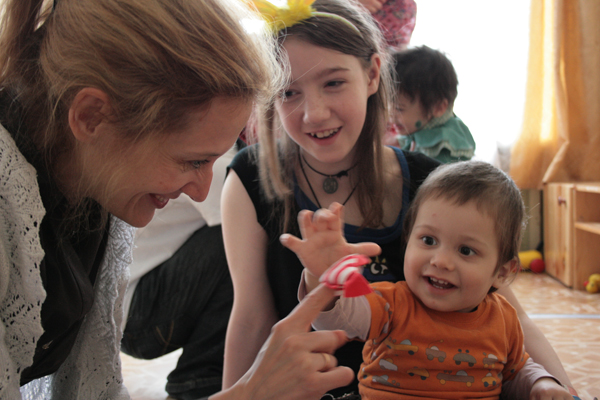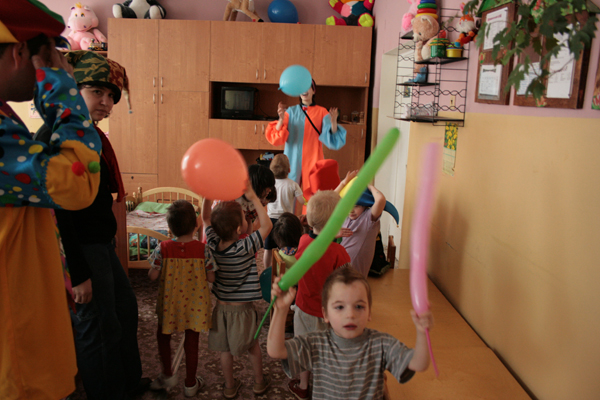 Thank you to all the volunteer who took part in the trip.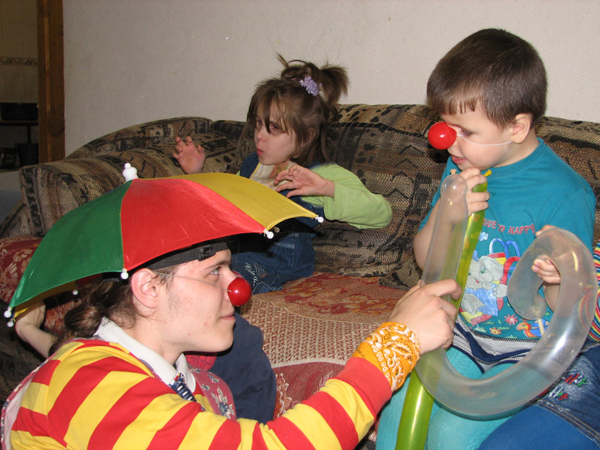 09/05/2007 Sergiev Posad
Orphanage for blind and deaf children is one of our favorite places for clown trips.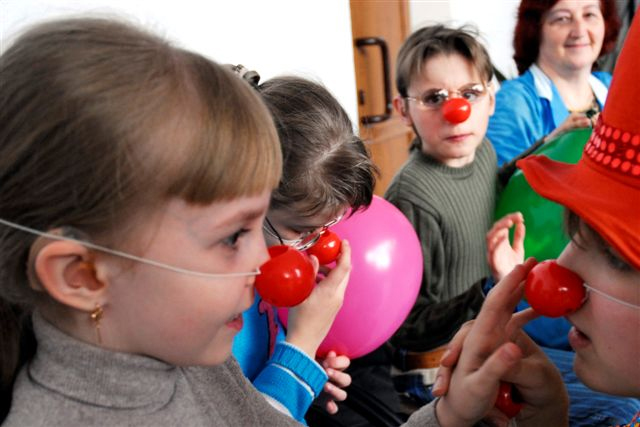 On May 9th we visited different kid'd groups and hostel for grown-ups who also like to play with our clowns.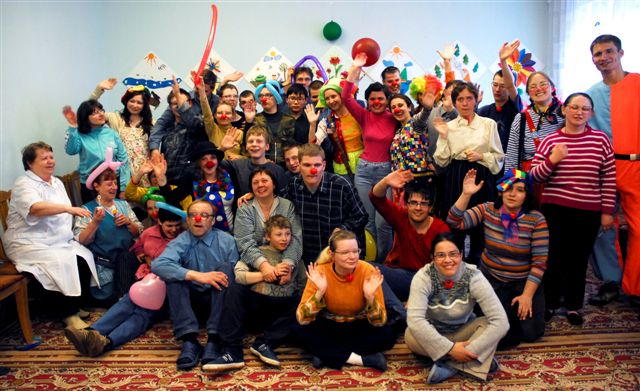 Sasha Korostelin,
volunteer, orphanage-school graduater
— Today I played with little kids. They don't see, but they hear. A girl Diana and a boy Yura are very happy, we played cool. Diana likes to fly. I threw her up and turned around. And Yura likes to blow out ballons and he is afraid of tickle.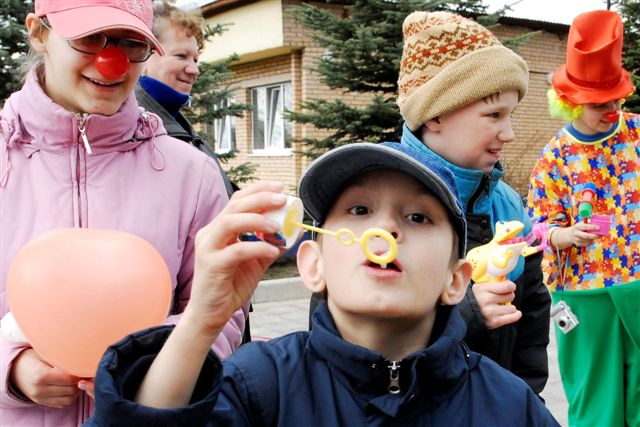 Oksana Yushko,
volunteer:
— I felt shoсk. When we came to hostel a guy Lyosha, who hears and speaks a liitle but doesn't see, came to me, took by my hand and said: "Oh, hello Oxana!" He recognized me just by touch!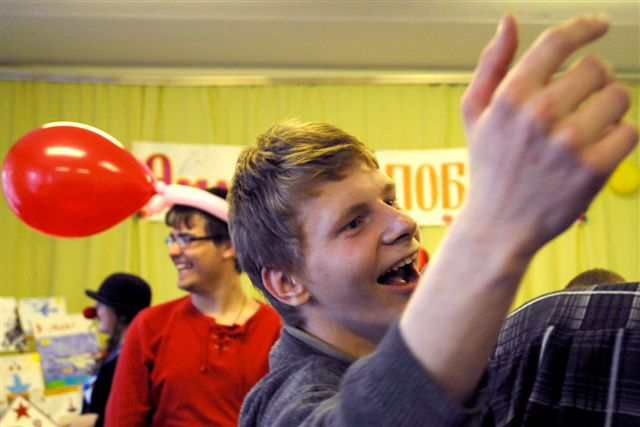 Financial supported by UNICEF ans CAF
15/05/2007 We helped Denis&Denis
Denis Bayoglo, a newborn from Moldova, was born with transposition of heart vessels. We have transferred 131 170 rubles to the Bakulev Cardiovascular Surgery Center to finance the urgent and very difficult surgery he needed. Today he is already out of intensive care unit and recovering.
Denis Samorokov, a client of Moscow children hospice. A boy, 3 years old, has a tumor in head and hydrocephaly. His mother has to take care of Denis all the day long, she alone rises him up, and has no possibility to work. 27 000 rubles transferred for hygienic materials and food for the little boy.
31/08/2007 We helped Arseniy and Veronika
Arseniy Timofeyev, 3 yeards old boy, lives near S.-Petersburg, suffered from birth trauma. He needs rehabilitation services. 11000 rubles are transferred for his treatment.
VeronikaPakhomova, 11 years old. The girl is from Belgorod, she suffers from blood disease, her kidneys do not function at all, cerebral hemorrhage and haematoma in brain, her right arm and leg are paralyzed, 15 000 rubles are transferred for medications and arm chair was bought (14 500 rubles). Everything possible was done in the S.-Vladimir hospital in Moscow, Veronika will continue rehabilitative treatment in her home town, Belgorod.
15/10/2007 Charity "Art Auction"
MARIA'S CHILDREN
10th Annual Charity Evening "Art Auction"
November 11th, 2007 at 5:00pm at American Bar and Grill,
Zemlyanoy Val 59 (metro Kurskaya, Taganskaya)
At this night you will get acquainted with art of Maria's Children artists – orphans and special needs kids and youth. The children have been preparing all year for this event: painting, sculpting, making handicrafts, dreaming and planning how best to use the money raised by the sale of their work so as to help those less fortunate. Each artist featured in this auction chooses which cause the money raised with their art goes towards.
Each and every one of us would like to express our heartfelt gratitude to those of you who have so generously supported our work and offered these children such sorely needed help. We depend on the contribution you make to the lives of these children, and with your continued support and we hope the coming year will bring changes for the better to all their lives!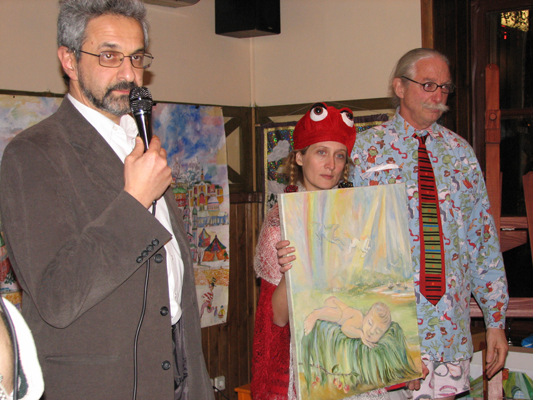 12/11/2007 Results of the "Auction"
$135,000 were raised during the Charity "Auction" on November 11th. Thanks to everybody who came and donated funds to our project.
The funds will go to support existing programs at the studio and development of art classes, our summer camp, education of our Chechen friends in Moscow, assistance hospice families and medical tretment of kids, our trip to Beslan and coming of Beslan kids to summer camp, educational trip and Pelican art-club.
06/12/2007 We study Spanish
We have a new group to study Spanish. It's for beginners, we invite everybody. The teacher is the volunteer Daniil. We're waiting for you on Friday at 9 p.m. at our studio.
06/12/2007 Support little Petya and two children from Chechnya
Thanks to funds from our November Charity "Auction" we help children who desperately need treatment. This year Angelina Ten has taken part in our "Auction" (in absentia). She painted beautiful picture to help children in treatment as she was helped last year.

Little Petya was born in January 2007 in Almaty city in Kazakhstan. Everything was good before his four months, and then awful allergic problems. The baby has been lort his weidht, and doctors didn't know how to help him.
Despairing parents came with Petya to Moscow Health Center. But the have to pay for hospitalization. We could help to give the family 15,000 roubles. Here in Moscow Petya has been done lots of tests, they cleared the diagnosis. The baby put on his weight and grew a little, and the family left for home. The diagnosis is not simple, Petya has an allergy almost for everything, but now it's known how to treat him.
Let's wish a good heaith also to two children from Chechnya. Shamil Kurmanov and Khava Lorsanova came back home after their treatment in the sameMoscow Health Center. Shamil has psychoneurological desease, Khava has congenial disease of gall system. The both children have been helped with buying medicines and tickets to home, because the both families are badly needy.
14/12/2007 It is getting on New Year Day
We are beginning to celebrate New Year. Christmas tree is already decorated, and children painted on the balls for it themselves. On Friday kids from orphanage # 4 saw Christmas nativity puppet show and musical fairy tale about Mummi-Troll.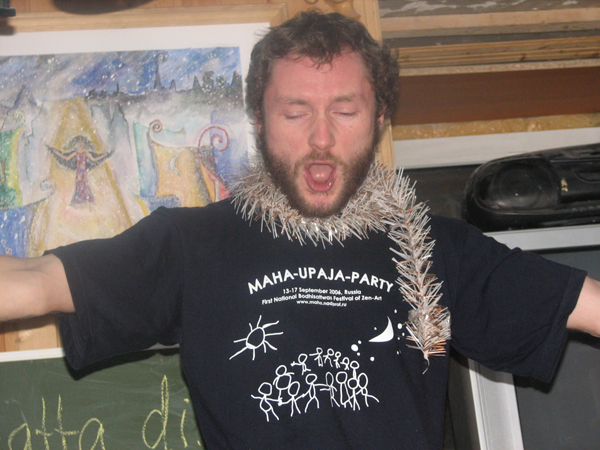 We are very grateful to Tverskoi District Сouncil for Christmas tree, balls and paints for them, the artist Alexander Levitskii for real Christmas nativity puppet show with wonderful puppets and rock-group Neboslov for musical.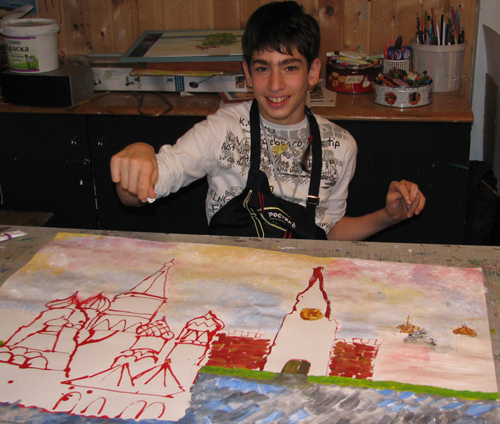 25/12/2007 I have a friend...
These words opened a film created by a friend of us, Serezha Isakhanyan. Serezha is 14, he suffers from cerebral palsy. Serezha comes to our studio for painting, he creates wonderful pictures and thus helps to other kids who need help.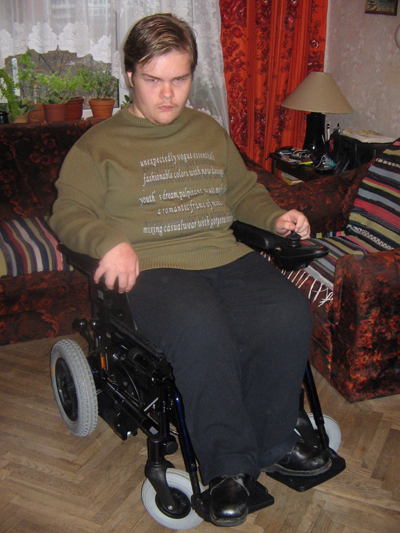 Serezha has a friend, Sasha Mal'tsev. Sasha is 16, he suffers from cerebral palsy too. He can not move. Serezha made a picture and a movie about his friend so that to help to raise money and purchase an electric wheel-chair for Sasha. The picture was sold at our November charity evening "Auction" and brought us 83,000 rubles, so we bought the wheel-chair for Sasha. Sasha is happy, and a friend of him is happy as well.
We would like to thank all our donors, Mr.Simon Boddy in particularly, we appreciate all his generous support and friendship. And we are grateful to Serezha for the lesson of true friendship and help.