2013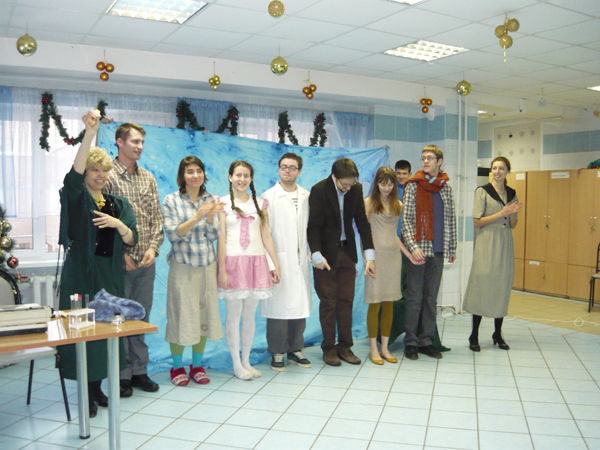 08/01/2013 Show for Christmas
On January 7 our volunteers visited psychoneurological boarding #16 to wish its inhabitants Merry Christmas. A small performance based on Tamara Kriukova's fairy tale "Star" was showed; a stage director was our social teacher Kristina Kozyreva. There was a big tea party afterwards with fellowship and games. What a wonderful merry celebration it was! We hope very much to continue this friendship and our cooperative activities in the new year.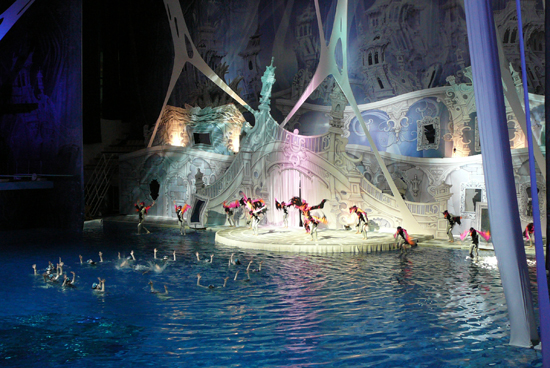 08/01/2013 New Year Party on the Float
On January 7 children attended New Year party in Olympiysky swimming pool with Marya Kisseleva's show "Zazerkalye" (Mirror-World). Those were New Year presents from Coca-Cola Company, provided by CAF. Children from the boarding school #28, from families with many children and volunteers were invited.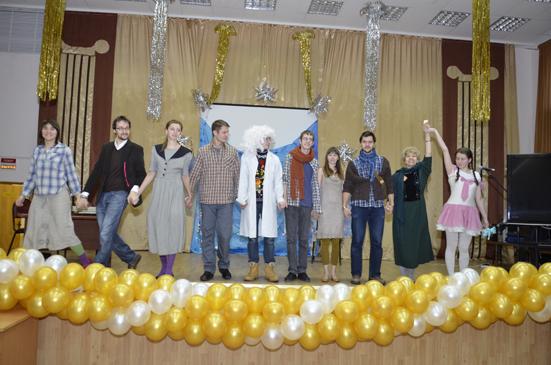 14/01/2013 Show for Old Russian New Year
On January 13 our volunteers showed Star play again, this time in psychoneurological boarding #11Due to the warm and sincere support of the audience actors outdid themselves. Itwasarealdialogue! Everyone was so happy that we immediately started to plan our next visit.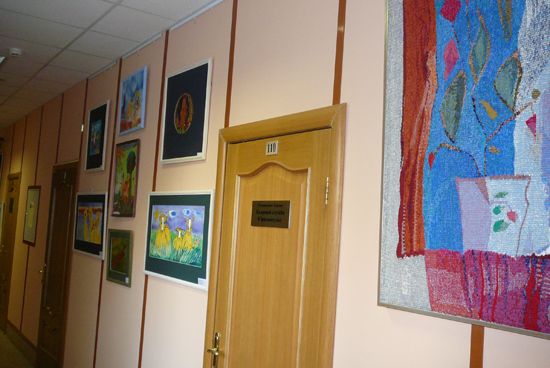 08/02/2013 Our Exhibition in Municipality
From February 7 till March 7 in the premises of Tverskoye municipality an exhibition of our pupils took place. We are thankful to Department of leisure and sport and Elena Zarubina personally for the provided opportunity.
18/02/2013 Star Show Goes on Tour
In February our friends from boarding schools twice had an opportunity to enjoy the show of volunteers' theatre, based on Tamara Kriukova's fairy tale "Star". On February 3 children went to the boarding school # 23. And in the orphanage # 7 where we have been well known for a long time, besides the show volunteers led a game program on February 17.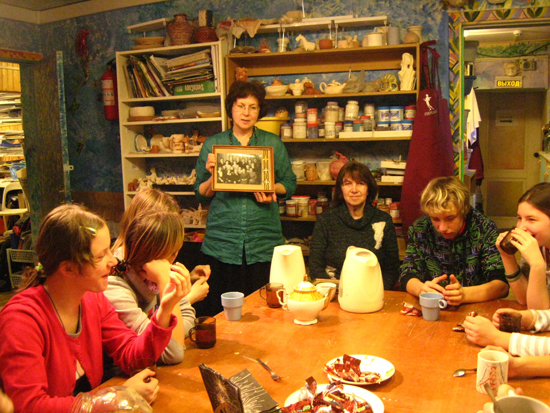 23/02/2013 Day of the Studio Defender
On February 23 spring was noticeable in our studio. That is why pictures and statuettes made of clay turned out especially warm, bright and full of joy, at tea time wonderful stories about real heroes-defenders and family relics were shared and outside looking into high blue sky one felt like addressing it all our expectations and asking for spring warmth. And we did it while launching a flying lantern.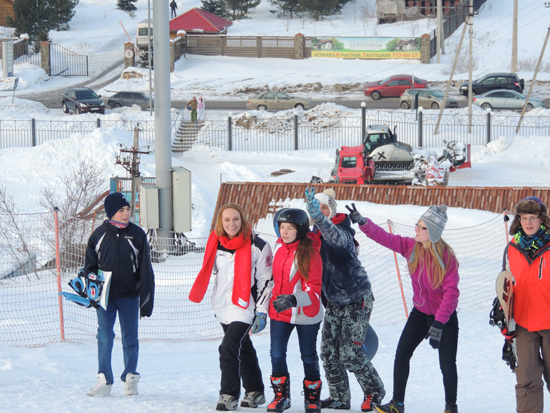 25/02/2013 Winter Camp in Sorochany
On February 19 - 24 our winter camp was held in Sorochany near Moscow. 20 children and recent graduates from boarding schools were with us. We were snowboarding a lot, mounting skiing and skating, involved into staging performances "Alye Parussa" (Scarlet Sails) (with Alexander Shishov directing) and scenes from "Hamlet" (with Alexander Kolmanovskiy directing), cooking under the leadership of the cook Vera, drawing a big picture and playing board games.
We are thankful to administration of Sorochany recreation facility for the excellent service. Thank you, Ilya Segalovich, for your assistance with funding and to everyone who had made donations to Pre-New Year charitable fairs.
Thank you, all our volunteers who spared no effort, teaching our children snowboarding and mountain skiing.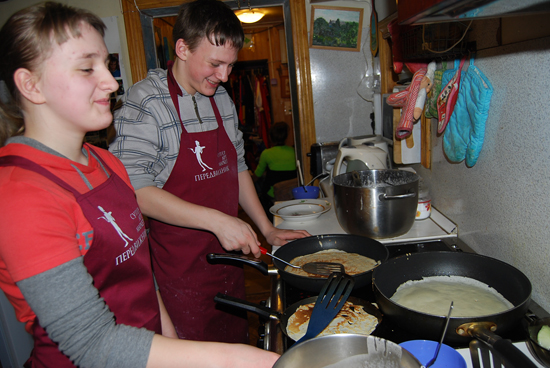 17/02/2013 Maslennitsa (the Pancace Week)
During the Maslennitsa week, which took place on 11-17 March, we fried pancakes (and ate them actively) at our studio.
On the 12 th of March the leisure center Children's Atelier invited Maria's Children to their street festival. Boys and girls who attended it enjoyed the homely atmosphere of the event in the circle of small and elder kids, their grandmas and grandpas. The program was very diverse – action games and circle dances, skating, glass-painting and pancake decorating, so everyone could find something interesting for him or herself.
On the 16 th of March the main celebration of Maslennitsa took place in the Children's Park #1. Maria's Children arranged participation of seven groups from the orphanage №4 in this festival. We watched an exciting show with Russian folk songs, trained animals and magician-illusionist, made a snowman, took part in sports games and won various prizes and presents. But what's most important – everyone was treated to plenty of traditional Maslennitsa pancakes! And our American volunteer Devin Hess, a student of the Moscow International Institute, treated the children to peanut butter and told us about traditional American dishes.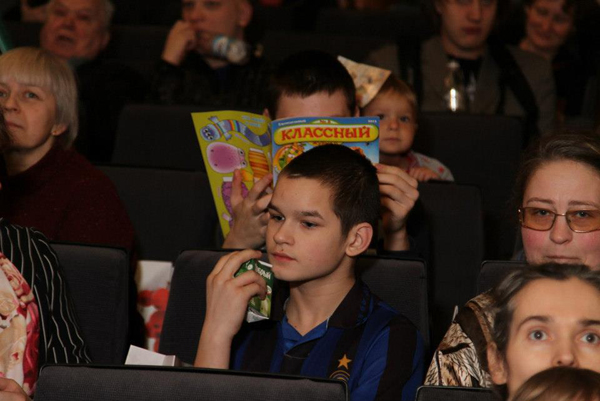 20/03/2013 Children meet Ernest and Celestine
The wonderful trustees of SOZIDANIE Foundation, Tatyana Lazareva and Alexander Pushnoy, together with a film distributing company, organized a preview of the French cartoon Ernest and Celestine for the children paternalized by various charitable organisations. The film was released to the general public only at the very end of March. On behalf of Maria's Children students from class 6A of orphanage #4 attended the screening and had a lot of fun.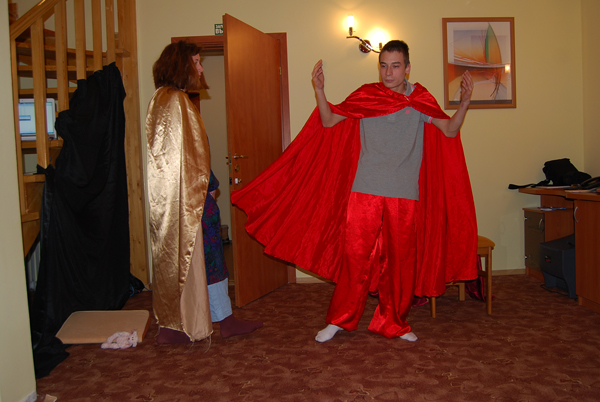 03/2013 Drama and sports trainings in Sorochany
In March we ran two training programmes in the Sorochany resort for orphanage graduates and volunteers. The young people also continued building on their skills in snow-boarding and mountain skiing.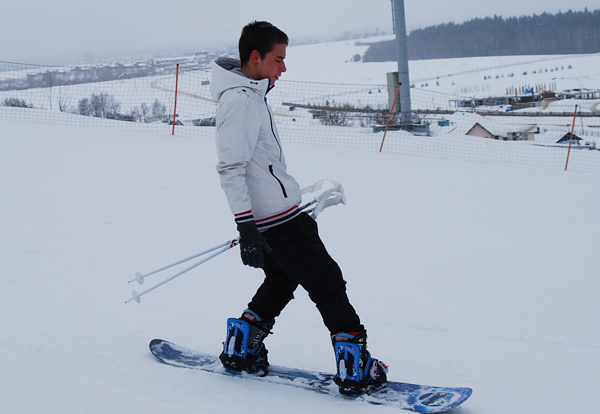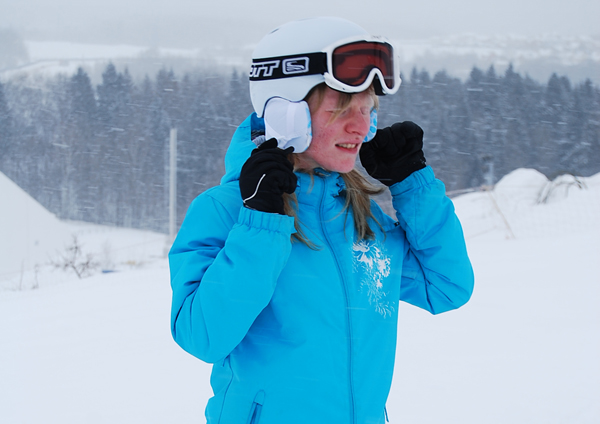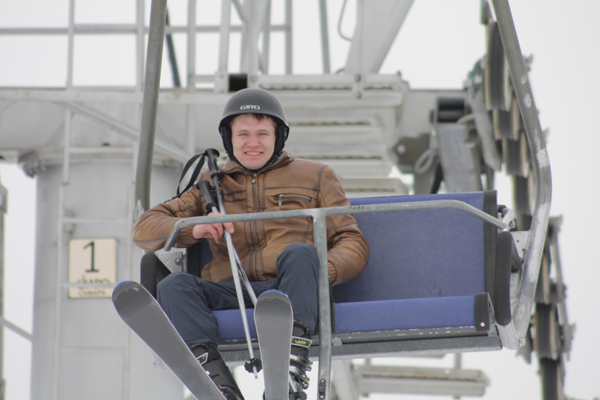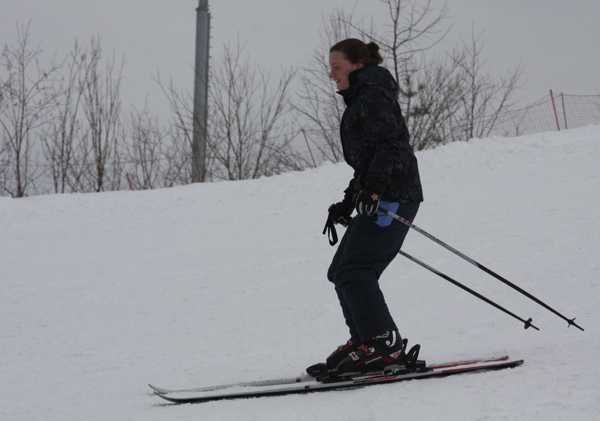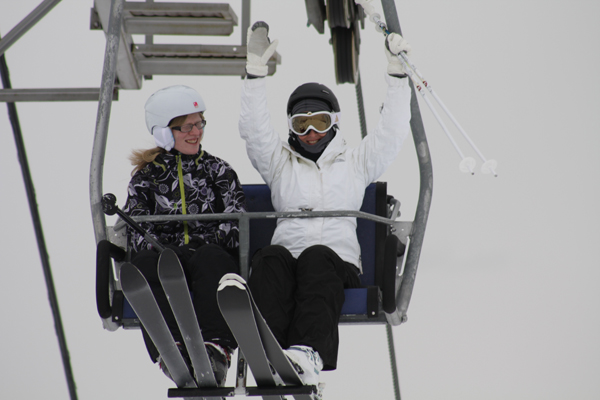 Using the "Theatre from wheels" method, our stage director Alexander Kolmanovsky put on scenes from Shakespeare's Twelfth Night.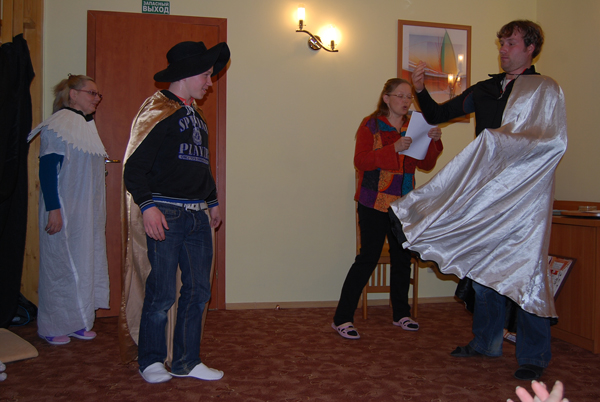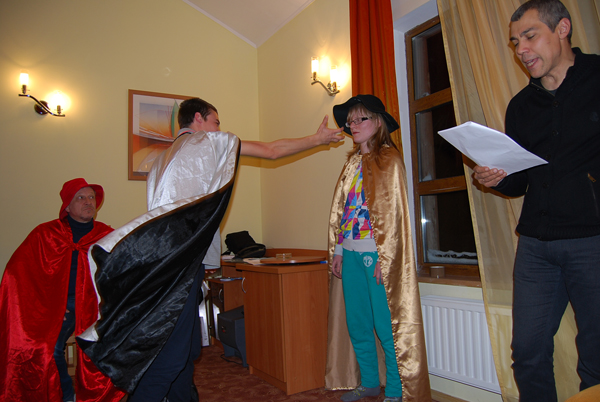 And Ilya Segalovich coordinated the performance of The Dragon by Evgeny Shvarts. The trainings were sponsored by Ilya Segalovich.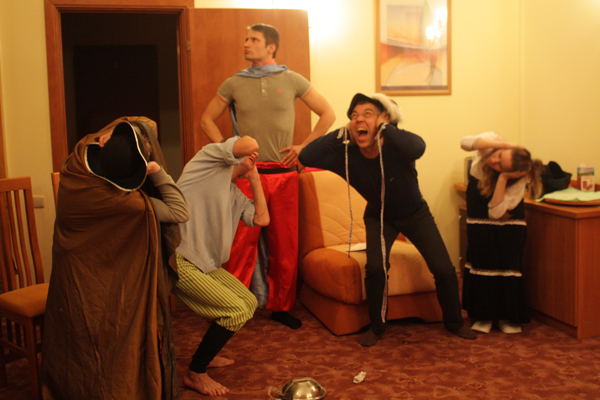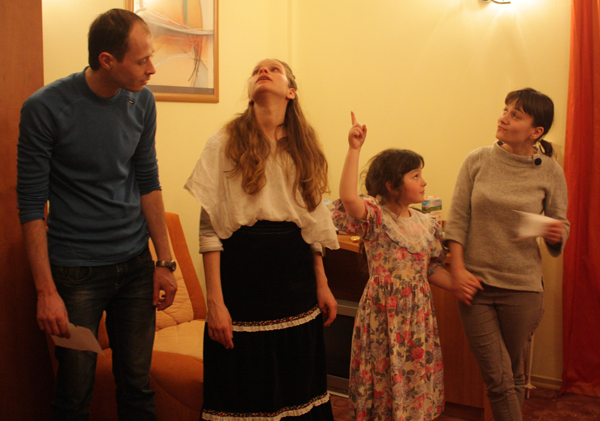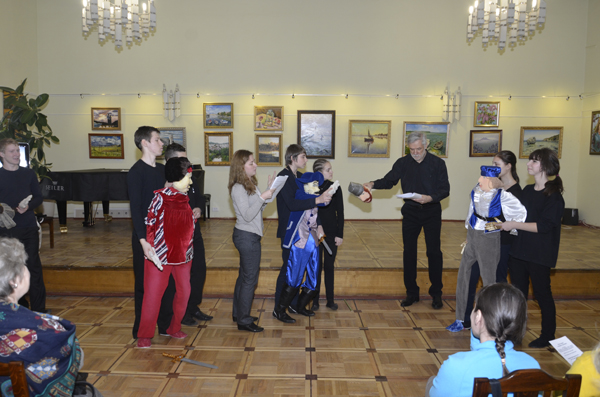 02/04/20012 Premiere of the Drama Project
On the 2nd of April we had a premiere of our new drama project. The event took place in a beautiful hall of the museum Preodolenie, named after the famous Russian writer Nikolay Ostrovsky. We cordially thank the museum administration who voluntary provided us with this wonderful space and we look forward to our future work together.
The Twelfth Night was prepared in order to be shown at Shakespeare's Birthday Festival in Stratford-upon-Avon in England, at the end of April. The play was put on using life size dolls, each one manipulated by two actors.
In the Taming of the Shrew performance this year the actors now spoke for their heroes themselves, as opposed to the old version in which they were simply pantomime actors.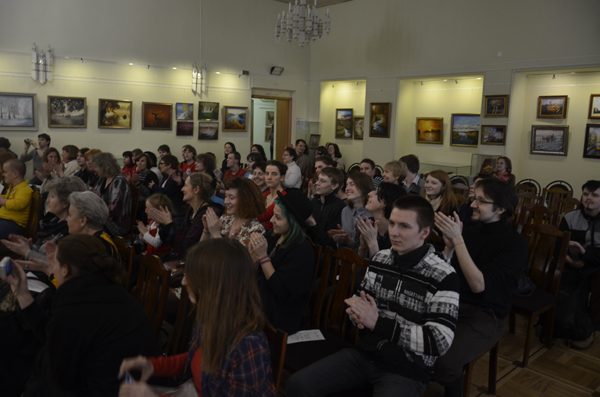 The audience enjoyed the performance very much. When it was over, the museum staff members gave a small insightful talk about the history of the building in which the museum is housed; they expressed their willingness to arrange excursions for us in the future.
We are grateful to all the young actors and volunteers who helped us prepare the performance!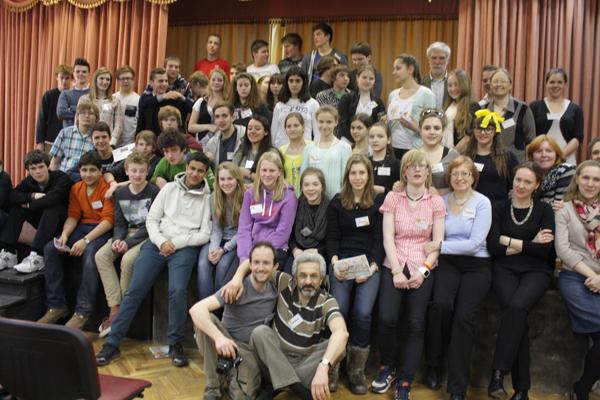 13/04/2013 Russian-British Drama Training
On April 12 we had a joint training for children from the orphanage №4 (who will be participating in Shakespeare's Birthday Festival in England), students from the Sevenoaks School, and a group from the Moscow City Linguistic School №1513. The school generously provided us with facilities for rehearsal and performance, for which we are especially grateful to the college administration and personally to the tutor Angelica Maximenko.
We first met with the British students and their tutor John Drury a year ago. The children study Russian language at Sevenoaks School and they decided to visit Russia for the holidays.
The training was led by our volunteer - psychologist Alexander Kolmanovsky. This time the training was dedicated to the dramatization of songs by The Beatles, where each group's task was to present one song.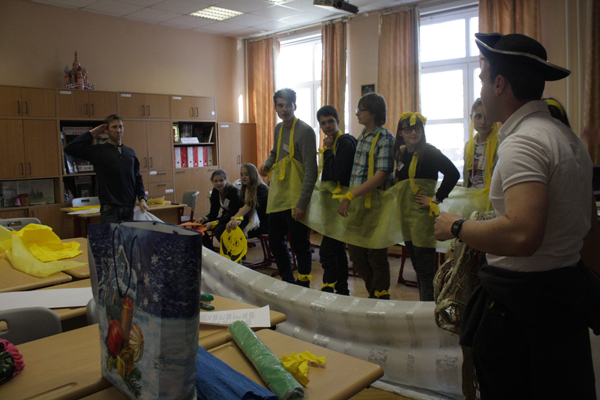 After a brief rehearsal all the participants gathered together in the hall and demonstrated their vision of the famous hits.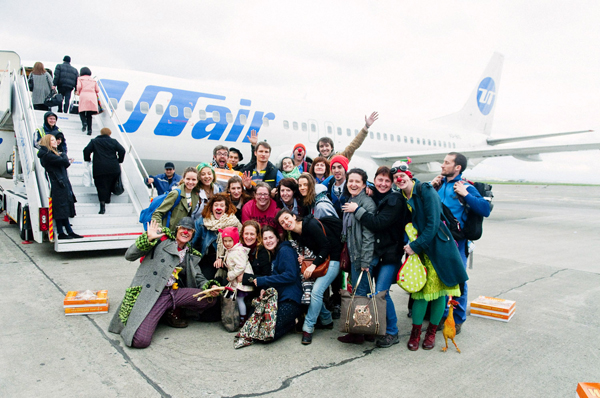 13/04/2013 A Spring in Beslan
On 7-12 April the group of Maria's Children volunteers paid a traditional visit to School #1 in Beslan.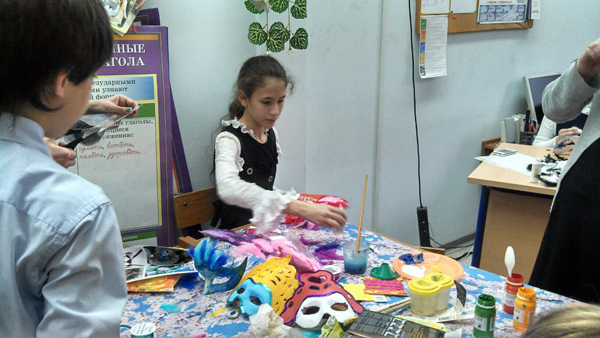 For the 7th year running, we left for a few days our cold lands and immersed ourselves into the warmth of get-togethers and mutual creativity, enjoyed socializing with our close friends, children and teachers.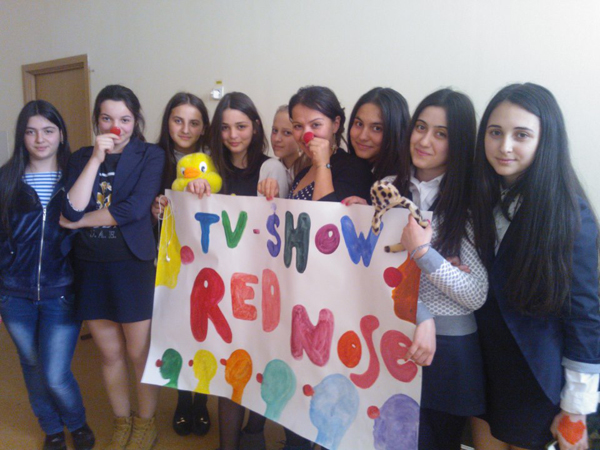 Just like in previous years, we prepared a number of master-classes for all the interested pupils, and it's no small amount – there are over 900 of them! But our team was also bigger than usual – 26 people including volunteers from Moscow, Netherlands, Spain and Canada.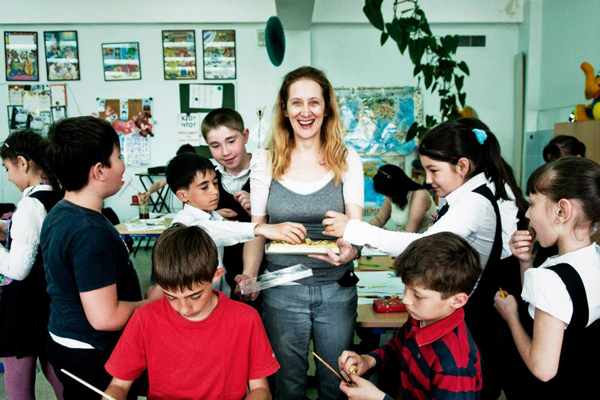 The choice of master-classes was also quite diverse.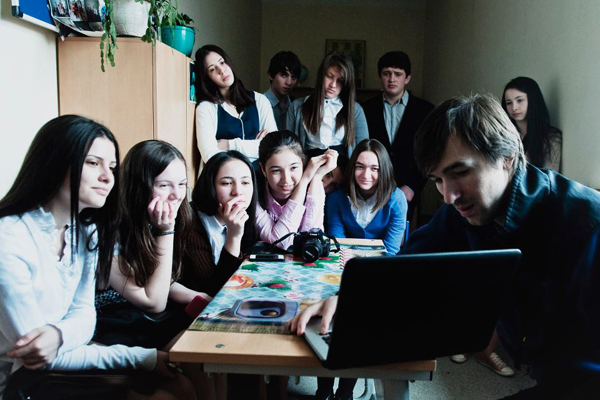 We drew a collective picture, played various games, made Venecian masks and cartoons, painted walls in the gym, had journalism and photography workshops, tie-dyed t-shirts, did improvisations and clowning, had a wire sculpting masterclass, learned to dance.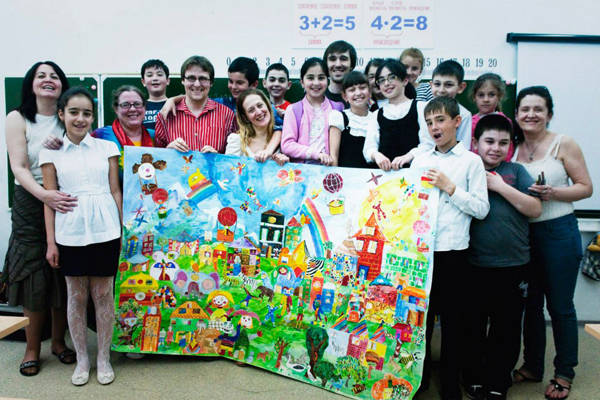 We also had a "trust" workshop, first aid training and a psychological seminar for high school students. In the course of the three days the children could choose master-classes they were interested in; on the fourth day all the students and volunteers organized a joint concert where they demonstrated what they had learned.
We were also happy to visit children at the Khoory Tyn orphanage in Vladikavkaz again. Our performers showed children some of their numbers, and then for a long time we played our favourite clown-games in a large and friendly circle.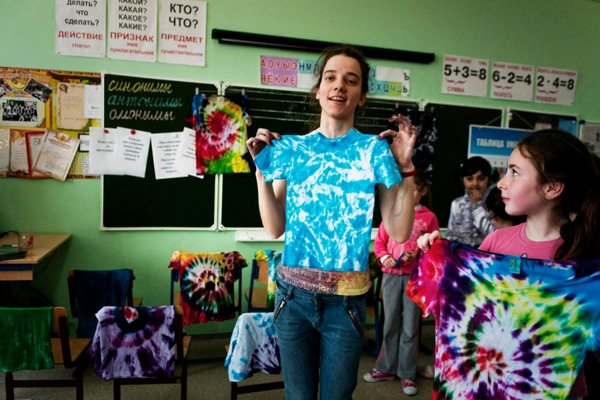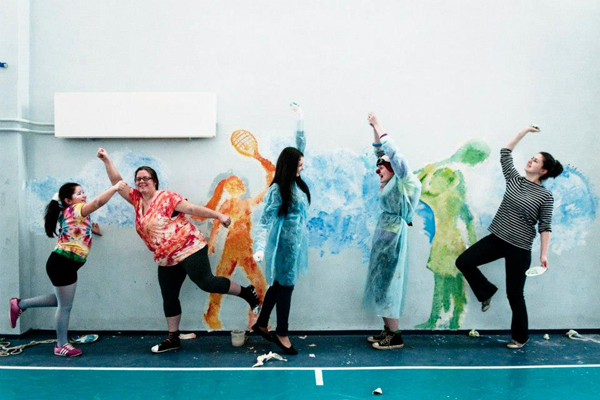 We cordially thank our volunteers – Guillaume Vermette, Rodney Daly (Chip), Andy Emeritz, Marleen van Os, Cornelius Kranen, Alfredo Muino, Marta Alonso Tejada, Julie Pedersen, Oksana Yushko, Artur Bondar, Anna and Olga Eliseeva, Asya and Ilya Segalovich, Maria Dermicheva, Bella Shakhmirza, Yulia Klechina, Anna Drozdova, Zhanna Novikova, Alexander Kolmanovsky, Sergey Gerasyutenko, Kristina Kozyreva, Sona Stepanyan, Aslan Gaysumov, Ivan Antonov.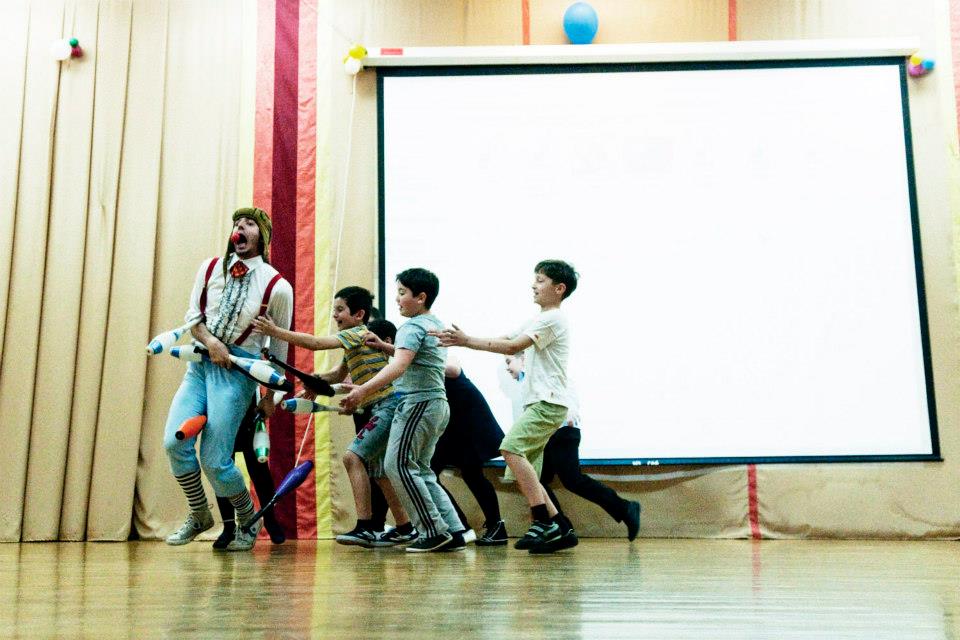 Our Beslan friends Nadezhda and Ira Guriev again hosted part of our large group at their house surrounding us with family atmosphere, while the high school students helped her!
We express our gratitude to the school principal Liudmila Dzutseva, head teacher Elena Kasumova and all the teachers for their enthusiasm and cooperation. We are your eternal pupils and you will always inspire us!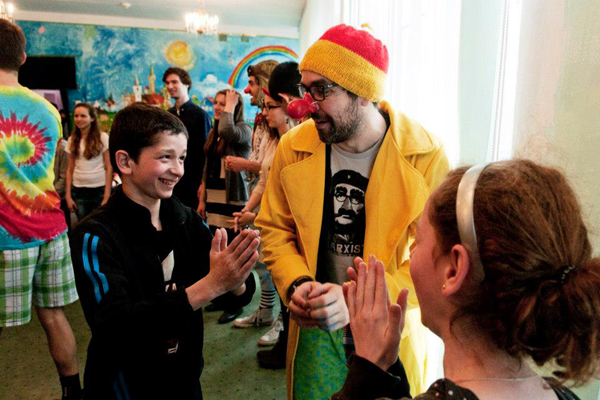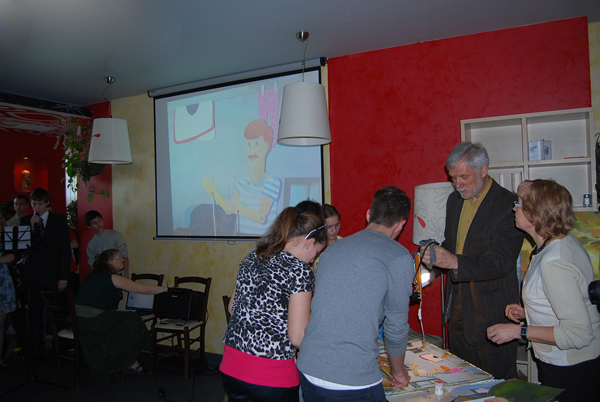 17/04/2013 Studio's Birthday
On 17 April we celebrated the Studio's sixteenth birthday. The party took place in 1-2-3 Café (on Tverskaya Street) which warmly welcomed children from several orphanages. The facilities and the food were generously provided by our friends from Rosinter Corporation, to whom we all owe a huge thank you!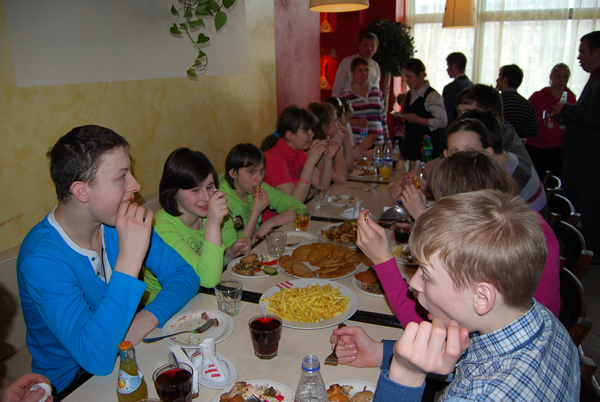 At the entrance the guests could admire live statues – one golden and one silver. This was a present to our children from Mikhail Ananyan and his friends.
After the dinner there was a premiere of a live cartoon Scarlet Sails based on a cognominal romantic fairy tale by Alexander Green. The cartoon was performed by students and graduates of the boarding school №4 under the guidance of our principle film director Alexander Shishov.
For dessert everyone enjoyed a huge birthday cake with an edible picture of Maria's Children and also one of the children's favorite delicacies – a chocolate fountain. We owe both of these sweet miracles to Oleg Fogel – our very old friend and one of our first volunteers who has known us for even more than 16 years!
We are sincerely grateful to everyone who helped make this day so exciting, delicious and interesting!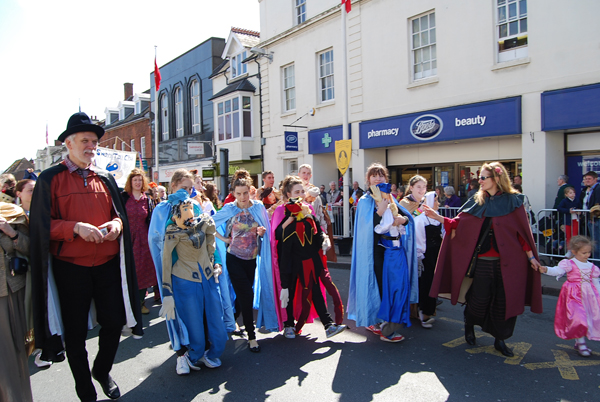 03/05/2013 Trip to England
From April 19 to May 2, ninth graders from orphanage # 4, a few graduates and volunteers visited England, where they took part in the Shakespeare festival, visited a lot of interesting places in London and Stratford-upon-Avon.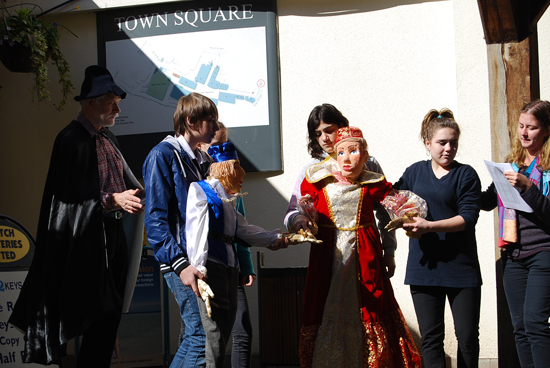 The first week was devoted to Shakespeare and his time. It was our fourth visit to the festival, which is annually held on Shakeaspeare's birthday and hosts international theatre groups. Performers play right in the streets. This year we came with "Twelfth Night". On the morning of the festival together with dolls we took part in the colourful dramatized procession, from the central square to the church where the great poet was buried. And then we gave two performances on the festival venue.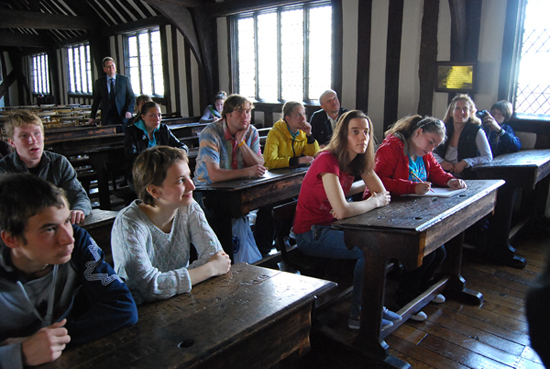 Over a few days we visited Shakespeare's birthplace; the school, which the poet had attended, and which still has students. These are 500 years old!
On the farm, where Shakespeare's mother Mary Arden had grown up, the children stroked sheep, goats, pigs;
they watched a falconer teaching a falcon to hunt and with the permission of the falconer Janush they took a few photos with his pets – a falcon and an owl.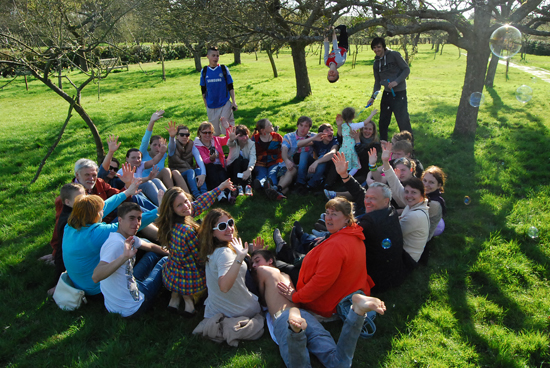 We visited a house with a wonderful garden, the childhood place of the poet's wife Ann Hathaway, and the medieval castle of a physician – the poet's son-in-law.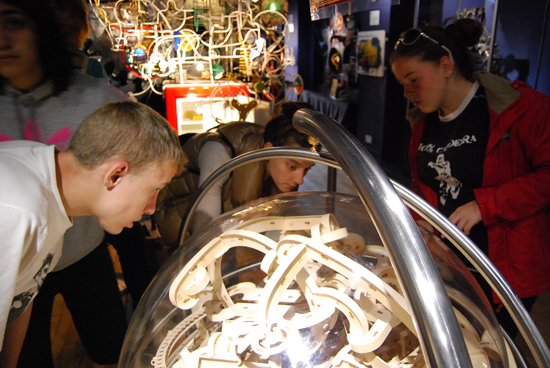 On the butterfly farm we could see a number of various exotic insects and even held them in our hands. The Mechanical Art & Design Museum, the MAD Museum, turned out to be extremely original and interesting. The children crossed the Avon on a small ship, and we thanked the captain of the sheep Fiona Rae for the hospitality and discounts.
We spent the whole day in the Warwick castle, watched a catapult launching, walked all over the basements and walls of the castle. There we performed again.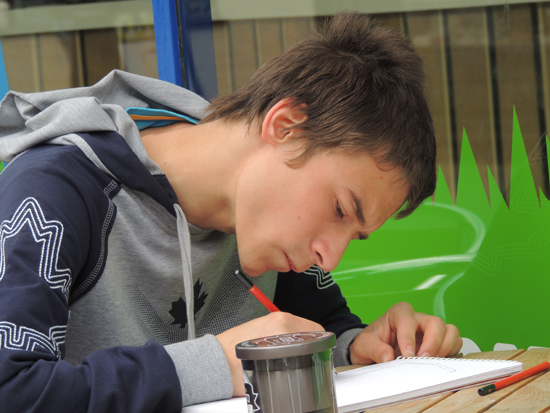 The children tried to reproduce the charm of the old English town in their sketches, which they were making standing right in the streets of Stratford.
We spent the second week in London. The children walked around the town, visited the National Gallery, the Tate Gallery, an amusement park, the Science Museum and the Natural History Museum, and heard organ music in St Paul's Cathedral. The children stayed in the families of our friends from London. The first time they met two years ago, when visiting London on spring holidays.
We thank Olga Makharinskaya, Carina Baldry and all their friends, who invited the children to their houses; it was an extremely important experience for them.
We thank the volunteer Pavel Novichkov for the simultaneous translation of the performance and for the help with organizational issues throughout the whole journey. Ilya Segalovich provided the Financial Support of the programme.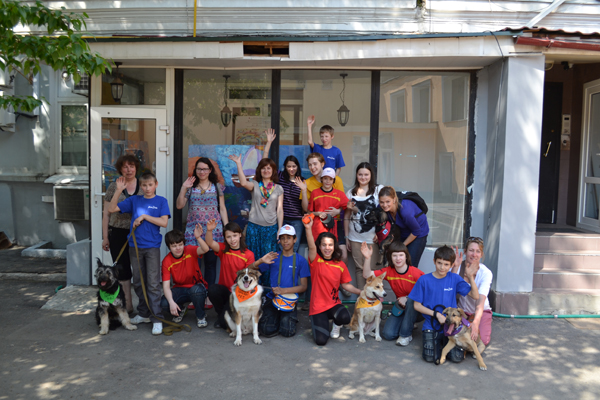 11/05/2013 Dogs Visit the Children
On Saturday, the 11th of May, our studio welcomed a number of dogs (with their masters, of course!). They are not just ordinary dogs, but dogs therapists! All of them used to live in a shelter, and now together with their masters and founders of the PET (Paws Expel Troubles) project they show how much happiness and joy there is in interactions between: dogs and children, dogs and elderly, dogs and people in general. In these pictures one can see how pleased everyone is, how happy they are and how effective the therapeutic experience is! J. Dasha, for example, first felt a bit confused and didn't want to approach to the dogs, but eventually she played with each of them and forgot her fears. We are grateful to volunteers from PET and Zov Predkov (Call of Ancestors) shelter, and, of course, to the dogs! Good job, guys! Nobody wanted to part, neither the dogs nor the children, so we eagerly await the return of our friends, old and new, in our studio again!
You can find more photos about this event in the PET Animal Therapy album on Facebook.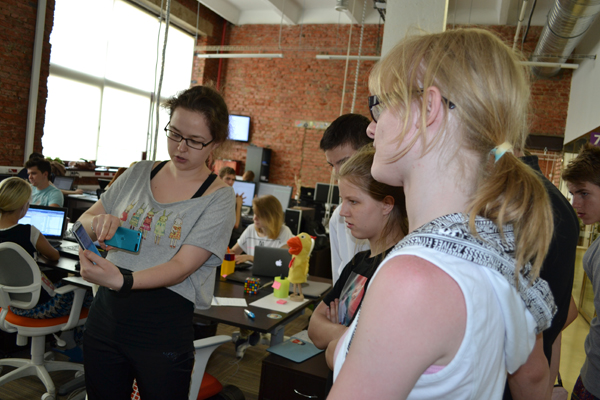 17/05/2013 A tour to Little Island
On Friday, the 17th of May, children from class 8 of orphanage №4 went on an excursion to Ostrovok (Little Island) – a company specializing in hotel online bookings. Its friendly staff members welcomed the children in their homey and creatively decorated office, introduced them to their work and showed around the rooms. Everyone liked the gym and even tried some exercise machines, and in one of the rooms we played table football.
Afterwards the children were treated to delicious pizza and given some presents – thermo-mugs and t-shirts.
We cordially thank hospitable Ostrovok and personally its staff member Ekaterina Panchenko who has become friends with our children. We hope this will be a beginning of a long and interesting partnership.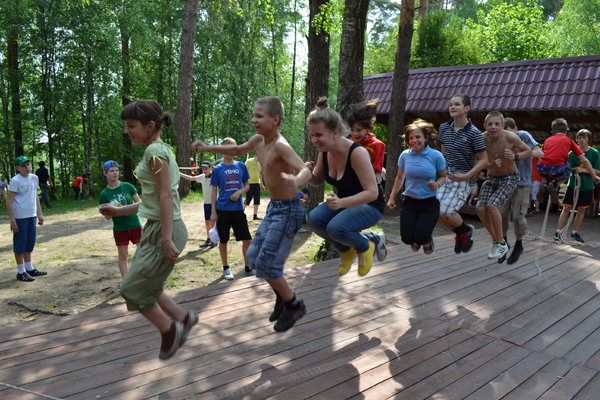 18/05/2013 Ship of our Hopes
Our annual spring feast, called The Ship of Our Hopes on board a boat took place on Saturday, the 18th of May.
We are grateful to the administration of the recreation zone Bay of Joy for the free camping ground that they provide us every year and to the Coca-Cola company – for water and tea. Our huge thanks to all the volunteers who brought so much happiness and joy to our children and helped make this day unforgettable.
Children from all the orphanages paternalized by our studio sailed from the River boat station to the Bay of Joy. On the way we admired the views of green banks, drew pictures of ships and the river, played games and we snacked on sandwiches.
At the Bay of Joy everyone was able to find something to his or her liking. Some enjoyed painting en plein air, ball games, badminton, frisby,flying kites, playing drums and skipping over a big jumping rope; some others learned juggling and walking on a tightrope.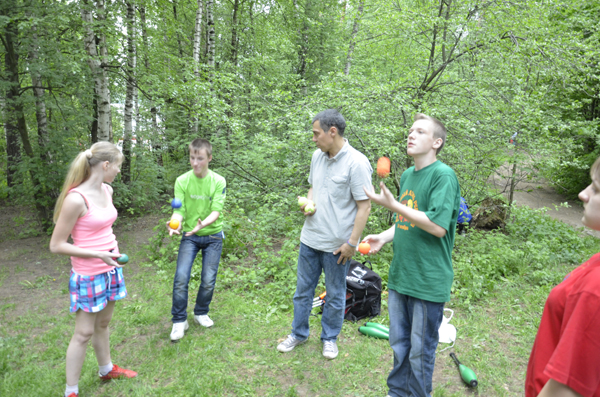 Meanwhile a close-knit volunteer team, headed by Beno Stepanyan, cooked a delicious barbeque which was eaten with great pleasure by the children as well as grown-ups.
On the way back we had a traditional concert. Some of the numbers were prepared during our sejour at the Bay of Joy.
As we reached the Moscow quay, everyone released a balloon with a "dearest wish" note in the sky. Let all our dreams come true!
We thank Masha Mironova for strawberry and kites, Valentin Ponomarev and Ilya Segalovich for the walking rope and juggling, Natalia Pushkina for painting en plein air, Vanya Antonov, Timofey Astakhov, Petya Starokadomsky, Ksusha Yakovleva, Masha Balatskaya for organising games with the children, Beno and Katya Stepanyan, Serezha Korolev, Lesha Stroev, Serezha Shuldikov, Serezha Cheremkin, Artur Andryushchenko for a fabulous barbeque, Lesha Yuzapolsky and Grisha Orlov for the photography, Tanya Tarabrina and Nadin Smolyanitskaya for their help in everything!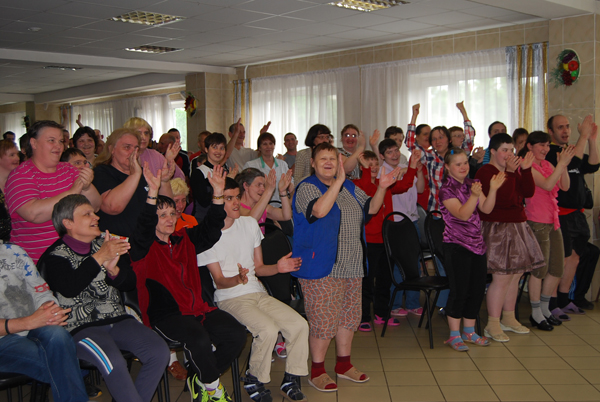 28/05/2013 "Twelfth night" in the orphanage #16
Today we presented our Shakespearean performance in the psycho-neurological orphanage №16. Its residents warmly welcomed us, watched the play very attentively and asked us to come again.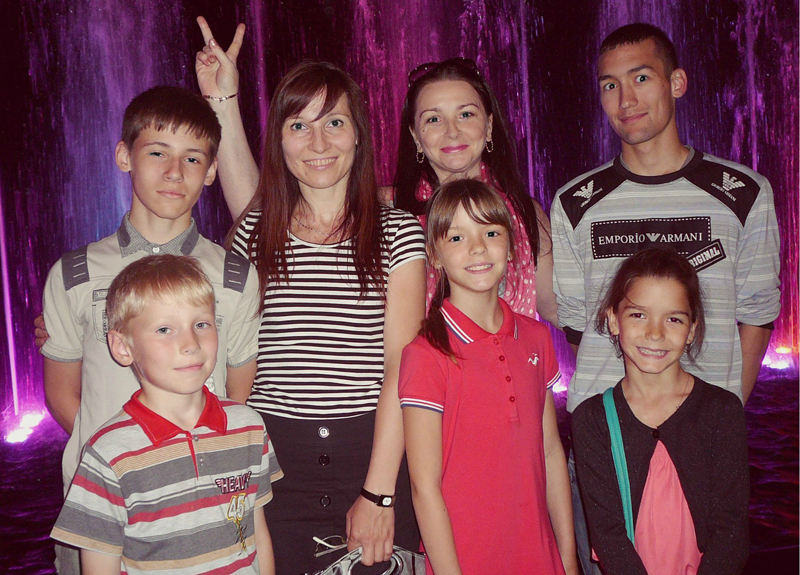 09/06/2013 В цирк "Аквамарин"
9 июня воспитатели из 80-го интерната с детьми, выпускники интернатов и их дети смогли увидеть удивительное водное шоу Танцующих Фонтанов в цирке «Аквамарин»! Нас радушно встретили, угостили мороженым, мы осмотрели экспозицию музея «Клоуны мира», дети покатались на аттракционах. Каждому подарили фото на память. Спасибо режиссеру, артистам, художникам, музыкантам, и всем работникам цирка за светлые, незабываемые впечатления.
19/06/2013 Italian Holidays
Maria's Children youth group has just come back from their journey to Italy. It lasted only a week and a half but it was so rich in impressions, get-togethers, tastes, colors… For some participants it was the first time in this wonderful country and they prepared themselves for this trip by learning Italian with our volunteers. And for the rest it was a joy of returning to dear places and dear friends who have been hosting them during their holidays for several years.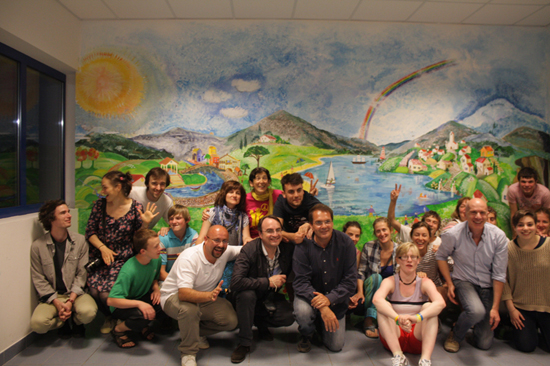 On the 7th of June we landed in Rome and explored the "eternal city" as closely as time and energy allowed us to. Our Italian friends Michela and Giovanni organized an incredibly interesting program in Rome for our group: Coliseum and Vatican, cathedrals and squares, statues and fountains, plein-air at Villa Borgese, an excursion around the familial palace of the Colonna clan, where we could vividly feel the live continuity of the country history through the history of the family, through the history of this beautiful palace, its collections of masterpieces and its adornments.
Young graffiti-artists showed us their work and told us how they facilitate development of the graffiti, initially illegal and unaesthetic, to the level of modern art that can contribute to the society.
22/06/2013 Вахта памяти
21-22 июня волонтеры студии приняли участие в традиционном мероприятии, посвященном памяти о начале Великой Отечественной войны, который проводится в ЦАО г. Москвы уже 23 год. Все участники акции вечером 21 июня собрались на Болотной площади, где состоялся концерт «Памяти павших будем достойны!», после чего прошли маршем в Александровский сад. Там в 4:15 утра 22 июня у Вечного огня минутой молчания почтили память миллионов погибших, возложили цветы к Могиле Неизвестного солдата. Ранним утром акция завершилась теплоходной прогулкой по Москве-реке.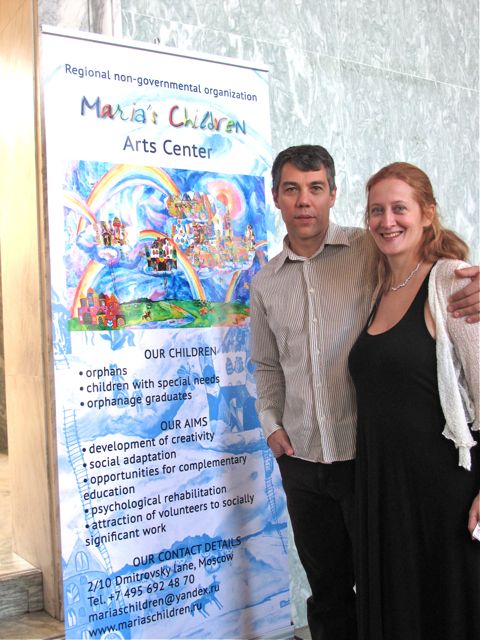 27/07/2013 Our Dear Ilya has Gone
On the 27 th of July Ilya Segalovich, one of Maria's Children Art Center's co-founders, our devoted donor and volunteer, Maria Eliseeva's husband, our dearest and nearest person, passed away.
Despite his huge engagement in Yandex, Ilya always found time to participate in our programmes. And that was him and the children who invented the name "Maria's Children" for our center.
As recently as previous Sunday, the 21 st of July, he visited our summer camp in Sorochany and before that he was actively involved in its arrangement, thinking over the ceremony of welcoming the children.
Most of the people knew Ilya as the founder of Yandex and one of the leading figures in the Internet technologies. But for our children he was an open-hearted friend, a very funny clown, an amateur stage director, the best "Clown telegraph" player and for many – the adoptive father. He taught children juggling, making dumplings, playing bouts-rimes, badminton, ping-pong, freesby and various clown games. Ilya used to recite poetry to them in a very artistic manner, enjoyed talking to them on a wide range of issues. He was a true role model for the children, influencing their philosophy, tastes and life choices. He was an adult you wanted to follow and to learn from.
Ilya was a unique person, very talented in diverse fields, with a vivid sense of humor. He had a deep understanding of all the things he was interested in (and there were so many of them!) and could inspire both children and grown-ups with his enthusiasm.
Ilya and Maria brought up five daughters, moreover, they always had several orphaned children and orphanage graduates living with them or visiting their house on week-ends and holidays. Their family and the studio are inseparable from each other.
Ilya's passing is an irreparable loss for all of us. We feel orphaned…
We are grateful to those who feels sorry for us, support us and grieves together with us.
Now we get more donations than usual, thank you so much for your help.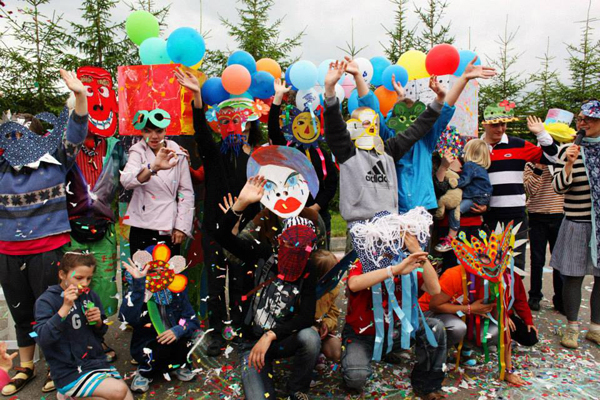 02/08/2013 Летний лагерь "Наша семейка"
С 14 июля по 2 августа прошел наш традиционный летний лагерь. Вот уже четвертый год он проходит в подмосковных Сорочанах. В этот раз с нами были дети из московского ДДИ № 28 и бесланские школьники.
Мы сердечно благодарим всех наших друзей, благодаря которым состоялся наш лагерь:
Благотворительный фонд ChanceforLife и лично Ольгу Махаринскую, Елену Рагожину и Карину Болдри; Благотворительный фонд «Дар»; компанию Тельф АГ (Швейцария) и лично Ирину Числову; Корпорацию Itellaи лично Евгению Елисееву; Комитет общественных связей города Москвы; Ольгу Муравьеву и ее друзей из Арт-клуба КАМЕРТОН; Авиакомпанию Utair; волонтеров из Альфа-банкаи лично Татьяну Пасько; Администрацию базы отдыха «Сорочаны».
Подробнее можно прочитать здесь.
Больше фото можно найти в нашей группе в FB.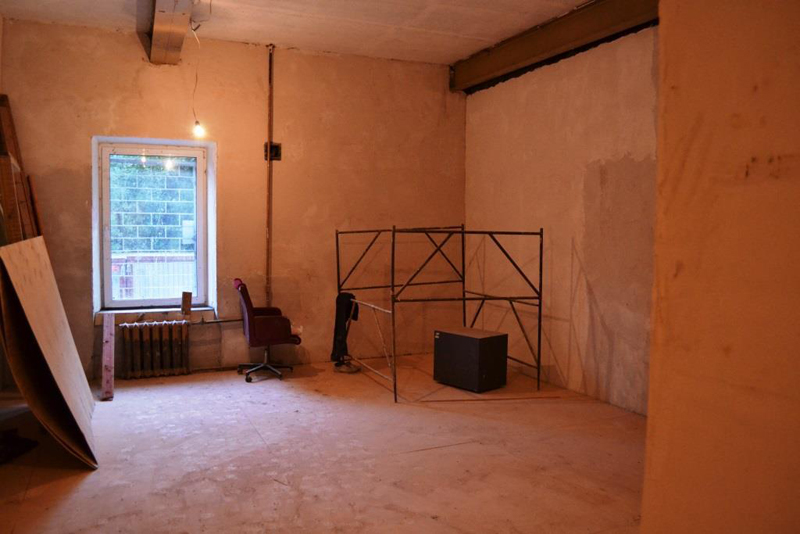 Ремонт нашего нового помещения
В помещении, которое Управа Тверского района Москвы выделила для студии на Делегатской улице, близится к завершению капитальный ремонт. Работы выполняются и финансируются Управой, а мы с волнением ожидаем результат. На период выборов мэра Москвы в помещении разместится избирательная комиссия, а после окончания ее работы нам можно будет начинать обживать наш новый дом. В этом, конечно, понадобится помощь друзей! Помещение расположено на первом этаже жилого дома, и мы надеемся, что с его открытием сможем принимать больше детей на занятия, у художников будет больше света, а у театральной студии - помещение для репетиций.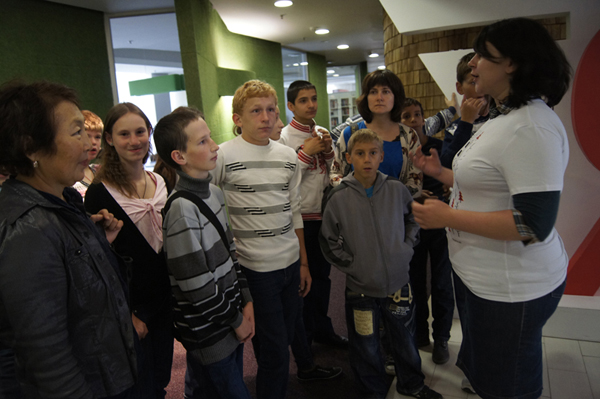 13/09/2013 Day of the Children at Yandex
On the 13th of Septebmer, Ilya Segalovich's birthday, Day of the Children took place at Yandex.
This day almost 70 people – children from our three orphanages and their teachers, recent graduates and volunteers – paid a visit to our most beloved Yandex. An interesting excursion was held for the guests. The children were very excited, they asked many questions and wanted to try and touch everything.
After that the children were offered to play a game called "Zavalinka" in which teams had to guess the meaning of unfamiliar words and tried to confuse each other.
.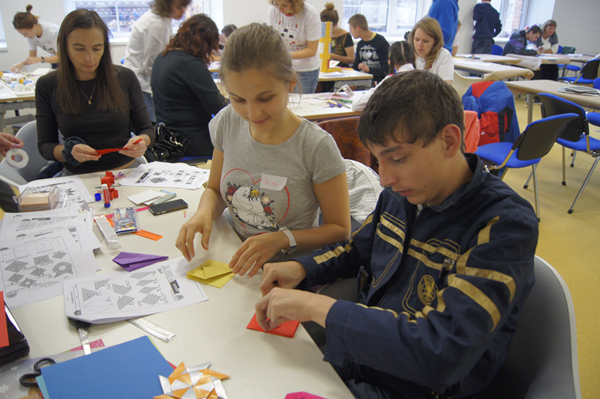 Then everybody moved to the "Stroganov" building where the Yandex volunteers were already waiting for the children to take part in their master-classes. Scrapbooking and painting t-shirts, playing a "Hat" game and physical experiments, baking wafers and braid-weaving, origami and drawing – everyone could find what he or she liked most. Some of the children even managed to try several kinds of activities.
In the end of the day a delicious lunch awaited the young guests. Everyone left full of positive emotions, gifts and impressions.
You can find more pictures of the event here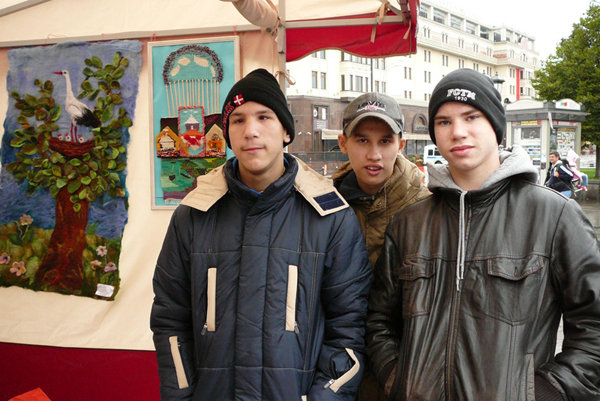 15/09/2013 Festival of Applied Art
On the 15th of September awarding ceremony for the participants of the 7th Moscow Festival of Applied Arts for Youth with Special Needs took place at the Square of Revolution in Moscow. Because of the rainy and cold weather, not all those willing could come but the most determined ones had an opportunity to see an exhibition, a concert starring Rodion Gazmanov, a soap bubbles show. They were also given diplomas and prizes. Collective work by Maria's Children Studio "A Stork" got the 1st place in the nomination "Creating together". We send our huge congratulations to our children and their handicrafts teacher Maria Ivanovna Pimenova. We were also very glad to meet children and their teachers from orphanages №28 and №7. They were the prize winners as well!
All those present at the festival honored memory of Olga and Sergey Shirshovs, Dima Uzbekov, Vova Markin, Nastya Aleksandrova, Vika Ivanova and Jessica Regush, died in the car accident last September. Their works were also displayed at the exhibition.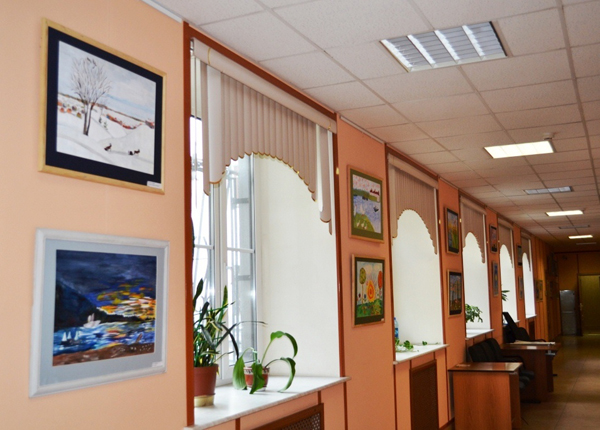 01/10/2013 Our Exhibition in the Tverskoy Municipality
On the 1st of October an exhibition of Maria's Children students' art works has opened on the first floor of the Tverskoy Municipality.
We kindly thank the Municipality's department of leisure and sports, and personally Elena Zarubina for providing us yet another opportunity to draw as much attention as possible to the matter of charity. And we are very grateful to our staff member Alexey Stroev for framing the childrens' works and hanging them in the municipality hall.
We are glad to share the joy of art with visitors and acquaint them with the problems of children-orphans and children with special needs. Bright, uplifting works of our Center's students, implemented in various techniques, will adorn the walls of the Tverskoy Municipality for the whole month, and on the 2nd of November they will move to the Central House of Artists on Krymsky Val. This will be the XVIth annual Maria's Children November exhibition.
08/10/2013 Sweet presents
Today we received several boxes of sweets collected especially for our children by pupils and teachers of "The Second School" Moscow lyceum. Thank you so much! Now the children will enjoy tea with your sweet present. We are looking forward to seeing you at our studio!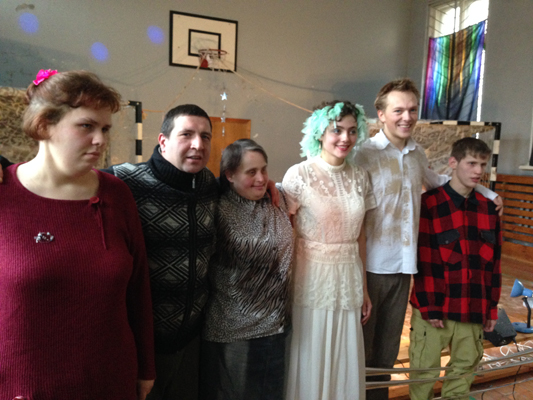 23/10/2013 Простые вещи
В октябре наши волонтеры, гости из Питера, Лиза Гвоздик и Сергей Карионов показали свой спектакль в нескольких наших подшефных интернатах. Ребятам в интернатах очень понравилось, будем ждать следующего приезда этой небольшой театральной труппы.
Рассказывает Лиза Гвоздик: Наш мир, в основном, состоит из обыкновенных вещей: стол, стул, ботинок, тарелка... Но наше особое отношение к ним может сделать их для нас красивыми, наше умение играть с ними - удивительными. Мы хотим, чтобы наш мир был прекрасным и удивительным, поэтому играем для ребят весёлое кабаре "Простые вещи"!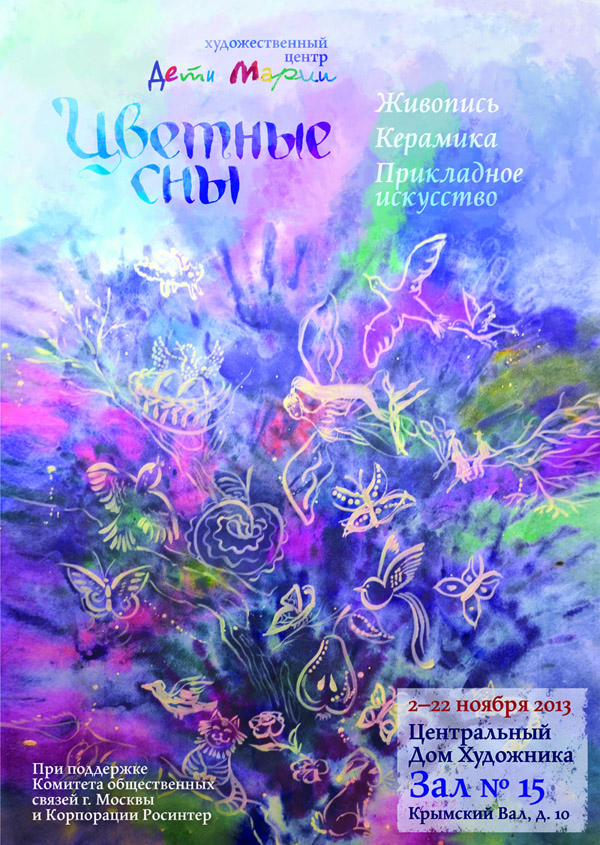 22/11/2013 Выставка в ЦДХ
Со 2 по по 22 ноября прошла наша традиционная выставка в ЦДХ. На выставке широкой публике были представлены более 200 работ в технике живописи, рисунка, граттажа, керамики, валяния, лоскутного шитья, гобелена. 14 ноября на выставке был большой праздник с участием клоунов Пэтча Адамса, дети показали гостям концерт, а угощал нас по доброй традиции Росинтер. Спасибо за поддержку Комитету общественных связей Москвы, корпорации Росинтер.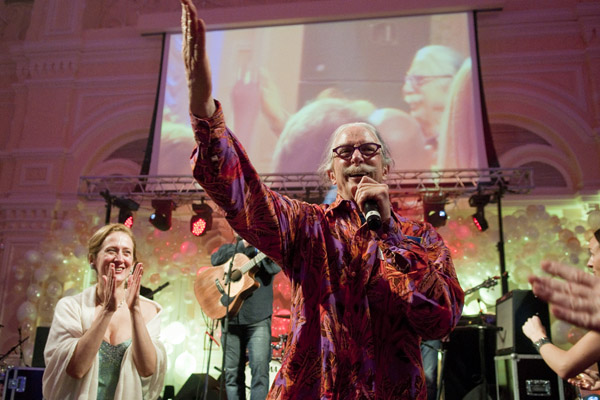 15/11/2013 Charity Ball in Memory of Ilya Segalovich
Our Charity ball in memory of Ilya Segalovich was held at Demonstration hall of GUM on 14th of November. Heartfelt thanks to GUM for giving us hall for free. We are deeply thankful to Baring Vostok Capital Partners for sponsoring our ball.
Our guests were greeted with an exhibition of photographs of children who are engaged in our studio, win lottery, living statues and champagne.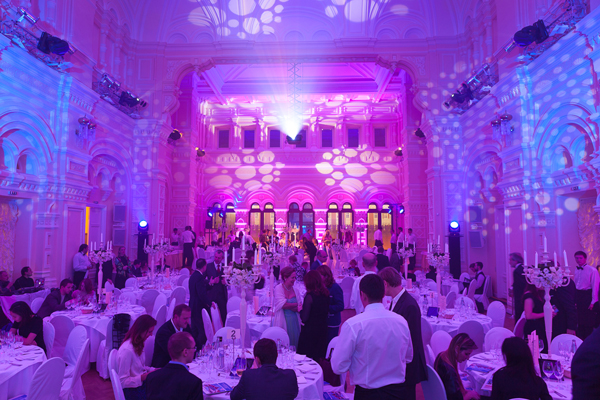 During the gala dinner guests communicated with each other and were engaged in "silent auction" in the elegantly decorated hall with live music. Our old friends Rostislav Ordovsky-Tanayevsky Blanco (Rosinter Corporation) and Sophie Nash shared several words of encouragement from the scene. Maria talked about participation of Ilya Segalovich in children's lives.
The culmination of the evening was the auction, which is traditionally led by the doctor-clown Patch Adams. During the auction guests were competing in generosity and indifference.
The evening ended with dancing to the fiery music.
During the evening we collected donations in amount of $ 350,000. All funds raised will go to continuing our support programs for orphans and graduates of orphanages.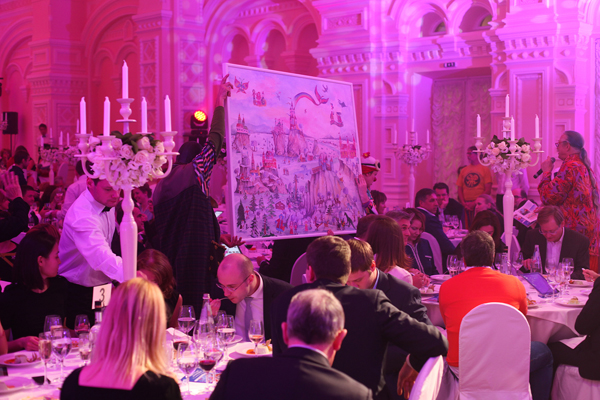 We sincerely thank all those who helped us with the preparation and holding our ball:
Sophie and Roland Nash for organizational and financial support,
Zurab Guguberidze, Olga Nesterova and other colleagues of GUM for your hospitality and patience, for kindness and excellent work of all technical services.
Patch Adams for holding our "loud auction",
Dmitry Sinitsin for translation,
Catering of Bosco restaurant for discount,
Vera Aksenova and her friends for decorating the scene with balloons,
Alexander Kudriavtsev and Fold&Spine studio for the design of our catalogue,
Victoria Konigsberg for organizational help,
Inessa Dorokhova and Petr Janovich for organizing and technical support of "silent auction"
Ludmila Bibina for organizational help,
Natalia Anokhina and Guy Acher for editing our catalogue,
Johanna Kichhoff-Sheier for organizational help,
Artur Bondar and Oxana Jushko for lots for the "silent auction" and lottery, for taking photos during the ball,
Gennady Semin for taking photos during the ball,
Master Tatiana from the salon "Beauty Studio" for hairstyles for employees and volunteers
Mikhail Ananyan and his team for "alive statues",
Corporation "Rosinter" for hot meals for staff and volunteers working at the ball, and the lots for the lottery,
Companies "Katerina Hotels" and "Katerina Matkassar" for the lots for the lottery,
Bookshop "Knizhniki" for the lot for the lottery,
"Te Gusto" company for the lots for the lottery - delicious jam,
"Juniorchef" company for the lots for the lottery - designer cakes,
Graphic deign studio "Pagedown" for the lots for the lottery - word games,
Lev Rubinshtein for the lot for the lottery - a book with his autograph,
Evgeny Karelinov for making the video about "Maria's Children",
Daulet Zhainadarov for video support during the ball,
Clowns from Patch Adams's team for creating relaxed and intimate atmosphere during the evening,
Company Mobile stands for providing us with construction for press-wall for free,
The Moscow Times newspaper for informational support,
Companies which bought the whole tables for their colleagues: Verno, KPMG, Pricewaterhouse Coopers, Baring Vostok, Piaget, Jones Day, our generous donors Olga Makharinskaya, Nikolai Tsekhomsky, Sergey Prudnik, Elena Gurkova, Justin Lifflander, Vladimir Ivanov, Tamara Smith, Jiovanni Kolonna and their friends who were our guests that evening.
Band "Kukuruza" and band "Akvarel" for the music, sounded during the whole evening,
Volunteers Nadia Varaksina, Vsevolod Khachatrian, Masha Tatieva, Irina Blinova, Sergey Shuldikov, Alena Akimova, Timophey Astakhov, Petr Starokadomsky, Alexander Savin, Liza Loseva, Sona Stepanian, Ivan Antonov, Sveta Khohlova, Martin Ahmetov, Mikhail Satleikin for various help.
You can see more photos in our album on Yandex-photos here.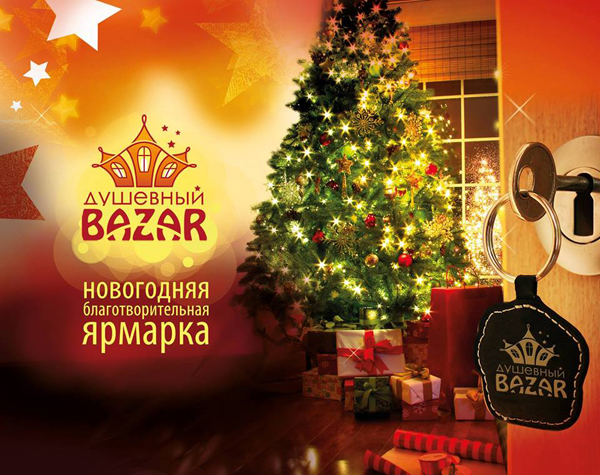 05/12/202013 Душевный Bazar
5 декабря прошел самый крупный предновогодний благотворительная ярмарка - Душевный Bazar. Мы собрали пожертвований в сумме 70140 рублей. Все собранные нами средства будут потрачены на зимний лагерь. Благодарим всех организаторов Bazara, наших помощников-волонтеров и всех жертвователей.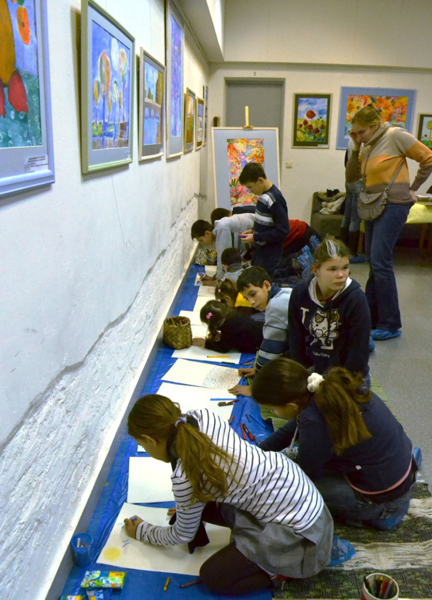 07/12/20103 Our Display at the "Colours of Nature" Exhibition
"Colours of Nature" is an exhibition of fine and applied arts done by the residents of the Tverskoy district of Moscow, on the territory of which the studio has been working for 13 years already.
Our children always depict nature with great pleasure, so we were able to present many works there. The jury highly estimated their artistic skills and all of them became diplomas and awards winners.
On the 7th of December a group of children from the orphanage №4 attended the presentation and the closing ceremony where the results of the exhibition were evaluated. It was also very interesting to get acquainted with creative activity of other leisure centers. The visitors were offered an exciting master-class, all the young artists got a copy of the exhibition catalogue and the event ended up in a tea-party.
We express our gratitude to the exhibition organizers – the "Tverskoy" district municipality and the Russian Traditional Theatre named after Mikhail Chekhov.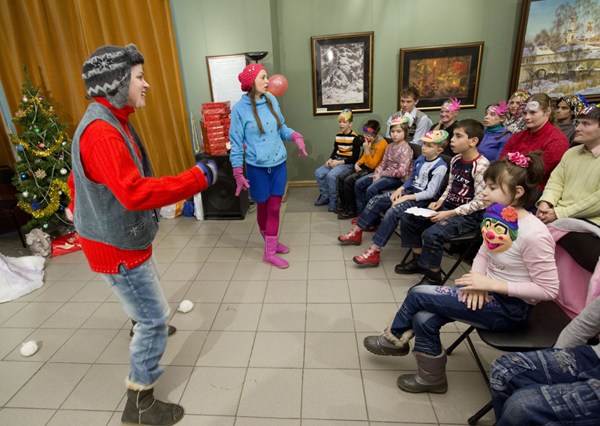 25/12/2013 New Year in Andriyaka's School
On 25 December our children from three orphanages attended a New Year party in Sergey Andriyaka's Watercolour School. The children were invited to see an exhibition of paintings, after which everyone got involved in funny games and competitions, watched performance "The Sow Queen", had tea with cakes and of course got lovely presents selected and wrapped with huge love.
We thank the administration and all staff members of the Watercolour School – it's the second year that they invite our kids to their New Year party. It has become a good tradition and we are happy that our young artists maintain friendship with professional painters.