2011
| | | |
| --- | --- | --- |
| January | | To Beslan Again, for the Fifth Time | News of Everyday Classes |
| February | | Winter camp in Sorochany |
| March | | Exhibition in US Congress | Pancake Day | London Holidays | Ordinary Miracle Show at Dubrovka Center |
| April | | City Lights in Luzhniki | Our Theatre Project | Our Studio is 14 Years Old | Farewell to Dad Tolya |
| May | | We celebrate the Victory Day | Travelling to the USA with the boarding school's teachers | Ship of our Hopes at the Magic Island |
| June | | Photos for the Little Ones from Tver | Wall Painting in Sochi Children's Hospital | Colors of Moscow Summer | Happy Birthday, Coca-Cola! | Thank you, NB Gallery |
| July | | Youth Training | Summer camp in Sorochany |
| August | | Italian Holidays | Trip to Sweden |
| September | | The Beginning of the School Year at the Studio | Wall Painting in Adler Hospital |
| October | | Volunteers from Kraft Foods Company |
| November | | Maria's Children Charity Ball "A Journey through Childhood" | Exhibition at the Central House of Artists | Competition of Enthusiasts | We visited Yandex! | Paintball |
| Decemder | | Results of New Year Fairs | New Year performance at Olympiyskii |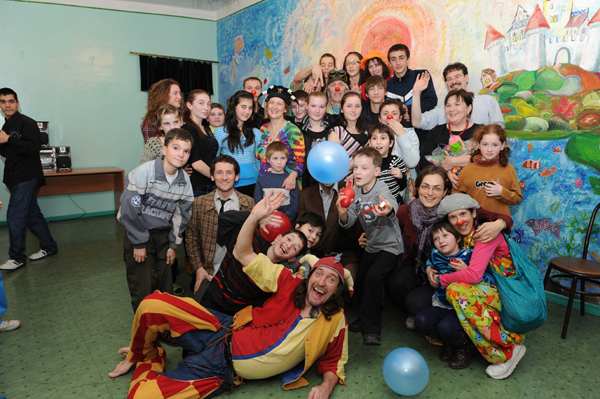 To Beslan Again, for the Fifth Time
At the end of January, on 26-30, a group of Maria's children went to Beslan to visit school #1. There was an international team: students, clowns, puppeteers - from Moscow, St.Petersburg, Great Britain, Spain, Italy and Holland.This time we decided to repeat the format of our very first visit to Beslan, when there were all kinds of workshops offered to children, such as arts, puppet show, make-up, jugglery and other clowns' and circus's tricks, city dance, games and improvisation. For two and a half days pupils from different groups participated in the workshops and together with us by the end of the third day prepared a show to demonstrate to their friends what they had learned.
School pupils helped us a lot during the workshops: they served as translators, operators and even as nurses for the ill. The 8th and 4th graders were painting a wall with us, and now a huge painting on the wall of the 4th grade proves our friendship; it is bright like a rainbow, solid like the Kremlin, cheerful like a butterfly's flight, exciting and stable like the Caucasus mountains.
In the 2nd grade the classroom will be also decorated with the collective picture made by pupils.
The very first day, as soon as we arrived to Vladikavkaz we visited the Khury Tyn Orphanage with a show prepared by members of our group, professional actors.
The show also completed our program in Beslan; before leaving for the airport both our group and school pupils performed on the stage of Cultural Centre.
The audience was packed in spite of the lack of advertisement. Our clowns were entertaining children before the show, and after the performance we were saying good-bye and it was with mixed feelings: sad to part and joyful to see again our Beslan friends, to watch children grow and learn new things and to know that we are a part of each other's life.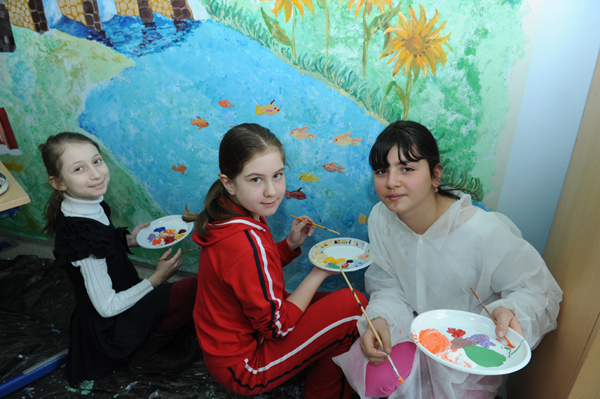 Our grateful thanks to Nadezhda and Ira Gurieva, who hosted a part of our group, for their hospitality and all-round care; to Vissarion Asseyev for organizational support; to all pupils and teachers of the School: Principle Ludmila Petrovna Dzutseva, Elena Kassumova, Olga Vlaskina, Albina Kaziyeva and all volunteers of our program: Simon Josef and Pitter Simms (Great Britain), Ginevra Sanguigno and Italo Bertolasi (Italy), Theo Shilder (Holland), Pablo Reboleiroand Freddy Perez Muino (Spain), Madina Adleiba-Nickolas (Ossetia-Great Britain), Leonid Kondakov and Galina Maximycheva (St.Petersburg), Ruslan Lartsev, Nadezhda Varaksina, Oxana Yushko. Sona Stepanyan, Anna Elysseyeva, Alexey Golubkin and Yulia Klechina (Moscow).
Thank you, everyone who provided financial support: S7 Airlines, Intourist-Ossetya, Ilya Segalovich and all private donors and participants of our New Year charitable fairs. We are thankful to Ministry of Education RSO Alania and administration of Pravoberezhny District for their support and cooperation.
News of Everyday Classes
Psychological Seminars of Alexander Kolmanovskiy
Psychological Seminars of Alexander Kolmanovskiy, which are very popular with our staff and volunteers, were recommenced in our studio on Fridays at 8 p.m. at Suschevskaya str. Everyone is welcome!
English for Beginners
English for boarding school leavers is taught by our new volunteer Anna Anatolievna, university lecturer, on Thursdays starting at 2 p.m.
Tapestry Techniques
Starting from the New Year, our volunteer Natalia Lyass teaches tapestry techniques. This class of new kind of needlework is attended by children from psychoneurological boarding school #11. Volunteers who wish to take part are also welcomed. Thank you, all volunteers, who teach classes for both children and adults at the studio.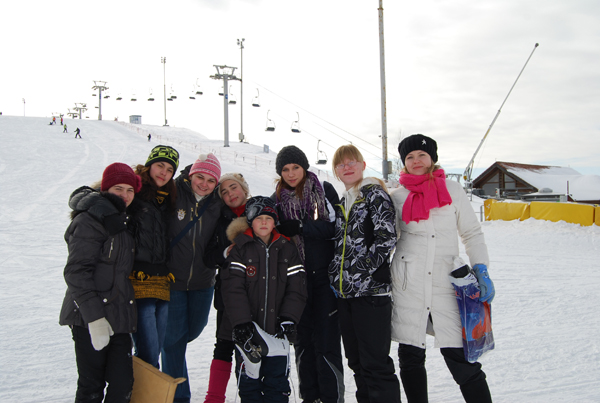 Winter Camp in Sorochany
On February 15 – 20 we held our adaptive camp in Sorochany recreation centre. We had become friends with hospitable management of this ski resort last winter, then we had our summer camp here and now came together with students of the boarding-school # 4: seventh graders and a group of boarding-school leavers.
In the adaptive camp we had following programs operated:
- preparing senior students and school leavers to independent leaving, teaching domestic skills,
- outdoor sports, teaching to snowboard, ski and skate,
- creative activities, arts and producing plays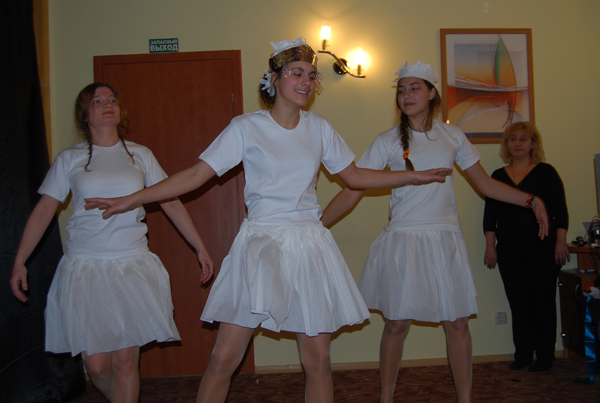 Every day was full of activity and events. In the morning children were cooking breakfast and lunch together with Vera, the cook, teachers Svetlana Nickolaevna and Olga Ivanovna and then they were skating, snowboarding, skiing or sleighing. After lunch, under the leadership of Alexander and Natalia Kolmanovskiy, plays The Tale of Tsar Saltan and Swan Lake were produced with the participation of both children and adults. Alexander Shishov helped children to dramatize several English songs, since a group of seventh graders are going to England for spring holidays.
We were drawing, quilting, playing board games and watching movies in the evening, though some people were going out-of-doors for the second time during the day.
There are children's opinions below:
Seriozha Shuldikov: I liked being free in the camp and to use all the equipment the way I liked. It was a great fun. The time was flying by because we were busy all the time: cooking in the morning, and then going outdoor, painting, playing games and socializing.
Alina Bayramova: I liked cooking; I was making pancakes and cooking potatoes. I liked out-of-doors activities.
Alesya Lukyanenko: I liked the atmosphere, to spend time with friends and play interesting games. I liked helping in the kitchen, I was cooking cutlets from the beginning till the end.
Sveta Chekova: I liked to learn snowboarding and taking part in plays. I was playing a Spanish woman and a swan. I liked everything.
Dima Savetnikov: I liked that I learned new tricks on the snowboard, to cook, to produce plays.
What new things did you learn at the camp?
Seriozha Shuldikov: I learned to use mini skis and snowboard.
Aliosha Osadchiy: To snowboard and use mini-ski, to cook, to peel onions.
Olya Yermakova: To wash up.
Alesya Lukyanenko: To make cutlets and snowboarding.
Arthur Andriuschenko: I became more open and sociable. Learned to snowboard, Pasha has taught me.
Dima Savetnikov: For the first time I tried to cook bread with other things added (like butter, cheese and sausage) in the microwave, and it was my invention.
Ruslan Lartsev, volunteer:
Why is the camp important for children?
Outings like this are very important for children, because they bring them together. They feel our care and kindness, since we, adults, come to spend time with them, to play games and have fun together.
What can children learn at the camp?
They can learn to be kind, at ease, friendly. We show them how friendly we are in our team and they will copy it and show it to their peers back at the orphanage. They learn that it is important to be friends and not to offend anybody.
The camp was funded by Children's Fund UNO UNISEF. Sorochany Management, thank you for the discount and wonderful service.
Thank you, all volunteers, who helped us at the camp.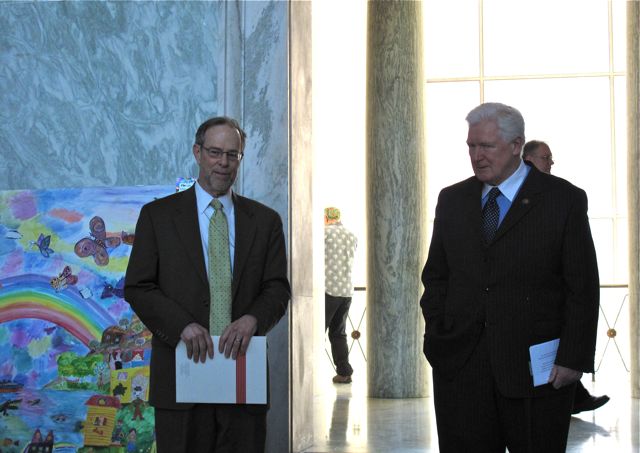 Exhibition in US Congress
On March 1st Rayburn House in US Congress hosted a one-day exhibition of our students' artwork titled "Russian orphans and their Aspirations: an exhibit of paintings by Russian orphans". On display were 50 art items (canvases, felt modeling, embroidery work) including 7 items from the private collection of Patch Adams and photos by Oksana Yushko telling about the Studio's activities and daily life.
It was Mariya Eliseeva and the Studio's time-tested friend Chang Suh from US Congress who came up with the idea to organize the exhibition. The festive opening ceremony was hosted by Congressman James Moran, Patch Adams, Mariya Eliseeva and Ilya Segalovich. This is the Studio's second Congress exhibition. The first one was organized in 2000.
A lot of our American friends travelled to Rayburn House to see the exhibition and to show their support for us. Some of them we didn't see for 6 years.
It's a great honor for the Studio to organize our exhibition in such a significant place as this. The event was a great opportunity to talk about the problems of Russian orphans, about our work. It was also a wonderfulchance to meet new friends who could help us in future.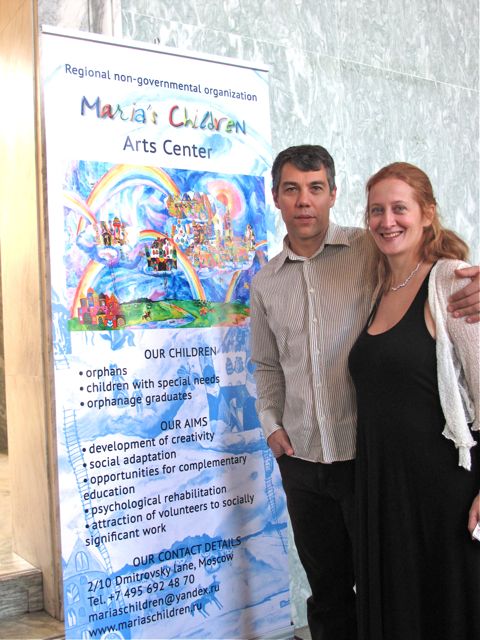 This exhibition wouldn't be possible without our friends' help.
We'd like to say many thanks to:
Ilya Segalovich for sponsoring the Studio's trip to the USA, Molly Debra for providing plane tickets at a discount price, Ron Hale for help with booking our flight, Patch Adams, James Moran, Suh Chang, Meeting Tomorrow for a 35% discount on easels, Taylor Reed Branson, Wendy Atrokhov, Justin Lifflander, Kim Wepler, Maria Stepanyan, Rodney Daly, Polina Loseva.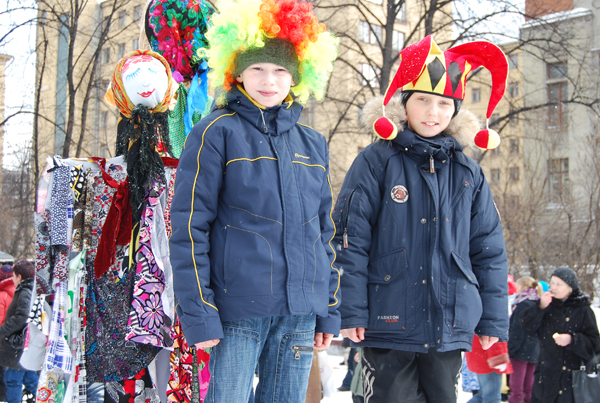 Pancake Day
On the 6th of March we celebrated Pancake Day. Following the tradition, we started it in the park at Miusskaya square with round dances, jumping and skipping, the sack race and other games with pupils of the boarding school #4. Then in our Suschevskaya studio we had tea with pancakes and sweets. The celebration was supported by Municipal District Tverskoye. Thank you, all our volunteers for playing with children and making pancakes.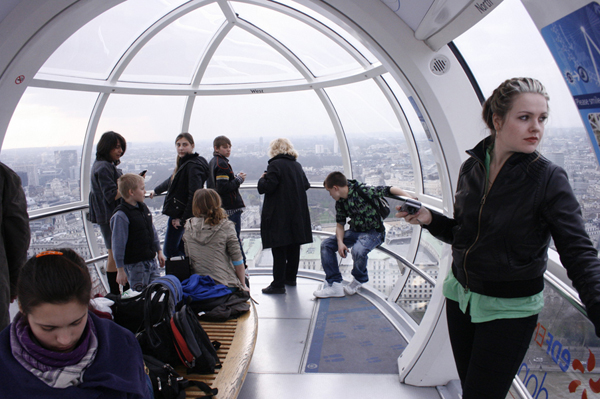 London Holidays
During school spring holidays 10 children from the boarding school #4 visited London, where they have been staying with the families of our English friends for a week. Those were Russian speaking families so no language barrier appeared.
We are very grateful to all families who received our children and to Olga Makharinskaya and Elena Ragozhina who organized the trip. Financial support was provided by Chance for Life Fund. We hope that this is the beginning of a firm friendship.
The participants of the trip speak:
Maria Victorovna Trubenko, Deputy Director of education of the boarding school #4:
Spring holidays for our children became really unforgettable. It was very educational for them to be introduced to the culture and customs of the Great Britain, to sightsee and take part in interactive tours and tours of London.
According to teachers of our boarding school, the most valuable experience for our children was their stay with a family, because most of them never had such experience and relevant practical skills.
The positive results of the trip are the following: children value the new connections, became more independent, have got an idea of quality relationships within the family; many of them made the decision to learn English.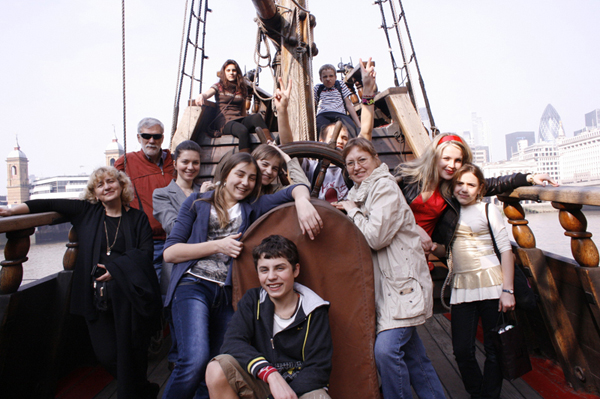 Alexander Shishov, volunteer:
The series of 6 mini-performances were prepared for our London trip in spring. The show took place in the hospitable house of Leonid and Olga Makharinskiy and children worried before the show; they wanted to do their best in front of the audience, consisted of their new friends – families they stayed with. The show went successfully, the actors were happy.
I am very grateful to those who organized and supported the trip which was a real treat for these boys and girls. It was very important for them to feel that they were needed and interesting for successful and wealthy people, and this interest was genuine. I am sure that this valuable experience will assist deprived children in the difficult process of turning into good adults..
Nataliya Kolmanovskaya, psychologist, volunteer:
The well arranged program allowed children to enjoy educational activities in an accessible form. They learned new notions of life they have never come across before: a different state and economical structure, monarchy and succession to the throne, a different religious system, a different geography… The children softened in the family atmosphere, where they got the individual attention and care of the family members. I am very thankful to organizers of the program who did their best and became sincerely attached to children. Thank you for the opportunity to be introduced to a great culture!
Alina Bayramova, the 7th grader:
It was my first flight and I liked it very much. I liked sightseeing, my room and my parents. I liked going out for dinner to Chinese restaurants. Also I took part in the performance and went to the park with Nicka. It was great!
Olya Yermakova, the 7th grader:
Most of all I liked the observation wheel. I could see the whole England from there. On Saturday we went to the park with our parents and there were swans and ducks on the water. We were feeding squirrels and doves there. I liked being in England. I would like to go there again.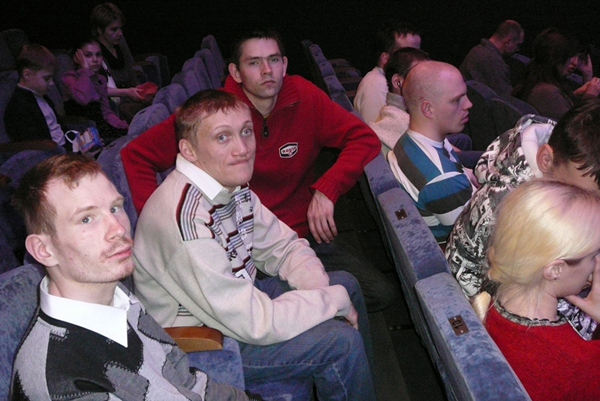 Ordinary Miracle Show at Dubrovka Center
Our children had an opportunity to watch the Ordinary Miracle musical show on March 29 on the invitation of show producer Alexey Ivaschenko. It was a beautiful show: wonderful sets, lights and dynamics. Thank you very much! Authors, producers, actors, artists, musicians and choreographers managed to create a magical, beautiful and kind fairy tale. What an energy boost it was!
Children from families with many children were among the audience, all of them are young musicians; also children from the psycho-neurologicalboarding#11 who are our most difficult group. Thank you, Alexey Ivaschenko and Olga Gussinskaya, for the miracle. Later we found out that it was the next-to-last show this season. It was good that we managed to watch it!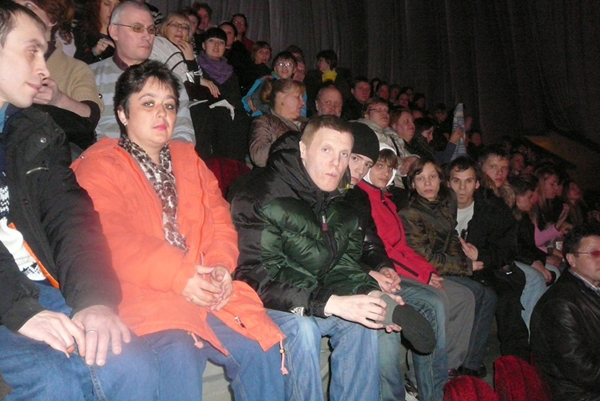 City Lights in Luzhniki
On April 2 Maria's Childrenwent to see City Lights musical show. Coca Cola Company provided charitable organizations with free tickets. It was an evening show and we invited our senior pupils from the boarding school #11 with teachers (22 people altogether), a family with many children and volunteers. They all admired an interesting plot, unique items and wonderful performance of actors. Besides that, figure skaters, ballet dancers, circus and ice acrobats and singers participated in the show.
Ilya Averbukh invited real stars to his show, and among them were the champions of the world and Olympic Games. It was an unforgettable performance and we cheered them with all might.
Thank you, actors and Coca Cola Company, for the extraordinary performance, joy and beauty!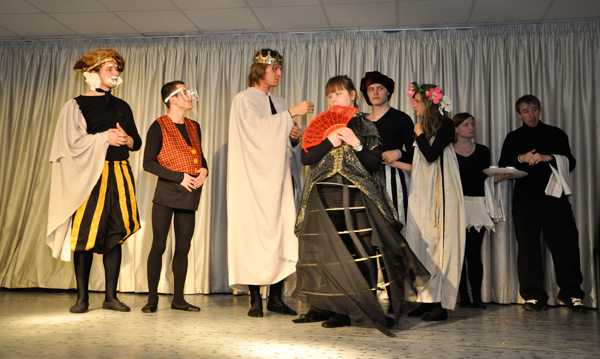 Our Theatre Project
On April 8 and 14 we showed our two new productions. Under the direction of Alexander Shishov, our senior pupils and volunteers staged The Winter's Tale by Shakespeare. The rehearsals started last autumn, the show is based mainly on the pantomime; that is why the director and actors had to invent and improvise a lot.
On April 8 the performance took place in the House of Children's Arts Dinaoda and on the 14th of April - in the Meyerkhold's Centre.
Costumes and props were invented and made by the participants themselves.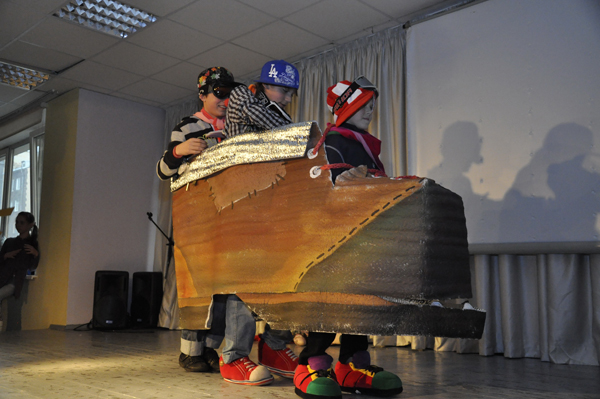 There were also shown dramatized songs written by Sasha Shishov on the poetry of the American poet Shel Silverstein. Children from the boarding school #4 had performed them only in England during their holiday trip and now everyone could enjoy their show.
We are very thankful to:
House of Children's Arts Dinaoda and the Meyerkhold's Centre for their hospitality and free premises.
United Nations Children's Fund for the financial support.
Municipal District Tverskoye – thanks to it we have our premises for rehearsals.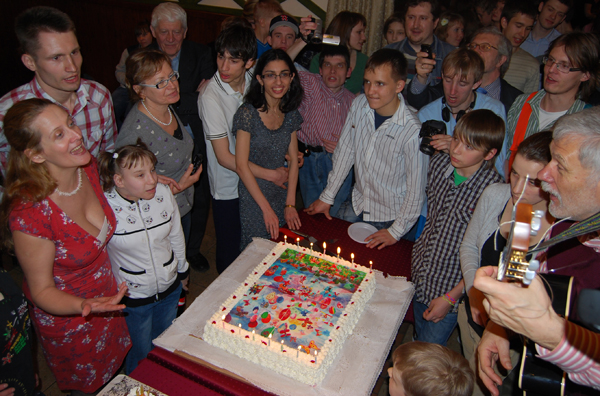 Our Studio is 14 Years Old
On April 17 our big united family called Studio celebrated the 14th anniversary. 14 years ago Maria's Children Art Centre was officially registered. Traditionally the celebration took place at AmBar Restaurant in Zemlianloy val street on the kind invitation of our old friends from Rossinter Corp. More than 100 children from our supported boarding schools managed to attend our birthday party. There were many surprises for them.
First of all, they were met by a chocolate fountain, given as a present by Olessya and Alexander Kormilitsin from Celebration in Chocolate Company.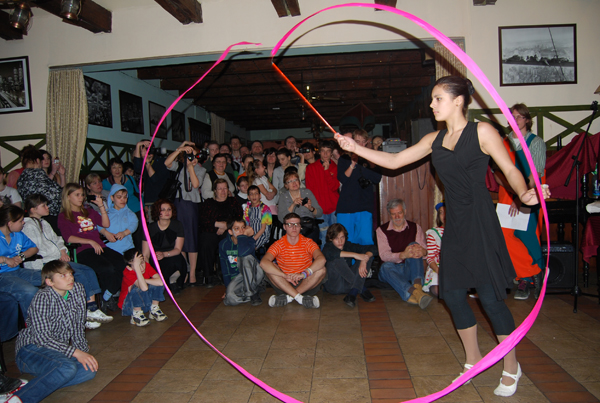 After that there was a concert. After Maria's speech there was another surprise – soap bubbles show – Ilya Segalovich's present to children. The bubbles were iridescent and of different sizes, from small ones to huge ones, in one of them Maria was placed.
The next present for children was sand drawing – this show was given to us by an artist Masha Stepanova.
Then children themselves were performing with poems, dances, songs and circus acts.
Everyone enjoyed the refreshments from Rossinter and Coca-Cola. The celebration was completed with two huge cakes (one of them was with our painting).
We are thankful to Rossinter Corp., Board of Municipal District Tverskoye, United Nations Children's Fund, Ilya Segalovich and all our wonderful volunteers for the unforgettable and delicious birthday party.
Happy Birthday to us all!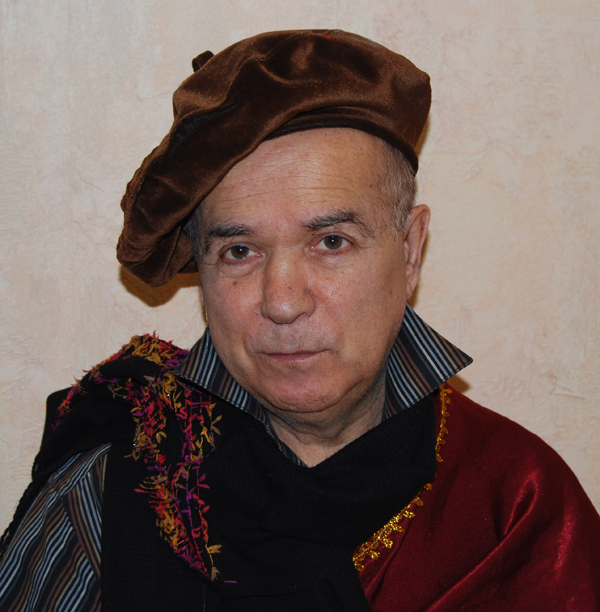 Farewell to Dad Tolya
On April 24 died our Dad Tolya, Anatoliy Abramovich Sarkisov, our colleague, adviser and friend for children and adults. Recently he has been very ill. His wife Vera Ivanovna, she is also our employee, a teacher of music and their children, Alexey and Oxana were with him all the time. We join them in their grief and feel fatherless.
We celebrate the Victory Day
On May 9, the Victory Day, children from the boarding school #4 took part in the celebration at Miusskaya Square and afterwards received war and labor veterans at the studio. Children were fascinated by the stories of alive witnesses of the 2nd World War, they asked questions and our guests asked children about their life at the boarding school, holidays and trips. At parting flowers and calendars with our paintings were given to the veterans as presents. Financial support of the event was from Municipal District Tverskoye.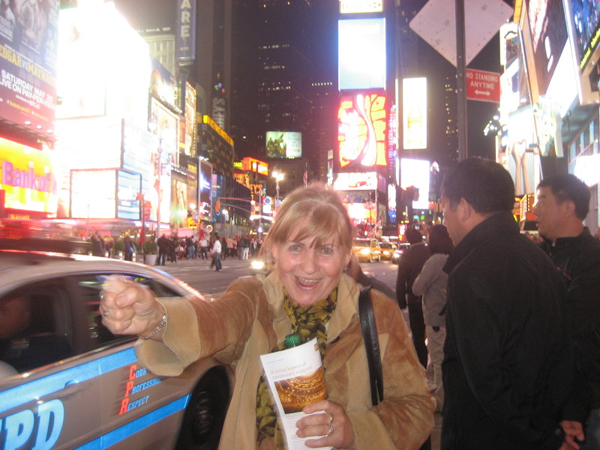 Travelling to the USA with the boarding school's teachers
On May, 2-14 employees of the studio and boarding school #4 went on a visit to the USA. The goal of this journey was to gain the experience of various American agencies which deal with children with special needs and children from disadvantaged families as well as to get acquainted with American culture, values and life style. This journey became possible because of financial support and personal involvement of Ilya Segalovich. Our grateful thanks to you, Ilya! As for airline tickets, they were arranged by Delta employee Molly DeBra, a good friend of both children and adults, a long-time volunteer of our studio. Together with her colleague Ron Hale, Molly arranged for us the most comfortable and unforgettable flight. We are thankful to Veronika Khusnutdinova for her care and help in organizing the journey.
The working program was very interesting and intense. In New York we visited several schools for children with special needs as well as Learning Centre, and for this part of the program we are thankful to our dear friend, mother of four (among them children adopted from Russia), beautiful and passionate Kim Wepler. Looking at the New York City from the Empire State Building one can gripe beauty and fragility, madness and grandeur of the city and human life per se.
In Maryland towns near Washington D.C. we visited group homes where parentless children stayed for some time before placement would be found for them, and also rehabilitation centers for children with special needs.We are very grateful to Karen Saunders, our new friend, and Christine Sproat, whom we know from Maria's Children summer camps. We spent several days staying at homes of these hospitable girls, their husbands and children, which was a great experience for us.
We also visited Brattleboro, Vermont with our old dear friends Stephen and Bonnie Stearns, Tim Shafer and Deborah Lee Luskin, who threw a party for us and invited friends of Maria's Children from all over Vermont and neighboring states. In the New Youth Theatre, found by Stephen, we were introduced to Adventure program for the young people with special needs.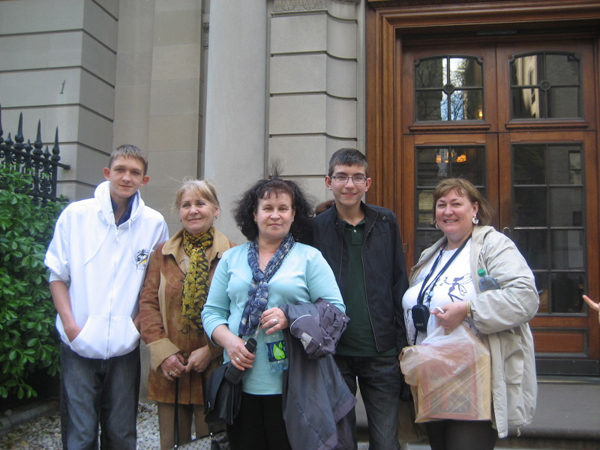 The States became for us (especially for those who came here for the first time) the country with parks abloom, magnificent skyscrapers and friendly, kind, open people who managed to built up a society which takes care of "the little and the elderly".
We have learned a lot and some of what we have seen and heard our colleagues from the boarding schools could use in the everyday work.
Thank you, everyone in both Russia and the USA, who organized this journey and made it useful, who received us warmly and with an open heart. Our grateful thanks to our colleagues from the boarding school #4 for their enthusiasm, open mind, sincerity and an excellent company.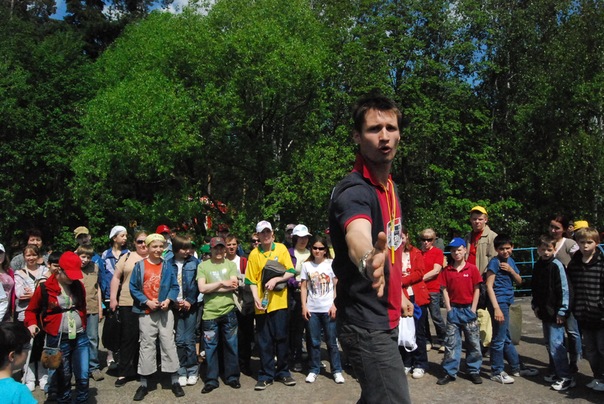 Ship of our Hopes at the Magic Island
On May 22 our traditional and favorite event Ship of Our Hopes took place. More than 100 children from our boarding schools went with us to the Bukhta Radosti (Bay of Joy), which on that day was turned into a magic island because of The Big Game, prepared by our volunteers. Being divided for teams, children were following magic paths in the forest and met characters from fairy tales, who asked them questions and gave tasks to do. We have fulfilled all the tasks and found a magic spell to unspell three brothers, who had been turned into the three-headed dragon.
While children were busy playing, the most responsible employees and volunteers were preparing barbeque.
After the game was finished we helped ourselves to a wonderful meal.
On the way back we were listening to the musicians and singing along.
On the pier, following the tradition, we let the balloons with our wishes fly to the sky.
Thank you very much, everyone who helped:
Victor F.Okhanov, Beno Stepanyan, Liosha Stroyev, Sergey Shirshov and Gena Gagin - for the delicious barbeque;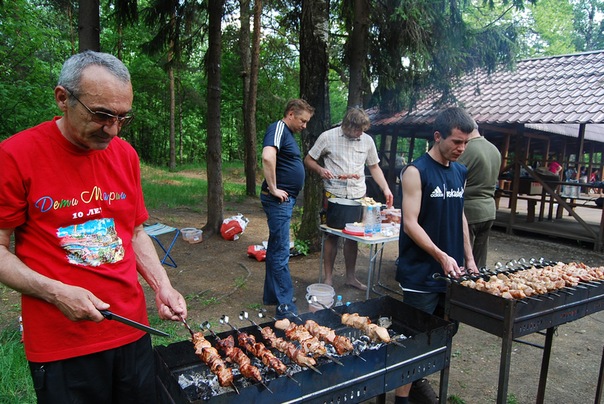 Vanya Antonov, Alexander Vasilyev, Anton Maximov, Devika Usova, Kostya Ivanov, Andrey Perov, Sonya Stepanyan, Seriozha Korolev, Nadia Varaksina, Igor Moisseyev, Anna Elisseyeva, Aslan Gaysumov, Petya Yanovich, Ira Kaminskaya, Artion Sokolovskiy, Liosha Golubkin, Marina Chystyakova, Nasya Ponomariova, Pasha Avdoshin, Sasha Richards, Liosha Yuzapolskiy, Boris Baranov, Tanya Tarasova, Zhenya Mayatskaya, Masha Zemlinskaya, Andrey Nikitayev, Ruslan Lartsev, Olya Jiungurova, Sasha Balashova, Misha Yanovich – for The Big Game;
Danila Roshchupkin, Ivan, Timur Vedernikov – for music and singing;
United Nations Children's Fund and Municipal District Tverskoye – for financial support;
Management of Bay of Joy – for the space, provided for free.
All children and teachers – for their high spirit, curiosity and joy.
Weather gods – for good weather.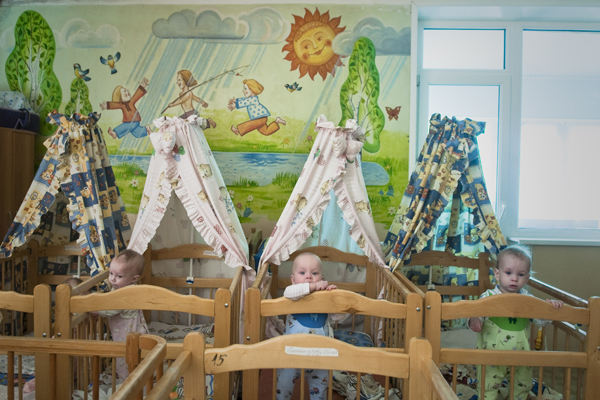 Photos for the Little Ones from Tver
On June 1, Children's Day, we went on a clowning trip to Tver babies' orphanage.
There are 80 children, 0-4 years old living there. They all are very nice and cute. Besides some gifts, we brought photo albums for each child. Photos were taken in advance by our friend and volunteer Oksana Yushko and we are very thankful to her. There was a short performance prepared for us by older children. Afterwards some of us went to the play ground and some went upstairs to see little ones.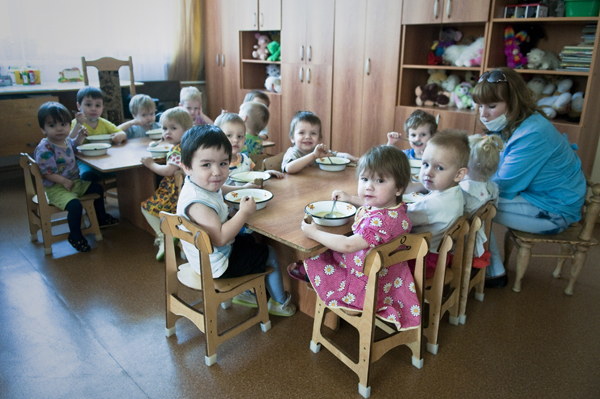 Thank you very much, all volunteers and Sophie Nash, who introduced us to this orphanage and its wonderful Chief Doctor Tatiana.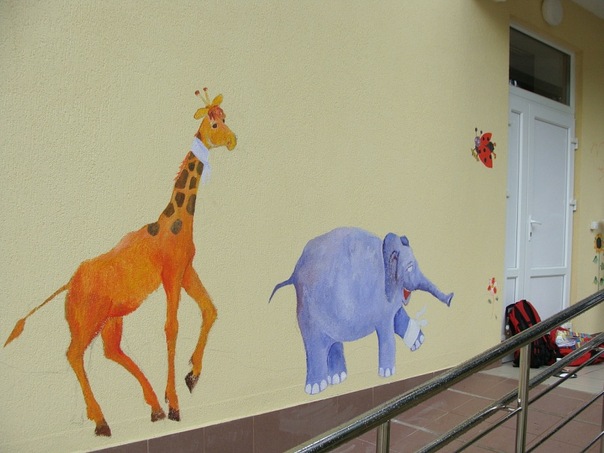 Wall Painting in Sochi Children's Hospital
On June 13-17 a group of our children together with Maria were painting walls in the children's unit of Adler hospital, Sochi. We were trusted to paintan outside wall and we did our best; little ones and their parents would see our painting from the porch. We hope that it will encourage the ill and help them to get well.
Thank you, Ilya Segalovich for funding the trip.
Ruslan Lartsev:
Sochi is a wonderful city, I liked it very much. There is the sea, beaches, the sun – everything for good holidays. But we were busy painting and we were trusted to do the FRONT of the building. We met very nice, kind and friendly people at the hospital. They wanted us to paint everything… And also my grateful thanks to our dear Ilya.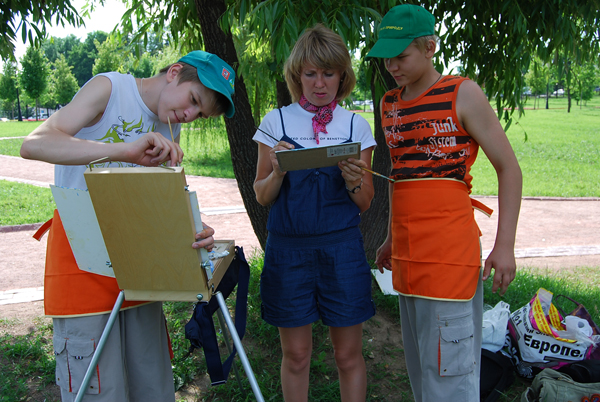 Colors of Moscow Summer
In June children from the boarding school #7 three times went to beautiful places of Moscow for plein-air. We visited Kolomenskoye, Tsaritsino Parks and Vorobiyevy Hills' viewing point. For the first time not all children were confident enough to use paints and preferred a familiar pencil. But gradually they took courage and all of them painted in oil.
At Vorobiyevy Hills children looked at the building of Moscow State University and admired views of Moscow from the viewing point. In Kolomenskoye they painted historic buildings of ancient temples and houses. In Tsaritsino we stayed by the water so our landscapes consisted of small bridged, ponds with ducks and willows bent to the water.
Such outings allow our children to try new techniques, paint from nature and pay attention to architectural monuments.
After studies a small picnic on the grass was awaiting us, we brought some juice and biscuits with us and volunteer Valentina Mironova provided fruit for children.
Thank you, UNISEF and MD Tverskoye for financial support.
Happy Birthday, Coca-Cola!
Our warmest wishes to Coca-Cola Company for its 125th anniversary! For 11 years Coca-Cola has been supporting our studio providing beverage and funds as well as moral support. We are very grateful to the company and the staff for the comprehensive assistance. We wish the company to stay youthful, energetic, creative and active. We wish its staff to stay healthy and happy and enjoy our cooperative work.
Thank you, NB Gallery
We are so grateful to Natalya Bykova and NB Gallery for many years of support and friendship, and for charitable action to support Maria's Children Art Center. The funds raised from selling of beautiful art works of Russian and Soviet artists from NB Gallery collection will be extremely helpful for development of art and social progarms for children-orphans.
We express our deep gratitude for purchasing artworks and crafts to: Deborah Mitchell and Carter Brod, Dina Zharova-Berbner and Jorchen Berbner, Ekaterina Nadirova, Anastasia Osipova, Bonnie van der Velde and Charles Hoedt, Isabelle and Werner van Zuylen, Helen Daniel, Elena Bachurina, Evgenia Tsyplakova, Chris Einchcomb, Viktoria Manzioukova, Alexandra Lanskaia and Andrey Tikhomirov, Isabelle and Patrick Barraquand, Elizabeth Pestl, Chikako and Sean Sukehiro, Alla Shevelkina, Henrietta and Ryan Challinor, Anshu and Amit Sah, Heide Rasche, Simone Wijtenburg and Catherine Thompson, and Viktoria Georgievna Kuznetsova and Viktoria Emmanuilovna Markova for artworks donations.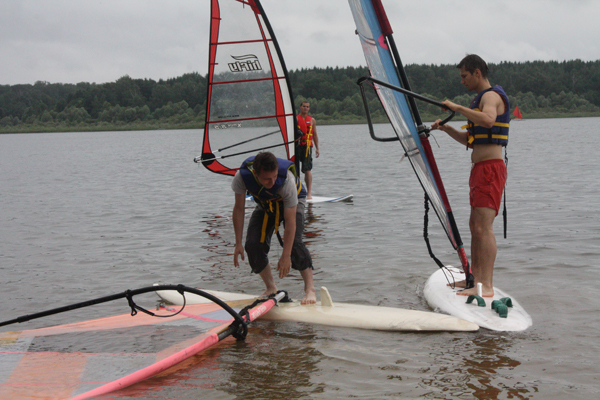 Youth Training
On July 6-11 training for boarding schools' graduates and volunteers was organized at Krasnovidovo recreation camp, Moscow Region.
Those who were going to work with children at the summer camp, were learning windsurfing in order to help Alexander Shishov to teach children at the camp, they also were consulting the psychologist and learning new games.
With a great interest our graduates and volunteers have received first aid training, which was provided by Red Cross instructor Sergey Gerasyutenko. Also they have learned how to cook in the field.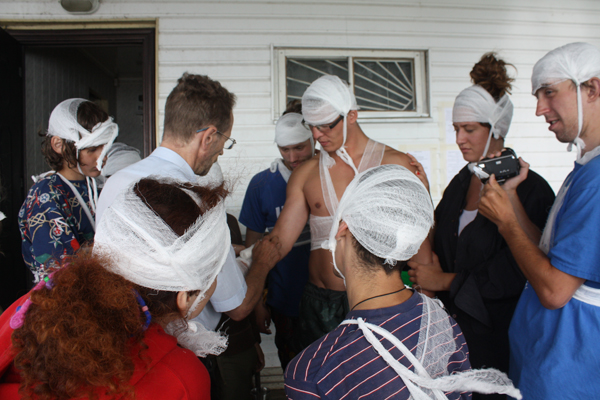 Training was funded by United Nations Children's Fund Thank you, Alexander Shishov and Sergey Gerasyutenko.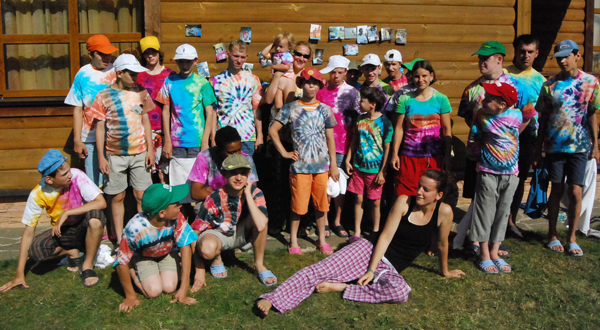 Summer Camp in Sorochany
On July 18-28 we had our creative summer camp in our favorite place Sorochany.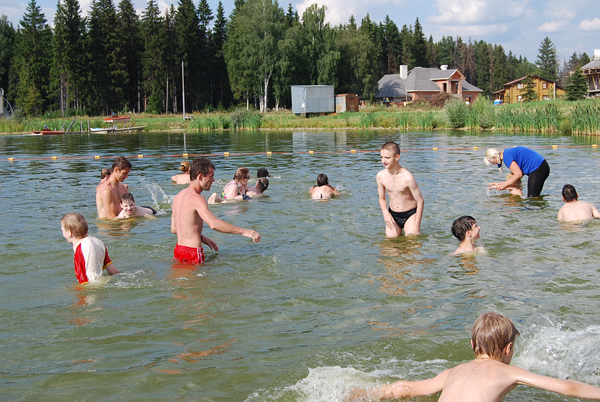 21 children from orphanage-boarding school #28 spent with us these unforgettable days. The weather was fine, warm and sunny and it was possible to enjoy bathing in thelake. Some could swim, some couldn't but everyone was delighted.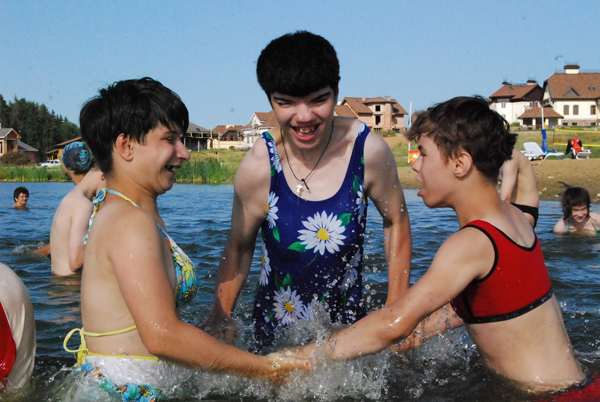 Twice we visited Iksha reservoir, like last year and were riding a banana boat.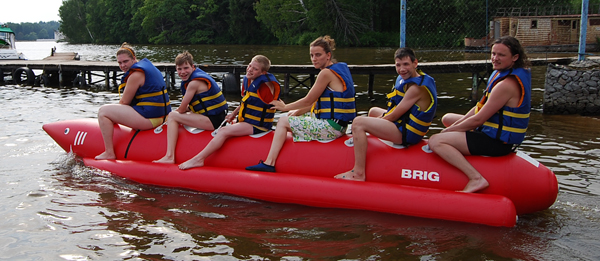 Children were learning windsurfing under Sasha Shishov leadership. Below you can see the first steps of our heroes of sailboards: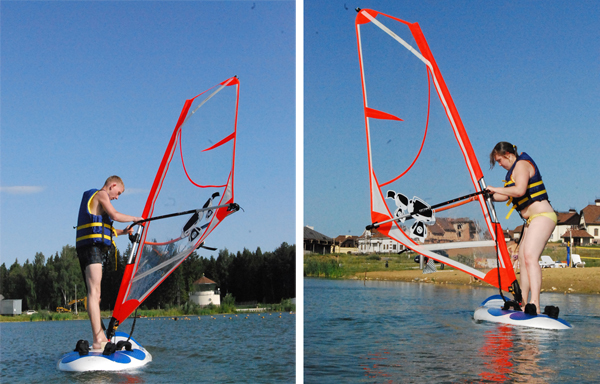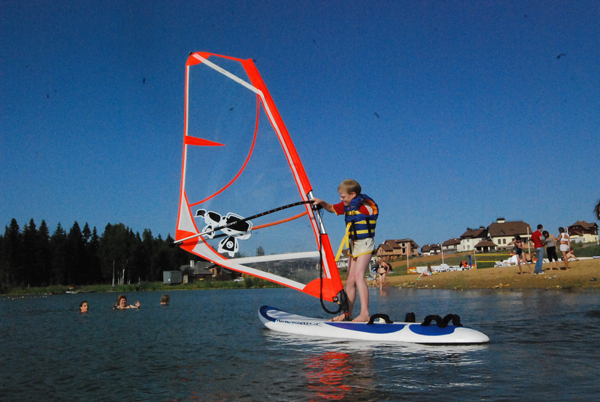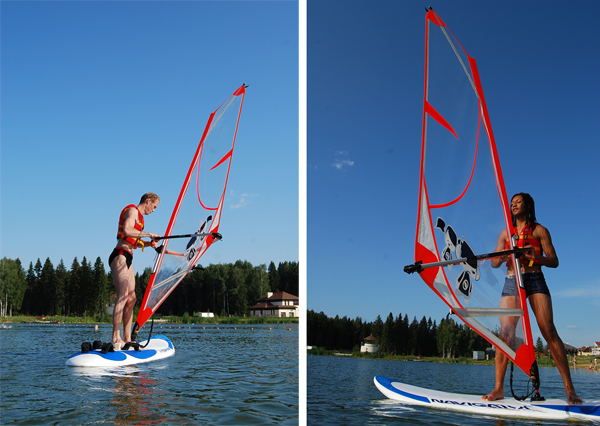 There were enough interesting pastimes overland as well. The very first day Vanya, Pasha, Ruslan and Andrey were leading clowning games for children and it helped us to meet each other and remember each other's names. In the morning there were traditional workshops on painting a big picture with Maria and Ruslan, modeling with Tamara, decorating of photo frames with Tatiana, Zhanna and Yulia, making felt flowers with Tatiana and friendship bracelets with Yulia.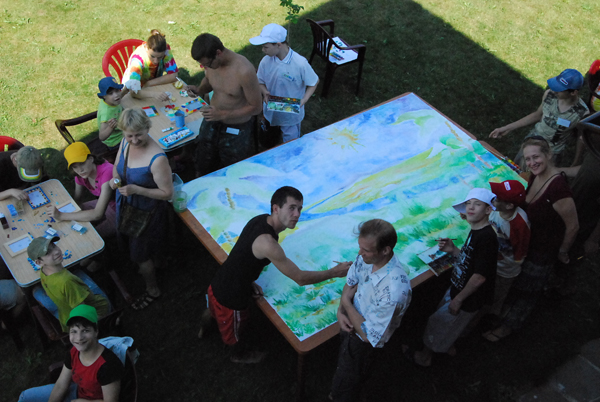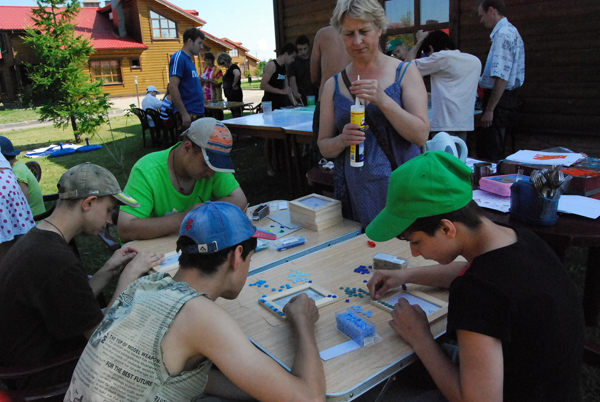 Yulia Klechina and our American volunteer Debbie Sears were leading T-shirt painting workshop.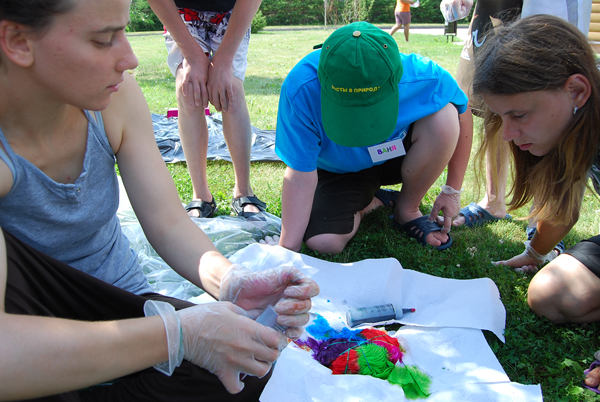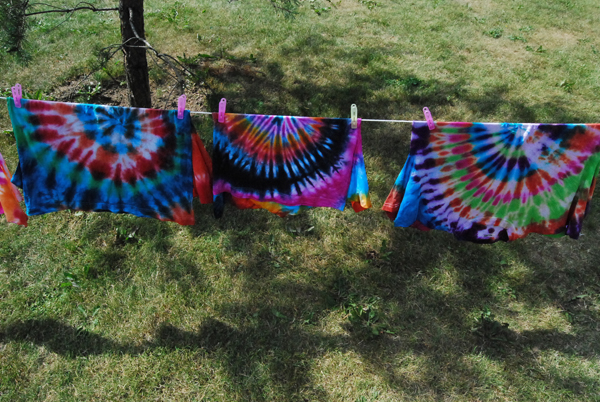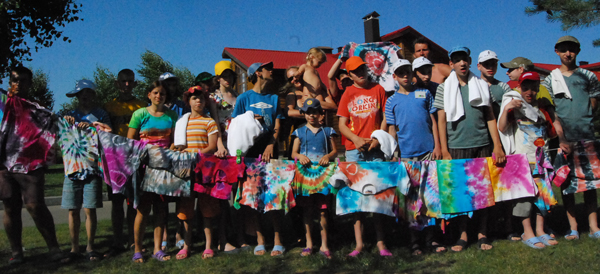 Sasha Shishov and Danya Rochshupkin used to organize a "noise band" after breakfast.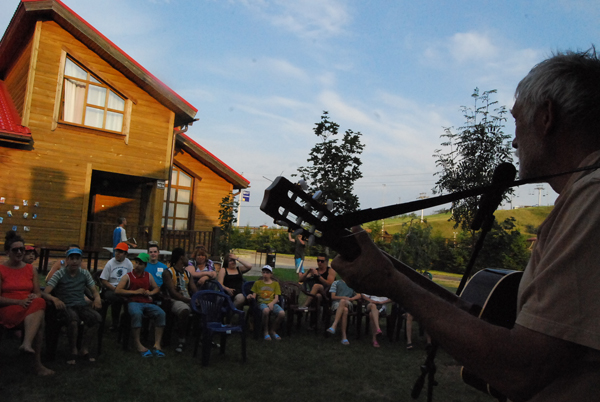 There was an opportunity to help cooking dinner to our wonderful chef Katya Sogomonyan and some children learned many practical skills.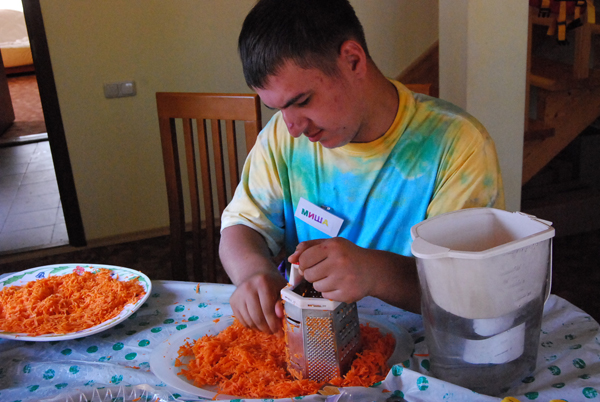 New volunteers arrived on the weekend. Liusya Pevtsova was playing board games with children and Alexey Yuzapolsky taught them to take pictures.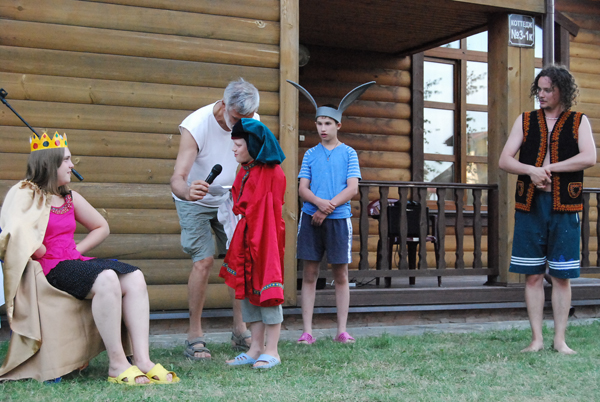 On Sunday there was a show "A Magic Humpbacked Horse" prepared and shown at the Theatre-on-Wheels, with the participation ofall children and almost all adults. We were divided into groups and each group introduced a scene.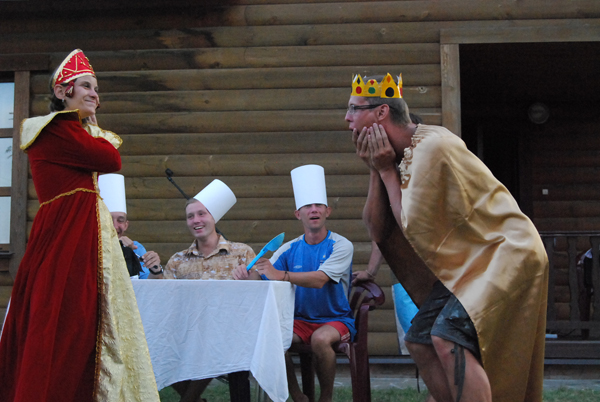 Each group had its own director, some senior boy. It was interesting to watch different approaches of "stage directors". Each scene included its own Ivan and each own magic Horse. Children enjoyed their participation in the show and watching other scenes.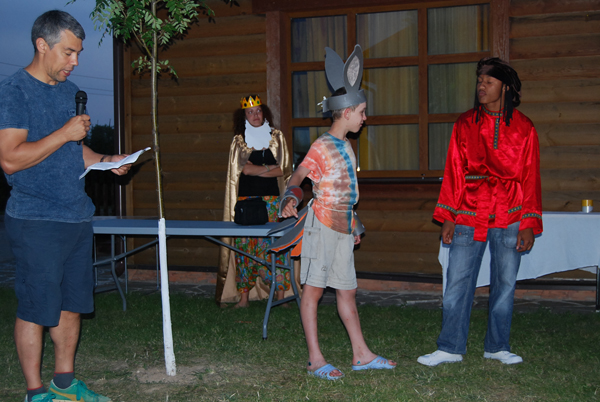 Next evening we were having tea in the same groups to discuss the show and the fairy-tale. Afterwards children had an opportunity to watch "A Magic Humpbacked Horse" animated cartoon and they enjoyed it.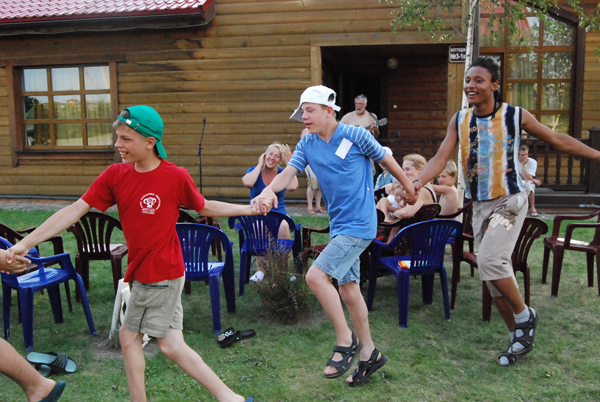 Every night there was time for singing: Sasha Shishov was playing the guitar and singing, Danya was playing violin and Yulia Loseva was singing both children's songs and other songs.
Those children who were brave enough to join, took the microphone and sang too. A very artistic Jessik was dancing at the proscenium.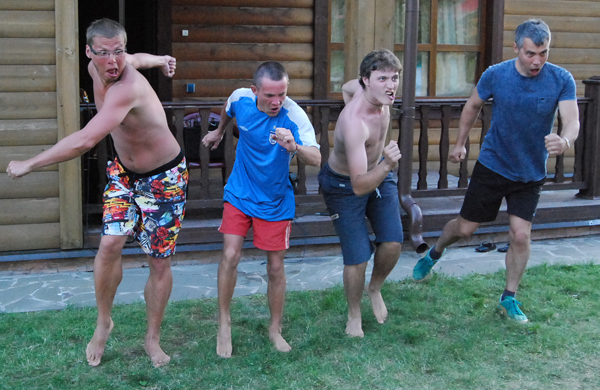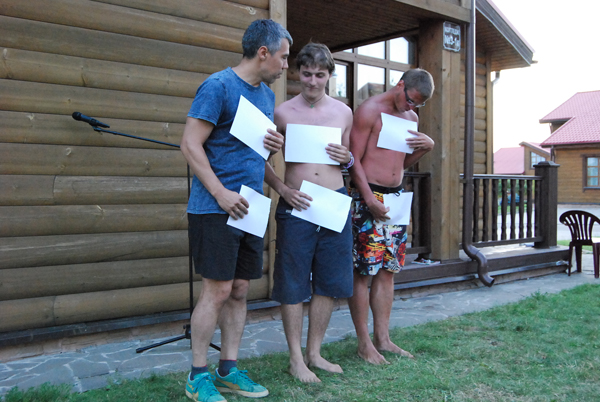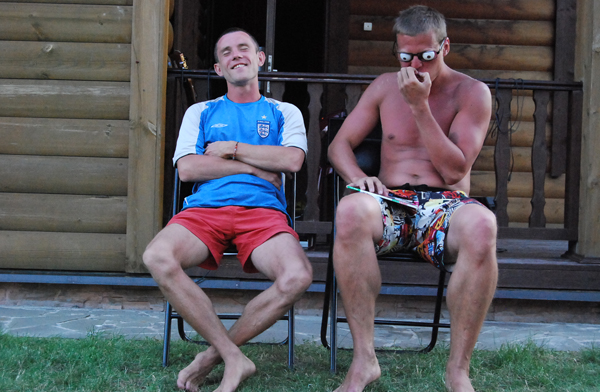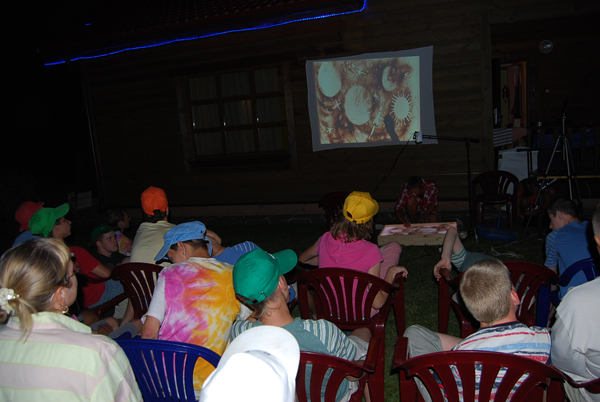 Children liked jumping and somersaulting on the trampoline and sliding and Eduard, Vanya and Ruslan were looking after them.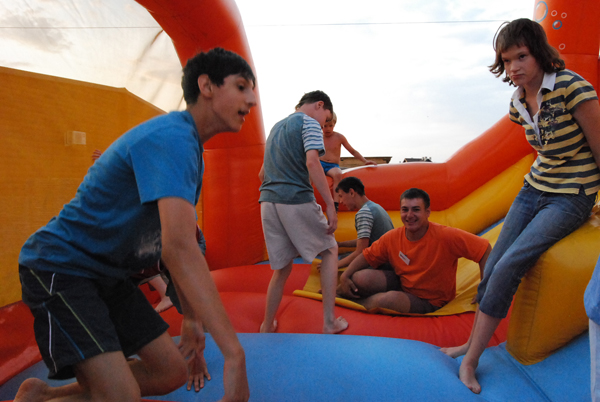 Our new friends visited us, the representatives of Paul Mitchell Company. They conducted a very interesting and useful workshop on hairdressing. Boys didn't mind to get a haircut from the high-quality professional Sergey and some girls also ventured to change their hairdo. When leaving, the visitors left hair care kits for the girls as a present.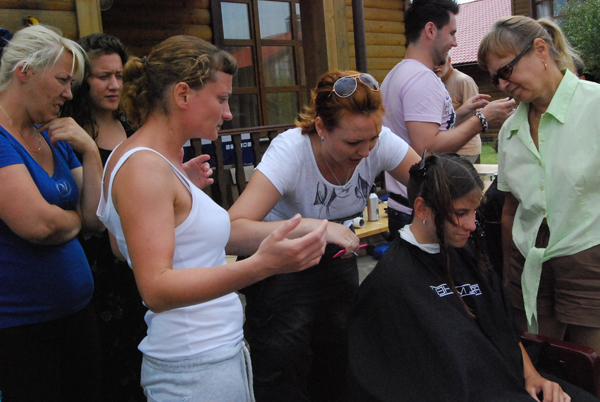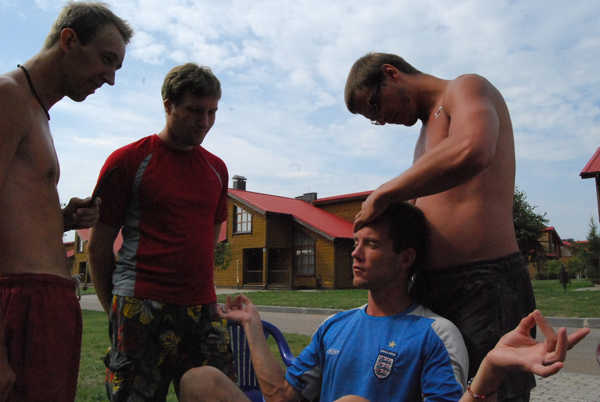 Mum Katya's cuisine was beyond our expectations; we had delicious meals during our camp. Once Katya made pizzas for everyone (50 people!), which was a culinary heroic deed taking into consideration the small field oven.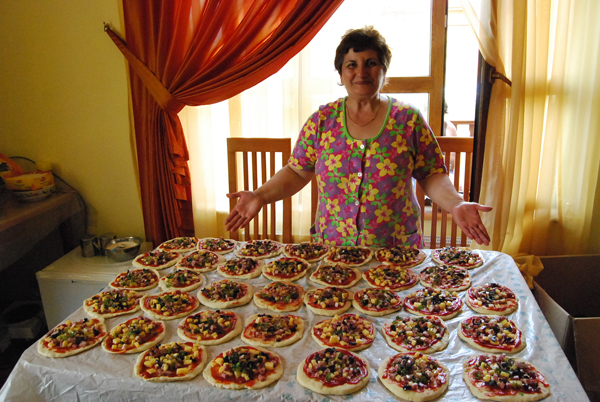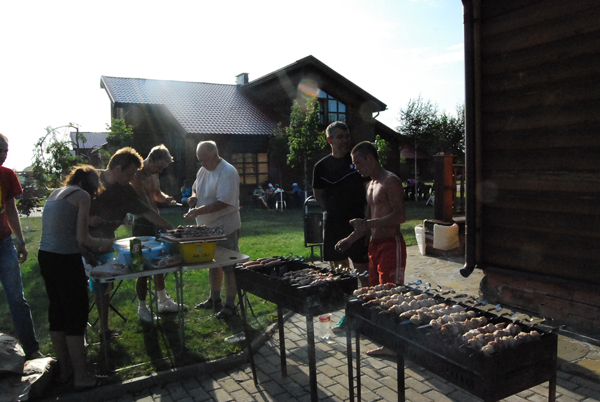 Besides, twice we had barbecue, thanks to Victor, Liosha, Pasha, Ruslan, Andrey, Artiom and Sergey. One night Debbie showed children how to cook marshmallow. Another time we came to a real egg restaurant and children could order any kind of scrambled eggs and omelette with different fillings, and Igor and Jessik acted as waiters and took orders.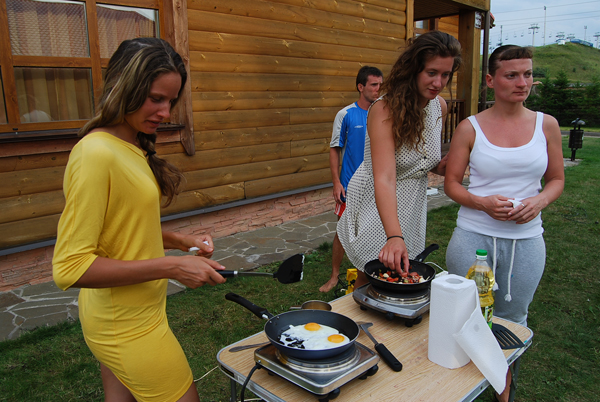 We were reading fairy-tales before going to bed. 10 days have passed by fast. It was a sad parting but we will remember our summer camp and the sweet memories will comfort us even in cold winter and we will be looking forward to the next summer.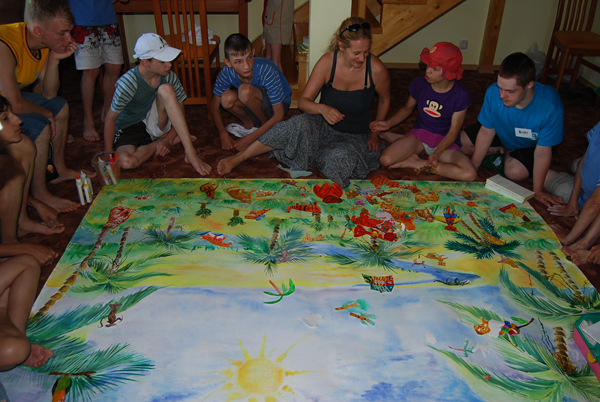 We are very grateful to:
Sorochany Management for 50% discount for accommodation.
United Nations Children's Fund for funding the summer camp in the framework of the project "World Open for Everyone".
MD Tverskoye for financial support.
Paul Mitchell Company for hairdressing workshop.
S.N.Sergeyev, E.A.Ushakov, S.N. Tabuyev for donations through Yandex-money, which were spent for the summer camp.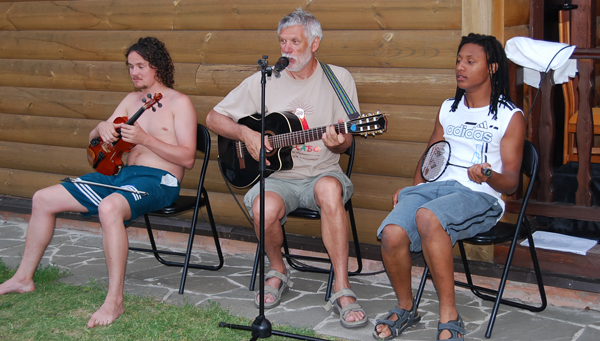 To our wonderful volunteers:
Alexander Shishov, Ruslan Lartsev, Ivan Antonov, Debbie Sears, Tamara Krapivina, Andrey Nickitayev, Zhanna Novikova, Danilla Roshchupkin, Anna Eliseyeva, Kristina Cherenkova, Yulia Klechina, Artiom Sokolovskiy, Ilya Segalovich, Pavel Avdoshin, Alexey Yuzapolskiy, Marina Chistyakova, Ludmilla Pevtsova, Alya Roshchupkina, Nadezhda Varaksina, Alexander Richards.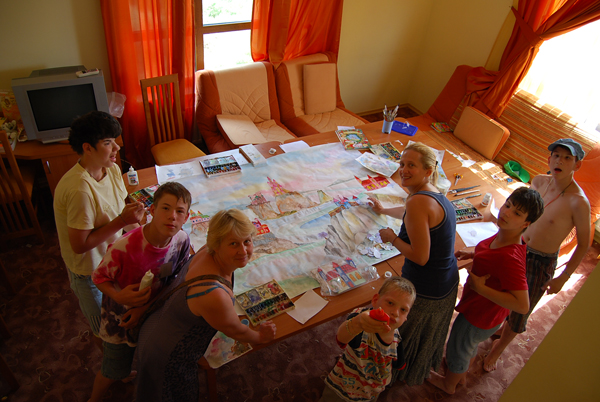 To an amazing Katya Sogomonyan.
To heroic workers of our studio:
Maria, Tamara, Tatiana, Yulia, Victor, Liosha and Seriozha.
To all dear children and teachers of the orphanage #28.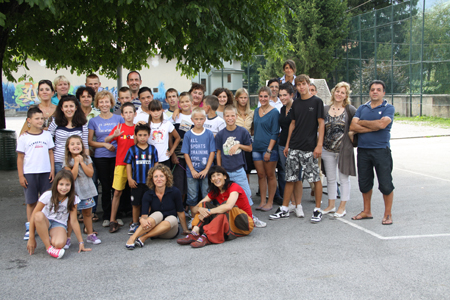 Italian Holidays
This summer on August 2 - 28 children from the boarding school #4 went to Italy for the 4th time and stayed with foster families in province of Lecco. 18 children and 18 foster families took part in the project. Children stayed with their foster families, gaining the experience and skills of family life. In order to support children in the strange environment and within the frameworks of the project,mutual events were organized with the participation ofchildren and their foster families, workers and volunteers of the Centre who accompanied children on their tripto Italy andlocal people who were interested in the events.
The goal of the project is social and psychological adaptation of pupils of Moscow correctional boarding-school #4 via their stay with Italian families as well as their acquaintance with Italian culture and modern life.
Six more families have taken part in the project this year. Senior children who took part in the project for the 4th time were responsible for the younger newcomers and helped them with translation and other issues.
On August the 3rd the first mutual picnic meeting took place in the village of Primaluna where foster children were making traditional Italian dishes. That day children spent together playing out-off-doors.
On August the 6th our great friend Italian clown Ginevra Sanguigno came to visit us from Milan. Together we spent a day in the town of Barzio, where were playing dramatized games at the chapel.
On the 7th of August there was Russian party organized in the library of the town of Maggio and children were talking about Russia, Moscow, the studio and their boarding-school, also they treated the visitors with pancakes with condensed milk, honey and jam, which Marat has cooked on his own. It was his first experience and a very successful one.
Twice we were climbing mountains and a treasure hunt was organized for children once, when they were supposed to demonstrate their skills at ground navigation, reading geographical names and taking photographs.
On the 16th we went on a tour to the mines and before that children tried mountain climbing with a safety rope. They enjoyed it greatly and were not afraid at all.
On the 20th with a small group we went to the town of Bergamo for a walk and sightseeing, where we met Efrem Colonetti, who used to come to our summer camp as a volunteer when he was younger.
On the 22nd of August in the library a lecture of our studio's friend Nazareno Fatuttitook place about his cycling journey from Lecco to Mumbai. Children were helping to illustrate the story, drawing the route on the map. After the lecture, Q and A session was organized and the audience was very much interested.
On the 24th the children got together again to celebrate Dima Ivanov's birthday. It was a great parry at the pizzeria, afterwards everyone went to the nearby bar for coffee and ice-cream. There was a present for Dima made in advance – a collage with photos and birthday wishes from everyone.
On the 28th children said good-bye to their foster parents and went to Malpensa Airport to fly back home.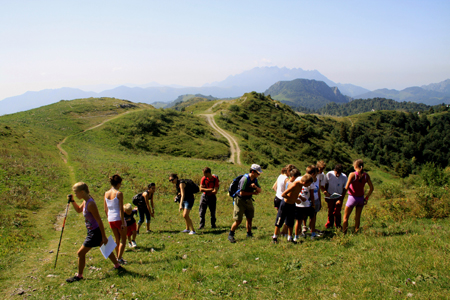 For help and cooperation we are very thankful to:
All the wonderful Italian families, who hosted our children and treated them as their own; Russia Airlines represented by S.G.Belov and Olga Tamakhova, Department of Education, Moscow, Municipal District Taganskiy, Administration of the boarding-school #4, Italian Embassy in Moscow, Michela Bolognani and Polina Proskurina-Yanovich.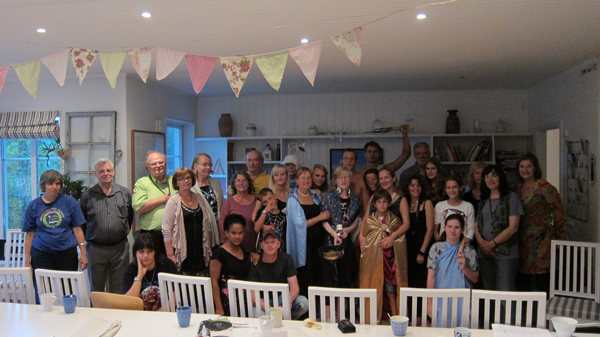 Trip to Sweden
Maria Elisseyeva's narration about August trip to Sweden:
Children from the boarding school #4 have been visiting Sweden regularly for many years.Swedish foster parents take them and spend their 24-day-holidays with our children. As usual, these families are not very well off, representatives of Swedish middle class. Tretyak Charity Fund which is sponsored by the Swedish Queen supports these families' wonderful desire to give some comfort to children from orphanages.Many families invite these children for a visit every year, then some of them adopt the child or help him when he is a grown-up to get a job and a residence permit in Sweden.
We have heard about this program at the boarding-school #4, met Swedish people at our celebrations and children often invited us to visit Sweden, knowing that we like travelling. Last year I decided to go and see how it works. We met the family which received Masha Tatieva. This year we have contacted Stella Soe-Pliatska on-line, she coordinates the program in Sweden, and offered training. Our goal was to introduce them to our studio's activities and share our knowledge of art therapy, games, and training; to meet these parents, to do what we can for them and to get the idea of what the studio could do in future to make their time with children more valuable, education and job oriented.
We rented a house in Sweden not far from Stockholm and invited Swedish families for the weekend. There were 25 of them, they arrived on Friday, and on Sunday we left for the museum in Stockholm all together.Friday evening, Saturday and Sunday morning we spent in training. We invited with us Ekaterina Tarasova, the psychologist from the boarding school #4, she herself was not sure that she was needed for the trip, because she had met the parents in winter. However, not all families had been present then and still there were a lot of questions from those present at the last meeting. At the end, the meeting with the psychologist which had been planned for 30 minutes, took 2,5 hours. Still there were more questions left. We also had clowning games, board games and our traditional "theatre-on-wheels" planned.
It was Sasha Shishov's idea and it was the best "theatre-on-wheels" Maria's Children and their guests ever had.
The show was wonderful and very creative. All Swedes had refused to participate at the beginning but after a while joined the show, because it was very diverting.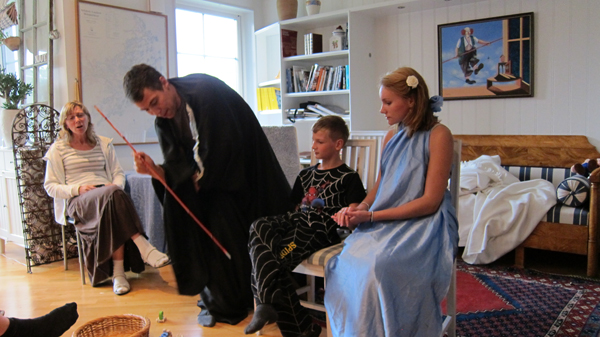 The day before the Swedish guests came we had a rehearsal game for Kristina's birthday party with tasks for grown-ups. It was great,and Vanya has coordinated the game and shared many interesting ideas.It was very funny and Kristina liked it very much.
One of my best impressions was Vika Mamonova. She is a graduate, has been living in Sweden for several years. She was very glad to receive the invitation and joined us with her Swedish boyfriend. She was very enthusiastic in helping us with the simultaneous translation of the show into Swedish. Some Swedes didn't know English and it would be difficult without our interpreters: Stella,Vikka and Masha Tatieva. It was very touching that Vikka brought a great amount of popcorn with her and was frying it all on her own, it took her about an hour to stay by the stove while others were having fun.What a wonderful person, so close to us! It was a great joy to meet her.
The team this year has consisted of Vanya, Ruslan, Nadia, Aslan, Kristina, Yulia Klechina, Marina Shusterman from St.-Petersburg, Sasha and Tamara Shishovs, myself with Ilya and Elya. The girls helped at the kitchen to cook for the whole team, and Ruslan was certainly irreplaceable. Vanya was playing with children, Sasha Shishov organized the show with them. ThetripwasfundedbyIlyaSegalovich.
he most important part of our trip was visiting museums. I happened to find out that those children who have been visiting Sweden for years, never went to museums. The admission fee is quite high and people can't afford it. I decided to take children to the Museum of Austrid Lindgren. It is one of the best museums for childrenin the world. I am very happy that we went to the museum with children and some grown-ups, who haven't visited it before. We would like to continue the program. They are our mutual children and I hope that we can unite our efforts.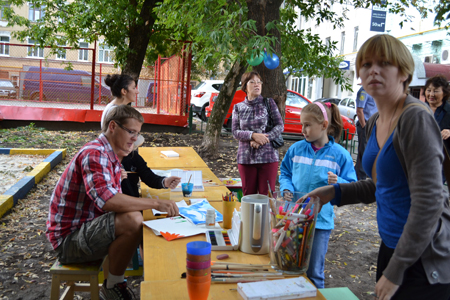 The Beginning of the School Year at the Studio
The summer has flown by and we are back to the studio for the Day of Moscow. Children from the boarding-school #4 came to see us, they look rested and grown with suntan. There are many newcomers among them and it means that we will have new friends.Children from the boarding school #28 also visited us; we haven't seen them only for a month after our summer camp.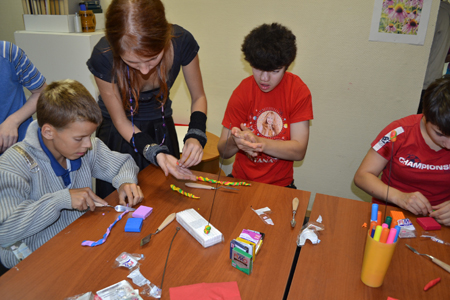 The celebration became possible thanks to the support of the Municipal Distict Tverskoy and our private donors. We are also very grateful to our wonderful volunteers. During the celebration children were painting with Ruslan Lartsev, modeling in clay with Tamara Naumova and in plastic material with Natasha Golovkina, they were learning to make animals fromballoonswith Masha Zemlinskaya, were painting faces with Sona Stepanyan, looking at exotic insects with Alexander Vassiliyev and had an opportunity to share their summer experience and plans for the upcoming school year.
We invite our old and new volunteers to join our activities!
Volunteers from Kraft Foods Company
Kraft Foods Company held Volunteers' Week in October. This generous company was introduced to us by CAF Charitable Fund, we have already met with these kind people from Kraft, they used to give chocolates and books, which the employees collected themselves as gifts from the company to our children.
This time on October 7th we received two groups of volunteers!
In our Sushchevskaya studio with children from the boarding-school #4 they were drawing a collective picture. After the consultation they decided to draw an autumn picture because autumn is one of the brightest and most beautiful time of the year. Ruslan Lartsev and Sona Stepanyan were the leaders of the creative process. The picture hadn't been finished on that day, so children and volunteers had arranged to meet again on Thursday and some Kraft Foods employees had to obtain a leave from work, so important it was for them to finish the picture together with children. The picture Autumn in the Country turned out a wonderful one and everyone will be able to see it at our annual exhibition at the Central House of Artists in November. Both meetings ended up with tea and refreshments from Kraft Foods Company.
At the same time other volunteers took children from the boarding-school #7 to the Museum of Oriental Art. It was children's first visit to this museum and they were fascinated by the abundance of beautiful things they saw there. After their visit to the museum children and their new friends came to the studio in Dmitrovskiy for a cup of tea, where they also hadrefreshments from Kraft Foods as well as a delicious apple pie made by Yulia Klechina. At the table they continue their fellowship: children wanted to learn about the work of the company and, for examples, making commercials of famous chocolates; and grown-ups were interested to learn more about life of the children, their preferences,activities and how they spend holidays.
We hope that some of these volunteers will become true friends of our studio.
We are very thankful to the Kraft Foods Company for the wonderful time, its sincere interest to children, tee-shirts and bandanas given as presents and delicious food. Thank you, CAF for your administrative support.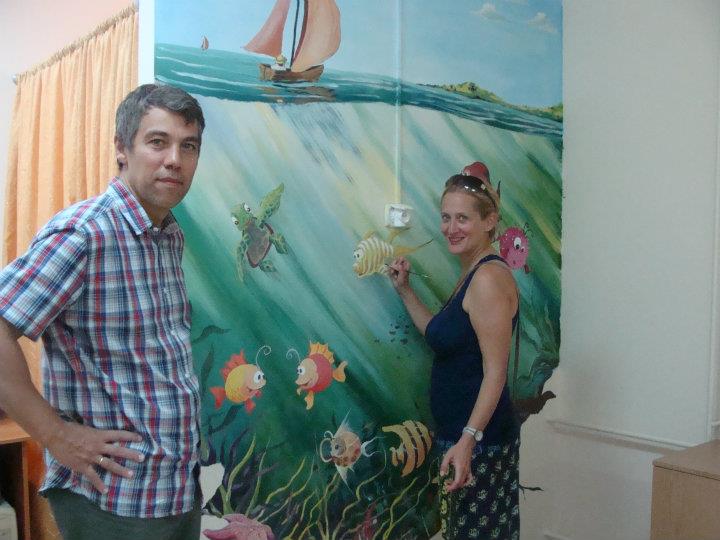 Wall Painting in Adler Hospital
Maria Elysseyeva's story:
Recently I have been visiting Sochi a lot, where my elder daughter Olya lives. Olya and I wanted to find some orphanage there and paint the walls. The senior children who accompany me to Sochi could join this project and be helpful.
None of orphanages Olya contacted was interested.
All of a sudden the superintendent of the contagious isolation ward of Adler children's hospital Ludmila Khaimovna heartily responded. She happened to be a wonderful person. She is so openhearted, grateful and hospitable. She keeps in touch, telephoning and asking about children she met. She was very kind to our children.
Ruslan was very much involved into painting. While we were painting the walls (and our first visit was at the beginning of June), doctors and nurses from other wards started to visit us and invite to paint their building inside and outside.We have promised to do it, but it is not clear how to manage. This is a huge new hospital, gigantic territory and walls. According to the regulations they are not allowed to have pictures on the walls, but to paint walls is allowed, and the staff admired the idea and backed it up. We have visited the hospital many times and Ruslan was very active and couldn't stop painting, he felt responsible for the project and was working by himself several times. It was very important. Young children from hospital were allowed outside and helped us with painting details, such as a flower, a ladybird, a butterfly, and a bird.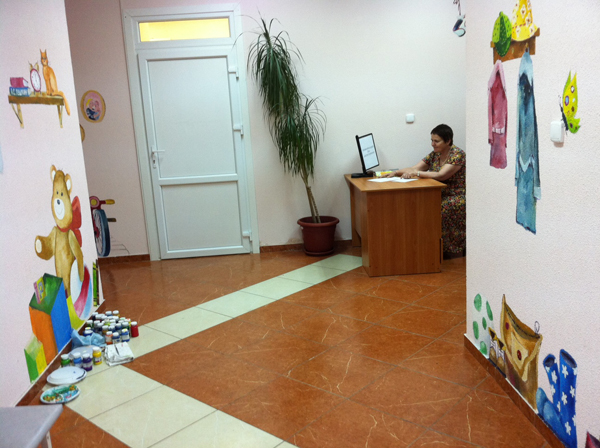 I find this project a very successful and promising one for Maria's Children. Children feel needed here and it is very inspiring and supportive for those like Ruslan and Christina. She has never painted before and all of a sudden she joined us.
This place gives a wonderful opportunity to bring more and more children who would like to participate.
Maria's Children Charity Ball "A Journey through Childhood"
On November 9th at St. George's Hall of the Raddisson Slavyanskaya Hotel Maria's Children charity ball "A Journey through Childhood" took place. All the money raised during the event – 85,902 $ – will be used to support the rehabilitation programs for orphans and children with special needs implemented by Maria's Children Art Center. Huge thanks to all those who spent this evening with us!
WE EXPRESS OUR SINCERE GRATITUDE TO OUR SPONSORS AND PARTNERS:
To Radisson Slavyanskaya Hotel for hosting the event,
To Rosinter Restaurants Corporation - for providing tableware and serving staff at the gala dinner, for granting a lottery prize; we have been friends with Rosinter for many years and we are happy to have such reliable partners.
To Muzstock Company - for generous help in lighting the hall, which created a truly fairytale atmosphere.
To Marvelsound company for high quality sound equipment and technical support of the whole gala program.
To designer Elena Egorova who has decorated The Magic Room.
To wonderful musicians who played at the evening: The Moscow saxophone quintet, The Beat Devils group, Musician Timur Vedernikov, Singer Irina Surina.
We are also grateful to: «Katerina» hotel chain,
Svetlana Tegin (Fashion House Tegin),
Yulia Vassilieva (INTERNATIONAL STYLE ACADEMY) for providing lottery prizes,
Kraft Foods company - for sweet gifts for our guests,
Paul Mitchell company – for styling our girls' hair before the ball and sponsoring lottery,
Doctor-clown Patch Adams, our permanent auctionist
Translator Ilya Kolmanovsky,
Alexander Shishov – the host and one of the organizers of the ball,
Photographer Oksana Yushko for providing a lottery prize and taking pictures of guests,
Fashion designer Olga Kaletnik (Ellion brand) who provided a lot for the silent auction,
Vladimir Nazarov's Theatre for providing props,
Sophie Nash for sponsorship and help in organizing the event,
Justin Lifflander for financial assistance and organizational involvement,
Victoria Koenigsberg for inestimable contribution in organizing the ball and decorating the hall,
Elena Peshkova for organization assistance and technical support of the "silent auction"
Programmer Peter Yanovich for developing software for the "silent auction",
Sofia Arzhakovskaya and her dance team for the splendid waltz that opened the ball,
Mobile Stand Company for the help in designing the press-wall.
Olesya and Alexey Kormilitsyns for the delicious chocolate fountain
Vera Aksyonova (Idillya company) for decorating The Magic Room with balloons
Kirill Veidash for making sound effects in The Magic Room
All the guests who attended the ball enjoyed live music, treated themselves to delicious Mediterranean cuisine from senior chef Yakov Tseitlin, danced, remembered their childhood in the company of the giant bear and other toys in The Magic Room, met the clowns from different countries and, of course, took part in Maria's Children charity auction and lottery.
Exhibition at the Central House of Artists
On the 8th of November our annual exhibition opened at the Central House of Artists. It lasted until November 23rd.
The visitors had an opportunity not only to admire but also to purchase children's paintings, ceramics, patchwork dolls, felted pictures, as well as postcards, calendars, magnets and textile bags with prints of children's artworks.
We warmly thank the exhibition sponsors – Rosinter Restaurants Corporation and the "Tverskoe" municipality
An international team of clowns headed by Doctor-clown Patch Adams traditionally opened the exhibition.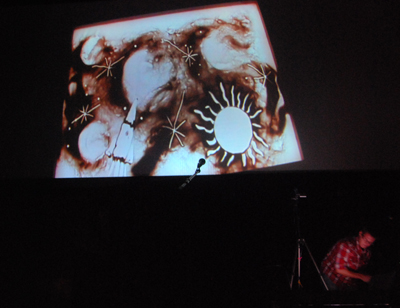 Children from all our partner orphanages had lots of fun with clowns, showed their works to guests, enjoyed the buffet dinner generously provided by Rosinter, after which everyone went to see the gala concert dedicated to the exhibition opening.
Children from orphanages shared with us their art of singing, dancing, clowning, juggling. The concert was closed by a collective song. Thank you, dear teachers of boarding schools №№4, 7, 28 for such wonderful performances!
We are very grateful to the volunteers who helped to prepare and hold this colorful and happy event, and to our dear clowns!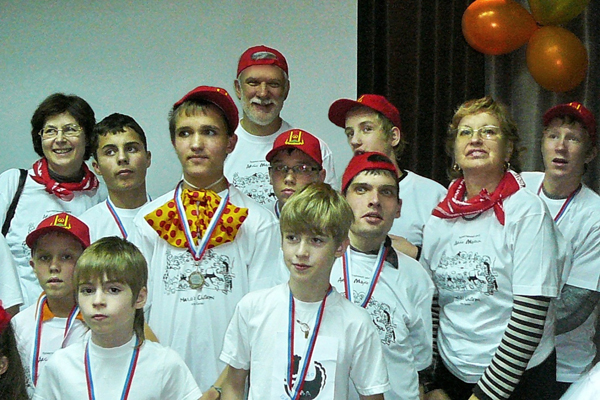 Competition of Enthusiasts
On the 19th of November our studio represented the "Tverskoi" Municipality at the Moscow Central District's Competition of Enthusiasts of Active and Diverse Art. We share these ideas and thank the organizers for giving us an opportunity to tell the guests about Maria's Children Art Center. Our team included children from the boarding school №4 (group fostered by Svetlana Kalutskaya). Under the guidance of our volunteer, inspirer and leader of Maria's Children theatre project Alexander Shishov, the children gave an amusing performance and watched with great interest what other teams prepared.
Our special thanks to Artem Kopaev, who impressed the audience with his equilibristic and juggling.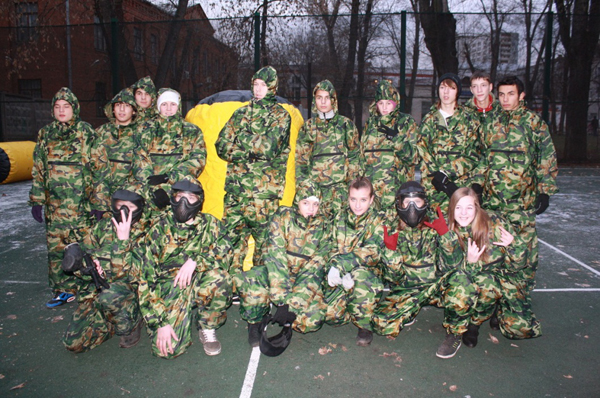 Paintball
It's not for the first time that the "Tverskoy" branch of the Russian Society for Sports and Technology in Moscow has organized a paintball tournament for our children and volunteers. On the 24th of November the kids from boarding school №4 and children from large and disadvantaged families acquainted themselves with military sports.
We visited Yandex!
On 21st November a group of high school students from boarding school №4 had a tour around the Yandex head office. Our friendship with Yandex has been as long as Yandex exists!
During this period the company moved offices several times, and the horses painted by our children and bought by the Yandex CEO Arkadi Volozh at our charity auction many years ago have been moving along – we saw them welcoming us at the entrance.
Yandex employee Kristina Minaeva guided us through several office floors and each of them was full of surprises. We seated ourselves in various comfortable armchairs, visited the gym and the library, saw a real postbox in the Yandex-mail department and real traffic-lights in the Yandex-traffic jam department. The children were excited to read funny writings on walls.
Even the meeting-rooms in Yandex have very unexpected, sophisticated names (for example one of the meeting rooms on the 6th floor is called "The 6th sense"). But when we saw a hammock, a trampoline and a table hockey board, everyone was absolutely amazed. We understood: people working in Yandex are really very creative and happy – it can be seen in every detail.
Before leaving all the children were given Yandex corporate gifts.
Thank you for your hospitality, for your interesting stories, and we hope to come here again with more kids.
Our special gratitude to Kristina Minaeva, Diana Evseeva and Veronica Khusnutdinova!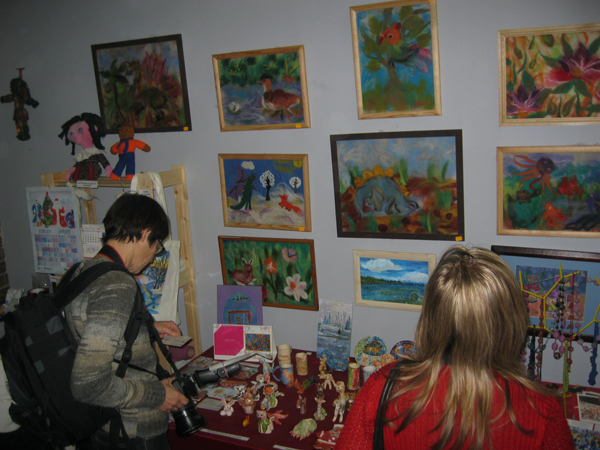 Results of New Year Fairs
In November-December our studio took active part in various charitable fairs. Thanks to this lucky opportunity we raised 352.635 Rubles in total. This money will be all used to organize the winter adaptation camp for our children which will take place in February 2012.
We thank facilitators of these fairs, all those who came, admired our children's art and handicrafts and made donations.
Many thanks to our dear volunteers who helped there!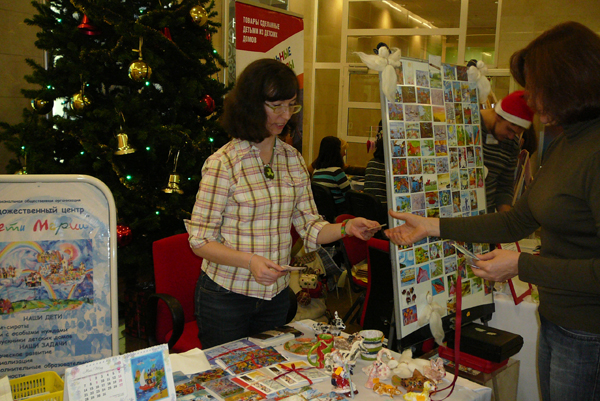 Here is the full list of fairs we participated in:
22.11.2011 – Anglo-American School
24.11.2011 – Centre for Curative Pedagogic.
3-5 December 2011 – book fair at the Central House of Artists.
06.12.2011 – Embassy of France
09.12.2011 – KPMG (Naberezhnaya Tower)
15.12.2011 - Charitable Fund "United Way"
14-16.12.2011 – Rosbank
18.12.2011 – Dushevny Bazaar where we not just raised donations but also held workshop on juggling which appeared to be very popular
20.12.2011 – CMS legal company
21-22 December 2011 – DPD company (Dynamic Parcel Distribution), business center "Office-line".
23.12.2011 "Parexcel" pharmaceutical company in "Krylatskoe"
25.12.2011 – Charity Fund "Children's Hearts"
26.12.2011 – "local" fair at Maria's children Studio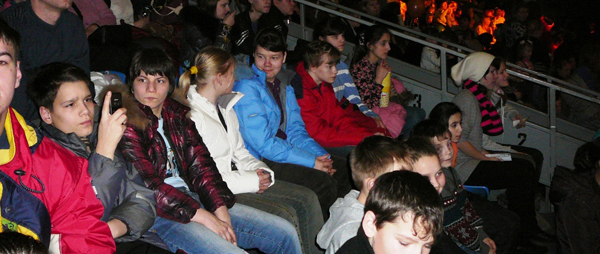 New Year performance at Olympiyskii
Eurasia" drilling company granted us and our colleagues, union of nongovernmental organizations "All Together", tickets to a New Year performance "Ginger Nick and a Magic Atelier".
Among the kids who visited the show on the 31th December were children from the orphanage №28 and some other children from large and disadvantaged families. Everyone liked the performance very much – it was incredibly colorful, with fabulous circus acts. Kids were also given sweet presents.
We are grateful to "Eurasia" drilling company and "All Together" Union for this bright and unforgettableparty.