2012
Trip to Beslan
On January 24-29 volunteers of Maria's Children Arts center – artists, clowns, actors and just friends – paid a new visit to Beslan. For several days the School №1 hosted various workshops (this time not only for pupils but also for teachers): painting a huge mural, modern dance, clowning and juggling, balloon-modeling and cardboard town building, theatre improvisation and games, water make-up and t-shirt coloring, talks on architecture and first aid training.
On the fourth day the children and the guests enjoyed participation in a collaborative amateur performance that showed how many things one can learn in just three days and that once established friendship between the Beslan and Moscow children has been growing from year to year, becoming stronger due to the common cause.
Together with the high school students we paid another visit to the "Hury Tyn" orphanage in Vladikavkaz. By efforts of our painters and pupils, two huge walls in the school canteen acquired a fairy-tale look: snowy mountains lie behind small cute houses, guarding and inspiring its friendly inhabitants.
Our volunteers' visit is only a part (though the brightest) of the Beslan children support project. We have also provided financial support to the school Memorial Museum, the school's urgent needs and it's medical center. Moreover, a significant sum was transferred for a two-month treatment of Fatima Dzgoeva, the girl who suffered from the terrorist attack in 2004. We are planning to prolong Fatima's stay in a German clinic in order to achieve improvement in her grave conditions. We also plan to continue a series of first aid trainings for high school pupils and teachers, as well as to invite third-year pupils in our summer camp. And, of course, to come back again and again to our dear friends in Beslan.
Let us remind you how the Beslan children support project began: in 2007 by the initiative of our children we made our first trip to Beslan and since then we keep going there with our friends, sharing our artistic skills with kids during different trainings and creative workshops. The Beslan children also participate in our programmes – summer and spring adaptation art camps.
This year a lot of people helped to organize this unforgettable trip to Beslan. The money was raised by Elena Rogozhina, Karina Boldri and Olga Makharinskaya in London at the Chance for Life Charity Ball (Olga herself took part in the trip and held a series of lessons on architecture). Significant financial contribution was aslo made by "TBB Leasing" company for which we thank Dmitry Zakhovayev, Anna Drozdova and their colleagues. This time we received a really great support from the "Kuban Airlines" who gave us a big discount on our tickets. The "Vladikavkaz" hotel also provided a part of our group with a minimum-price accomodation.
And our dear Beslan friends – Nadezhda Gurieva and her daughter Ira – kindly welcomed our 10 volunteers - the rest of the group. Nadezhda Ilyuinichna is a teacher of history; she always helps us with arranging our visits and workshops. We are also very grateful to the school Principal Ludmila Petrovna Dzutseva and the administration of the Ministry of Education of the Republic of North Ossetia – Alania A.Ogoyev, V.Totrov, B.Gobeyev for their trust and fruitful cooperation. We thank the Director of the Russian Theatre in Vladikavkaz Vladimir Uvarov and his actors for giving a charitable performance for the Beslan pupils and members of our group.
Thank you, our dear volunteers – Rodney Daly (Chip), Andy Emeritz, Pablo Reboleiro, Marta Alonso, Sergey Gerasutenko, Olya Eliseeva, Masha Dermicheva, Sona Stepanyan, Ruslan Lartsev, Aslan Gaisumov, Oksana Yushko, Masha Zemlinskaya, Sasha Richards, Vanya Antonov, Lesha Golubkin, Yulia Kletchina, Nadya Varaksina, Zhanna Novikova! And many-many thanks to our dear Beslan friends, children and grownups – 'Az dau uarazyn!'
Winter Camp in Sorochany
On February 14-18 our annual winter adaptation camp took place at the "Sorochany" resort.
The camp hosted 15 children from the special correctional boarding school №4 and 5 children from the boarding school №28 as well as our dear volunteers and staff members.
This camp wouldn't have been possible without financial support from the Coca-Cola company, the group of companies "Center of Financial Technologies" and funds raised at Christmas charitable fairs. We express our gratitude to "Sorochany" resort for a tangible discount and excellent service.
Many thanks to our volunteers who helped at the camp!
For almost 5 days children mastered snow-board riding, alpine skiing and skating. For many of them it was for the first time!
The winter camp is intended for senior school students who will very soon enter an adult life. The children learned how to do the cooking under the guidance of experienced cook Vera and their teacher Olga, washed dishes and were indeed very helpful.
Together with Maria and Ruslan we painted a collective picture representing our life at "Sorochany", performed a fairy tale "About Fedot the Rifleman", sew and knitted, played table games.
Many thanks to our volunteers who helped at the camp!
The Bremen Town Musicians on the ice
On the 20th February – which was the first day of school holidays – children, visiting our art center, attended a fascinating show by the world-known figure skater Evgeniy Pluschenko "The Bremen Town Musicians". It took place at the Luzhniki ice rink.
Among the young spectators were inmates of the special correctional boarding school №4 and the boarding school №31 for children with locomotor disorders, as well as children from large and disadvantaged families.
We express our gratitude to the Charitable fund "The League of Good" and Karina Abramova, our old friend and colleague, for this cheerful event.
Merry Pancake Week
The pancake week in our studio was delicious, as usual. Each day children fried pancakes under the guidance of teachers Olga Agafonova and Maria Pimenova and after that devoured them with big pleasure not forgetting to share them with adults.
And on 25 February, Saturday, we attended a festival on Tverskoy Boulevard where we were also treated with pancakes, attended a rifle-range and even tried our hand in rock-climbing. This time we were invited by Municipality "Tverskoy" to the event. Thank you so much!
Health Day
On the 10th March kids from the boarding school №4 took part in the municipal sports festival "Health Day" in the "Krasnaya Presnya" park. Those who like outdoor activities could join an action-packed programme which included sports games, dances, musical performance and stuntmen show.
Frosty and sunny weather, hot tea from a field-kitchen, the bus which was waiting for the children and then took them to the metro – all this added to children's high spirits. Our big gratitude to municipality "Tverskoe" for the invitation!
We went to the photo-exhibition
Children from orphanages №4 and №7 had a wonderful opportunity to admire pictures of wild nature at the exhibition "Golden Turtle" hosted by the New Manezh Gallery. With great interest they examined photographs of animals, read annotations and discussed their impressions.
This exhibition inspired our children very much and afterwards they drew animals and birds during art classes with big enthusiasm.
We express our gratitude to the administration of the photo-exhibition "The Golden Turtle" and to photographers for the invitation and joy!
Taming of Fedora or the Shrew's Misfortune
On the 2 April Maria's Children Studio presented its main drama project initiated by our devoted friend Alexander Shishov. Together with boys from post-institutional group of the orphanage №4, grown-up graduates of orphanages and Maria's Children volunteers Alexander prepared an episode from Shakespeare's play "Taming of the Shrew" and a hand-manipulated cartoon-opera "Fedora's Misfortune" based on a well-known poetic fairy tale by famous children's poet Korney Chukovsky. The premiere ran at the Vsevolod Meyerhold Drama Center. We are very grateful to the Center for providing us with the auditorium for free. We are also hopeful that our cooperation which started last year will continue in the future.
We thank the Rosinter Corporation, our main "food-donor", for the buffet dinner after the performance, and Municipality "Tverskoe" for their financial support.
Before that we performed "Taming of the Shrew" and "Fedora's Misfortune" at the Children's Mental Hospital №6, but we were not able to invite all our friends there. In the Meyerhold Center we had the opportunity to organize two shows – in the daytime for children and in the afternoon for grown-ups.
The audience watched "Fedora's Misfortune" on the screen. At the same time on one side of the screen there were vocalists singing ( Alexander Shishov, Yulia Losseva and Danila Roschupkin) and on the other side there were animators from the boarding school #4 with Ruslan Lartsev as a leader. They were moving drawn characters of the fairy tale, changed the stage sets and the performance was projected on a screen simultaneously. The music was composed by Alexander Shishov, the set design and characters were made by Ruslan Lartsev. The tale turned out funny and dynamic and the audience of different age enjoyed it greatly.
It's worth noting that the final episode from "Taming of the Shrew" performed by the post-institutional group of boys from the orphanage №4 and our volunteers was produced for the Shakespeare Festival in Stratford-upon-Avon - the bard's birthplace. It's been the third time since our studio participated in this festival but this year we sent there the children who were about to leave the orphanage (but they still stay there).
In England the Episode was performed in English, so the text was read not by the actors (as they are not very confident in English) but by the readers – Ivan Antonov and Natasha Sidorova). And boys were just playing it as if they were puppets in a puppet theatre.
The costumes were very original: they were painted on pieces of hardboard and tied to the actors. The idea belonged to Alexander Shishov who also composed and sang the songs. The costumes were designed by Ruslan Lartsev.
We are grateful to our volunteer Tamara Krapivina for her help with the performances. After the show there were refreshments served for us by Rosinter Corporation at our studio.
English-Russian training with an Ancient Greek character
On 13-15 April in the "Lipki" recreation center outside Moscow we held an unforgettable training session with English students from the Sevenoaks School and children from the Moscow orphanage №4. The English side was represented by 21 15-17 year old students and three teachers, one of who – Jon Drury – teaches his students Russian. From our side there were boys from post-institutional group who are just about to travel to Britain with a performance to be shown at the Shakespeare's Festival, and kids from 8 and 9 grades who visited Britain last spring.
As usual we started with introductions, playing games such as "Blanket" which helped us to get better acquainted with each other. The games were lead by Vanya Antonov and Ruslan Lartsev.
The next day we proceeded with presenting our favourite games to the British guests – remembered "Bobodi-bop-bop-bop", "Guess the leader" and in the evening we even showed a "Clown's telegraph".
The highlight of the Saturday was performance based on ancient Greek myths directed by our friend – psychologist Alexander Kolmanovsky.
Several groups of participants rehearsed, created misenscenes, selected costumes and props and then took turns showing the episodes. The last episode ("Heraculus's main deed") was produced by Alexander Kolmanovsky himself.
In this scene Heraculus (performed by Lesha Golubkin) had to undergo various trials in order to be enrolled in the Sevenoaks School. On Sunday for the purpose ofreviewing thecovered material Sasha organized a quiz for the children in the form of "Three Wize Men" game.
Also in accordance with our tradition we painted a large collective picture with Maria and Ruslan. The theme chosen by the children was England. Our English fiends got involved in the process along with our children. Together, they painted London's numerous attractions.
During these days we held birthday parties for our girl Olya Yermakova and the English boy Callum. In the evenings we played such popular board games as "Dixit" and "Rummikub".
Among the children who enjoyed playing table tennis there turned out to be a lot of champions on both sides. The children also had fun going to the swimming pool two times a day.
We showed our English friends the production of "Fedora's Misfortune" and gave them books about Fedora as a present in order to make clear to them the content of the fairy tale.
When the time came to say good-bye the children exchanged photos and e-mails. We hope that this journey will boost new friendships.
We are grateful to all volunteers who helped to make these days memorable!
We are 15!
On the 17th of April Maria's Children Art Center celebrated its 15th Jubilee.
On this occasion we send congratulations to all our friends and partners, staff members and volunteers, children and their tutors, sponsors and donors: it is due to our joint efforts that we managed to create this studio - the place which we love so much!
The celebration took place in "1-2-3 Café" on Tverskaya street, hosted by Rosinter Corporation which treated us to delicious food.
We are very grateful to our old friends and partners – the whole of "Rosinter" and personally Director General Rostislav Ordovsky-Tanaevsky Blanco, Elena Bubnova and all those who cooked the birthday dinner and looked after the guests in "1-2-3 Café".
And also many thanks to Municipality "Tverskoe" for their financial support!
Specially for the birthday party the children gave a concert: they sang, danced and also offered their gifts of hand-made pictures and postcards to the studio.
Then a group of children from the orphanage №4 showed an animated fairy-tale "Telephone" by the famous Russian children's poet Korney Chukovsky.It's remarkable that all the characters were drawn and voiced by the children themselves.
The guests were also delighted to see an enchanting the "sand" cartoon – fairy tale "A Giving Tree" created by the children and our new volunteer Lilya.
And, of course, we again showed the main hit of this season - animated performance "Fedora's Misfortune" (Director – Alexander Shishov).
After the concert we had a delicious dinner and a traditional birthday cake with candles.
We express our gratitude to everyone and on the occasion of the studio's birthday we send congratulations to all the children and adults who have met each other here! Thank you, our dear friends! How lucky we are that the studio has united us, let's take care of each other!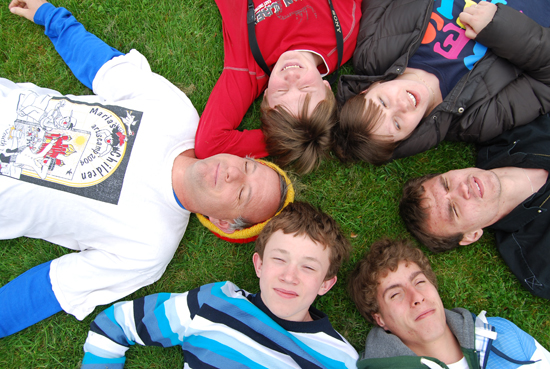 In Shakespeare's Motherland
From April 20 till May 3 six young people from the post-boarding school group, boarding-school #4 went to England. For several days they have participated in Shakespeare Festival in the poet's motherland in Stratford.
Festival's guests had an opportunity to watch them showing the episode from "Taming of the Shrew". The reciters (certainly, in English) were our volunteers Pasha Novichkov and Natasha Sidorova.
Several days after the festival our young people together with the teacher Olga Sidorova spent in London staying with families of Olga Makhrinskaya and some other English friends.
Then for some time they came back to Stratford and together with Maria and volunteers had time for local sightseeing, visited Warwick Castle, the insects' farm, Mechanical Art and Design Museum, were painting in the open air, walking in the parks, although the weather wasn't favourable- it was cold, rainy and windy. Yet nobody was disappointed, and the performance was even shown again in the castle's yard. Everyone came back home full of impressions and desire to learn English.
Our Tireless Ship is Floating
n May 19 our traditional celebration took place to mark the end of the school year "Ship of Our Hope".
Over 120 children from our boarding schools came to Bay of Joy by ship. While a
board children were painting, playing board games and enjoying the view.
A picnic with barbecue was awaiting us at the bay. We are very grateful to our employees and volunteers who heroically managed to cook 100 kg of barbecue. Hereis the list of our heroes as follows: our driver Viktor Feodorovich, Liosha Stroyev, Sergey Shirshov, Beno Stepanyan, Pasha Avdoshin.
Our dear friend from Yandex Valentin Ponomaryov and a charming girl Natasha provided our children with the opportunity to try themselves as rope-walkers, stilts-walkers and jugglers.
Dmitriy Zakhovayev together with his sons led an unusual workshop on graffiti. Children enjoyed pulverizing paint from spray cans.
As usual they went in for spots and played a lot of games – football, volleyball, badminton and frisby. Vanya Antonov and Ruslan Lartsev helped to organize them.
Kristina Kozireva led a workshop on drums and other percussion instruments.
Some children joined Alexader Shishov singing at the concert.
On the quay we traditionally let our wish-balloons into the sky.
We are thankful to Coca-Cola Company and Municipal District Tverskoye for the financial support. Thank you, all our volunteers who helped us on that day!
Google Tour
On May 31 some children from the post-boarding school group, orphanage #4, went on tour to the Moscow office of Google Corporation. We are very grateful to Google for the provided opportunity. Our grateful thanks to Danila Danilov and Alla Zabrovskaya for their interesting narration.
Google office is designed in an unusual and bright manner, conference rooms are named after characters of Russian fairy tales, books and animated cartoons.
For recreation there are table for table tennis, table football and a wellness chair. Our children tried all the equipment with great pleasure. Google-Earth, Program, which allows to see panoramic view of nearly any place on the Earth, was demonstrated on huge screens, set in a semicircle. Children were very interested; it seemed that the Earth was revolving according to their wish.
A delicious supper was waiting for us at Google restaurant as well as gifts for everyone – souvenirs with Google symbols. Young people were going to put on their new T-shirts with "I will be lucky" sign on the back for the exam next day. We hope that this is the beginning of our long-term friendship and cooperation.
Fedora in Multiashkino
On June 2 our children from the boarding school #4 and Ruslan Lartsev took part in International Multiashkino Festival in the garden named after Bauman. They showed this year hit of our studio – an animated opera "Fedora's Misfortune" by Alexander Shishov. We were on the stage and our cartoon was shown on a big monitor. The audience warmly received our performance.
We are thankful for the invitation to the festival. It is a great honor for us to take part in this famous festival.
Beslan Teachers visit to the UK
On July 4-11 a group of teachers from Beslan in Russia's southern Caucasus region visited the UK, in a trip organised by Moscow charity Maria's Children and London's Yellow Blue Bus Company. It was the latest in a series of projects dating back to the aftermath of the tragic attack on School Number One in Beslan, Russia in September 2004. Previous initiatives have involving sending groups of entertainers and mentors to Russia, or down from Moscow.
The visit was financed by an auction in the United States organised in partnership with world famous clown and doctor Patch Adams, and a subsequent online auction, that was organized by Simon Joseph, both of which featured art produced by children at Maria's Childrens' studios in Moscow. A number of people also gave donations.
A very special thank you once again to everyone who so generously gave their support.
Simon Joseph:
About the participants
There were three teachers in the group: Nadia Gurieva, a history teacher; Elena Ganieva, the Deputy Headteacher who also looks after extracurricular activities and teaches Russian, and Olga Vlaskina, a physics teacher. Nadia and Olga are also form tutors, and have each been teaching for over thirty years; Elena has been teaching for more than twenty.
All were hostages during the siege. They were there both as parents and teachers, accompanied by their own children as well as their students. Nadia tragically lost two of her three children. Nevertheless, like the others, she is still teaching, and dedicates her life to her surviving daughter, to her students, and to preserving the memory of what happened, through a museum she has created and maintains at one of the two new schools that has since been built in Beslan.
The teachers were accompanied on the trip by Alexander Kolmanovsky, a Moscow-based psychiatrist specialising in trauma, who has worked very closely with victims of the attack on the school since the autumn of 2004.
Here is a day-by-day account of their trip to the UK.
Wednesday 4 July
The group arrives at Heathrow late in the evening, after their flight is severely delayed leaving Moscow. They are tired, after travelling up from Beslan the day before, but they are very excited about being here – and they take the news well that they will have to be ready to go at 7am the following morning! It is wonderful to finally see them after the months of organising and planning.
Thursday 5 July
Our first school visit is to Stoke Newington School, a secondary school in North London (http://www.sns.hackney.sch.uk/), where we have obtained permission to shadow a group of new children who will be starting in September, as they visit for an induction day.
The teachers come away with all kinds of impressions, as themes emerge that will subsequently recur in other schools too. They are struck by the extraordinary ethnic mix of the children, the provision for special needs children and the level of investment in facilities (though they learn that budget cuts will threaten this in the future). They are particularly taken with a science teacher who gives a model lesson: by his enthusiasm, sense of humour and close engagement with the children. He talks afterwards about the emphasis he and his colleagues put on developing problem solving skills and connecting learning to the 'everyday.' He also surprises them with a bit of Russian!
As we leave the school, the sun comes out just in time for a lovely walk through nearby Clissold Park, where they see deer, exotic birds and look in on a community vegetable garden.
Friday 6 July
We start the day with a trip down to Kent, to visit Sevenoaks School
( http://www.sevenoaksschool.org/), one of the top private schools in Great Britain, and home to an excellent Russian language programme (http://www.sevenoaksschool.org/russian).
The school has already broken up for the summer, but we are hosted by Jon Drury, head of the Russian programme, who gives us a tour of the grounds and hosts us for lunch. He shows the group a slideshow of a recent trip that some of his students took to Russia, which included a visit to a camp outside Moscow organised by Maria's Children, where they spent the weekend with children from an orphanage. He also shows us photos of an extraordinary trip they then made to a village made up entirely of foster parents, who have built their own homes and created an entire community from scratch.
The teachers are overwhelmed by the school's extraordinary facilities and beautiful grounds. There is a theatre, pool and fitness centre, housed in both striking new buildings and others dating back many centuries.
We discuss how to develop future contacts between teachers and students in Sevenoaks and Beslan in the new school year, before finishing with a short walk through the beautiful National Trust parkland nearby, where we see more deer (!) – though these are wild – before heading back to London.
In the evening, we visit an exhibition of childrens' art at the Archway Childrens' Centre, a unique nursery with a progressive child-led focus which is run by Nasso Christou (http://www.guardian.co.uk/education/2008/nov/25/insiders-archway-children-s-centre). We take in the wonderful displays, and some singing, drumming and dancing by the staff, parents and children.
Saturday & Sunday, 7 & 8 July. The teachers do the sights in London. Alexander has been to the UK before, but it is their first ever visit, and they are keen to explore.
On the Saturday, we pay our respects at the 7 July Memorial in Hyde Park. By a coincidence, it is the 7 th anniversary of the 7/7 bombings.
Monday 9 July
We do two school visits. We start with a primary school near Brick Lane in Tower Hamlets (http://www.williamdavis.towerhamlets.sch.uk). The Headteacher, Catherine Morgans-Slader, takes the time to give us a tour and answer questions about the school and the community, which is predominantly Bangladeshi, before we sit in on an assembly and several lessons. We are especially impressed by the no-nonsense PE teacher, Russell, and his long term commitment to the children and their families. He is a Governor of the school, and works in a number of different schools in the area.
After a quick lunch at Spitalfields Market, we head off to Ilford to visit King Solomon High School (http://www.kshsonline.com), a Jewish secondary school, where Assistant Headteacher Daniel Soibelmann and several colleagues take us through the innovative social and emotional behaviour management programme that they use to deal with children from troubled homes.
Tuesday 10 July
We travel down to Kent once again for our final school visit, to Towers School (http://www.towers.kent.sch.uk/) in Ashford. Our contact with Towers has come about through David Carter, one of their music teachers, who travelled to Beslan quite a few years ago on one of our trips - in his capacity as a magician, juggler and man of many other hidden talents.
David arranges a wonderful day for us, including a tour of the school, a look at the wonderful performing arts facilities, a visit to an animation workshop, participation in a school assembly, observations of science and maths lessons, and a look in on a language fair, where we meet the head of the foreign languages department, who happened to study in Russia while at university.
For the science lesson, the teacher has distributed slips of paper for the children to ask questions. We go to the front of the class to answer them at the end of the lesson, and we also give an impromptu Russian lesson. We show where Beslan is on google maps, and say a few words about the attack on the school, along with a bit of background on the Caucasus more generally.
We are hosted for a fantastic lunch at the school restaurant, which is staffed by students, who prepare a wonderful Russian dish in the teachers' honour, and the teachers also sample the delights of the beauty salon. Like the restaurant, it has been set up to give students practical skills and training that they can take out into the workforce.
We agree with David to start up some exciting links to the school in Beslan when the new academic year starts in September.
Looking Ahead
We had a number of objectives for this trip. Only time will tell, but hopefully we managed to succeed on all fronts.
Our first goal was to offer the teachers the opportunity to experience the culture inside UK schools at a grass roots level. We tried to ensure that they would see a number of contrasting educational environments (e.g., urban and rural, large and small schools, private and state, primary and secondary, etc) and meet a variety of practitioners with different philosophies.
Next, we wanted to try and broaden the focus of our activities with Beslan, to kickstart some long-term self-sustaining contacts between schools.
And, finally, we had hoped that the whole visit might be a positive, life-affirming experience for them personally. As it turned out, however, being with them was just as empowering for us, if not more. That's often the case with Beslan.
Summer Camp in Sorochany
On 16-25 July our traditional summer camp in Sorochany resort took place. This year we hosted not only 20 children from orphanage No 28 but also children from Beslan school No 1: the entire year III class and some of our friends from the high school. The camp was fantastic!
We express gratitude for help and support to Sorochany resort administration and personally its manager Uliana Markova, Charitable Fund "Chance for Life", Coca-Cola Foundation, Alfa-Bank and personally Tatiana Passko, Yandex, Charitable Fund "Dar", all our wonderful volunteers, staff members and children.
While we were preparing for the children's arrival we had an opportunity to sodden under rain, dry up on the sun and admire the rainbow. As soon as the children arrived, the ceremony of division into families began. As usual, there were four families - Elephants, Zebras, Lions and Giraffes.
Each and every morning the children were offered various master-classes. There were so many of them and they all were so interesting that it was even difficult to make a choice! Drawing and ceramics, mosaic and braid weaving, juggling and guitar playing, decorating jars and making plant prints, modelling from balloons and making friendship bracelets, "flying above the grass" and playing synthesizer, t-shirt dyeing and soap-making, drumming and making pictures of plasticine, cooking Armenian grilled vegetables and American marshmallows – and this is not all!
Right after lunch a busy "family life" started. Each family made performances, painted collective pictures, played various games and when it was sunny (which was extremely rare) we went to the beach. And in the evenings all the family members gathered around the tea table to discuss their highs and lows of the day. Such meetings helped us bond, understand and support each other.
Our hero Alexander Shishov "caught" one sunny day and organized the banana ride across Iksha water reservoir for the children and adults. Albina Kazieva – one of the teachers from Beslan - baked delicious Ossetian pies for the whole camp (for which our Beslan friends even brought a special stove along with them). Volunteers from Yandex who were so kind as to visit our camp taught us walking on the rope.
There were also Ossetian dances and mad-hairdo-disco. No less inspiring was «Theatre-on-wheels» in which all the children and grown ups participated. We were divided in two teams and presented each other two fairy tales - an Ossetian "How the Mouse Sought a Bride to her Son and "The Red Ridinghood".
The ten days of the camp passed very fast and we parted with each other with tears on our eyes. All the children expressed hope that they will come to the next year's camp again.
Thank you, our tireless cooks – Vera and Olga - who prepared such a delicious and nourishing food for us. In her free-time Vera even chipped out roses and medals from potatoes and presented them to those who helped her best at the kitchen.
The camp wouldn't have been so interesting and replete without our volunteer's help. Thank you, our dear Debbie Sears, Guillaume Vermette Nadezhda Gurieva, Ruslan Lartsev, Nastya and Vika Dzenisevich, Yulia Klechina, Ilya and Asya Segalovich, Anya and Olya Eliseev, Oksana Yushko, Artur Bondar, Sasha Gostev, Anait Sarkisyan, Narina and Serezha Isakhanyan, Lesha Golubkin, Olga Ivanovna and Natasha Sidorov, Vera Ivanovna Sarkisova, Polina Proskurina Yanovich, Olya Aleksyuk, Zhanna Novikova, Tamara Krapivina, Sasha Richards, Lesha Yuzapolsky, Veronika Husnutdinova, Pasha Novichkov, Masha Orlova, Oleg and Natasha Yernev, Sasha Richards, Beslan teachers Aleta Khasieva, Marina Bitsoeva, Albina Kazieva, Svetlana Kozyreva, high school students Vika and Vitya Kotsoev, Ira Gurieva, Zhenya Deryaeva, Ilona Gazdanova, Hetag Khutiev, Hetag Dudaev, Tamik Kachmazov, Azamat Kadiev.
And this is the picture we painted altogether to give you impression of our life at Sorochany summer camp.
Italian holidays
This summer our children from the orphanage № 4 made their traditional journey to Italy. Let us remind you how these journeys began.
Michela Bolognani, our Italian volunteer: "In 2008 we launched an Italian project "Buratino goes to Italy". We were so inspired by finding so much in common between the fairy tales "Buratino" and "Pinoccio" that decided to make a performance together with seven children from the orphanage #4 and went on tour to Florence and Lekko (the North of Italy).
And we found so many friends there! Families who hosted us in Lekko immediately registered a non-commercial organization MIR "Amici dei bambini di Maria" ONLUS (MIR - Friends of "Maria's Children") in order to annually invite the children to stay with them during their holidays. From then on each year our children from the orphanage №4 return to their Italian families again and again. The "Italian group" is growing, it included 19 children this year! During the year the children attend Italian language courses run by our volunteers and very soon country studies on Italy will be organized".
We express deep gratitude to all who believe in our project and help us: Michela Bolognani, Polina Proskurina-Yanovich, Bella Shakhmirza, Katya Nikitina, Vanya Antonov, Mr. Francesko Arminio, ophthalmologist Conca, dentists Mezzera and Goretti, Banca di Credito Cooperativo di Cremeno, Onda Viaggi and all the families from Oratorio di Barzio.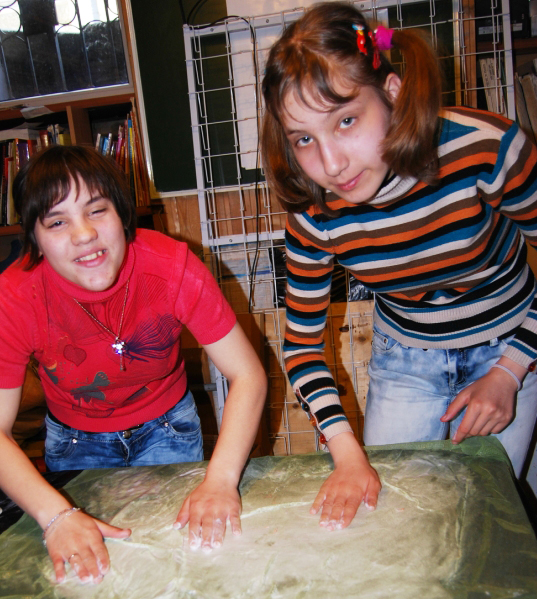 Our nearest and dearest have gone…
On Saturday, 22 September, the arts teacher Olga Shirshova, her husband Sergey Shirshov and five children: Jessica Regush, Nastya Aleksandrova, Vika Ivanova, Vova Maltsev, Dima Uzbekov died in a terrible car accident.
This tragedy happened in the daytime at the bus stop on Minskaya Street where the children, Olga and Sergey were waiting for a bus. They were on their way back to the orphanage from the art festival winners' awards ceremony on Poklonnaya Hill. A heavily drunk driver lost control over his car and smashed the bus stop and the people standing there.
Olga and Sergey were close to these children to the last moment of their life. Olga had worked in the orphanage №7 for many years as an art teacher; she had two university degrees - in art and in correctional pedagogic. She had made this choice in her youth when she decided to devote her life to disadvantaged children. Her husband Sergey had always helped Olga; they were true friends to these children, always doing their best to give them more love, attention and recognition.
Dima and Vova, Jessica, Nastya and Vika regularly came to our studio with Olga, they were fond of painting, modeling from clay, and everyone loved felting as well. Year by year we could see them turning from sweet little children into restless teenagers, and they liked it very much to be here. We loved them very much too. Dima's hobby was to draw the Moscow tube stations, and even in the most ordinary ones (such as Vykhino) he found something worth being depicted on paper. Vika had a talent for weaving complicated braids and Nastya was anxious about which institution she was going to be transferred to at the age of 18...
We can hardly imagine that the next Thursday will come and Olga, Nastya, Jessica, Dima, Vika, Vova will not be here… We grieve over Olga, Sergey and children, who were so young and gone so early – now they are children forever. We express our deepest condolences to Olga and Sergey's mothers, Olga's grandmother, Sergey's sisters, to all staff members and children of the orphanage №7.
Here you can find pictures of Olga and the children at the studio http://fotki.yandex.ru/users/mariaschildren/album/136997/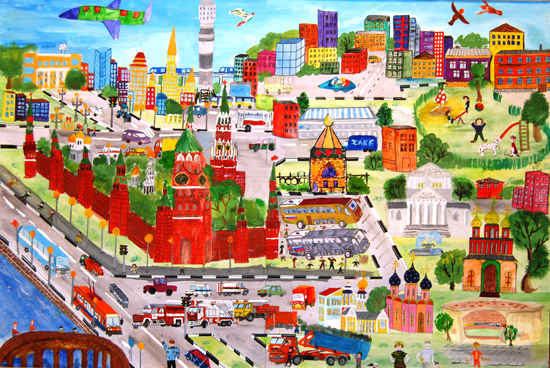 Exhibition at the "Tverskoe" municipality
In October the hall of municipality "Tverskoe" became colorful and bright with Maria's Children paintings. We thank the sports and recreation department and its leading specialist Elena Zarubina for the organization of this exhibition. The 33 paintings include those of Jessica Regush and Nastya Aleksandrova who died in a tragic car accident on September 22 on Minskaya street
Our Exhibition at the Central House of Artists
On 6 – 11 November our annual exhibition "Here Sails our Ship" took place at the Central House of Artists. It's main sponsor was Coca-Cola Foundation.
Over two hundred works of art including paintings, ceramics, patchwork, felting, tapestry were displayed at the exhibition hall.
One section of the exhibition was dedicated to paintings of five children from the orphanage №7 who tragically died in a car accident on Minskaya Street together with their teacher Olga Shirshova and her husband Sergei Shirshov on 22 September.
The opening of the exhibition took place on the 7th November and many of our children came there to celebrate it. Clowns headed by the Doctor-clown Patch Adams met them as usual at the hall. The childrens' wind band from the orphanage №4 welcomed the guests.
After we watched the exhibition and showed our works to clowns and other guests, everyone was invited to enjoy a delicious buffet dinner from Rosinter Corporation.
Afterwards we all moved to the concert hall where the children prepared some surprises for us.
We warmly thank our partners who have been supported us through many years – Coca-Cola Foundation, Rosinter Corporation - as well as all our volunteers and clowns for this cheerful feast.
Charitable ball "Games of our childhood"
On the 8th of November the charitable ball "Games of our childhood" took place. As usual, it was aimed at raising funds for the further continuation of Maria's Children programmes on rehabilitation and social adaptation of orphans, special needs children and orphanage leavers. With all our heart we thank all those who came and spent this evening with us. This event helped us raise 133 615 USD!
The ball took place at the Royal hall of the Central Moscow Hippodrome.
In the beginning of the party our volunteers offered the guests various games and entertainment which most of us played in our childhood. One could play "hopscotch", "jump rope", "sweetie paper", "ringlet-ringlet", dig a "little secret" into the sand, type on a typewriter, watch old Soviet strip films. But the most popular of all appeared to be Soviet game-machines ("Sea battle" and others).
Then our dear guests enjoyed a delicious dinner in the atmosphere of live music, watch "the clowns' race" (we were at the hippodrome after all!), participate in an auction traditionally held by the doctor-clown Patch Adams, as well as in the silent auction, try one's fortune in a lottery and have a dance.
We cordially thank our sponsors and partners:
Renaissance Capital for the financial support of the ball
Sophie and Roland Nash for financial and organizationalhelp
Our irreplaceable auctioneer Patch Adams and 37 clowns from different countries who immersed our guests in the atmosphere of their childhood.
The Central Moscow Hippodrome for hospitability, free sofas and tables
City-Catering for the delicious dinner and professional service
NB gallery for the vintage picture as a lot for the silent auction
United Distributors Company for providing us a significant discount for the wine
The Thrillseekers group for their inspirational music at the ball
Yulia Malikova and her jazz-band "Magnet" who helped create a very special atmosphere during the reception and the dinner.
Vera Aksenova and her friends for decorating the hall with fantastic balloon compositions.
Rosinter Corporation for the lottery lot (a dinner at one of it's restaurants) and food for the ball personnel (our staff members and volunteers).
Museum of Soviet game machines for providing several free game machines.
Polygraphic company Service Point for the free printing of the auction catalogues.
Caterina Hotel Chain for the lottery lot (one week-end night in Katerina-City Hotel).
Paul Mitchell company for the gala hairdressing for our staff members and volunteers who helped at the ball, and the lottery lot – a set of hair care products.
Junior Chef culinary school for the lottery lots – two designer cakes in a shape of a horse head.
Coca-Cola Hellenic for the lottery lot – a crate of Coca-Cola
Mobile Stands company for the free press-wall stand
Vintage clothes showroom Kontrabas for the silent auction lot – a vintage ladies'hat.
Eco-toy shop Matiush for providing us wooden horses at significant discounts. These horses were painted by our children and they served as lots for the silent auction, the lottery, and even participated in "clowns' races".
Design company Zoloto for the design of several certificates that were raffled in the lottery.
Te Gusto company for the lottery lots – two sets of very delicious jams.
Nestle company for the lottery lot – a sweet basket with the company products.
The Moscow Times for the information support.
Trade center Tsvetnoy for the auction lot – a book personally signed by Terry O'Neil, the official photographer of James Bond.
Polina Loseva for the design of all our printed materials for the ball.
Translator Ilya Kolmanovsky who always helpsus bring down the language barrier.
Photographers Oksana Yushko and Artur Bondar for taking pictures of the ball and the lots for the lottery.
Programmer Peter Yanovich for creating the computer program for the silent auction and support of the whole process
Photographer Gennady Semin for taking picturesof the ball
Companies who purchased the whole tables for their staff-members - Rosinter and RosCorp, Deutsche Bank, KPMG, White and Case, Emex.
Our regular donors Olga Makharinskaya, Nikolay Tsekhomsky, Elena Gurkova, Justin Lifflander and their friends who were so kind as to join us this evening.
We are grateful to our volunteers for their incredible job and great help:
Alexander Richards, Zhanna Novikova, Nastya Ivanova, Vladimir Kulkov, Nikolay Erokhin, Yana Maurakh, Sasha Bolotova, Sona Stepanyan, Liza Loseva, Zhenya Gleizer, Alexey Yuzapolsky, Artur Andryushchenko, Sergey Shuldikov, Yuri Shkudov, Daulet Zhanaidarov, Viktoria Koenigsberg, Tamara Krapivina, Daniil Roshchupkin, Boris Baranov, Nadya Varaksina, Olga and Alina Yeliseev.
Thanksgiving Day at the Studio
andra Schmitt and Nelly Kagan from Anglo-American school came to our studio and brought roasted turkey, sweet potato batata and apple pies with pecan to celebrate the Thanksgiving Day with children from the orphanage #4. A little later Morrighan Clinco – an American clowness from Patch Adams' team – joined us. When the art classes were over we all had a lavish feast during which Sandra, Nelly and Morrighan told the children about this old American tradition. THANK YOU very much!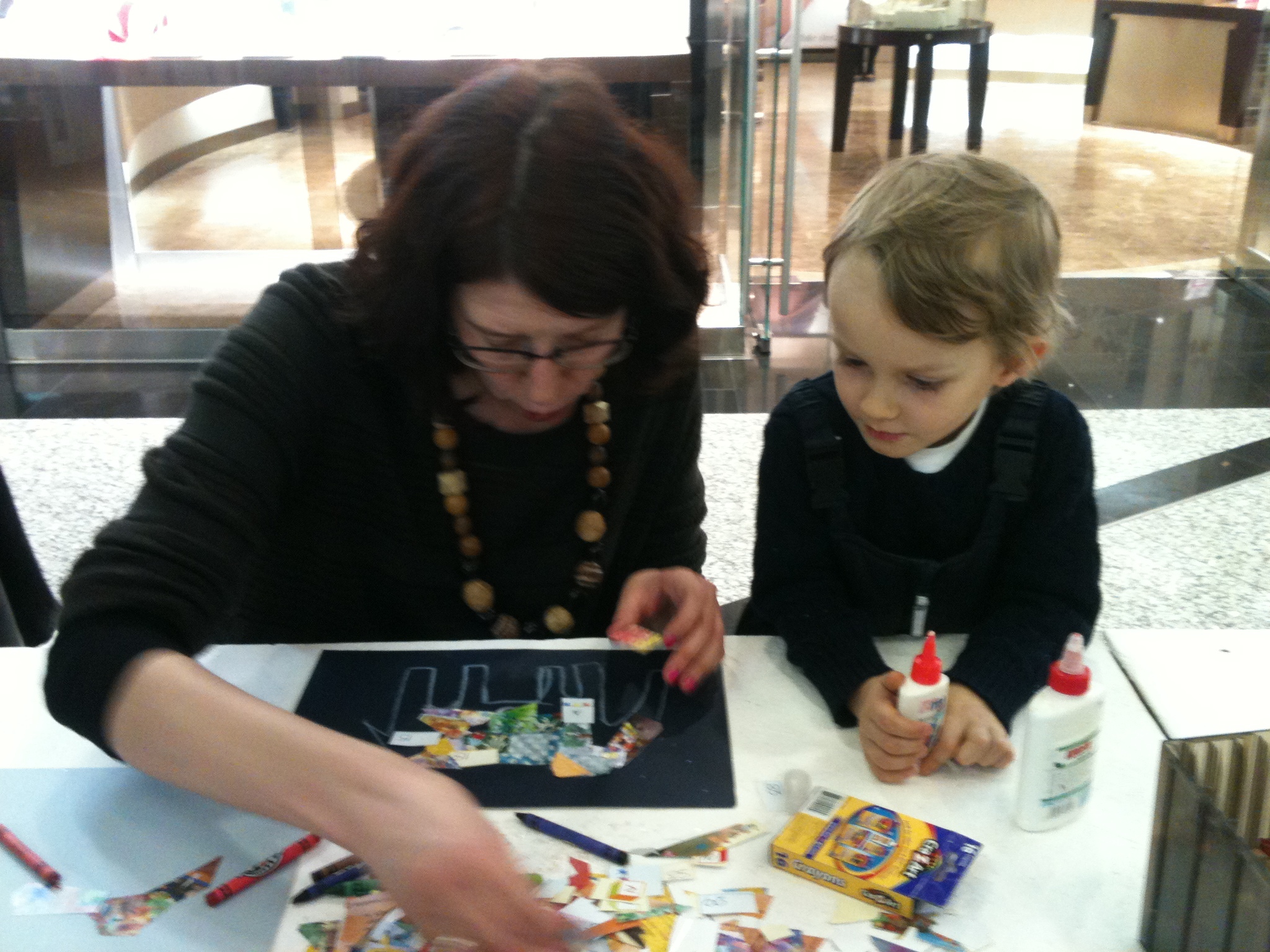 Buy an Elephant at the Fair
On 8 and 9 December in the "Moscow Gallery" trade center a children's fair with a funny name "Buy an Elephant" took place.
The fair was held in the framework of the large municipal festival "New Year Workshop". Our social worker Kristina Kozyreva, volunteers and older children held an open master-class "Draw an Elephant". In the course of two days children drew all possible kinds of elephants. The second day ended in a charity auction BUY AN ELEPHANT. All the pictures were made into lots, the money raised at the auction will be used to finance the bone marrow transplant operation for a girl Natasha. The children's fair was organised by the Gorky Park's "Green School". We thank the organisers for the invitation to take part in such a lovely fair.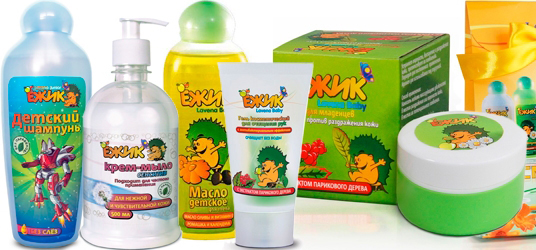 A Gift of Children's Care Products
We received several boxes of children's toiletries – soap, shampoo, body lotion, body oil, hand cream - as a gift from the NDK Cosmetics. We are going to hand them over to our children and orphanage leavers starting their independent lives. We thank NDK Cosmetics and personally Antonina Tsyganova.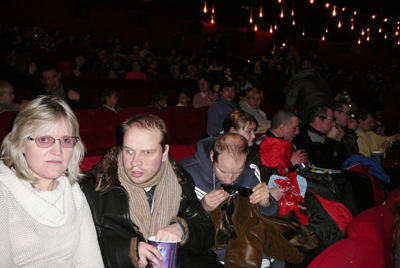 The Snow Queen
On the 23 December we watched the first run of the new animated cartoon film "The Snow Queen". We are deeply grateful to the "Podsolnukh (Sunflower)"Fund for the Support of Children with Immune System Disorders for such a wonderful opportunity. Special thanks to the organizers for the treats!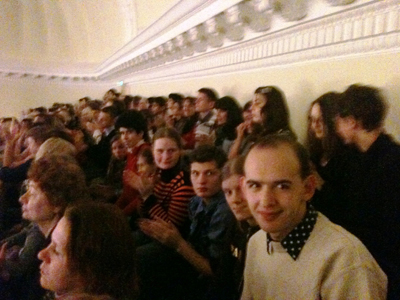 Encounters with Music
Thanks to our friends at the Italian Embassy Margherita Belgiojoso and Emmanuele Di Lorenzo Badia, we had a chance to visit the Moscow Conservatoire twice.
On 15th November the Milan Symphony Orchestra played the classical Italian music for the residents of psychoneurological institution №11 and volunteers. And on the 22 December another surprise awaited us – the New Year Concert for Young Music Lovers. This time the excited listeners were children from the orphanage #4. The Moscow conservatoire students' orchestra and its conductor Vyacheslav Valeev took the listeners on a real New Year musical journey across countries and eras.
Синий маркер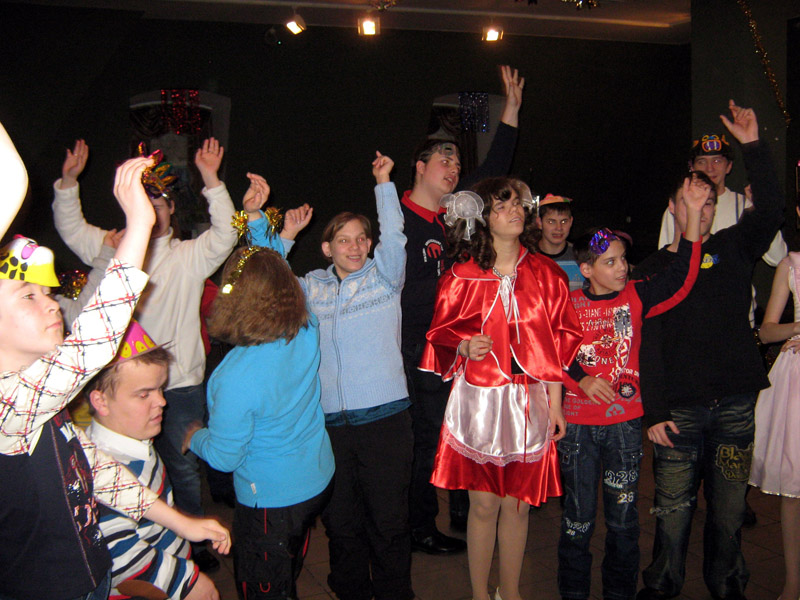 New Year Party in the Andriyaka's School
On December, 26 the children from the orphanage №7 and young adults from psychoneurological institution № 11 were invited to take part in the New Year celebrations at the Sergey Andriyaka's Watercolour School. They were very happy to play games with Father Frost and his grand-daughter Snow Maiden, watch an amusing performance and get some nice presents – artists' kits as well as sweets.
We are grateful to Sergey Andriyaka's Watercolour School for the event and to our dear volunteers Valentina Mironova, Maria Mironova, Tatiana Tarabrina.
Results of New Year fairs
This year Maria's Children took part in the following New Year fairs and raised:
at the Anglo-American School – 18 570 Rubles
at the Center for Curative Pedagogics - 24 100 Rubles
at the New Year Fair "Buy an Elephant" - 28 900 Rubles
at the French Embassy in Moscow - 11 000 Rubles
at Dushevny (Soul) Bazaar - 62 300 Rubles
at RENOVA Company - 9 590 Rubles
at Parexel International - 32 040 Rubles
at СMS Company - 30 500 Rubles
at KPMG - 18 400 Rubles
At Rosbank - 62 600 Rubles
We express sincere gratitude to the management of the companies and organisations that invited us to take part in these wonderful fairs, to all the organisers of these events, to companies' staff members and visitors for their generosity and concern. Together we can make a difference!
Happy New Year to everyone!
Here comes the New Year
On 29 December at the studio we celebrated the New Year with the children from the orphanage № 28.
According to a Russian tradition we welcomed Father Frost, treated him to tea, sweets and pies. The children showed him their paintings, recited winter poems, and Father Frost gave each child a personal present. Thank you, our dear volunteers, Zhanna Novikova and Kristina Kozyreva for such an exciting feast!