2014
---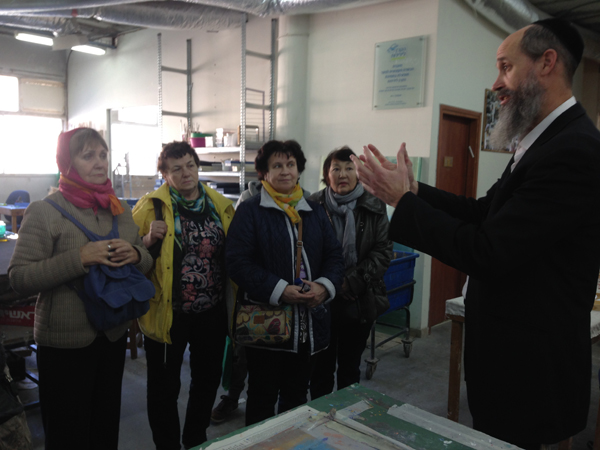 13/01/2014 Study tour to Israel with the orphanage tutors
From 6 to 12 January in the framework of the programme "Professional development and psychological supportof the staff of orphanages" a study tour to Israel took place. The group of participants included four tutors from the correctional orphanage №4, graduates from different orphanages, staff members and social workers of the Charitable Fund PELICAN.
The aim of the visit was acquaintance with the best practices of Israel's organizations helping children with special needs.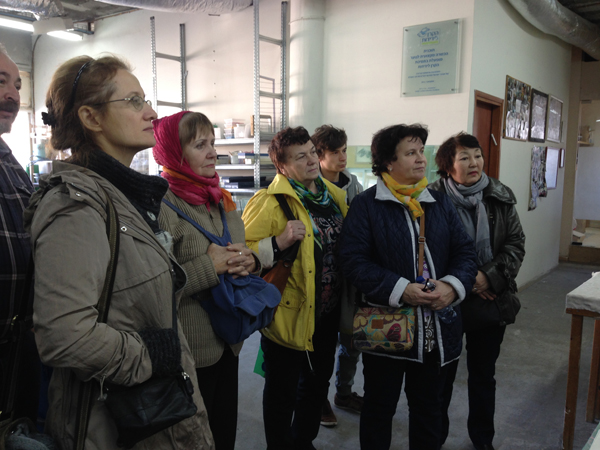 First the group visited Talpiot Children's Village in Hedera city. It is a community- and family-oriented organization, providing various support to children and their families suffering difficulties, with retention of family ties. At Talpiot children have an opportunity to receive general school and supplementary education, also they get psychological and social follow up. They live in familial groups - 12 members in each – where theyacquire household and other useful skills.
Another organization visited by our group was Susi House.Its main focus areas are – psychological rehabilitation, work therapy and further employment assistance for young people that abandoned their homes due to serious family problems.
Especially we remembered our visit to Beit Haeled Israeli School thanks to its wonderfully sincere and warm atmosphere. Their work is dedicated to developing foster family opportunities for children that can not be returned to their birth families. The children live in family groups with foster fathers and foster mothers and study at various municipal schools that maximally meet their needs and educational abilities. They are also offered additional classes and occupations in the second half of the day at the Center itself as well as nearby community centers.
The journey also included fantastically interestingguided tour around Jerusalem and Massada mountain.
We express gratitude to Simona Kedmi and other staff members of the Talpiot Children Village, director of the SusiHouse Avital, director of Beit Haeled School Motti, translator Ian Privorotsky, our driver Semen, and also Ilanit Sorokin, Osnat and Anna Kochegarova for various organizational help.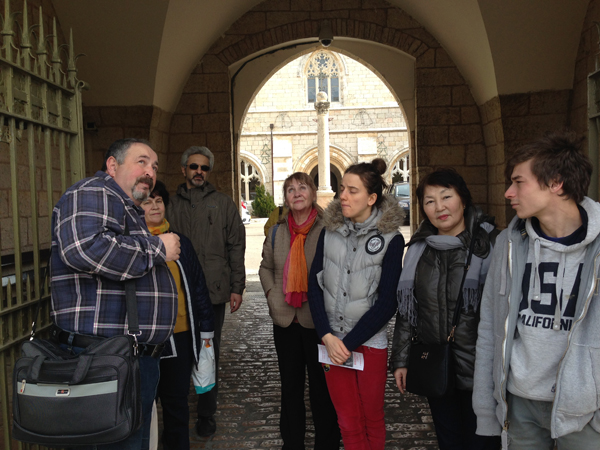 ---
---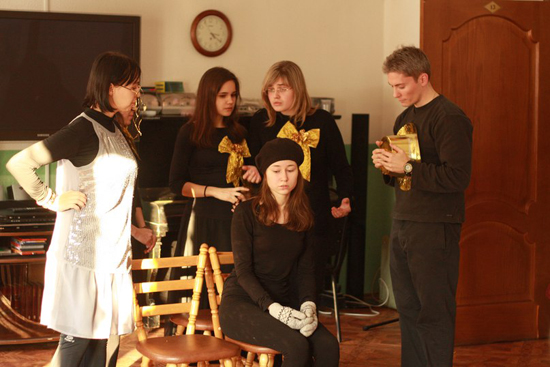 26/01/2014 Our new performance
The Volunteer Theatre, in which our graduates are now playing as well, prepared a new performance based on fairy tales by Natalia Abramtseva.
The first run took place on the 18th of January in the Social service center "Southern Orekhovo-Borisovo", the audience consisted of the Center's residents of differentages. Friendship with this center already started last year. And on 25th January there was the second show in the orphanage #7. There live children who we know for many many years and who regularly come to our studio. That's why we were so very happy to meet each other! We had a sincere feedback from the kids, especially older ones, and theyounger children were especially interested in the live music follow-up/accompaniment performed with/with the use of different unusual instruments.
We are grateful to all the performers and the stage director Kristina Kozyreva.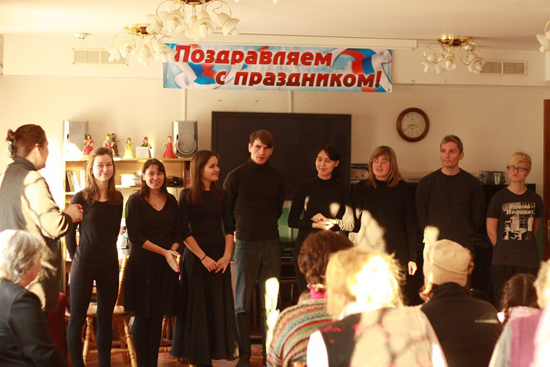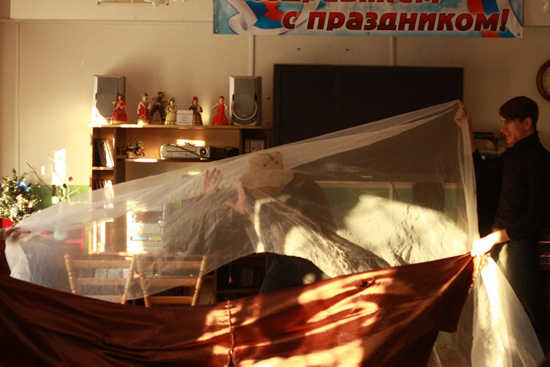 ---
---
08/02/2014 Concert at the Estrada Theatre
On 8th February, thanks to invitation of the Charitable Union "All Together" (Wse-wmeste) staff and volunteers of Maria's Children Art Center had alucky opportunity to attend a wonderful concert!
---
---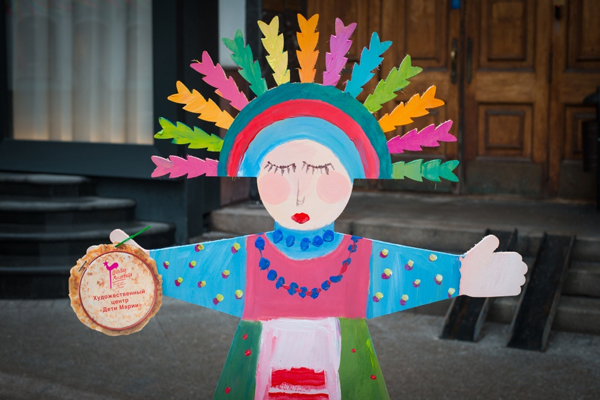 23/02/2014 Maslenitsa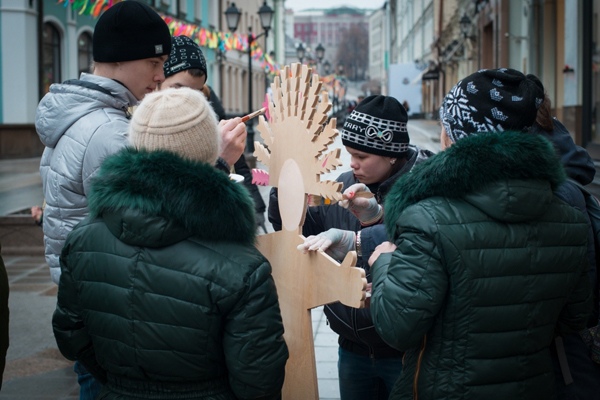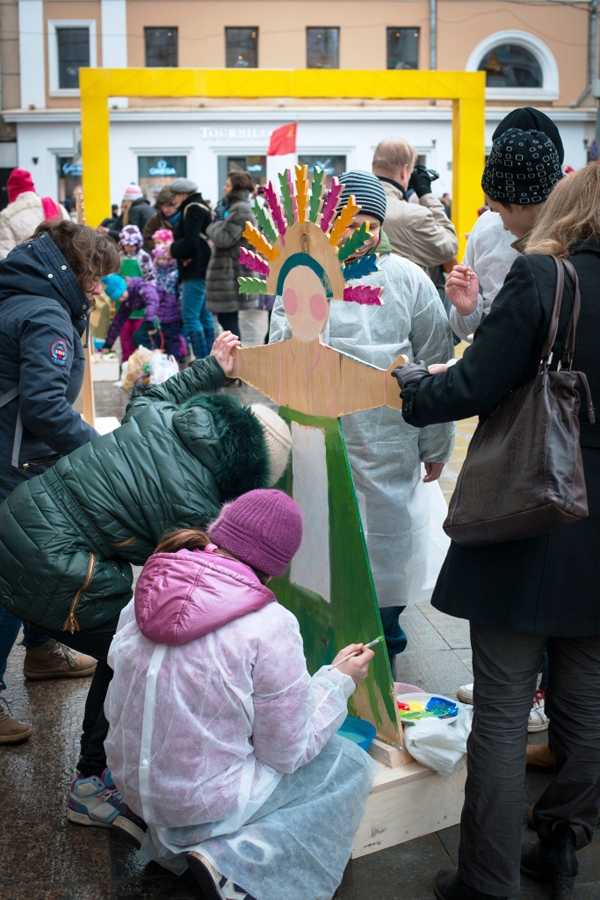 ---
---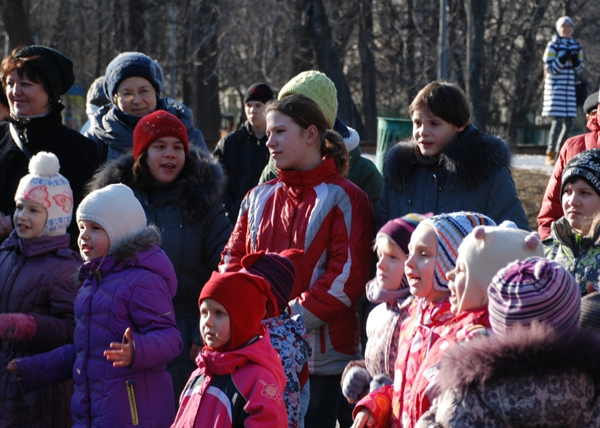 01/03/2014 Farewell to Maslennitsa
On the sunny day of the 1st March we saw off Maslennitsa.
The 6 th and 7th forms of the orphanage №4 took part in the festival "Good-bye, Winter!" at the "Novoslobodsky" park byinvitation of the "Tversky" district authorities.
The children watched a funny performance, basked in the sun, tried all the exercise machines and even got acquainted with the park's football team that gave them a foot-ball as a present. Traditional Maslennitsa pancakes finished very quickly but nevertheless everyone managed to taste them!
We want to say big THAN YOU to our volunteers - Katya Antufieva, Anya Chinchenko, Vika Kosyakova and her friends!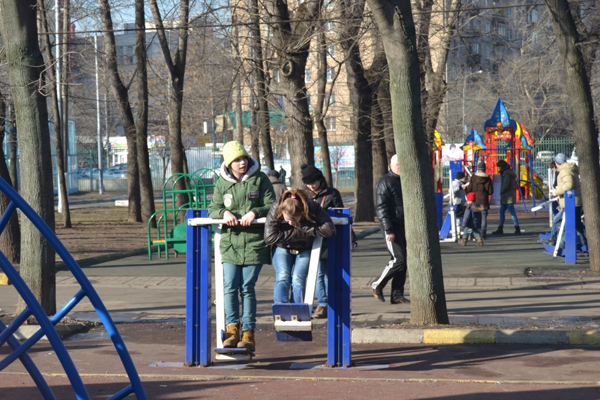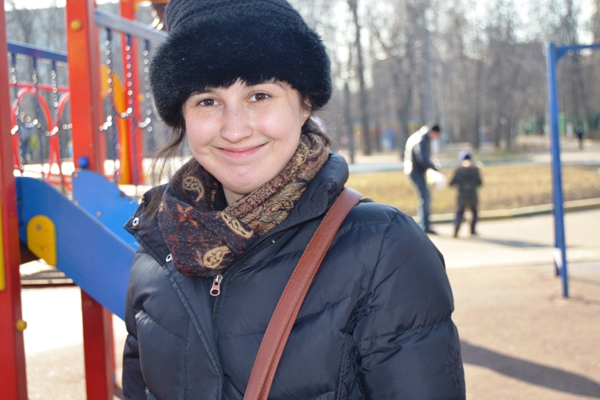 ---
---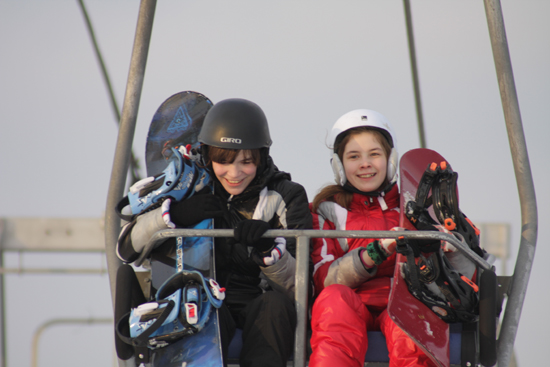 04/03/2014 Winter Camp in Sorochany
From 25 February to 4 March our traditional winter camp in Sorochany took place.
19 students and several recent graduates from the orphanage №4 mastered skills of snowboarding, mountain skiing and skating. Besides that, we drew a huge picture, played table games, learnt to cook, washed dishes. Our improvised "Theatre from Wheels" performed two plays – "A Wolf and Seven Goatlings" and "Little Red Riding-hood". Moreover, we drew and presented a "live cartoon" based on a series of rhymes by OvseiDrease "The Wisemen of Helom".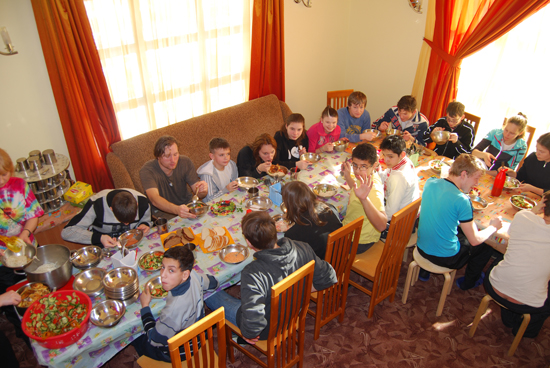 We thank all those who helped us raise money at "Dushevny Bazaar" and other Christmas fares.
We express deep gratitude to the administration of the "Sorochany" resort – our permanent partners and friends – for discounts and high level of service.
Thank you, our dear volunteers for helping us at the camp: Vanya Antonov, Alexander Kolmanovsky, Masha Orlova, Pasha Novichkov, Sasha Saiko, Alexey Yuzapolsky.
Photo by Serezha Korolev, Yulia Loseva.
See more photos here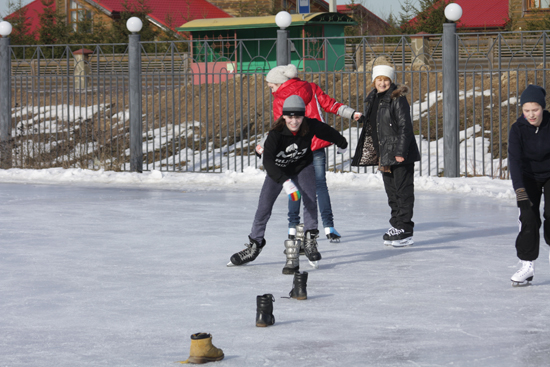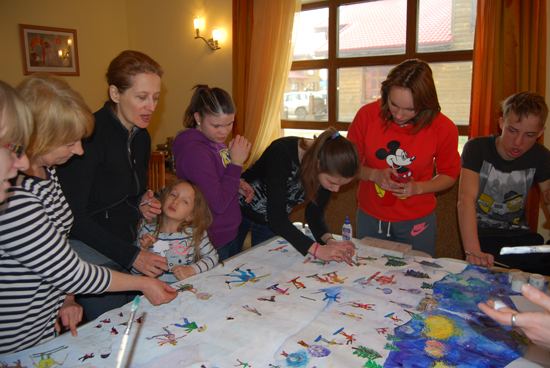 ---
21/03/2014 Learning to hear the music…
Last year our friends from the Italian Embassy, Margherita Belgiojoso and Emanuele Di Lorenzo Badiamade a wonderful gift to our children – a subscription to a series of youth concerts in the Moscow Conservatory for the period of 2013-2014. Children from the 7th form of the orphanage №4 attend these concerts with great pleasure.
Just before the New Year they made a world music journey, in February - had a closer acquaintance with various musical instruments and the orchestra, and in March we recalled music from favorite movies and cartoons, as well as some songs, known from the very childhood.
All these concerts are conducted by Vyacheslav Valeev, which children find very captivating, and the orchestra itself consists of the Moscow Conservatory students. But first of all it's a great opportunity for our children to become familiar with the classical music, gradually deepening their experience and developing their aesthetic taste.
We express our cordial gratitude to Marguerita and Emanuele for such a valuable gift! The ability to perceive music and find inspiration and harmony in it - is what can often help you in times of trouble and keeps from loosing your heart! And that needs to be mastered too!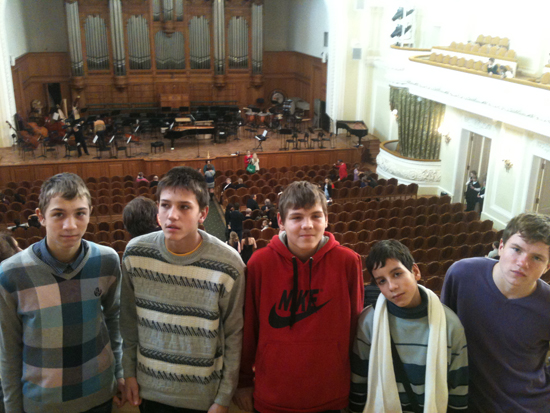 ---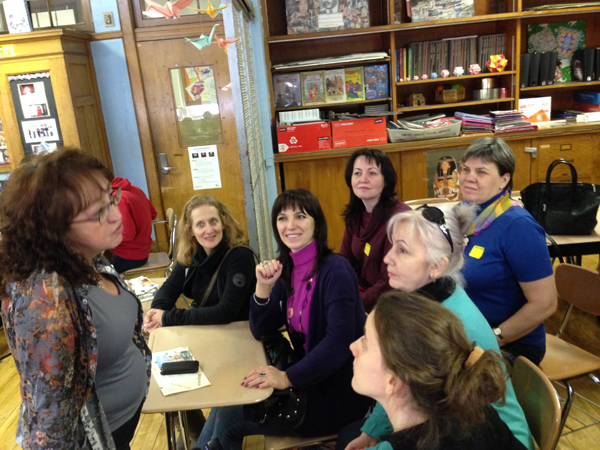 29/03/2014 Study tour to the USA with Beslan teachers
In the framework of the programme "Professional development and psychological support of the teachers from the Beslan school №1 and the PELICAN Fund staff" a study tour to New York took place on 19-29 March.
The aim of the journey was familiarization with the experience of American schools and organizationsworking with special needs' children and youth as well as with children of different nationalities.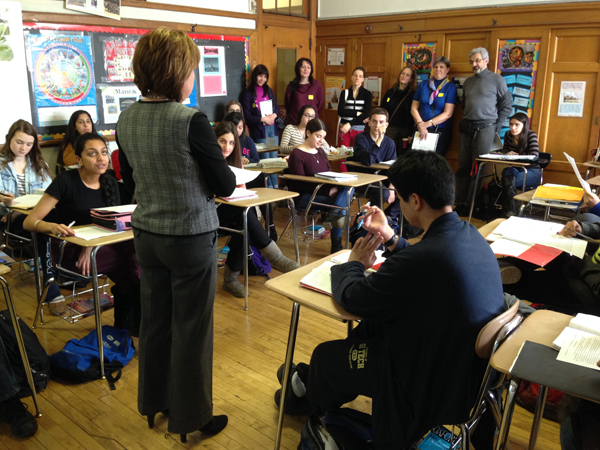 We visited Rebecca School for mentally handicapped children situated in the very center of Manhatten and a school in Staten Island for gifted children with in-depth study of natural and engineering sciences. Besides, it is the only state school in the USA with Russian language studies.
The group also visited two organizations helping children who, by force of different circumstances, can not live with their parents: Edwin Gould Services for Children and Families and Covenant House.
Our visit to Henry Viscardi School was most remarkable. It is a specialized school outside New York in Queens district for children with severe physical disabilities. This unique school has various programmes that give such children, usually receiving education at home due to their physical problems, a chance to receive education in a typical school environment.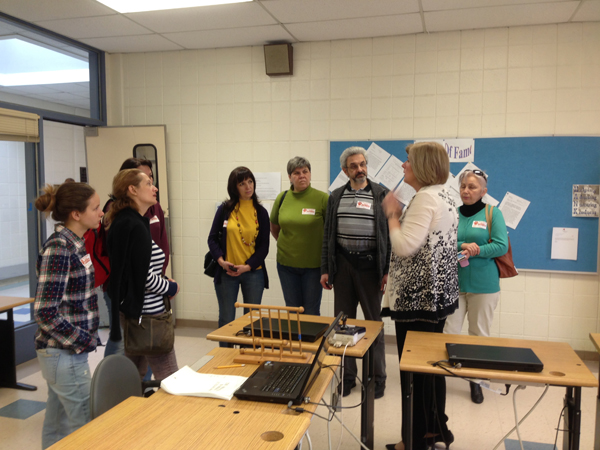 We thank Jen Carrick, Johanna Schierer, Liz O'Shea, Alexander Guzenfeld and his daughter Ekaterina, Diana Devivio, Andy Emeritz, teacher of Russian at the Staten Island school Natalia, Mari and Sona Stepanyan, George Jacoubian for the help in organization and follow up of the study tour.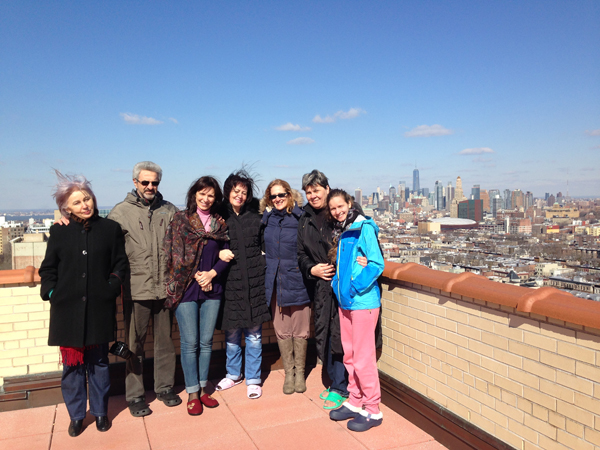 ---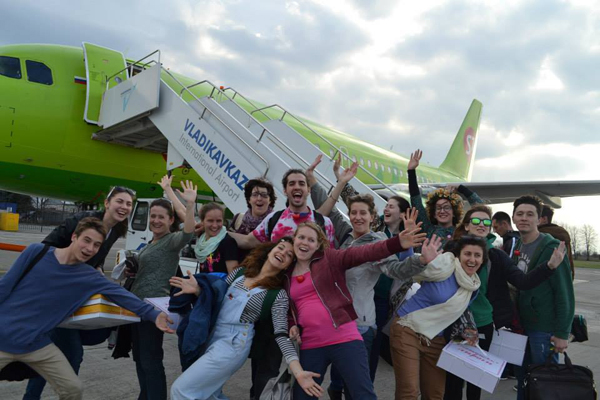 11/04/2017 Trip to Beslan
From 5th to 11th of April a group of Maria's Children volunteers visited Beslan. It was our 8th time, 8th year that we are gathering International team of artists, clowns and friends to spend a week together with children of School No.1. Theo and Bregje came from Holland, Guillaume – from Canada. Victoria Kotsoyeva, one of girl who was in the siege in 2004 and now a student of S.-Petersburg University, joined us to return home in new quality as a volunteer.
It was very intensive week. We started it with weekend in mountains with 5 th-graders, and we worked then the whole week at the School. In mountains we walked a lot, organized training and games, learnt about history and tradition of these beautiful place. At the School we offered children master-classes – 1st-graders created collective mural with Maria, senior students had training for team building, trust and cooperation with Asya and Zhanna, senior girl learnt from Erica professional artistic make-up and painted faces of little kids. Anya and gilrs who graduate the School this year prepared wreathes of flowers for teachers who taught them from 1st to 11th grade. Sona discovered for 3rd-graders magic art of melting crayons. Guillaume initiated juggling club by making clubs by ourselves with boys and girls which utilized plastic bottles and old tennis balls. This theme of "waste utilization" into art objects sounded in gym as well where Olga, Masha and kids constructed a tower from pages of old papers and magazines. Theo, school and circus teacher himself played with kids clowns game and improvisations. Kristina inspired 5th-graders for animated film and theatre training. And the gym was transformed to beautiful place with new mural painting!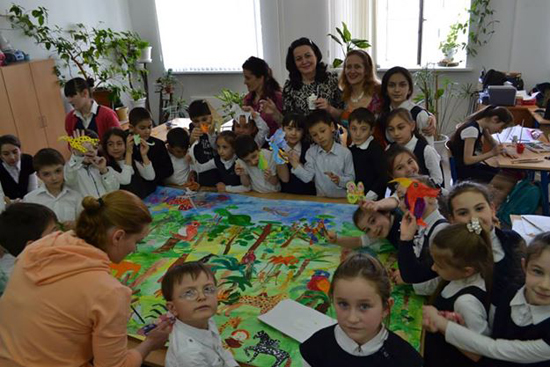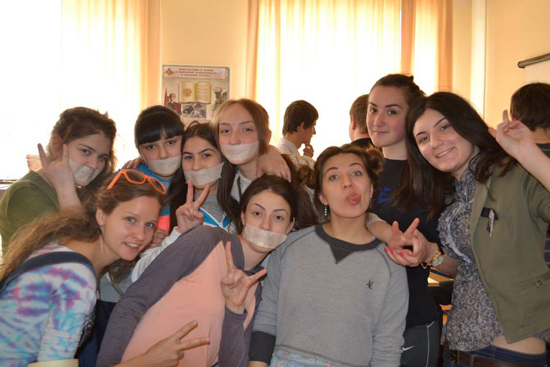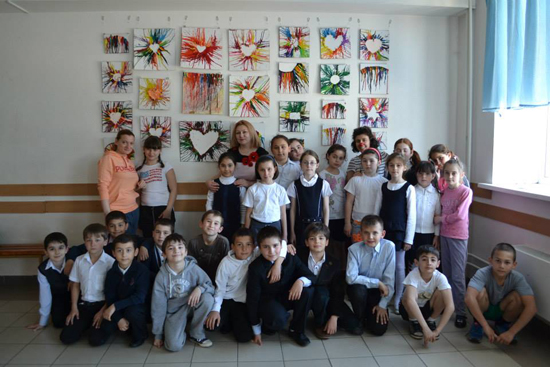 It is a tradition to arrange a concert at the end and show to each other what we achieved during a week and a year, and it would lasted and lasted, and we would danced and sang all the day long if we should not have to go to another place – the orphanage in Vladikavkaz. We use to come there with students of Beslan school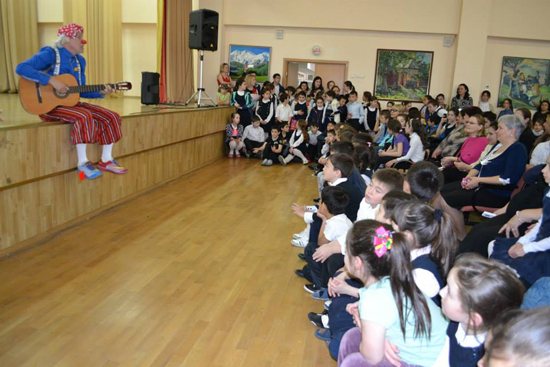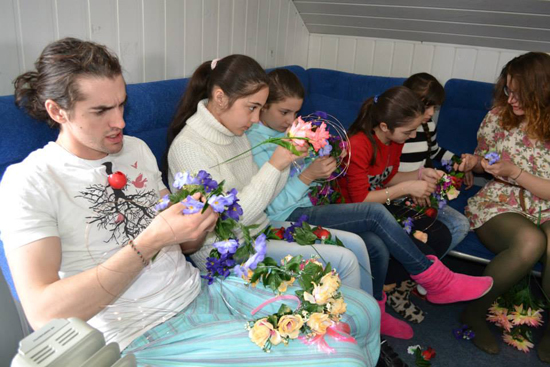 But sooner or later the week came to its end, and we had to come back to Moscow. Our way to and from Beslan always comes through memorial cemetery where buried victims of the siege. This September it will be 10 years since this tragedy. We will never forget about that. We would always share with our Beslan friends both their grief and joy, and they are with us in our joy and grief too (as it happened this year when Beslan volunteers were at Maria's Children summer camp when our Ilya Segalovich passed away). When we started to work in Beslan and met then 4 th-graders, they were little kids, and they grown up since then, they finish the School this year, chose a profession and further way to world. And on this way children from Beslan meet children from orphanages, it gives birth to beautiful friendships and stories, victims of the horrible siege become volunteers and help people around them.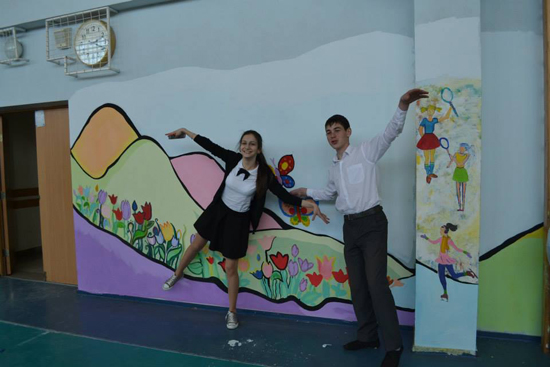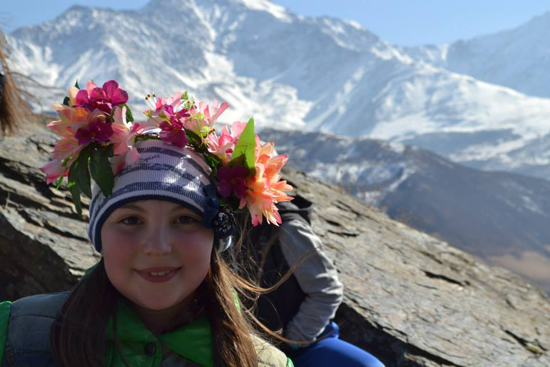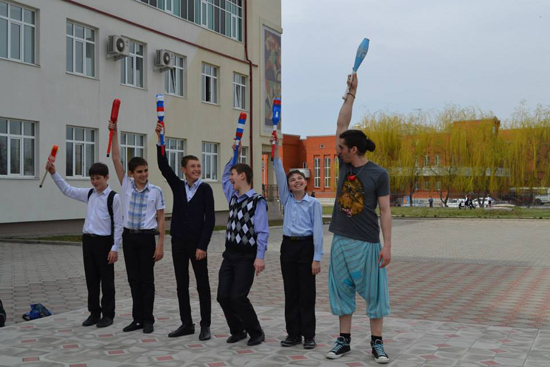 We would like to express our deepest gratitude to all those people at GlobalGiving who donated us funds for this trip! Thank you dear friends for bringing joy and colours from all over the world to Beslan! We delivered it and Beslan people send you their gratitude and love!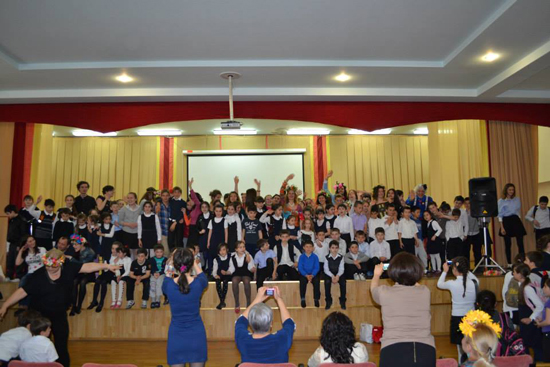 We are happy that the circle of our friends, volunteers and supporters is widening and at the same time keeping its permanence, and we want to say THANK YOU to all those who helped us fulfill our trip to Beslan:
Director of the school №1 of Beslan Liudmila Petrovna Dzutseva, head teacher Elena Ganieva, all the teaching staff and students - for the joy of meeting each other again, joy of friendship and doing things together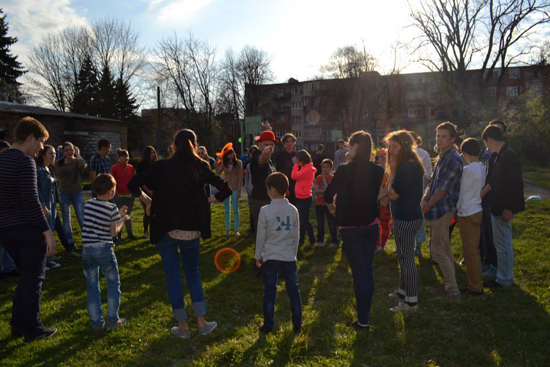 Directorship of the Ministry of Education of North Ossetia and the minister Alan Uruzmagovich Ogoev, deputy minister Vladislav Bechirbekovich Totrov - for cooperation and support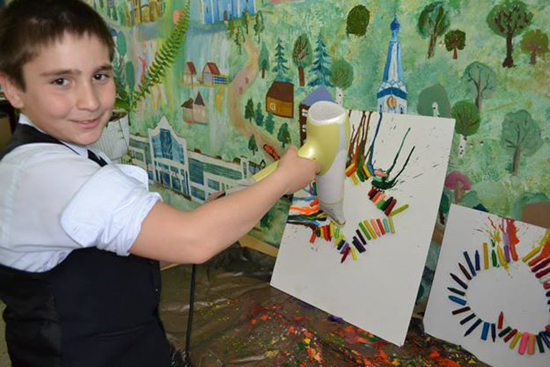 Katerina-City Hotel for hospitality and free accommodation of our foreign volunteers on their way to Beslan and back
Vladikavkaz Hotel for warm reception and discounts
Svetlana Kozyreva, teacher of the 5th form students, for the unforgettable dinner for the whole company in her cozy flat
Siberian Airlines for discounts and flights
Our generous donors from GlobalGiving platform
And all our beloved volunteers: Victoria Kotsoeva, Anna, Olga and Alina Eliseeva, Asya Segalovich, Theo and Bregje Shchilder, Guillaume Vermette, Maria Dermicheva, Sona and Erika Stepanyan, Martin Akhmetov, Alexander Richards, Sergey Shuldikov, Aslan Gaisumov, staff members of our Charitable Foundation PELICAN – Kristina Kozyreva, Kristina Cherenkova, Zhanna Novikova, Anna Drozdova. Thank you, dear friends!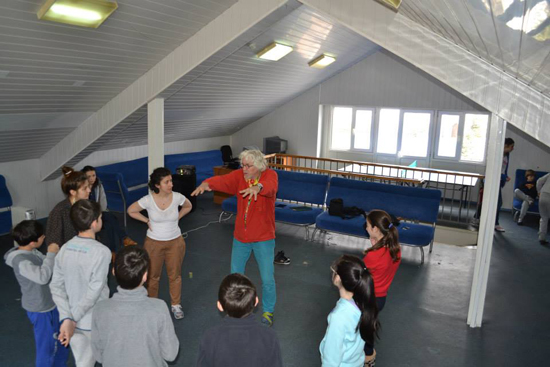 ---

13/04/2014 Sounds of music in Russian and in English
On 11-13 of April we had a traditional joint training with the British students from The Sevenoaks School.
There the young people study Russian language and each year, in spring, they come to Russia for practice with their wonderful teacher John Drury.
This time the training took place at the hospitable "Nazaryevo" recreation center near Moscow. About 30 British students and 17 children from the orphanage №4 (who are preparing to participate in the annual Shakespeare'sDrama Festival in Stratford-upon-Avon), our volunteers and friends spent two unforgettable days together.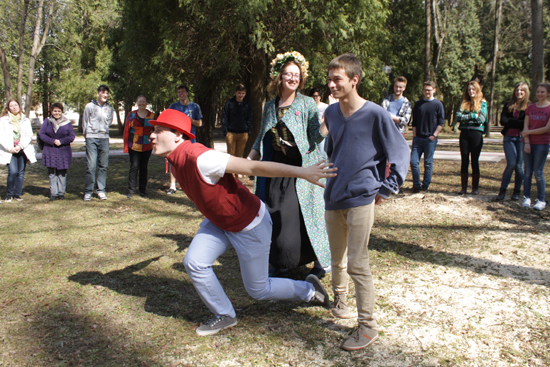 In the course of the training we played a lot of traditional Maria's Children games under the leadership of Anya Eliseeva, Asya Segalovich, Sasha Richards and Lesha Golbkin.
As usual, we had "Theatre from wheels", arranged by psychologist Alexander Kolmanovsky. The brief improvisations were based on songs from a famous musical "Sounds of Music", which some of the mini-groups presented in Russian and some – in English.
And one of our volunteers Elena Orlova held a very interesting quiz about Moscow both for British and Russian participants.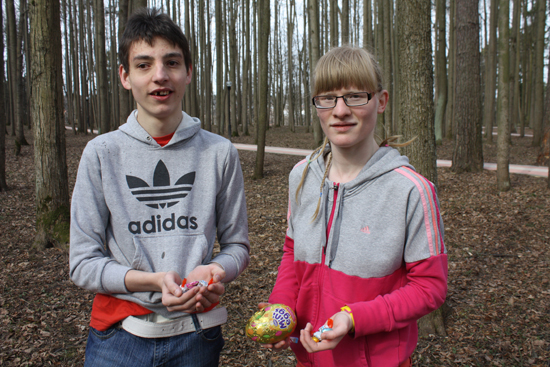 By the way, the British guys prepared a surprise for our kids – they hid about 500 chocolate Easter eggs on the territory of the recreation center, and there started a real egg-hunt! (To tell the truth, part of these eggs were even quicker found by numerous squirrels, inhabiting the "Nazarievo" park). The day ended in singing Russian and English popular songs under the accompaniment of guitar.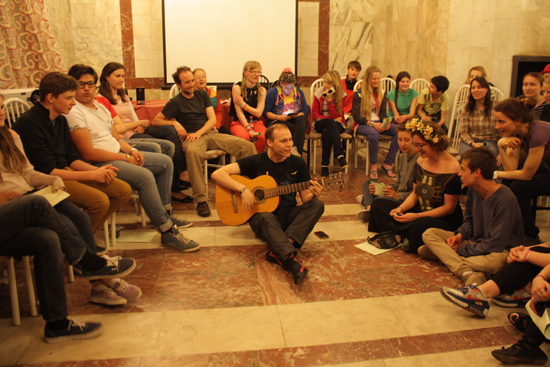 As part of preparation to the abovementioned Shakespeare's Festival, another two volunteers, Masha Orlova and Pasha Novichkov, held an exciting quiz on the history of Britain for our children.
Thank you so very much, our British friends, for the readiness to support all our ideas! Thank you, dear John for your open-heartedness and enthusiasm! And of course we are very grateful to all the volunteers who joined us and all the staff of the "Nazarievo" recreation center for excellent service.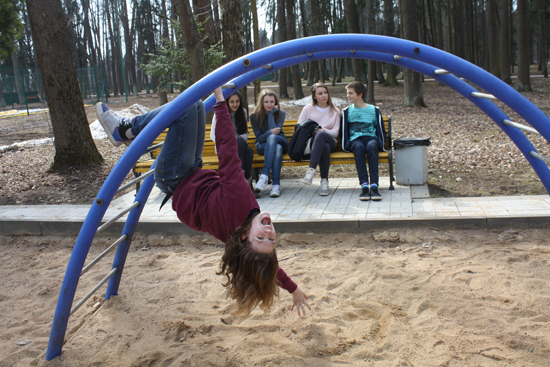 ---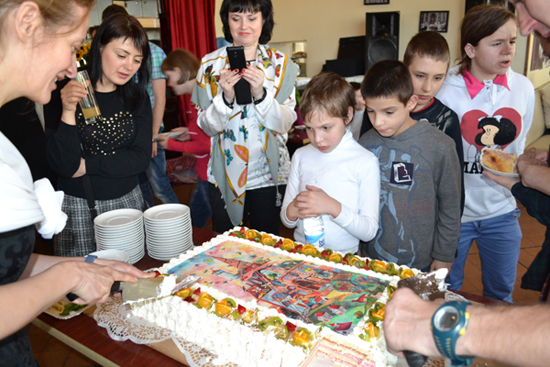 17/04/2014 We are 17!
On the 17th of April Maria's Children studio celebrated it's 17th anniversary!
Maria's Children birthday is the very special day whenchildren from all the orphanages, paternalised by our art center, orphanage graduates, volunteers and just friends have a lucky opportunity to get together.
This time the event took place in Il Patio restaurant at Volkhonka street, hospitably provided by our friends from Rosinter Corporation.
The feast, long and deeply loved by our children, began with a premiere of a "live cartoon" Frost and Wisemen" based on lyrics by Ovsey Drease and produced by Alexander Shishov.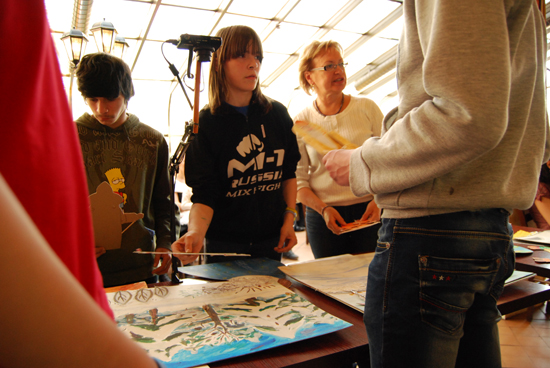 Then there was a very heartwarming concert with songs and instrumental performances, prepared by children from different orphanages under the guidance of our new music teacher Ludmila Savina.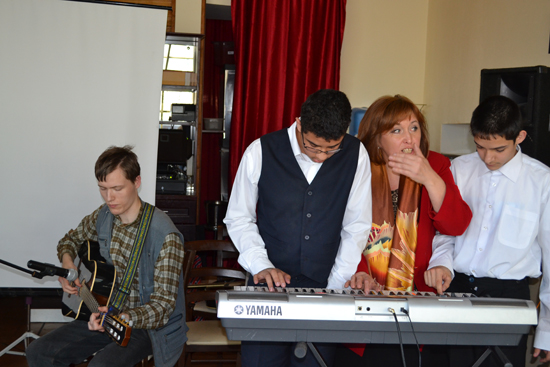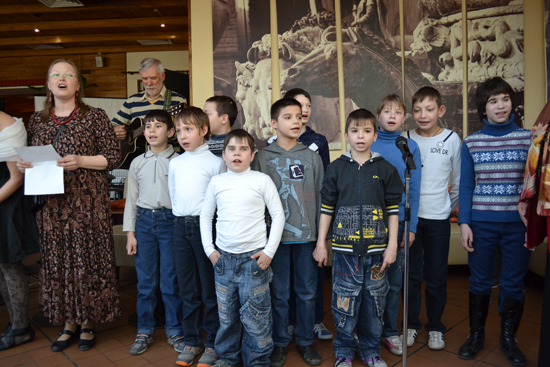 After that the children admired the soap bubbles show, some of them even had a chance to find themselves inside a huge soap bubble!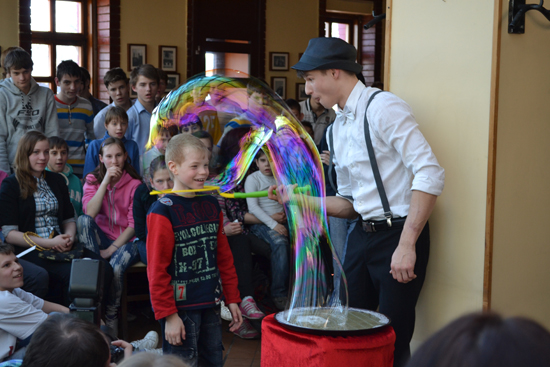 Among the delicious treats from Rosinter, each one could find a dish to his or her liking, and all the sweet teeth could enjoy a chocolate fountain.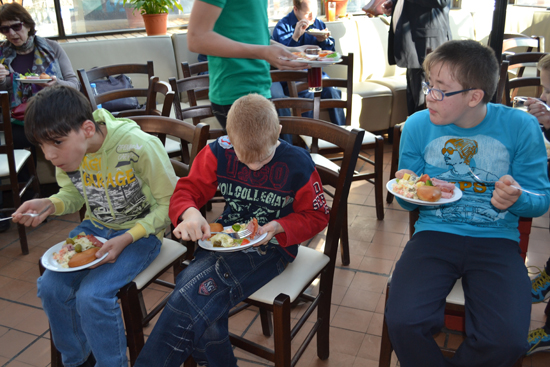 The celebration ended in collective eating of a huge cake topped with edible Maria's Children picture.
From all our hearts we thank Rosinter Corporation for the delicious treats and warm welcome.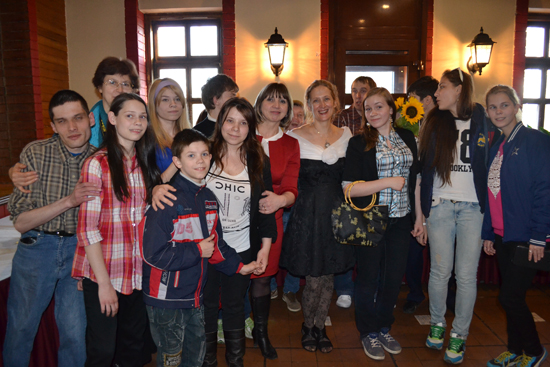 And we want to say thank you to all our volunteers who helped us at the event.
---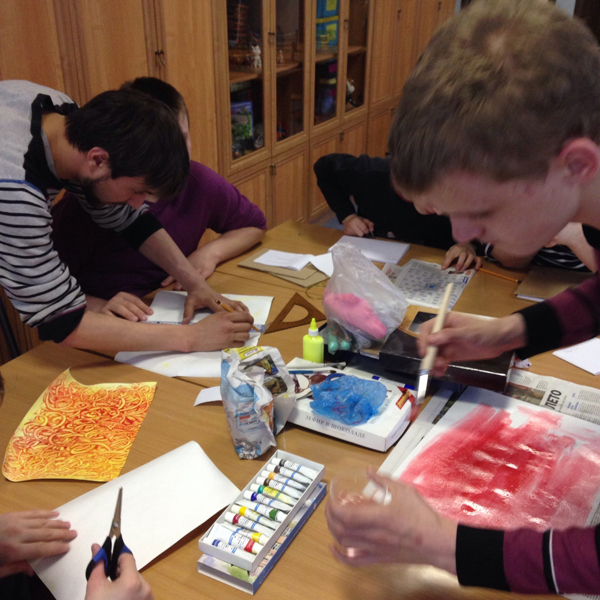 03/05/2014 Hand-made Books
Our staff members – Yasin Omar and Galina Petrova- have organised exciting bookbinding classes for the children from orphanage №7. The kids appeared to be involved with huge enthusiasm. Except for the pleasure, these classes give the children useful skills!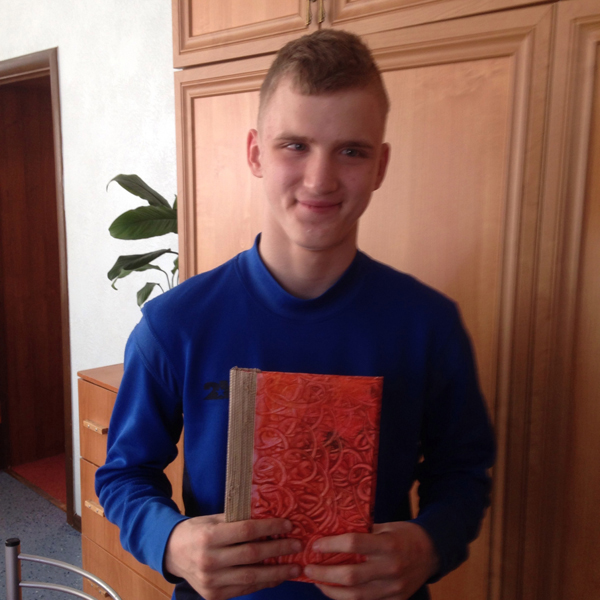 ---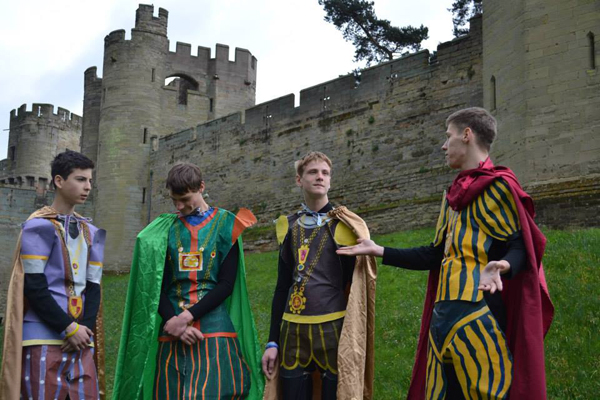 06/05/2014 There are more things in heaven and earth, Horatio
It was year 2014 th, and the 450th anniversary of William Shakespeare was approaching. And faraway in Moscow, on Melnikova street, in resonant corridors of orphanage №4 students from the 7th and the 9th forms, as well as young people from post-institution class, rehearsed Shakespeare's pieces. They were preparing for the drama festival in the poet's homeland, Stratford-upon-Avon. Under directorship of Alexander Shishov they staged fragments from "Taming of the Shrew" and "Winter's Tale". The trip took place on 25 April-5 May, it was arranged and funded by the Charitable Fund PELICAN.
Having received long-awaited UK visas several hours before the flight (everyone was even worrying that the trip could collapse and the children would not be able to participate in the festival!), our big company consisting of 17 students, 4 tutors, several graduates and volunteers set out to London.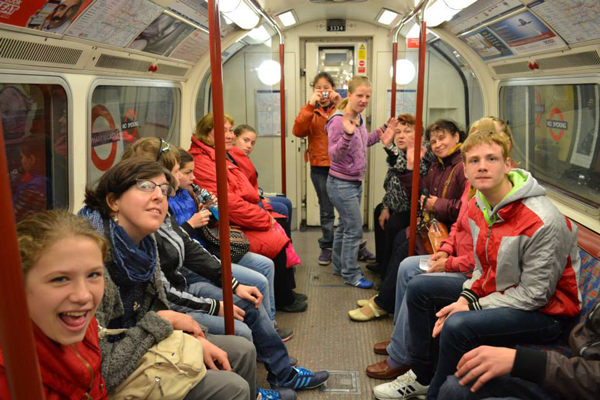 We are so grateful to David and Jessica Fields for this wonder and this breathtaking feeling which you have when you are almost in despair and suddenly everything turns out in such a fairytale manner.
We also thank the Russian State Library of Art whose staff members sacrificed their time and energy to make (for free!) a full photocopy of all the children's passports for the British Embassy, so that the group could apply for the UK visas on-time.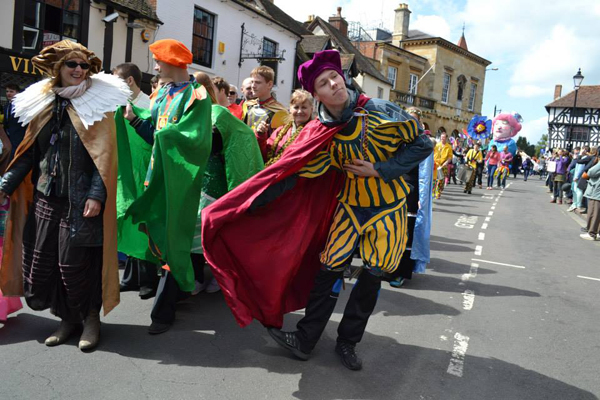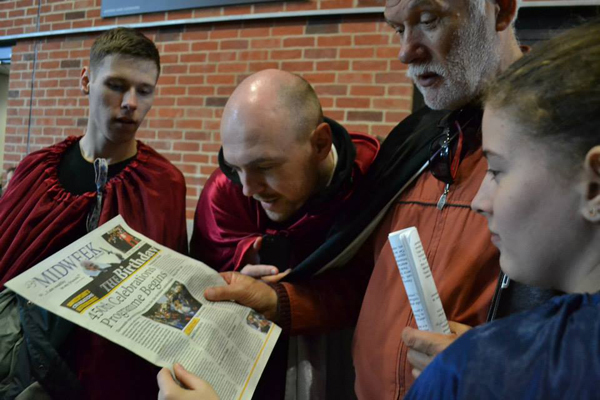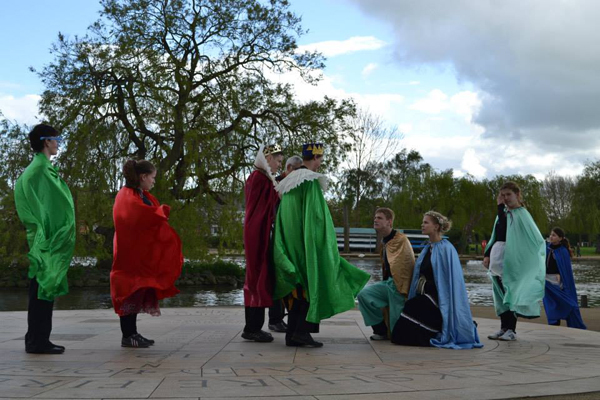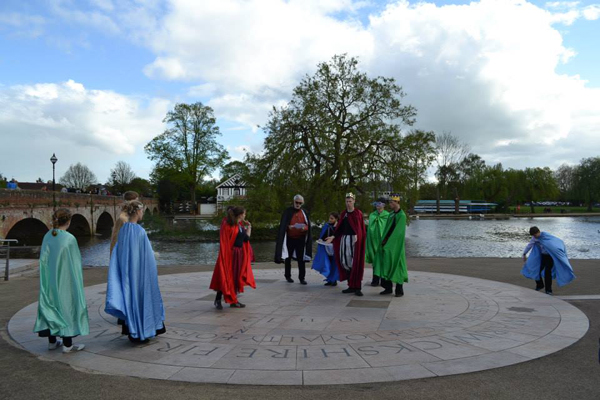 It was for a reason that the children felt so concerned and rehearsed so diligently – their performances in Stratford-upon-Avon were brilliant! Hope that the local printed media will write about it again as they did last year (with a big surprise we discovered pictures from the previous festival in a local news paper!). We are grateful to Pavel Novichkov for serving a medium between the Russian-speaking artists and the English audience.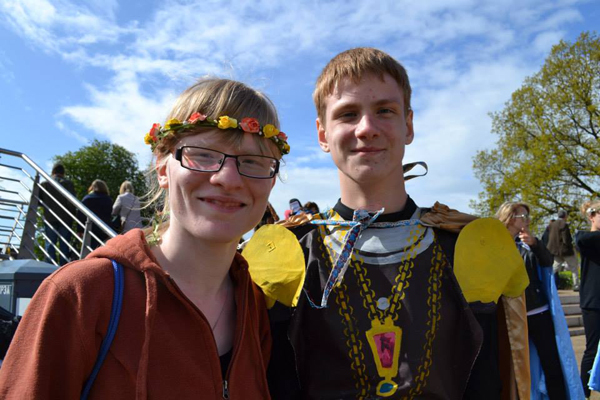 The cultural programme in Stratford was very rich. We visited the house of Shakespeare himself, and then dropped in tohis wife, mother, granddaughter and son-in law. The Shakespeare's cult in Stratford is very heartwarming and not at all pretentious, and so we joined in by singing "Happy birthday, dear William, happy birthday to you!" together with the locals. Then the honoree was offered a huge birthday cake with huge candles (we don't know for sure who ate it, but it was not us!). And all the historic sites are spirited with this homely attitude and love, enriched with historic artefacts and interactive facilities that broadened our knowledge about life and culture of people of that époque. Except for one girl all the children came to England and Shakespeare's homeland for the first time. For all of us it was an exciting experience – to feel the connection of ages, continuity of the cultural life and traditions. For example, we had a chance to sit at desks serving pupils for five centuries now! The school releases them to the world, shelters them from plague, sees them off to battle-fields and remembers by name all the boys who died at the fronts of the XXth century world wars.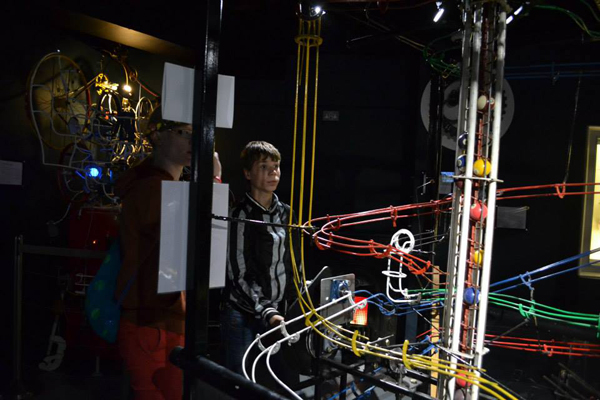 Besides the Shakespearean sites, the children saw Warwick Castle, visited MAD (mechanical art and design) museum and Butterfly Farm, went on a boat journey along river Avon. Our local friends Yanush with his birds of prey and river captain Fiona were very glad to meet new and old friends, and children relieved their feelings in communication with nature.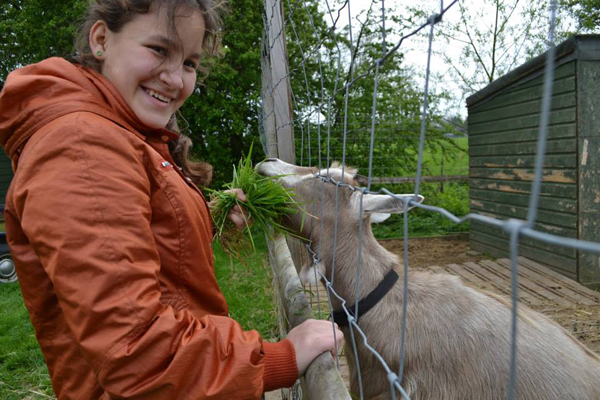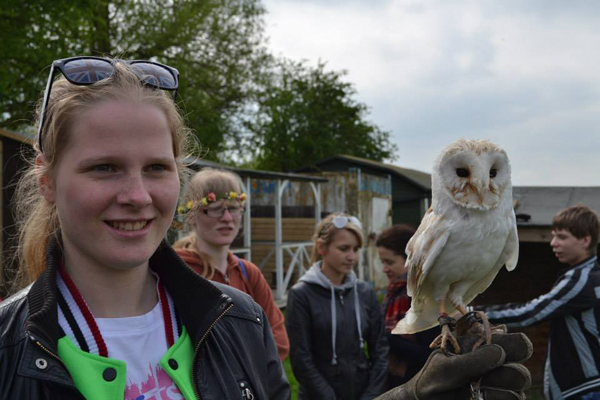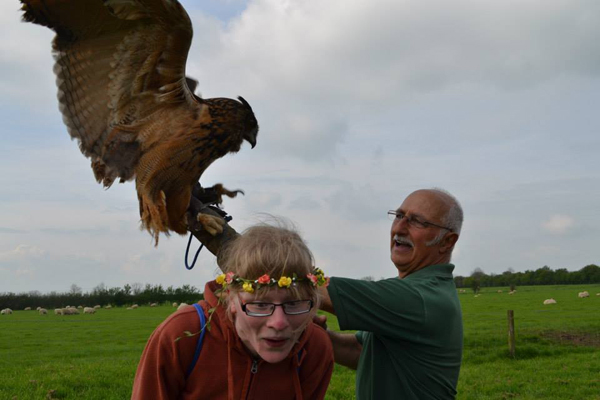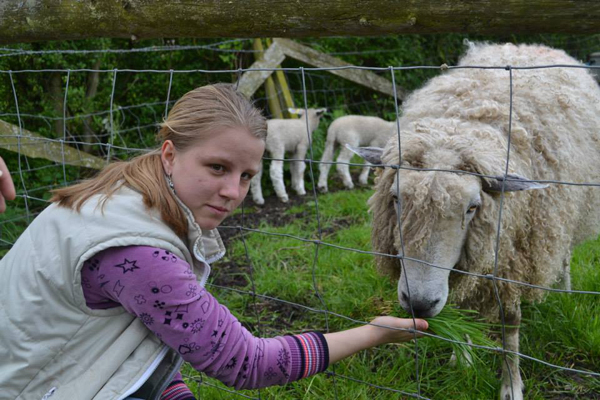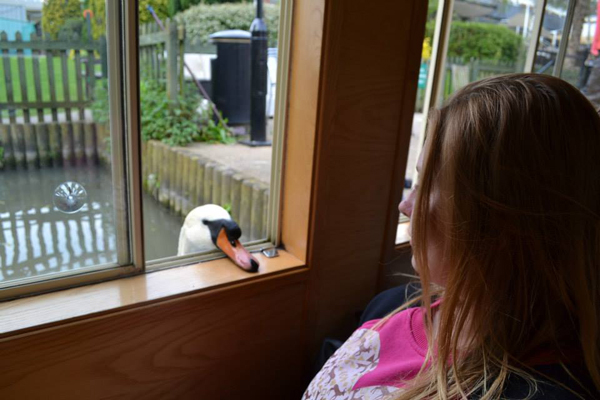 So the week passed… The remaining three days before departure we spent in London. Our nearest and dearest now Olga Makharinskaya and Karina Baldry put so much time and soul in these three days that again a miracle happened and we managed to do so many things! Thank you, our dear Olga and Karina!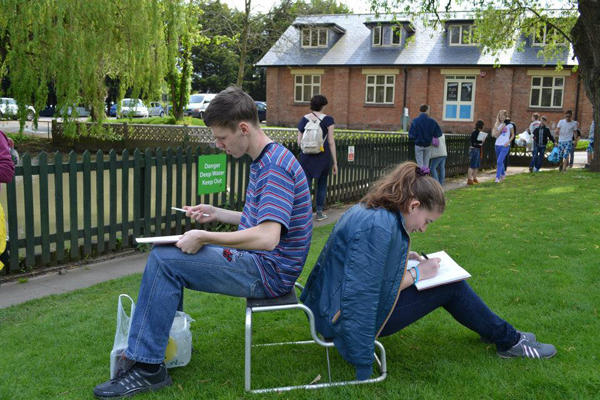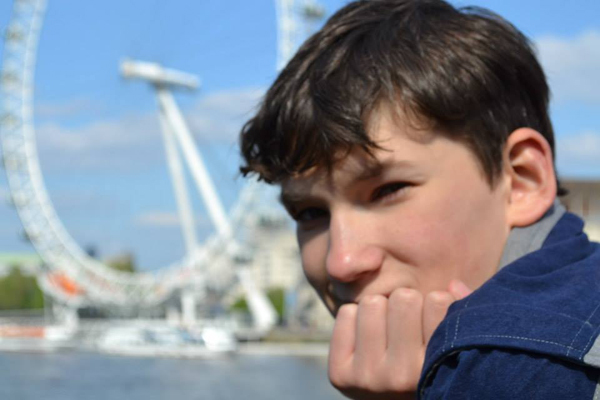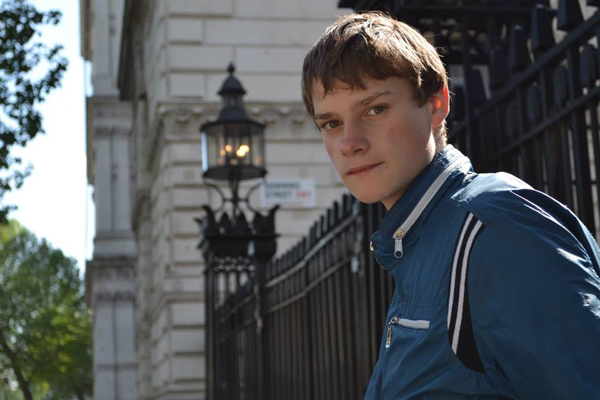 These three short days were enough to get to like London with all its beauty and great history, to feel its spirit... Thanks to Elena Zaytseva we got acquainted with actual art at Tate Modern, in particular she taught us to keep one's own gallery of favorite pieces of art in heart and mind. At The National Portrait Gallery we got to know better Henry VIII, Thomas Moor, queen Elisabeth I, about which children could hear captivating stories told by Nana Zhvitashvili. Children asked many questions and shared their ideas and feelings a lot, because Nana managed to touch issues, vital not only in these old times but nowadays as well. Olga Makharinskaya and Karina Baldry accompanied us in the Natural History Museum, Brittish Museum and shared their knowledge, giving heed not only to intellectual food but to living needs of growing organisms.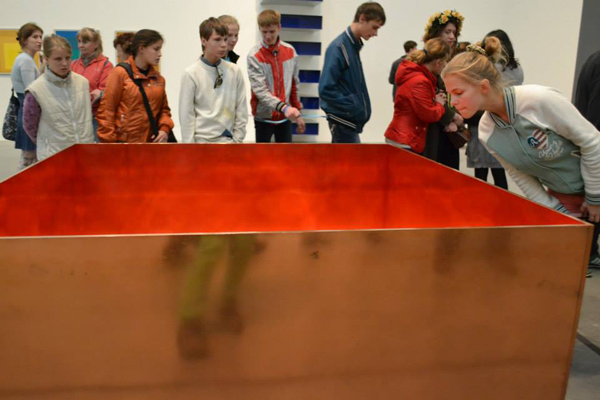 In the last evening the children attended the concert at the Royal Festival Hall where Olga invited us: there was a symphonic orchestra on the stage and a beautiful film about Arctic and Antarctic on the screen. And so with this feeling of fragility and vastness of the world, its openness and plurality we all set off to Moscow.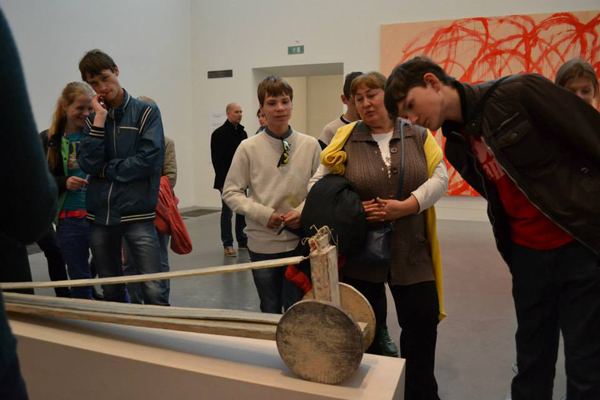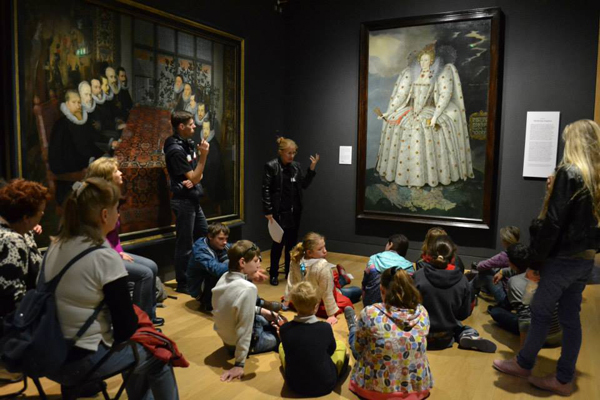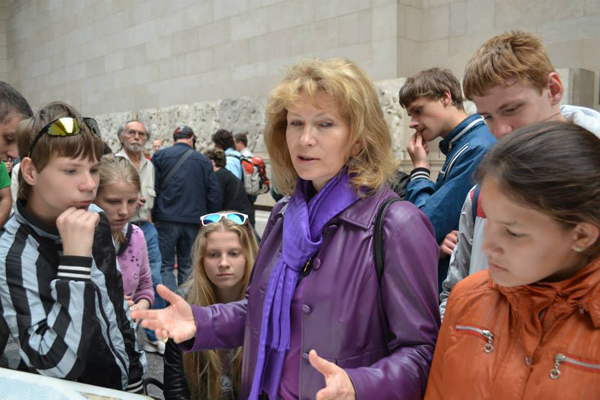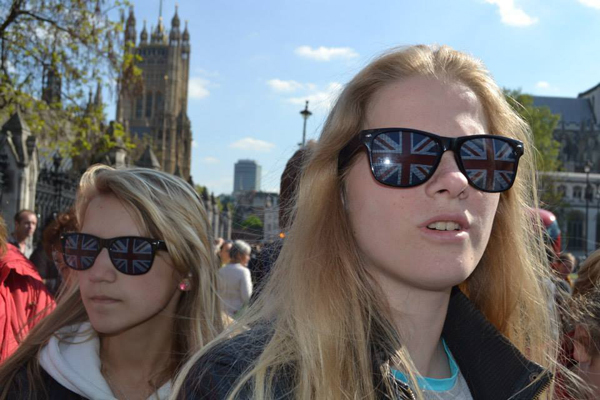 ---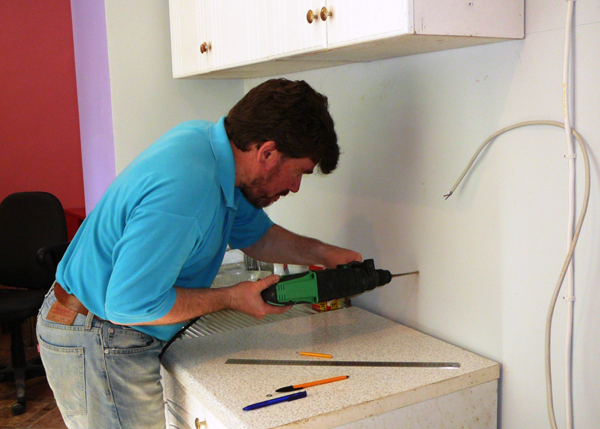 14/05/2014 Volunteers from OMRON helped our studio
On Tuesday, the 13 th of May, staff members of OMRON Electronics Russia paid a labor visit to our studio. Thank you, dear friends, forinvolvement and readiness to do something good and useful!
At our studio on Dmitrovsky lane the volunteers helped to replace carpet covering on the stairs and washed the glass vestibule which was uneasy because the glass is almost floor-ceiling long.
And at our new premises on Delegatskaya street which we are now preparing for work with children, these handy-men checked the electrical facilities, fixed two sockets and a kiln console. They also put together tables for the ceramic workroom and traced a plan for the future.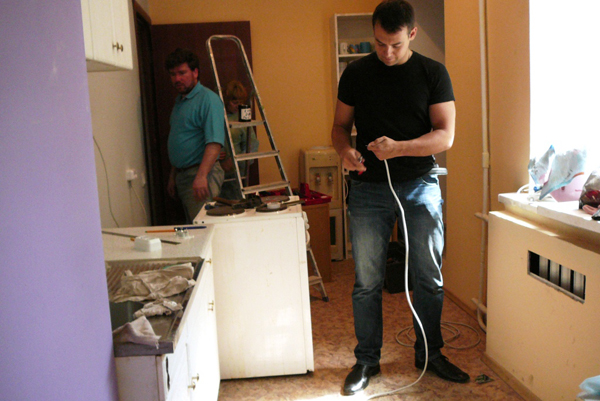 Apart from that they brought us presents - lots of bright fabric that can be used for patchwork, and yarn – for weaving master-classes. What concerns sweeties for tea – they are always welcome! We were very happy to know each other and hope that our cooperation and friendship only begin. Our special THANK YOU to Olga Kuleshova.
---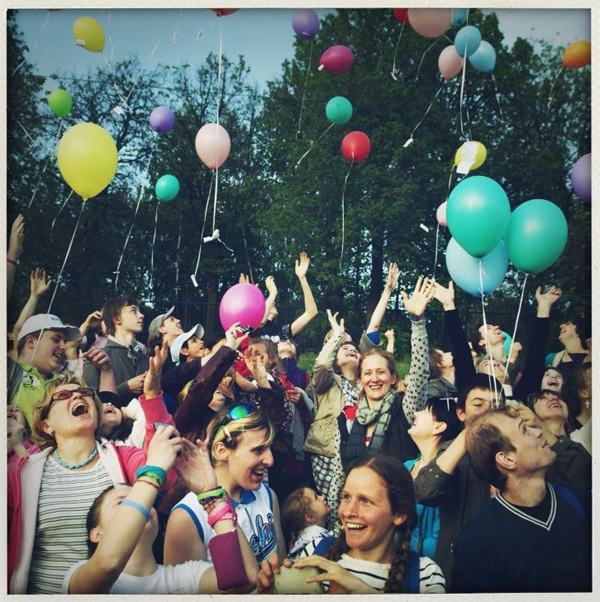 15/05/2014 Sails our Ship
On the 15th of May our traditional, but thanks to that even more loved, "Ship of our Hopes" took place. This day you always feel that summer is very near and, alongside with it, summer holidays and travelling! This day dozens of colorful balloons with our dearest wishes fly up to the sky…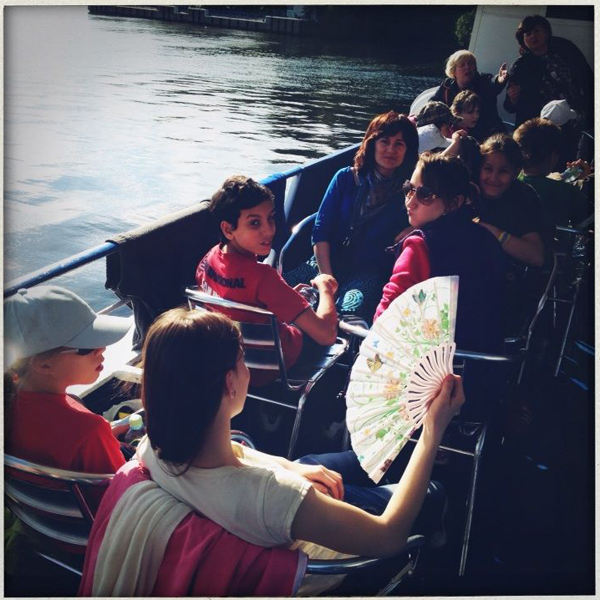 Children and adults from different orphanages sailed from Rechnoy Vokzal to the Bay of Joy, drawing and inventing different planets. When they arrived,the volunteers were already waiting for them on the bank. The day turned out to be sunny and fine so everyone could find activities to his or her liking: played ball games, freesbi and badminton, painted still life from nature – it was a flower bouquet instantly picked by out art teacher Anna Andreeva -, enjoyed sand on the beach, walked among pine-trees andbirches.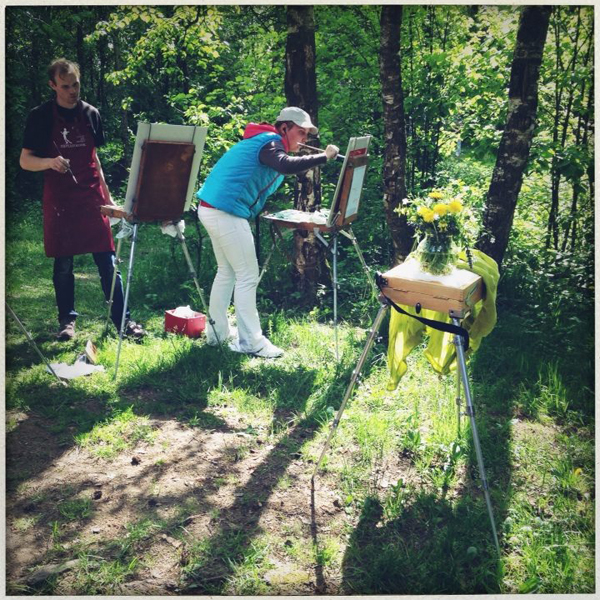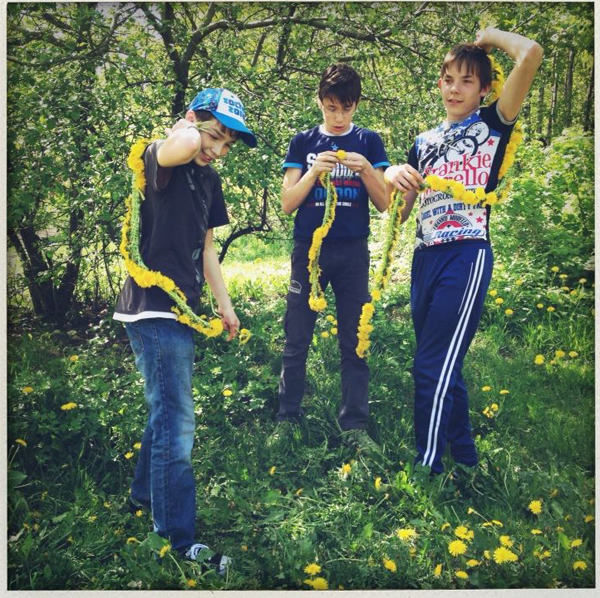 While the children were workingup an appetite, volunteers prepared lots of barbeque and chopped several huge bowls of vegetables. So it was a real feast!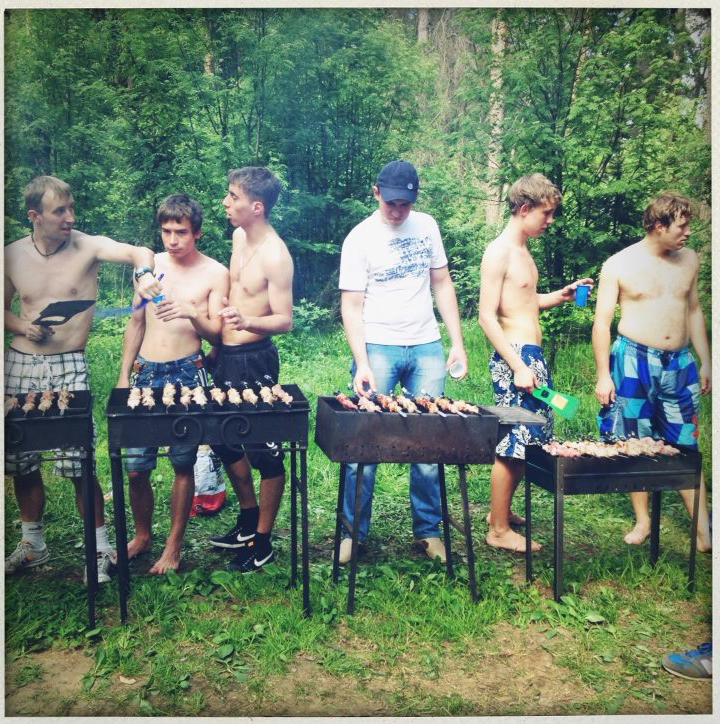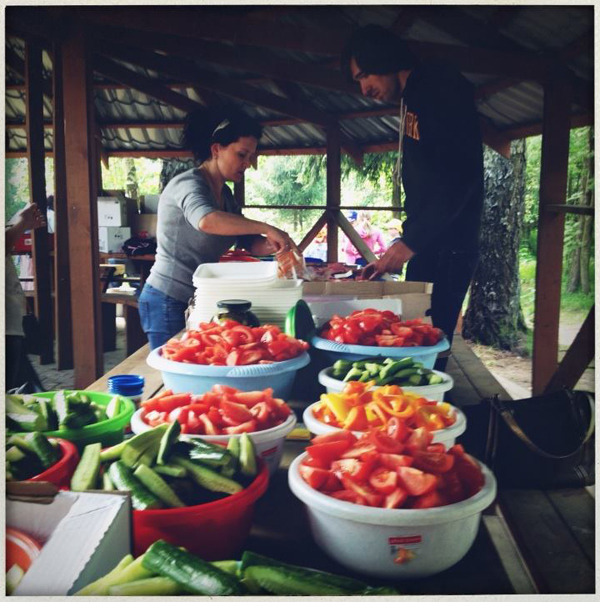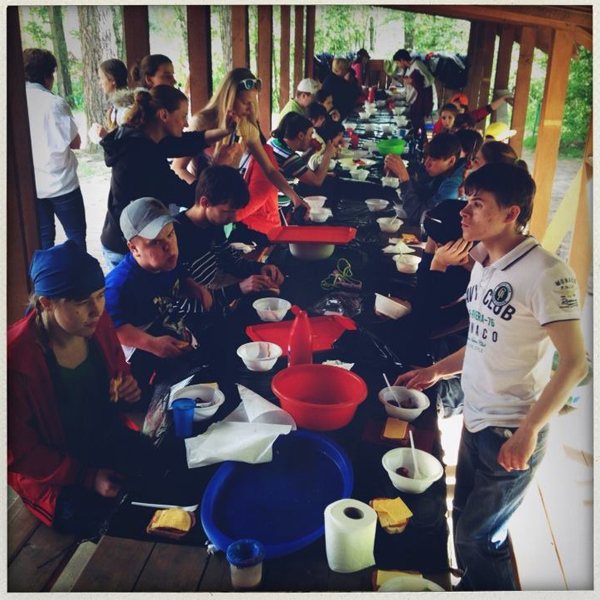 On the way back there was a concert, the children sang and cited poems. And our volunteer Danya Roshchupkin played a violin singing songs in Spanish. And on the quay, upon the return, everyone made a wish and released a balloon.
We thank Committee of Public Relations of Moscow and individual donors for sponsorship, and the Bay of Joy - for hospitality.
Our huge THANK YOU to all the volunteers who helped at the event. And aspecial warm gratitude to those who was responsible for barbeque!
Photos by Oksana Yushko and Artur Bondar
---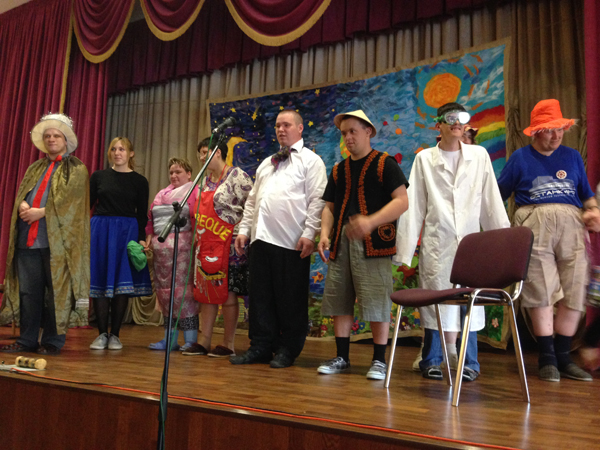 28/05/2014 Premiere at the PNI 16
Starting from September 2013, twice a week, our social teacher Kristina Kozyreva and volunteer Anna Dmitrieva held drama classes at the psychoneurological institution #16. Everyone who wished could join no matter how severe his or herdisease was – cerebral palsy or Down Syndrome, dumbness or complete blindness…
During the lessons the participants learnt to move, imitate objects and natural phenomena, to dream and just to contact with each other. Meanwhile, an idea to perform a little fairy-tale came up…
It was decided to felt a huge woolenpicture as a decoration. It was composed of 4 parts, each created by residents of three units of the institution under the guidance of Maria's Children volunteer Valentina Mironova who can really carry you away with her enthusiasm, so everyone deeply immersed in this exciting process. The picture turned out to be fantastic! And really huge – 3 meters high and 4,5 meters wide, we have never made such a spacious felted work before!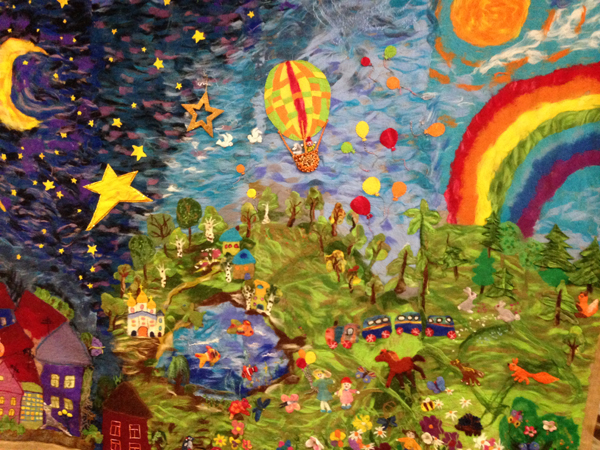 At rehearsals each participants could try him or herself in different roles, and as a result – a small group of actors appeared. But only those most consistent and motivated made the finish, and on May 27 th a premiere took place at the institution's movie hall.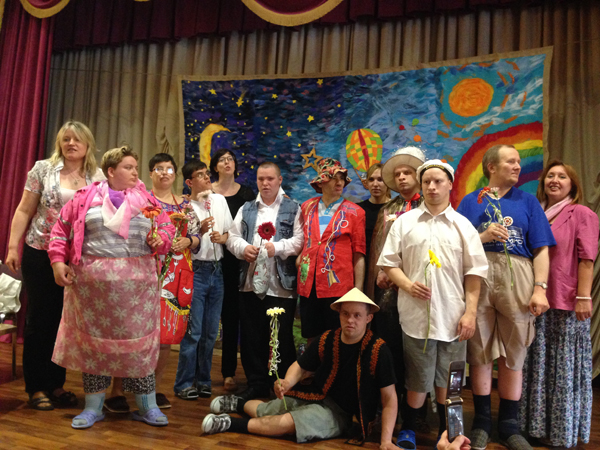 To say that the performance was successful – it is to say almost nothing! Even the staff of the institution were surprised to see how unusually their supervisees revealed themselves on the stage.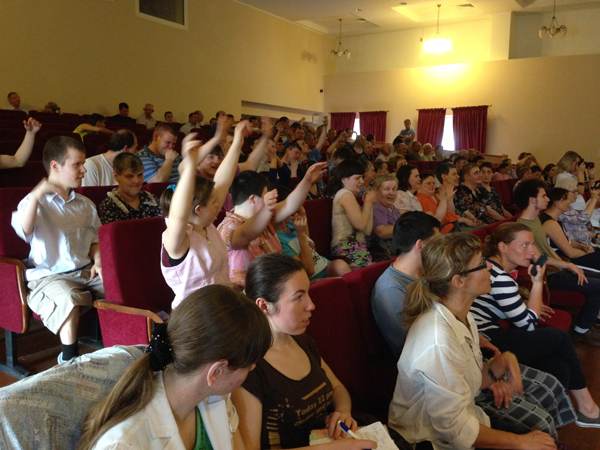 We thank all the studio's teachers and volunteers involved in this interesting project. Our special gratitude to handicrafts teacher Maria Pimenova. We also very much appreciate help of our volunteers Oksana Pyatnitskaya, Olga Kuleshova and Irina Perfilieva.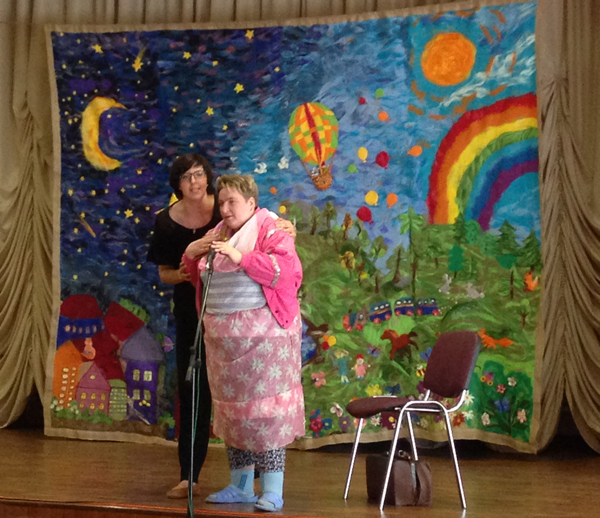 ---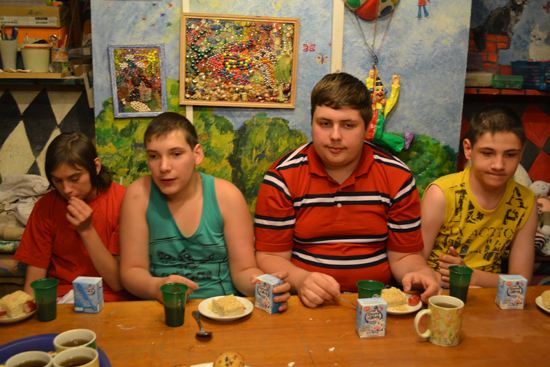 30/05/2014 Children-children, please drink milk!
We were given plenty of milk as a present, it could even hardly fit in our refrigerator! We and our children are very happy! Now during tea-breaks they can also drink milk and cocoa with milk, and our cook Vika fries milky pancakes as a dessert for tea. We thank JSC "Progress" and Agency of social innovations " Act.Moscow" for such a useful gift!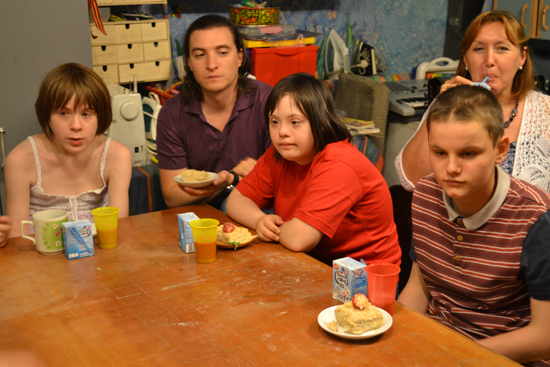 ---
31/05/2014 Fair at RusGidro
Maria's Children took part in a fair of charitable organisations "Day of Good" timed to the Children's Day. For just two days we raised 52 700 Rubles! We are grateful to generous and responsive staff members of RusHydro that made donations and learnt about our work and our children with genuine interest.
Our big THANK YOU to the fare organizers Anna Denisova and Tatiana Nemoitina for excellent, accurate arrangement, kindness and patience.
All the funds raised at the fare will be used for purchasing materials for master-classes at our summer camp as well as buying air tickets for our volunteers from Beslan.
---
---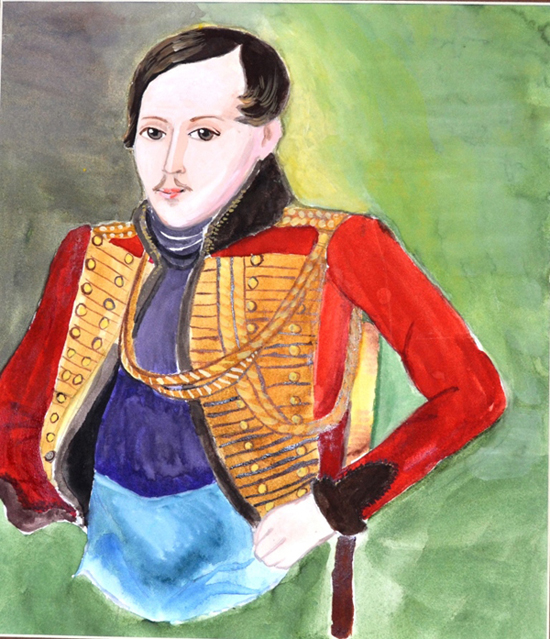 09/06/2014 Competition in the name of Lermontov's Jubilee
From the 30th ofMay till the 8 th of June Maria's Children participated in the district youth art competition "As far as I'm alive I bet I'll never cease to love Moscow!" dedicated to the 200 th jubilee of the famous Russian poet Mikhail Lermontov.

Nina Ptashkina. The Monument to a Poet
Our art teachers have selected 11 best children's pictures.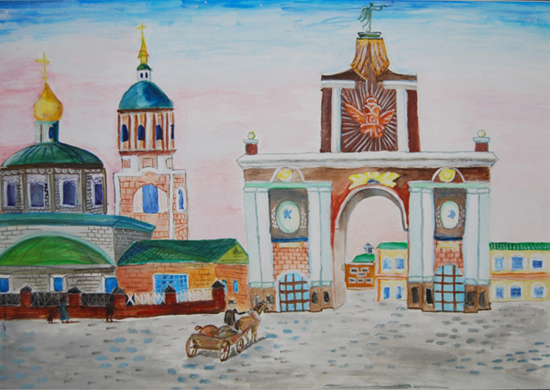 Masha Tatieva. "The Red Gates"
The work by Nina Ptashkina (art teacher Natalia Pushkina) was used by the competition organizers for the exhibition poster.
Our graduate Masha Tatieva (art teacher Natalia Pushkina) with her work "The Red Gates" has become laureate of the first degree, while Sasha Valuev and Nikita Zolotukhin (art teacher Anna Andreeva) were awarded diplomas of the second degree.
Congratulations!
---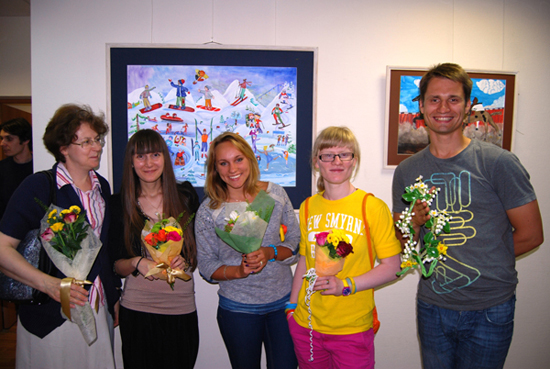 13/06/2014 Краски спорта
On the 11th of June opening of the exhibition "Colors of Sport", initiated by the Tverskoy district municipality, took place. Maria's Children were one of its active participants – and the highlight of the exposition was our collective picture "Colors of the Winter Olympic Games". Everyone also appreciated other works of our students including paintings, tapestry and other art objects.
To everyone's excitement the exhibition organizers invited a collector of Olympic and other sportive insignia, Nabokov Vladimir Petrovich. He showed us a part of his world-known collection – RLD (Ready for Labor and Defense) signs of Soviet era, beginning from the earliest – pre-war ones, as well as lapel pins and medals of Olympic delegations.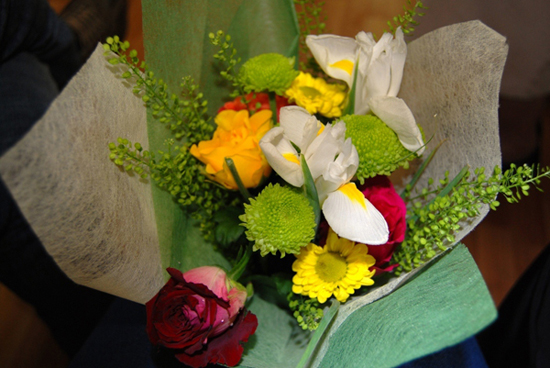 Then the guests were invited to take part in the master-class "Bouquet for a Champion" after which a professional florist made a comment about each bouquet. All of them were very special but the winner was the one composed by our graduate and volunteer Vanya Antonov. Moreover, all the Maria's Children young participants and their art teachers were granted diplomas, chocolates and wonderful books on art. The event appeared to be very interesting and heart-warming.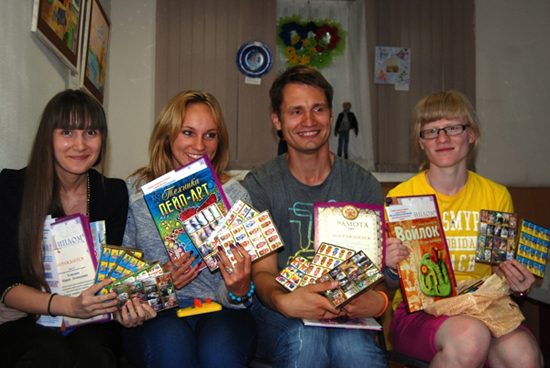 We thank the Tverskoe municipality and Cultural-recreation center "Elly" in the person of Popova Iriva Aleksandrovna for such a wonderful opportunity!
You can see more pictures here.
---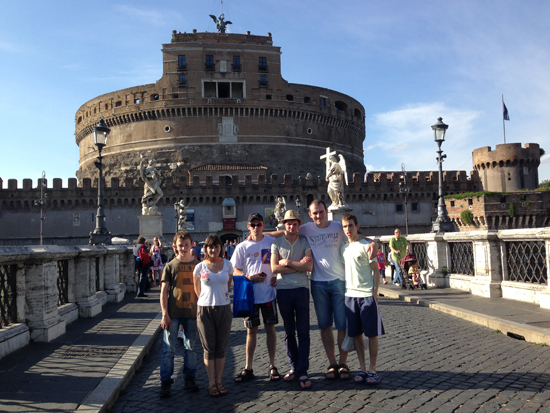 06/07/2014 Italian Holidays
From 25 June to 6 July annual trip of our children to Italy took place. Seven orphanage graduates visited Rome where they admired Coliseum and Pantheon, walked up a viewing platform of St. Angel's Castle, painted en plein-air at the Villa Borgese park.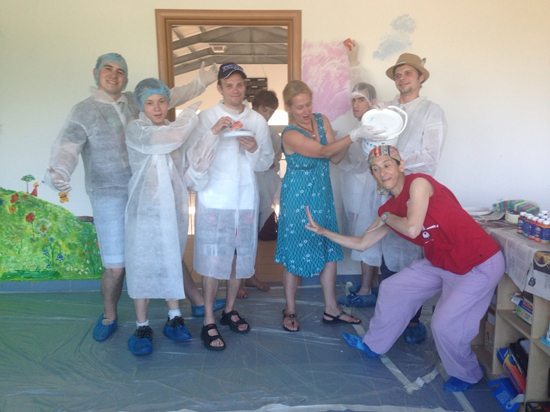 After we left Rome, we decorated walls of the basketball club Pala Angela in the city ofL'Aquila with paintings,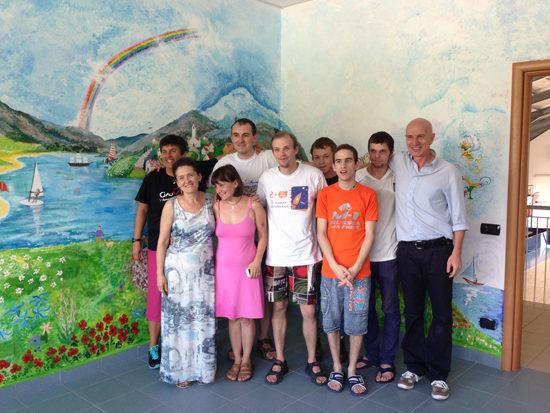 strolled around night streets of San-Stefano,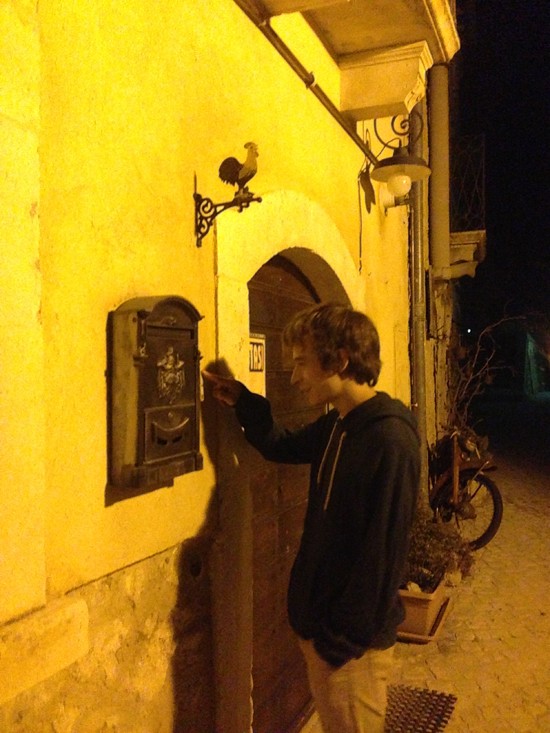 made friends with a wonderful hostess of our hotel, Amalia, and spent an unforgettable evening with horses on her brother's farm.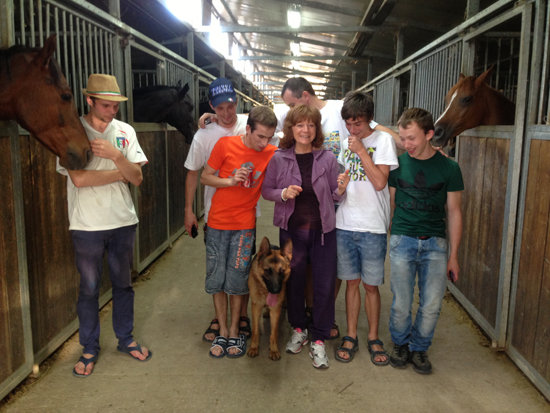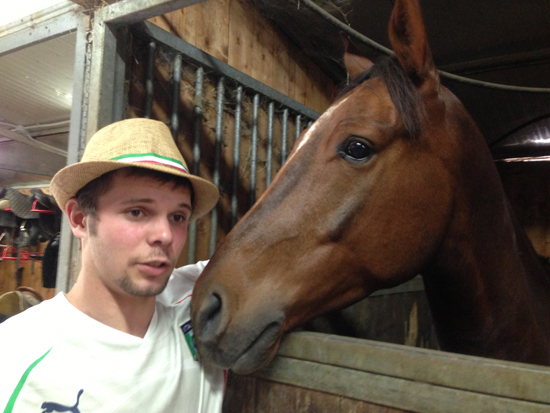 In Lekko the young people visited their old friends who have been hosting them during their summer and winter holidays since 2009. We also visited a medieval town Bergamo.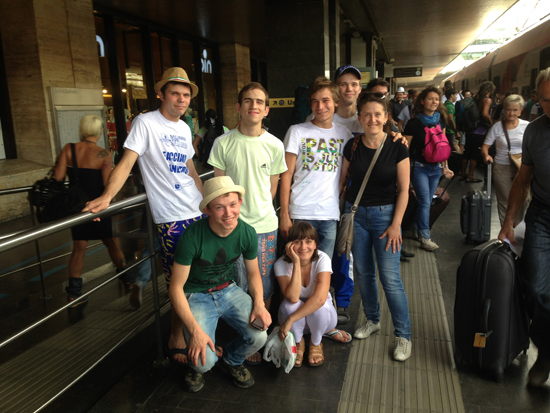 We want to say THANK YOU to Michela Bolognani and Jiovanni Colonna, our friends Massimo and Vincenzo Vittorini, director of the basketball club Roberto and to all those who helped organize this fantastic journey!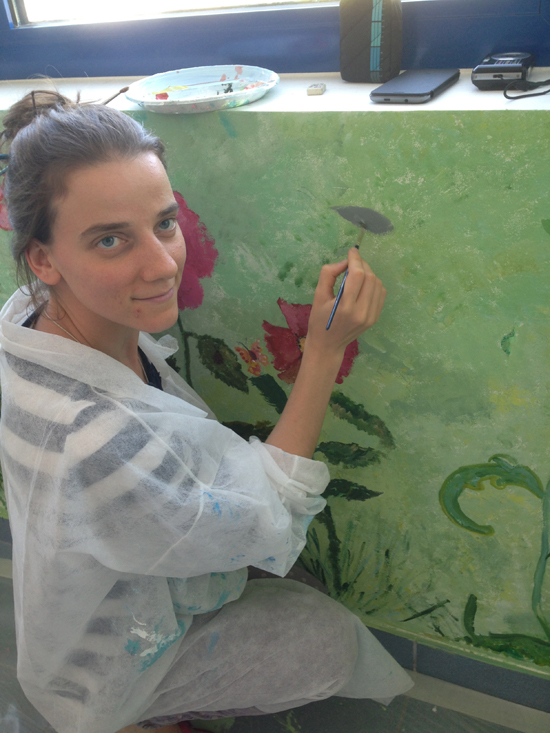 ---
---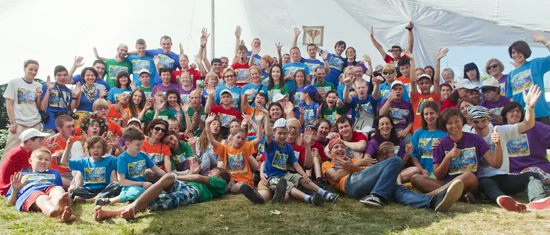 23/07/2014 Sorochany Summer Camp
On 8-22 July our favourite summer camp "Our family" took place. The diversity of the "family members" was impressive as usual: 28 children and tutors from the orphanage №28, 3 young people from psychoneurological institution, our graduates of different years, volunteers from Beslan (we remember them as small children!), volunteers from Moscow, Saint-Petersburgh, USA, Maria's Children staff…
The camp opened with a Families' Parade.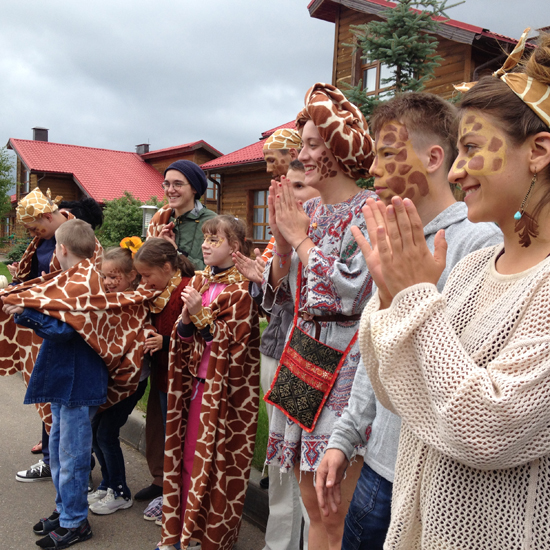 Giraffes, stylish and creative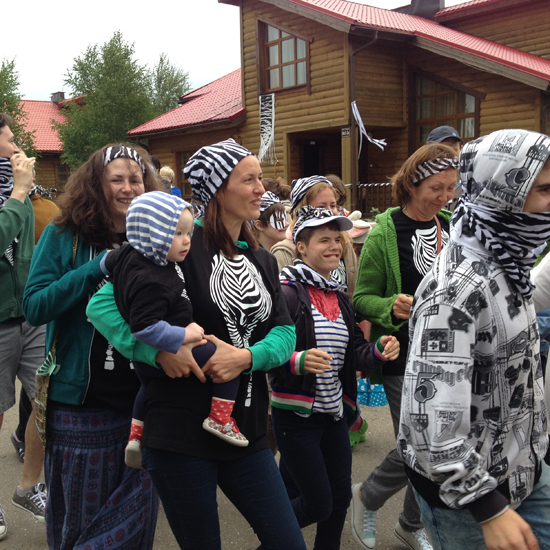 Zebras and "zebra kids"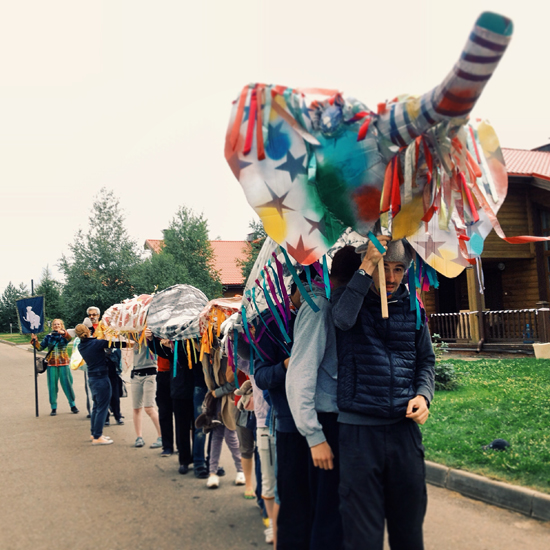 All the elephants as one Big Elephant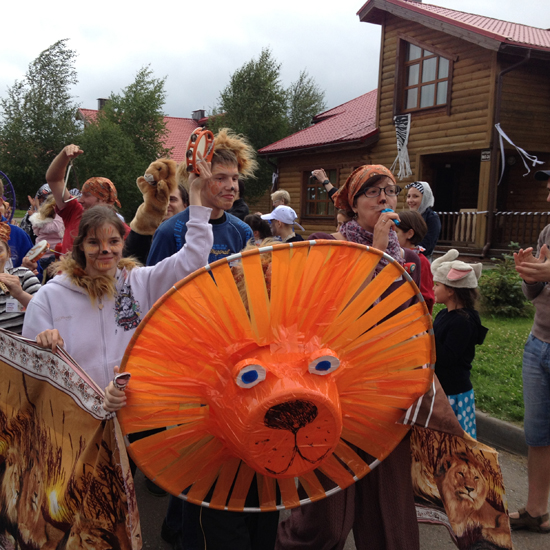 Lions pass with clang and growl
Each morning the children were offered so many master-classes that it was not easy to choose.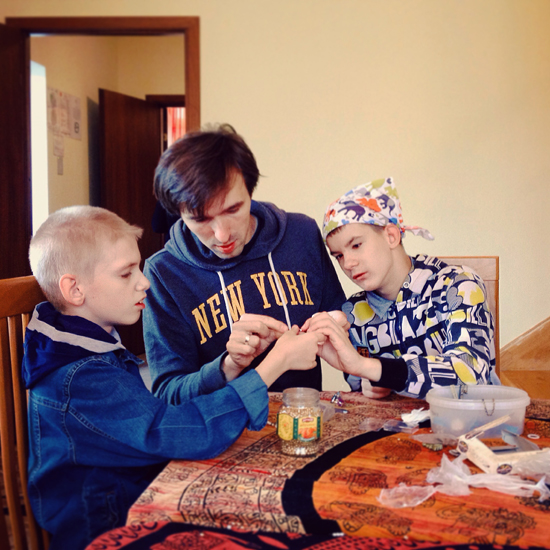 Arthur (father-Elephant), Andryusha, Vanechka and wind chimes.
We learned the art of book-making and weaving ornaments from multicolored threads, painted large carton boxes and composed mosaic, drew a huge picture and created wind chimes, made dolls for the doll theatre and wove friendship bracelets, learned to play guitar and shot films, mastered a blueprint technique and soap-boiling, mastered melted wax crayon painting and created hair accessories, molded from clay and stitched…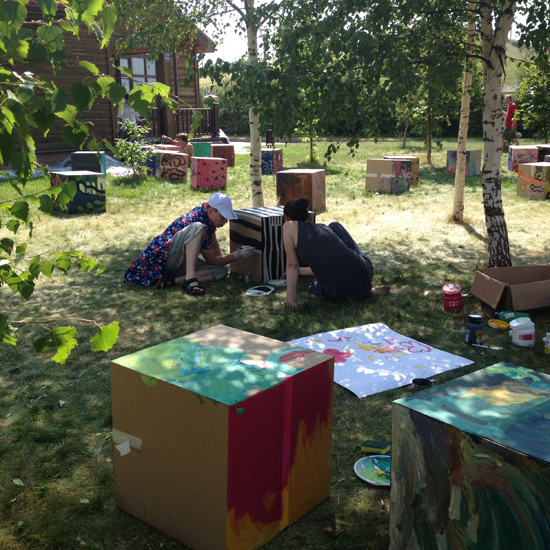 Magrat, Serezha and box coloring
Life in the families was also so eventful that it was impossible to get bored. Zebras and Elephants, Lions and Giraffes, each family on its own and sometimes altogether, we made performances, shot films and clips, improvised in the "Theatre from wheels", sang and danced, created different nice things and played games, cooked kebabs and mushmellows, organized a Mad Haircuts disco and an Evening of Spa. No matter what we were doing – it was joyful and interesting, heartwarming and sincere.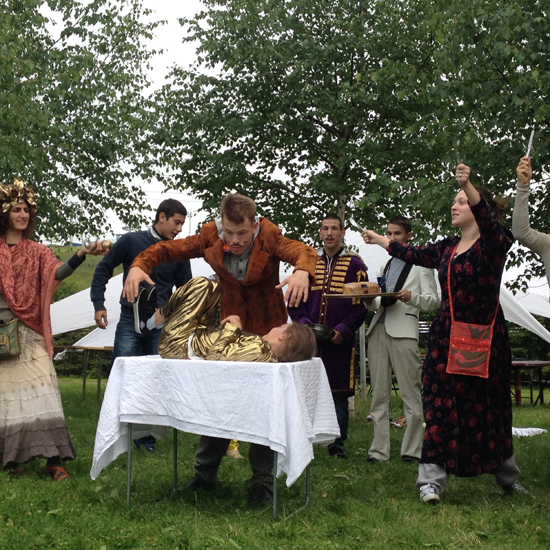 Theatre from wheels "And suddenly he saw a roasted partridge on a table"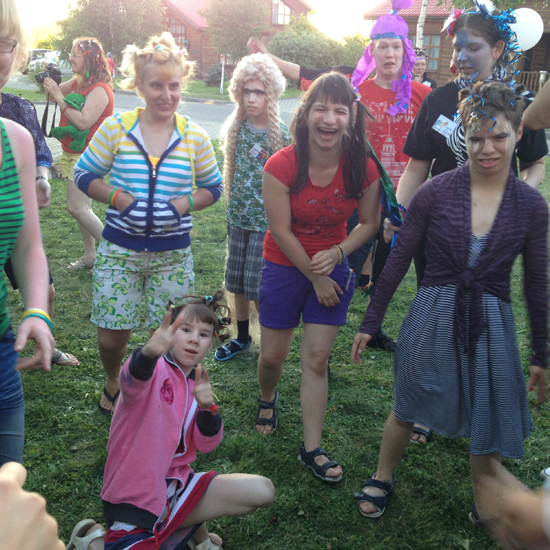 Mad Haircuts disco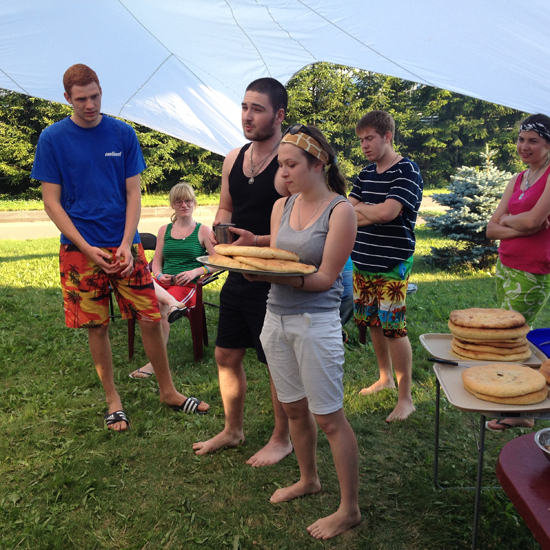 Our favorite Ossetian pies from our dear Beslan volunteers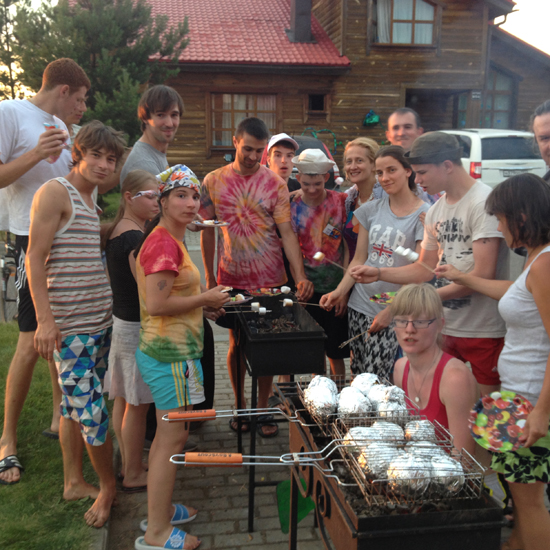 Kebab, potato, mushmellow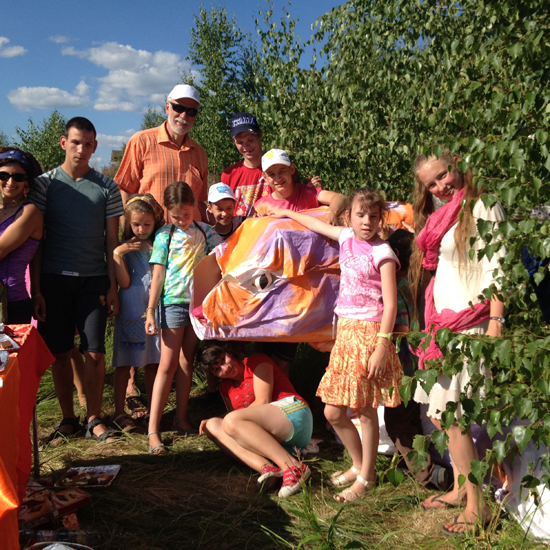 A big game. We fed the dragon and he became kind.
We were lucky with the weather this year – there was a chance to swim, to ride a banana and to master surfing.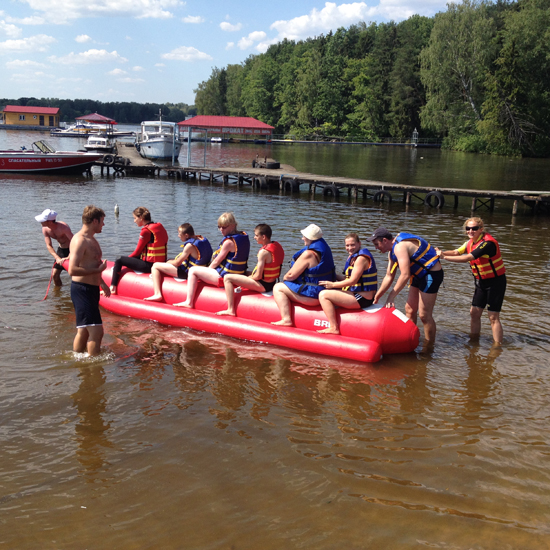 And when the camp came to an end, everyone could admire a gala firework in the sky above Sorochany.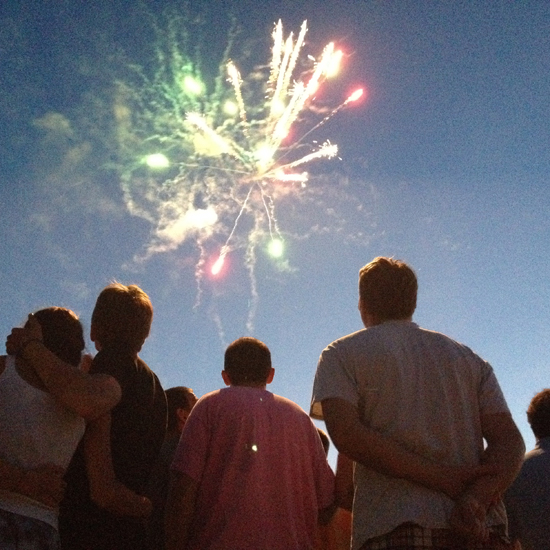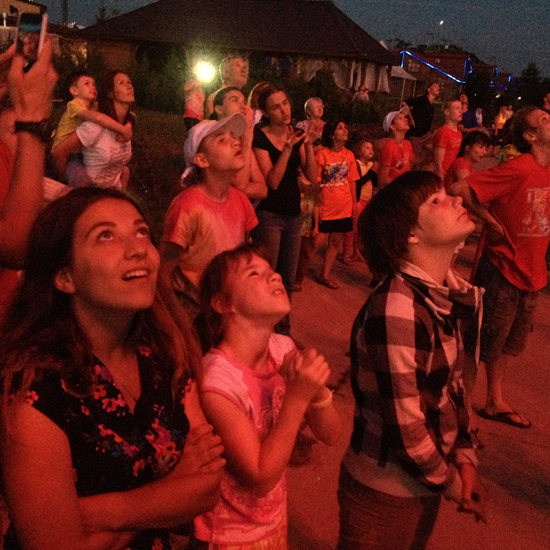 THANK YOU, dear children, for your joy and love that we all get from you. We thank administration and tutors of the orphanage №28 for cooperation and trust.
Thank you, our dear donors: Sophie and Roland Nash, Rostislav Ordovsky-Tanaevsky Blanco and Rosinter Corporation, Charity Fund DAR, Andrey Chistyakov and Moscapstroy company, Gruzovichkoff Company, Pavel Drozdov and everyone who supports us by various means. We thank administration of Sorochany resort and personally Vladislav Yudenkov for discounts and keeping oursummer theatre requisite during the winter.
Thank you, our dear volunteers: Oxana Yushko, Artur Bondar, Sophie and Roland Nash, Ira Baranova, Anya Eliseeva, Mari Stepanyan, Asya Segalovich, Debbie Sears, Donna Kaminski, Oleg Fogel, Vanya Antonov, Andrey Nikitaev, Anya Kochegarova, Sona Stepanyan, Olya Eliseeva, Martin Akhmetov, Alina Eliseeva, Tata Kochegarova, Masha Dermicheva, Natasha Pershina, VasyaLednev, Valentin Ponomarev, Serezha Shuldikov, Vitya Kotsoev, Timur Ganiev, Ira Gurieva, Vika Kotsoeva, Hetag Khutiev, Kambolat Baev, Batraz Kokov, Arina Tebieva, Liza Loseva, Misha Mischenko, Serezha Aristarkhov, Polina Loseva, Olga Ivanovna and Natasha Sidorov, Inessa Dorokhova, Tamara Krapivina, Misha Gomelev, Masha Tatieva, Korney Bruskov, Tamara Naumova, Erika Stepanyan, Mikhail Satleikin.
Huge Thank You to our cooks – Praskovya, Nadya and Vera whose delicious meals filled us with energy and just brought a big pleasure to everyone.
We thank all our staff members - those who worked at the camp as well as those who meanwhile realized our connection with the "mainland".
Photo by Oksana Yushko and Artur Bondar. You can find many photos from the camp here.
---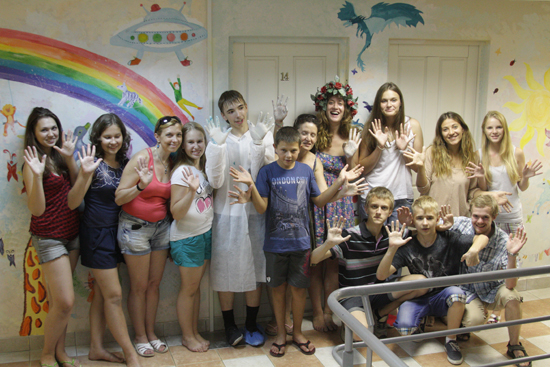 31/07/2014 We visited "Galaxy"
On the 30th of July we visited our friends from autonomous non-profit organization "CHILDREN" at their summer camp on the basis of "Galaktika" resort where kids have a rest and undergo rehabilitation after cancer diseases.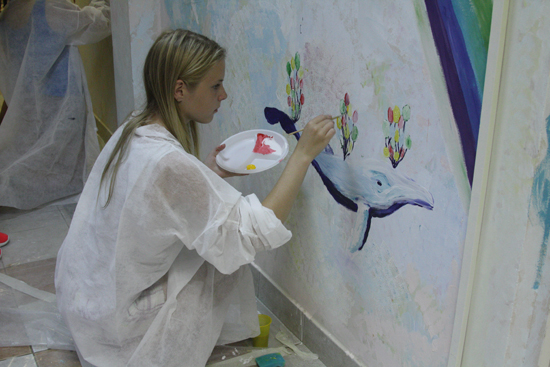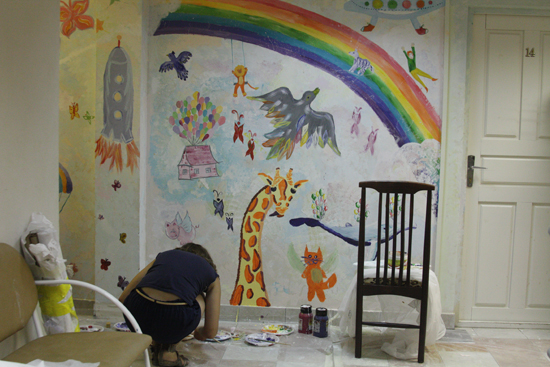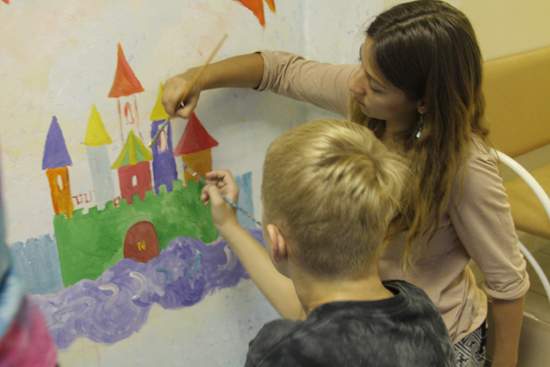 Anya Eliseeva helped the children paint a magic sky on a plain wall!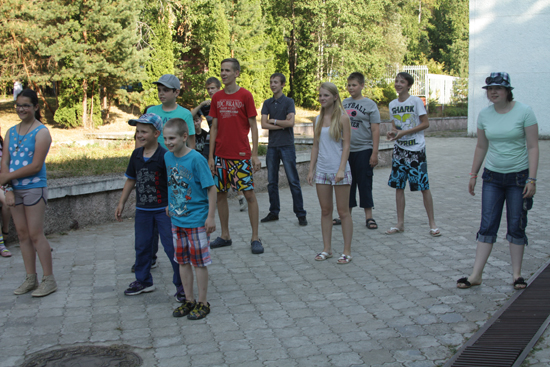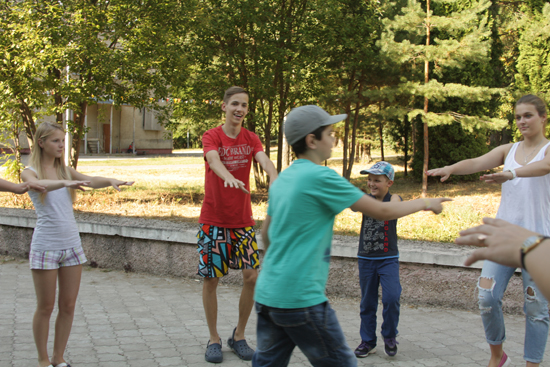 Asya Segalovich taught everyone Maria's Children games.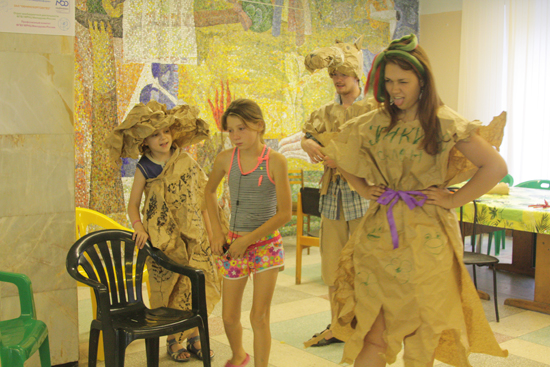 And our teachers Kristina and Yasin staged two wonderful performances for which the boys and girls created costumes and decorations by their own hands.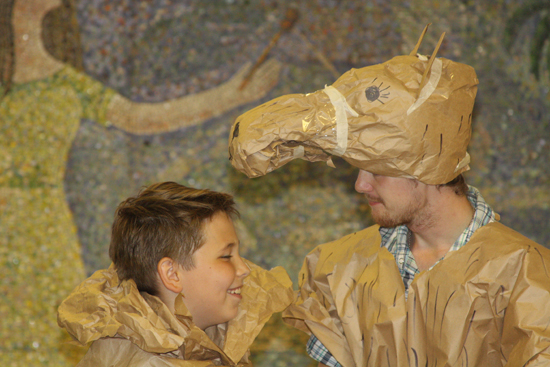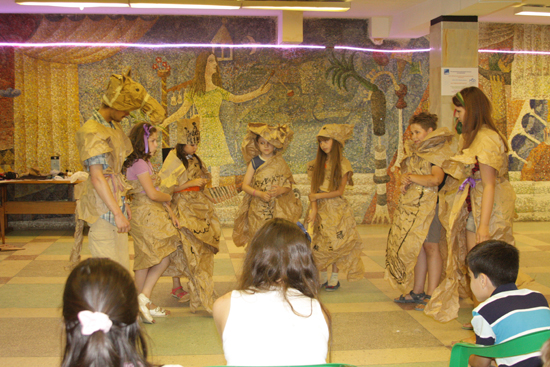 .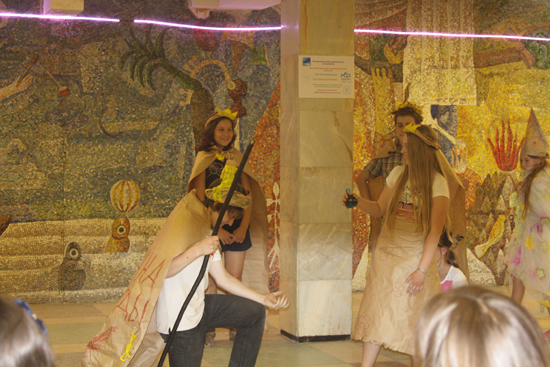 We express gratitude to the children's doctor, founder and director of the rehabilitation camp Grigory Yankelevich Tseitlin, to psychologist and director of the ANO "CHILDREN" Marina Aleksandrovna Guseva, our volunteers, staff members and all our beloved kids!
---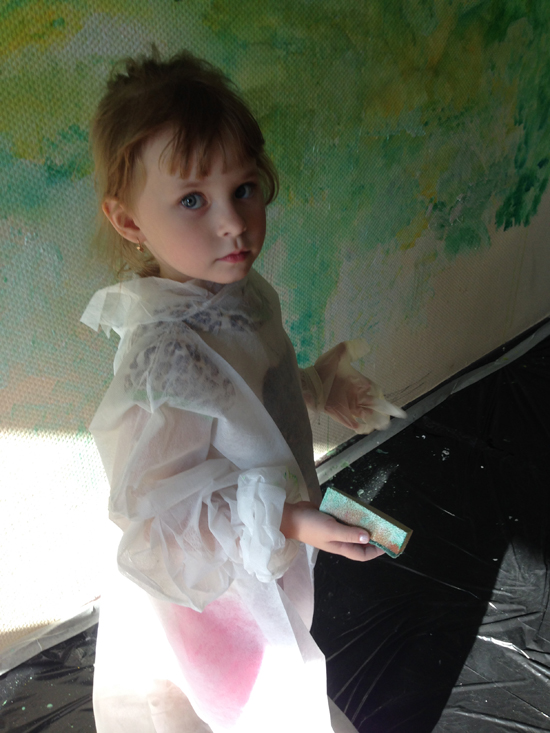 21/08/2014 Wall painting at "Russkoe Pole" rehabilitation center
By the invitation of doctor Grigory Yankelevich Tseitlin, on the 20th of August Maria's Children volunteers and staff members visited "Russkoe Pole" (Russian Field) center where children undergo rehabilitation after cancer treatment.
Our artists Ruslan Lartsev and Olga Eliseeva involved the children in creation of a fairy tale world on the wall. Viktoria Ermilova helped the kids to mix colours and draw flowers. The work is to be continued!
We thank the administration of the rehabilitation center "Russkoe Pole", our staff members and volunteers!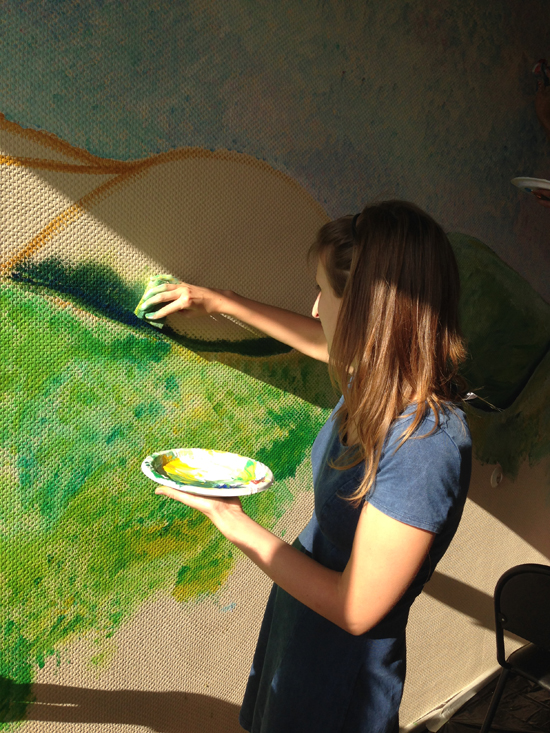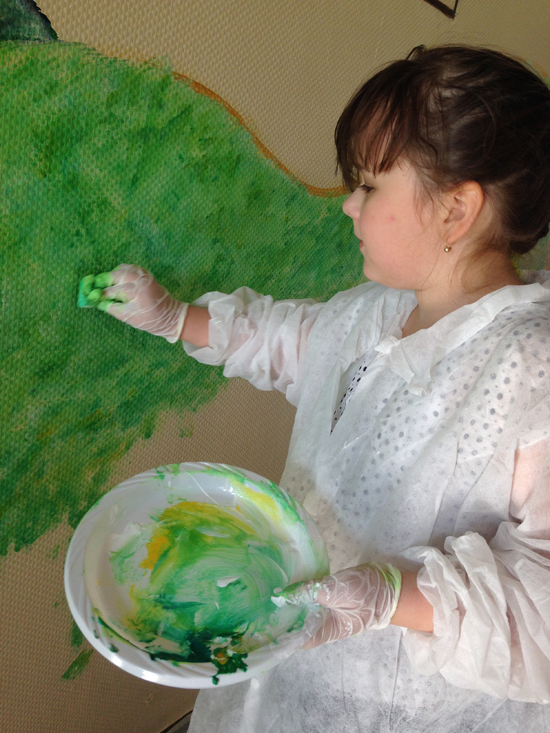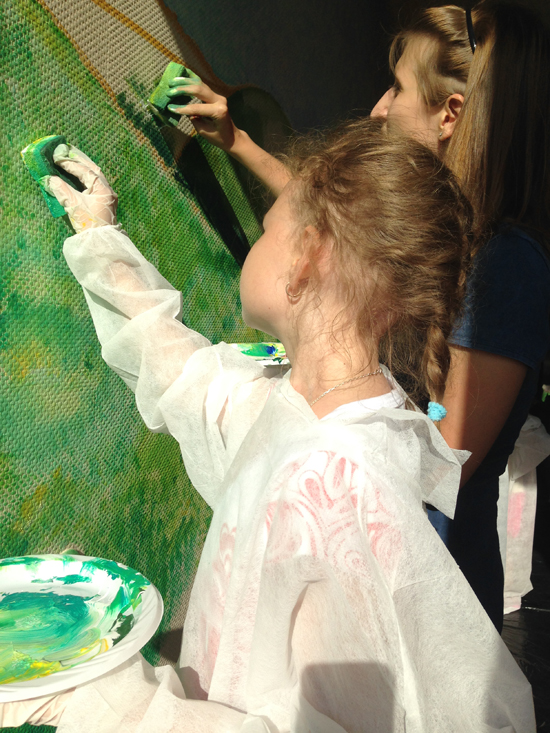 ---
06/09/2014 Thank you, "Gracious Moscow"!
On the 6th of September, which was the Town Day, we took part in the "Gracious Moscow" festival and raised 14 850 rubles at the charity fair. We are sincerely grateful to all those who made their generous contributions!
And of course we express our huge gratitude to the Department of Culture of Moscow and all the organizers of this wonderful event!
---
---
13/09/2014 Children's Day at Yandex
It is for two years running that Ilya Segalovich's birthday – 13th September - has become a real Children's Day at Yandex. This time Yandex hosted over 150 children – the whole orphanage №4 as well as many high school students and graduates who, by a twist of fate, have now found themselves in different orphanages and colleges.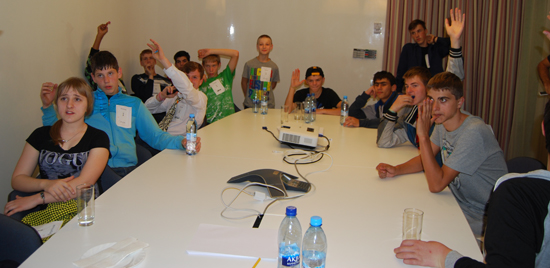 The organizers invited kids to a tea-party and gave them funny souvenirs with Yandex logo.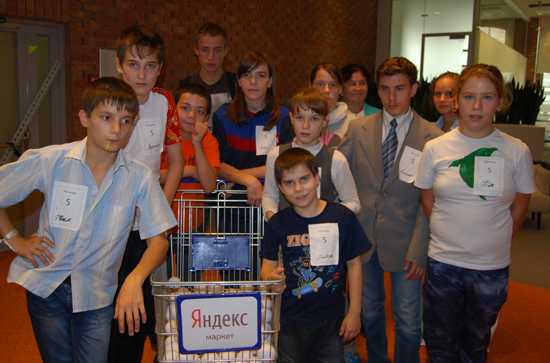 Then there was a Big Yandex Game. The children divided in teams and, while they were fulfilling tasks, they explored the Yandex' building and its numerous services.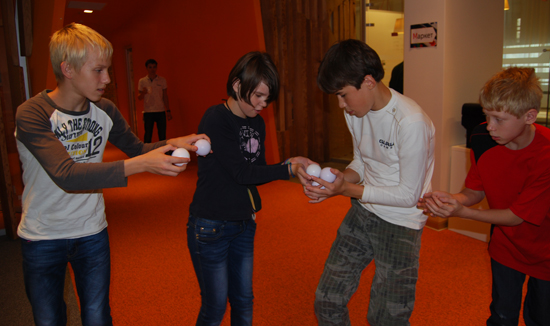 After that we released balloons in the sky, not forgetting to make a wish. The evening ended up in a banquet for all the dear guests.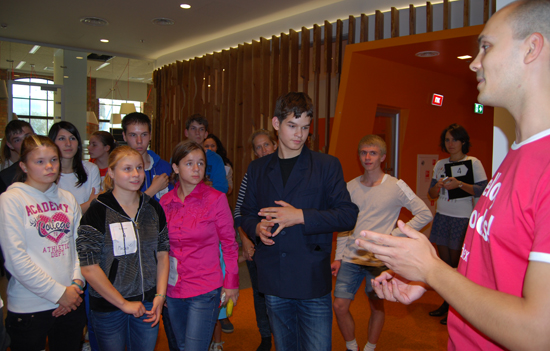 We are grateful to all the Yandexoids: to those who so elaborately prepared the programme of the day and devoted their time to our children, and to those who kept on working despite the invasion of our noisy crowd.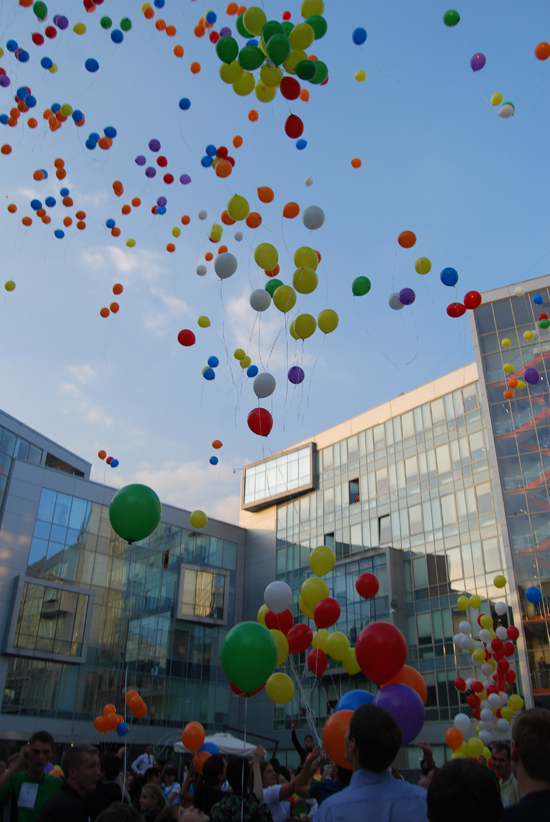 You can see more photos here
---
16/09/2014 Charity Bazaar at Neftetransservice
On the 15th of September we took part in a charity bazaar at Neftetransservice together with other several NGOs. We raised 7800 rubles which will be used to buy supplies for our daily art classes.
Maria's Children send their huge "THANK YOU" to Neftetransservice directorship for such a wonderful initiative, to all the company staff members who made their donations. And a special gratitude to the bazaar organizer, Maria Vershinina!
---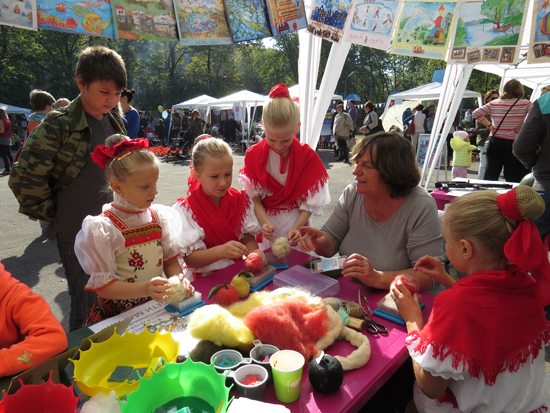 20/09/2014 Open Doors Day at Miussy
It was a warm and sunny September day, and many residents of the Tverskoy district came to the Miussky public garden to meet local leisure centers, learn about new hobby groups, listen to a concert and choose an activity to his or her liking.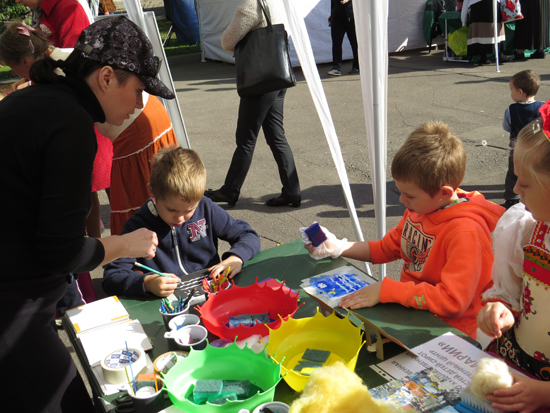 Maria's Children also presented itself and held two master-classes - on felting and drawing, each stall attracted a long queue of enthusiasts.
Our handicrafts teacher Maria Ivanovna showed how to felt tasty-looking and pleasant- to-touch apples and pears. And another group of children and adults joined our arts teacher Natalia Pushkina to draw fantastic pictures with wax crayons and aquarelle. Everyone remained pleased, even those who felt shy in the beginning and didn't believe in his or her talents.
You can see more photos here.
Thank you, our wonderful teachers Maria Ivanovna Pimenova and Natalia Aleksandrovna Pushkina. We are also grateful to our volunteers Mikhail and Artyom for their help at the event.
---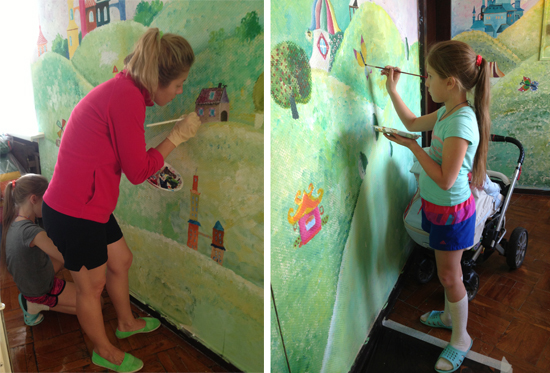 22/09/2014 Week-end at "Russkoe Pole"
This week-end we again visited our friends at the rehabilitation and scientific center "Russkoe Pole" (Russian field). For the whole four days we drew colorful pictures on the center's walls. Not only the children but also their mothers were actively involved! And on Sunday our friend, psychologist Alexander Kolmanovsky, offered the kids to stage a performance, based on a fairy tale by the famous Russian poet Alexander Pushkin - "Golden Fish". It was a fantastic "theatre from wheels"!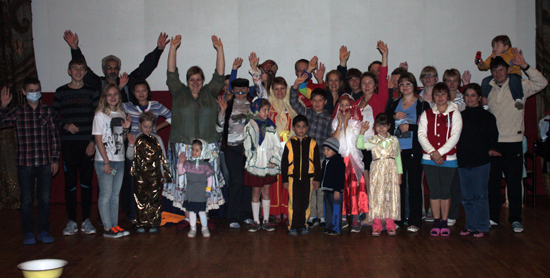 Photographers -Anna Drozdova, Sergey Korolev.
See more pictures here.
---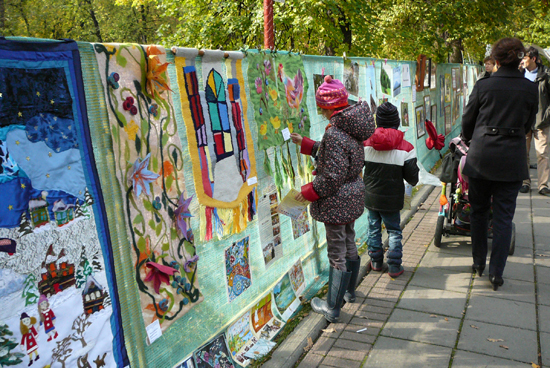 25/09/2014 Vernissage at the Trubetskoy manor park
On the 26th of September our studio took part in the district festival "Join Us". At the Trubetskoy manor park in Khamovniki district, among age-old trees, green glades and beautiful flower-beds, children's teams from all the central Moscow districts took part in an exciting quest and tried their hands in various master-classes.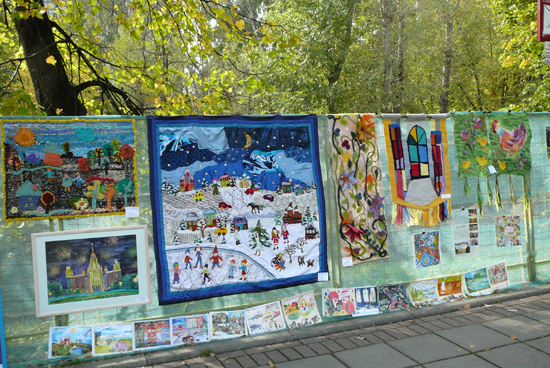 Moreover, there was arranged a vernissage with many original and beautiful works. Maria's Children displayed not only their paintings but also a wide range of handicrafts techniques.
Tapestry, wet and dry felting, knitted and patchwork pictures… In gentle rays of the autumn sun our students' creations shone with bright and joyful colours, drawing attention and evoking rapt emotions in both adults and children.
---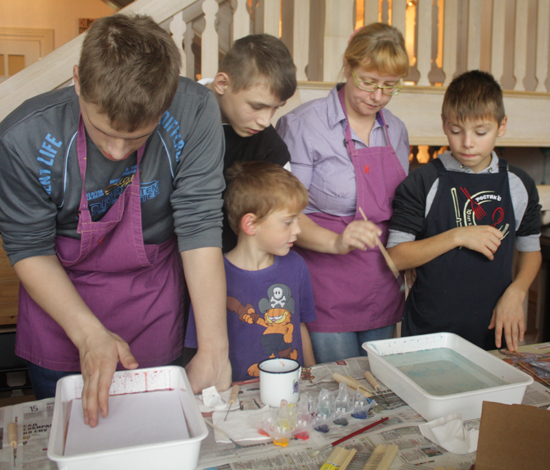 24/10/2014 Painting in "ebru" technique
Recently we leanrt a new method of painting which is called "ebru". It is an ancient art of making a marble paper. You have to pour a special liquid on which colours should be applied, then you put a sheet of paper or a piece of white cloth on top and an intricate fairy-tale ornament appears… We learned all these secrets from Yulia Ostashkina.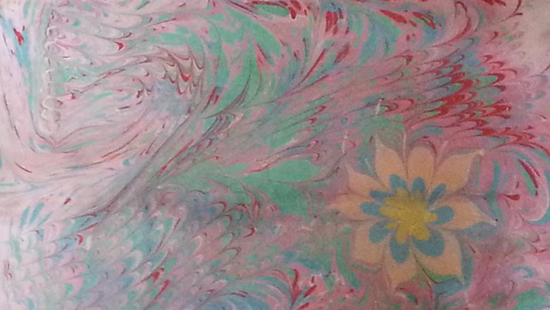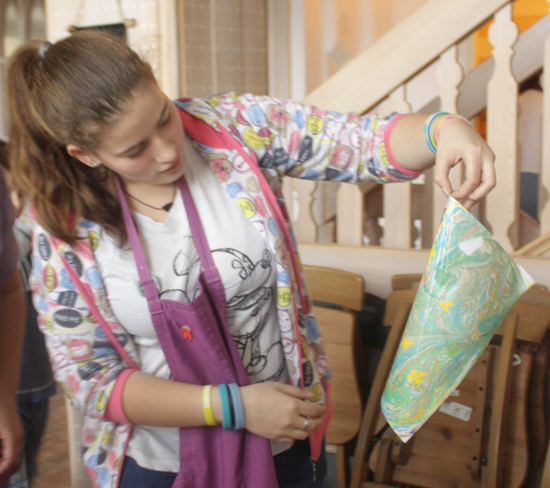 Our children are fond of ebru because the process itself is miraculous and at the same time so simple that even small kids can easily master it. There were several master-classes on ebru at Maria's cottage workshops already and soon they will start at our studio on Dmitrovsky lane. Dear volunteers, you are also very welcome to join!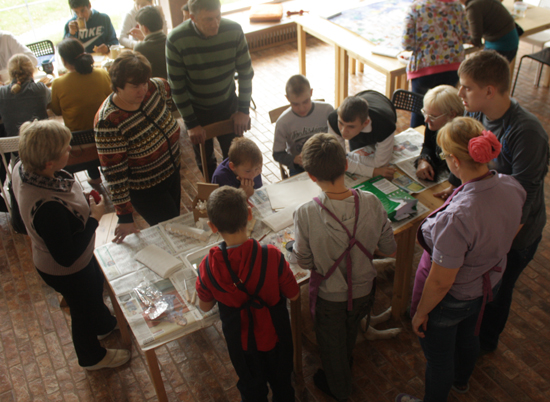 ---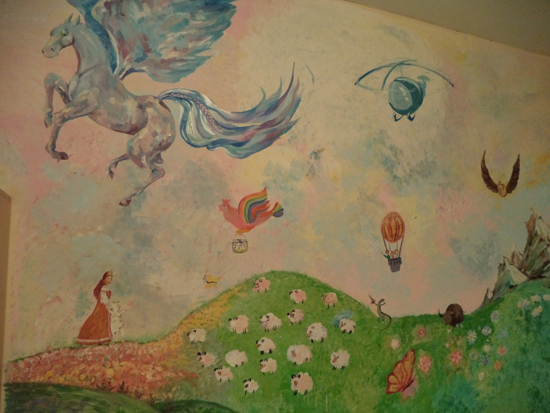 14/11/2014 A picknick and wall painting in Filimonki
On 13 November our staff members and volunteers together with a clown-team headed by doctor-clown Patch Adams visited a children's home "Solnyshko" (Little Sun ) in the Moscow Region. We played funny games with kids, made wall-paintings in one of the bedrooms and cooked a delicious barbeque.
We are grateful to director Mikhail Aleksandrovich Maslov, head physician Anna Robertovna Fomina, nursery teachers and staff members of the children's home.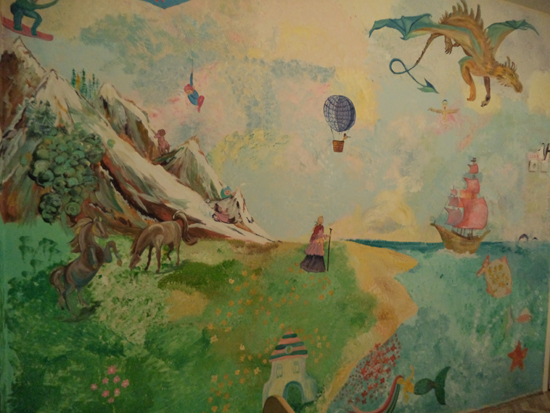 This year children from Filimonki began to attend art workshops at Maria's cottage and we have already become friends with them. Staff members of Filimonki children's home are remarkably caring and compassionate, they do a great job of finding family placements for their young residents. We hope our friendship will be lasting and fruitful.
---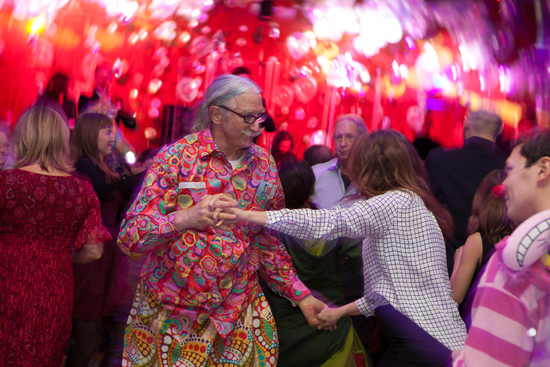 14/11/2014 Charity Ball
On 14th November the annual charity ball of Maria's Children Art Center and Charitable fund PELICAN took place at the Lotte Hotel. The program included a delightful dinner, live music, loud and silent auctions of Maria's Children students' works and a prizes-for-all lottery.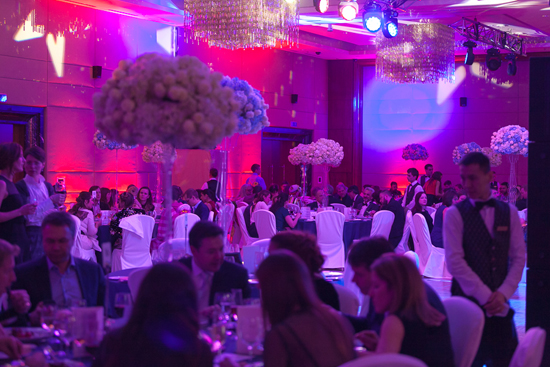 This evening earned us 14 186 345 Rubles (about $315 000)! We send our huge THANK YOU to all those who provided such a generous support to our children-orphans and orphanage graduates, young people from psychoneurological institution and special needs children.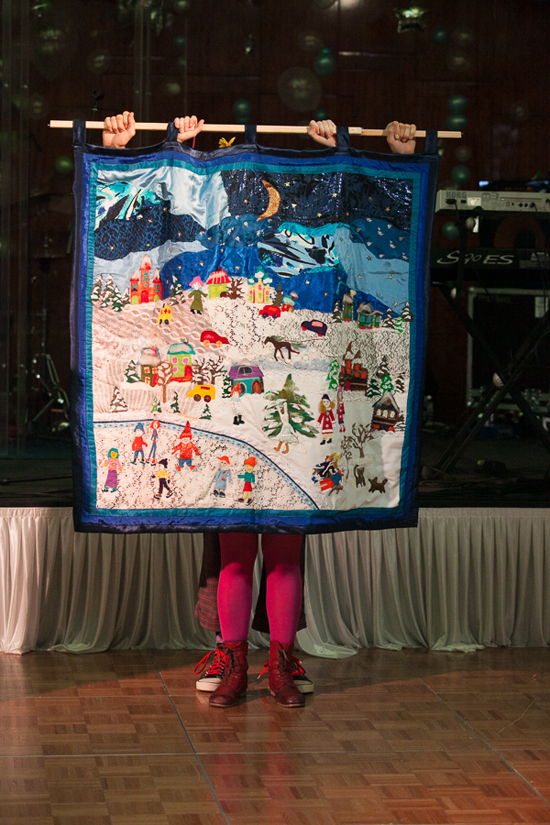 We express our huge gratitude to the "Financial corporation Otkrytie" Bank, Baring Vostok Capital Partners, YPO (Young Presidents Organisation) for the in full sponsorship of the ball.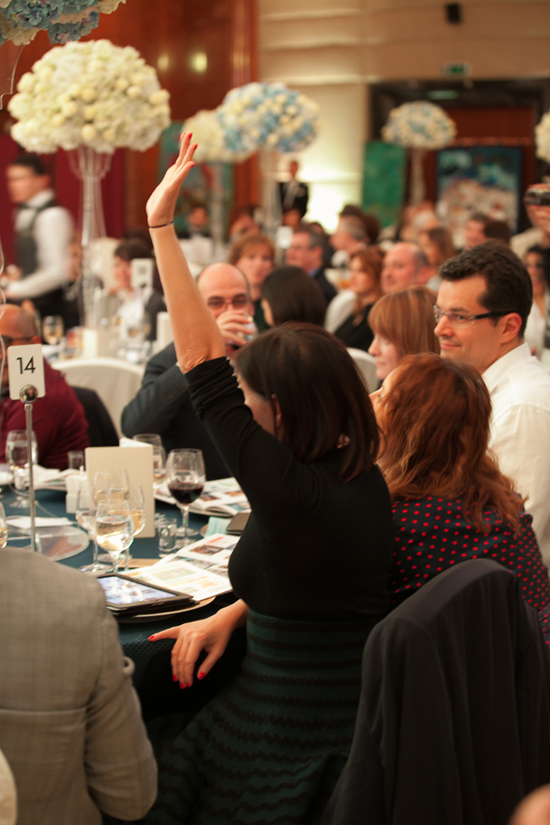 We are deeply impressed by the hospitality of the Lotte Hotel staff, their excellent service, and are also very grateful to them for the exceptional lottery lot!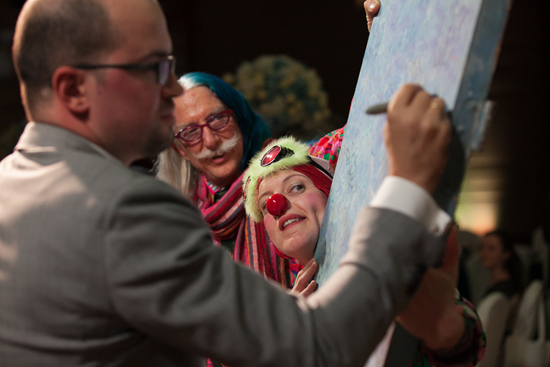 We send our sincere gratitude to:
-Coca-Cola Hellenic Russia - for the drinks.
-Rosinter Corporation - for so generously supplying Maria's Children staff and volunteers with lunch boxes and for wonderful lottery lots
-Victoria Koenigsberg, Sophie Nash, Johanna Kirchhoff-Shierer, Hannes Chopra, Inessa Dorokhova - for the inestimable organizational and financial help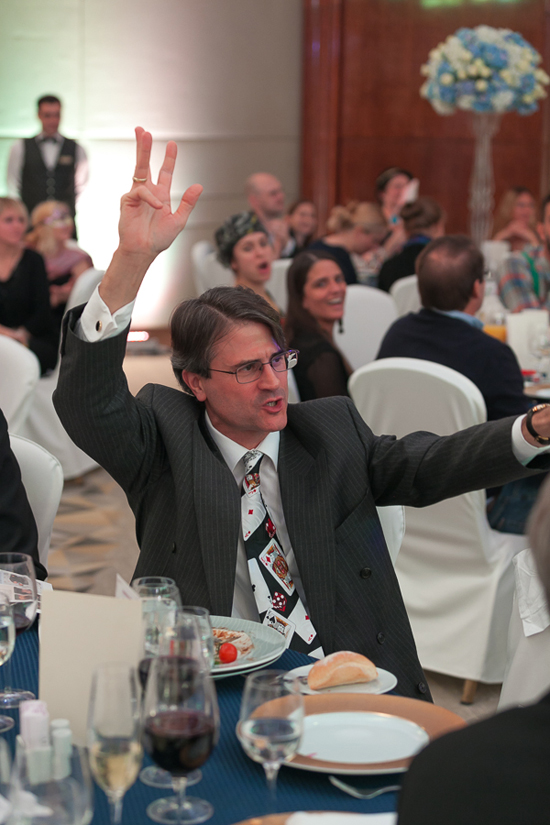 -Alexander Mechetin and Pavel Titov - for providing free drinks for the gala dinner
-M2M Company - for purchasing the whole table for its members
-Patch Adams – for such a passionate conducting of the loud auction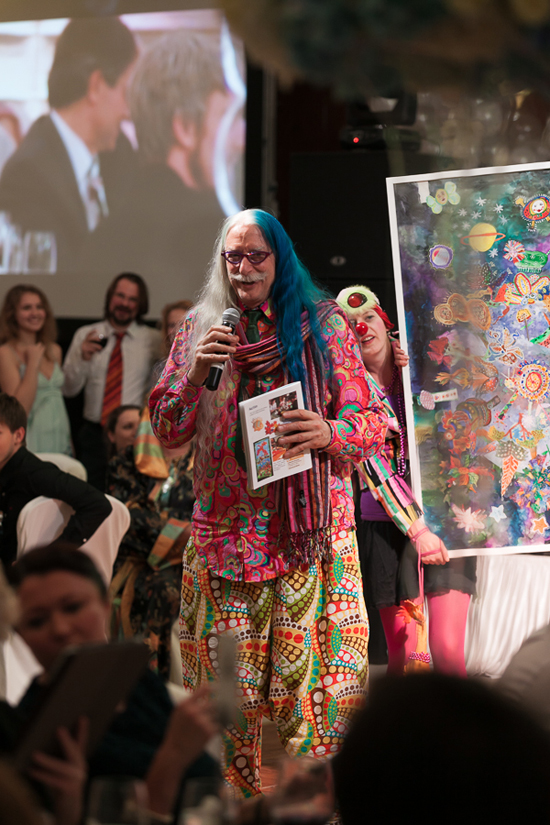 -Peter Yanovich – for brilliant arrangement of the silent auction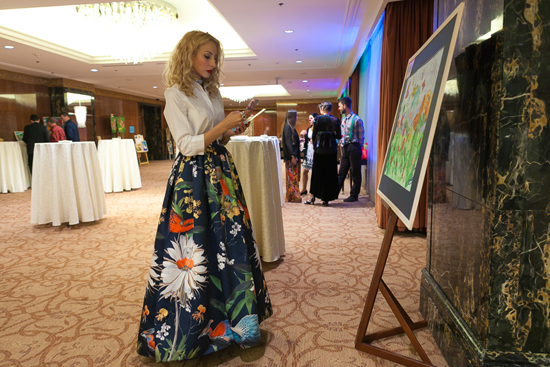 -Alexander Kolmanovsky for being the host of the evening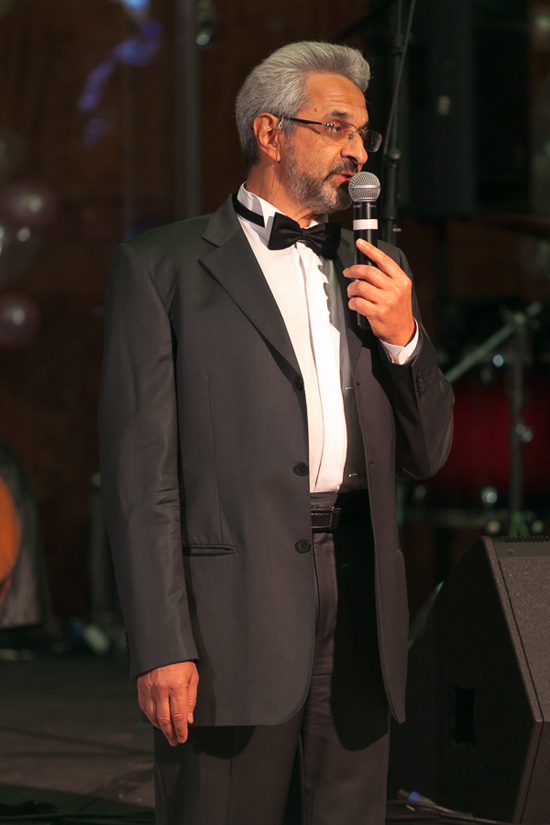 -Miriam Sekhon, Alina Maslennikova and all the young ladies from the vocal ensemble "Tatiana" for the heart-warming music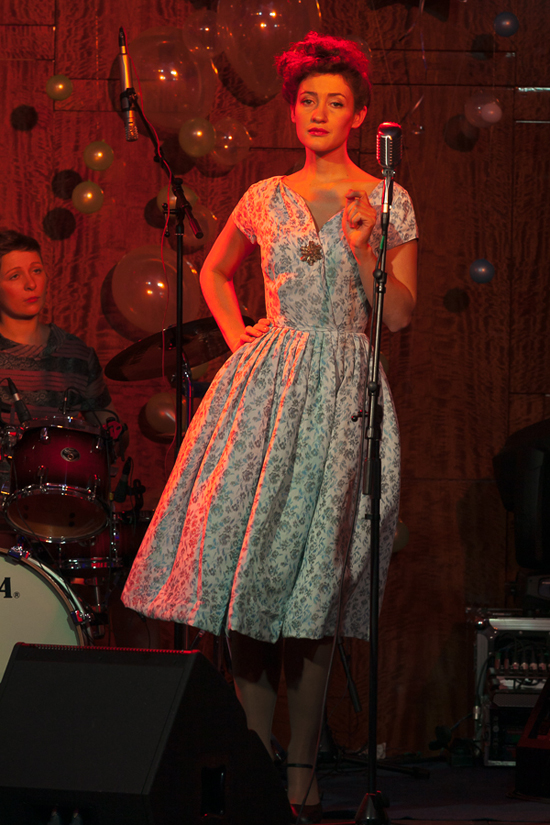 -Arthur Bondar and Oksana Yushko for the touching video about our children and the lottery lots
-Alexander Kudryavtsev and Fold&Spine studio for the design of the printed materials
-Book shop "Knizhnik", the European vintage show room "Kontrabass", Pagedown "design-studio, Juniorshef company for nice lottery lots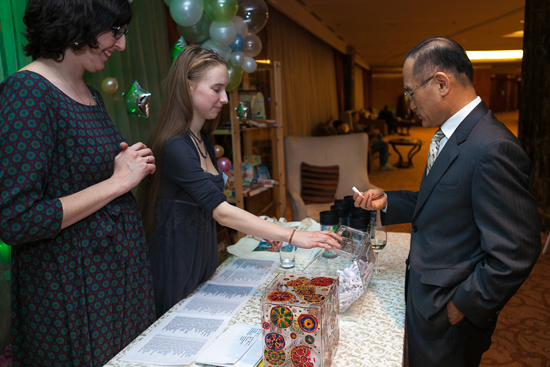 -"4Smile" company for entertaining our guests with instant photo booth
-Driada, Vera Aksyonova and their colleagues for the magic atmosphere created with balloons
-Mobile Stands company for the free press-wall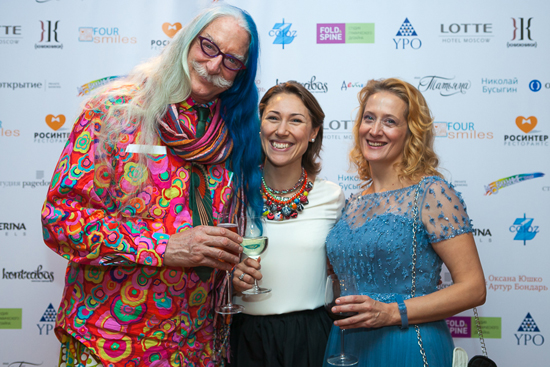 -Translator Dmitry Sinitsyn for the high professional competence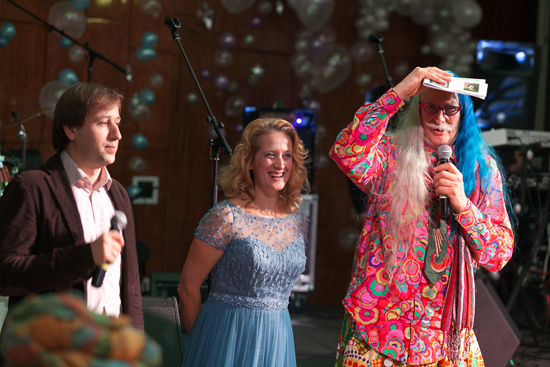 -Daulet Zhanaidarov for video recording and Ulyana Yanovich, Gennadiy Semin, Andrey Morozov, Nikolay Busygin for photo coverage of the event
And we are deeply thankful to all our volunteers and staff members for lending their favourite books for the lottery.
Please see more photos here.
---
---
16/11/2014 A film by Misha and Kristina – the prize winner at the festival
On 4-15 November the Third Moscow Festival of special needs people's art "The Thread of Ariadna" took place. Among the participants were delegations from 28 regions of the Russian Federation and 14 overseas countries – Argentina, Belarus, Germany, Spain, Italy, Costa-Rica, Latvia, Mexico, Netherlands, Norway, Portugal, Urugway and Sweden.
The programme of the Festival included 7 nominations: drama and concert, literature, photographic art, cinema, visual, applied and decorative art, multimedia art.
Among others, a film "My First Film" by Mikhail Altufiev from the psychoneurological institution №16 and our social teacher Kristina Starokadomskaya (the film director) was presented in the framework of the nomination "Cinema". The first show took place on the 12th of November 2014 at the House of Cinema of the Filmmakers Union of Russia. As a result of the audience's voting, Mikhail's film won the People's Choice Award and took the 3rd place!
We are happy to congratulate Misha, Kristina and all the volunteers with such a success and wish them more creative achievements!
---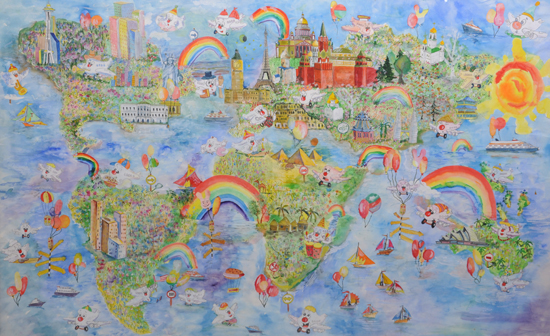 22/11/2014 «Privilege of Сharity» for Transaero passengers
The "Transaero Airlines" company has been helping "Maria's Children" for many years. Now the passengers also have the opportunity to help.
The Transaero project "Privilege of Сharity" grants each passenger an opportunity to accumulate bonus points within the loyalty programme for frequent flyers and then to donate a part of these points to one of the following charities: Konstantin Khabensky's Fund, "Sozidanie" and "AdVita" Funds, "Maria's Children Art Center". Owing to granted points, our center will be able, for example, to acquire "Transaero" tickets for our journeys to Beslan, to bring volunteers from Beslan to our adaptation camp, and our children - from orphanage to England, to the Shakespeare's Festival.
Olga Pleshakova, Transaero'sCEO, held a press-conference where she told a story of our friendship and about this "prophetic" picture by Maria's Children you see above. It has been part of décor of Olga's private office for many years. When Transaero was just a small company flying several routes it agreed to help Maria's Children and as a sign of gratitude, Maria's Children painted a fabulous future for them. Now this company really flies to all international destinations, bringing people and places closer, and making help more available, involving its passengers in this circle of mutual support. We are very grateful to Transaero and happy with such a development of events!
---
---

23/11/2014 Trip to Efremov
Last weekend we visited a correctional orphanage in Efremov (a city in Tula region) together with the members of AgroTerra Company. The way to Efremov was quite long but we tuned in as soon as we arrived because we had extensive plans – painting walls in a gym, playing with children and making a performance. And we succeeded in it!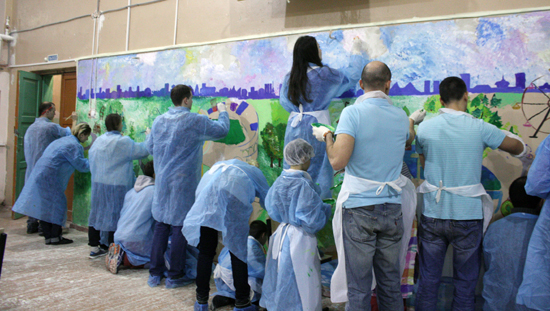 Thanks to our artists Anna Andreeva, Anna Mitina, Sona Stepanyan, and with assistance of all the adults and children, a colorful mural appeared in the gym: it has a town and a village, many beautiful gardens and numerous sports objects on it. Its inhabitants run, swim, play volley-ball, ride bikes and horses, and even fly on delta plane and parachute. We were drawing till late night and woke up early in the morning to finish it.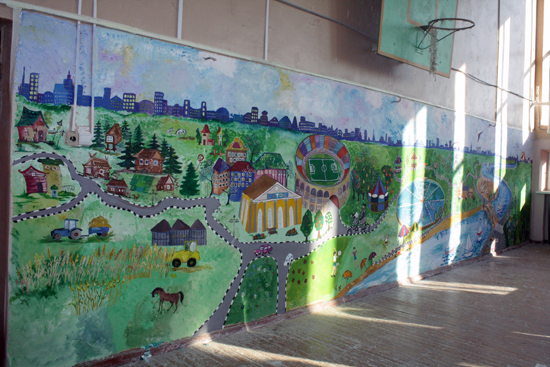 Those who felt tired of such a large-scale activity could color Christmas fir-tree decorations.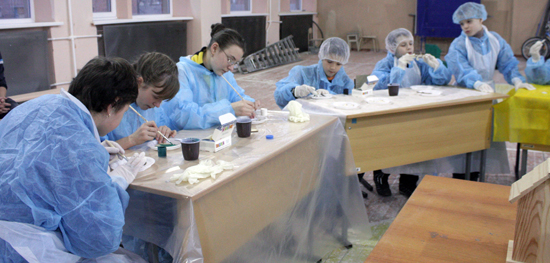 Our experienced volunteers Ira Baranova and Lesha Golubkin arranged an exciting entertainment for the children. And it was very touching when some tutors and even the orphanage director Olga Vasilievna joined our games.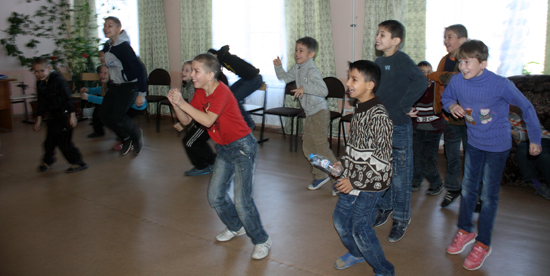 On Sunday we gathered together to read and then stage a fairy tale "The Princess Frog". The kids in the Efremov orphanage appeared to be very active and spry, they played the heroes of the fairy tale with big pleasure and felt themselves real actors.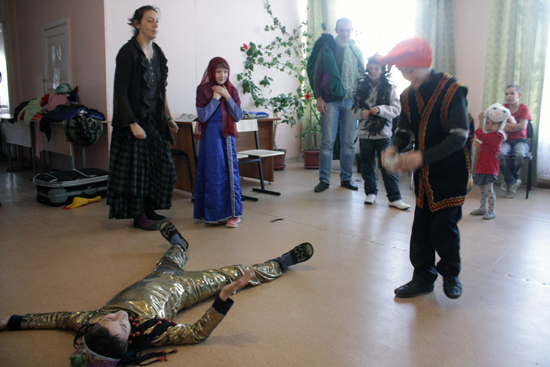 Ivan the Prince broke an egg and it was the end of Koschei the Deathless!
We are grateful to Agroterra for the invitation to join such a wonderful trip, and a special "Thank You" to Tatiana Guseva for organization! And a huge gratitude to all the staff members of the orphanage for such a warm welcome and delicious treats. Thank you, our dear staff members and volunteers!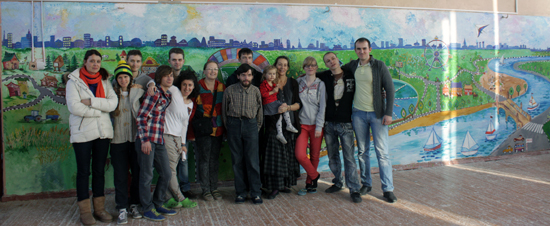 ---
25/11/2014 Fair at Alstrom Company
On the 25th of November the Alstrom Company invited us and several other NGOs to participate in the Goodness Day – a New Year charity fair that the company organized at its different venues.
The generous and concerned members of Alstrom donated altogether 72 365 Rubles! These funds will be used to organize our regular winter camp in February 2015 for children from a correctional school-orphanage. Thank you so very much!
---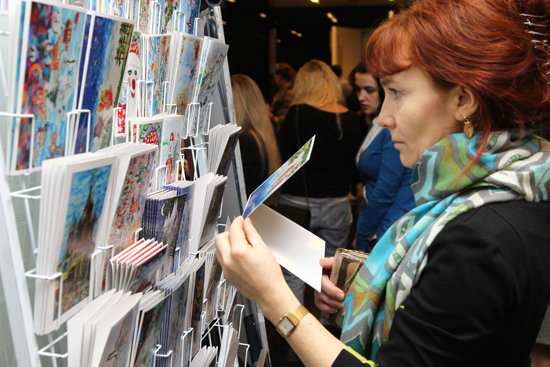 09/12/2014 Fairs at Rusgidro
On 8-9 December the Rusgidro company hosted charitable New Year fairs at its two different offices, where Maria's Children participated among other NGOs. In total we managed to raise 37 900 Rubles.
We say Thank You to the fair organisers and Rusgidro staff members -generous and concerned people! All the raised funds will be used to organize our regular winter camp in February 2015.
---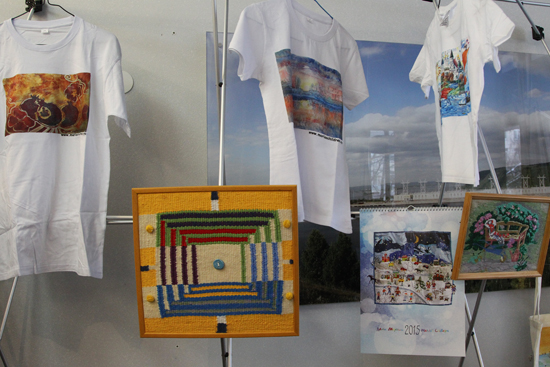 ---
12/12/2014 Fair at Megafon
Today we raised 31 450 Rubles for our winter camp at the MEGAFON company fair. We are grateful to the fair organizers and Non-commercial Partnership "All Together" for the invitation and to all the MEGAFON staff members who made their donations.
---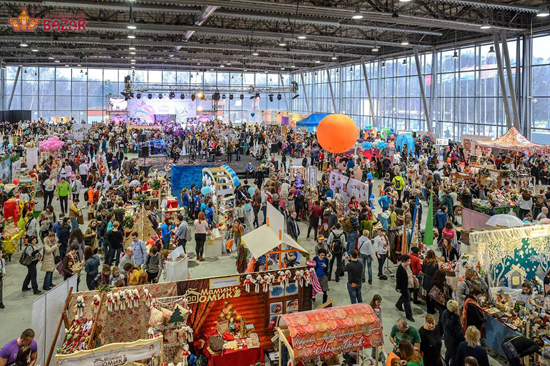 Balloon's-eye view of the bazaar.
14/12/2012 DUSHEVNY BAZAR – a day with a sense
On 14 December the 5th (anniversary) Dushevny Bazaar took place at the Cultural and Exhibition Center "Sokolniki". It was also the 5th time that we participated in it, traditionally raising funds for our winter camp. The donations made up 87 800 rubles! Thank you, dear donors, you make it possible for our programmes to be implemented.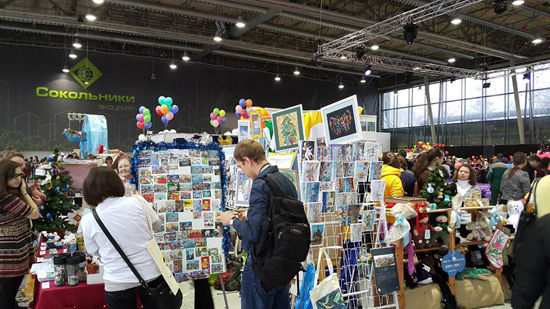 Postcards and magnets with children's paintings are popular as usual
From all our hearts we thank the bazaar organisers, and we must confess that their professionalism improves from year to year! It was a really wonderful and exciting event with numerous options to learn and have fun, with colorful Upsala Circus parades in which many visitors were involved, with concerts, masterclasses, lectures, culinary shows and even separate waste collection.
Lesha, our graduate and volunteer, one of the juggling masterclass leaders.
Our several volunteers held a juggling master-class.
At our stand all those wishing could create a badge or a round glass either with our children's or with his/her own picture.
Thank you, our dear volunteers Nadya, Lesha, Serezha, Misha who held a juggling master-class and helped a lot with delivery, and to our art teacher Anna Mitina for the funny tintamarresque.
---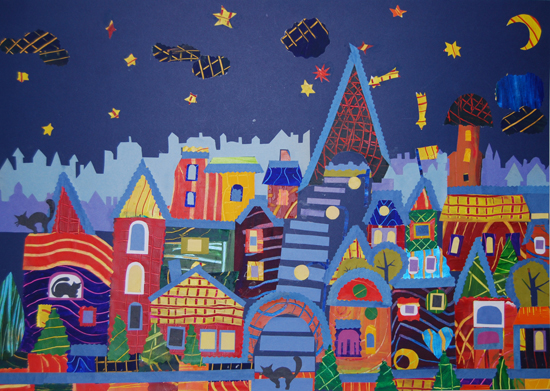 16/12/2014 TverArt exhibition
---
21/12/2014 Snow Day
On 21 December a charity festival "Snow Day" was held at the Museum of Moscow.
We participated in it together with other Moscow charities – members of the Non-commercial Partnership "All Together" – and managed to raise 20 814 Roubles!
The event took place in the museum's big hall on the second floor. Representatives of 25 charities offered New Year souvenirs, toys and gifts hand-made by their volunteers and aid- receivers. In a spacious children's zone animators entertained the little guests. Everyone could join various interesting master-classes, use services of stylists, water make-up and mehendi artists and in the yard of the Museum of Moscow free ice-cream was offered to all those wishing.
---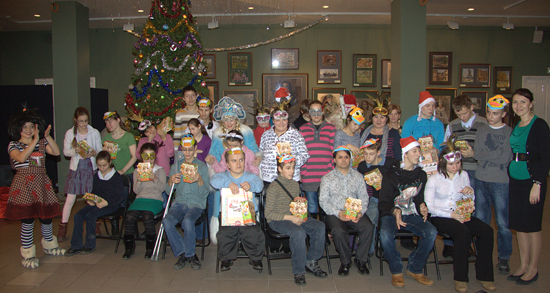 24/12/2014 A New Year Tree in Sergey Andriyaka's School
On 24th December our children from boarding school №31 and psychoneurological institution №11 were invited to Sergey Andriyaka's Aquarelle School-Studio to celebrate the New Year. They really liked the party! It was opened with an exhibition "A Winter Tale" where winter landscapes by Sergey Andriyaka and his students were displayed. The children also enjoyed a very interesting excursion around an exhibition of vintage toys. Finally they were involved in a theatrical performance – danced, played games and had lots of fun.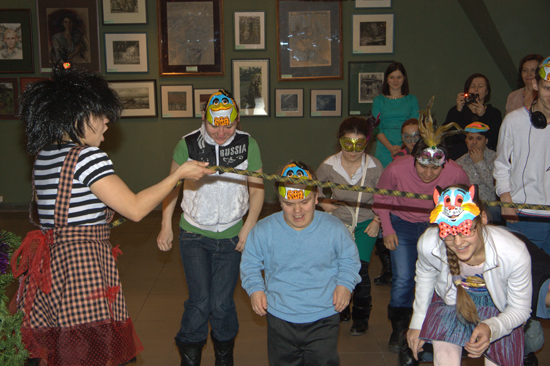 The event ended in gifts giving: creative ones – on behalf of Andriyaka's Studio (drawing sets) and sweet ones – on behalf of Maria's Children.
We are grateful to Sergey Andriyaka's School-Studio and our permanent volunteer Valentina Mironova for the organization of this wonderful evening.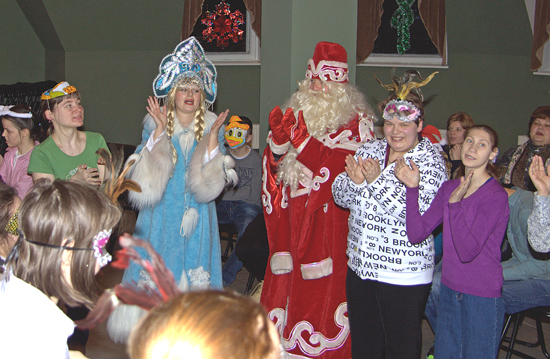 ---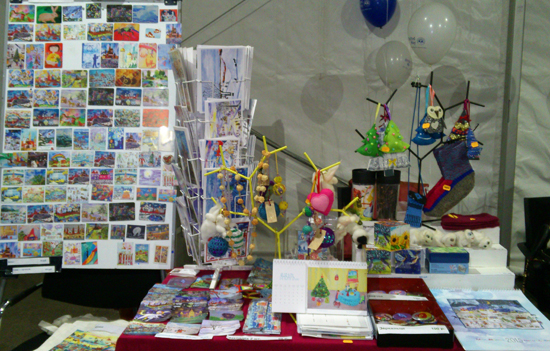 25/12/2014 Outcomes of New Year fairs
The long row of New Year fairs in which Maria's Children took part came to an end. They brought us 549669 roubles! The fairs were different – indoor and outdoor, on our old friends' sites and at the new partner's offices, individual Maria's Children's fairs and joint fairs with the team of other NGO's.
Thank you very much to everyone – to those who organized these fairs, supported our programmes with their donations, purchased our souvenirs (we hope they will please you and your friends!) and to those who showed their interest in our work.
Happy New Year!
---
30/12/2014 Happy New Year!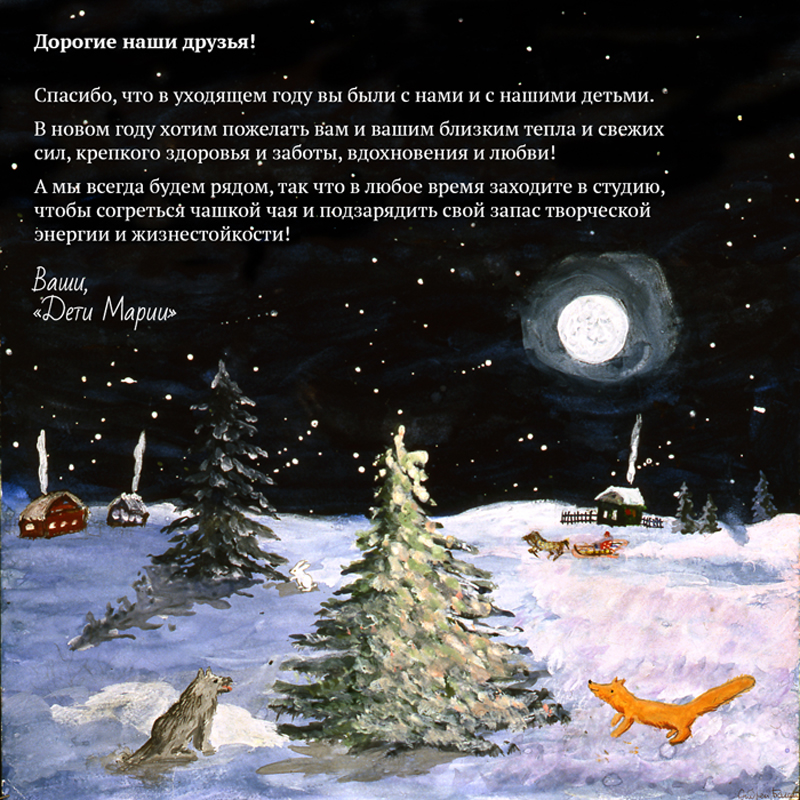 Our dear friends!
Thank you for being with us and our children in the departing year. We wish you, your nearest and dearest warmth and care, fresh energies and good health, inspiration and love!
Don't forget that you are always welcome at our studio to warm up yourself with a cup of tea or coffee and get the new charge of creativity and flow of spirits!
Yours,
Maria's Children